In at least one sense, life was never easy for the European Tour. Forever an economic second-best behind the financial behemoth that is the PGA Tour, the Old World circuit always struggled to compete for the attention and attendance of golf's biggest names. That fact isn't likely to change now that the "ET" has been laid to rest, but the strategic alliance between the newly packaged DP World Tour and the PGA Tour is one that most in Europe see as a positive development. Call it inevitable – and sensible, too – given the potentially imminent threat to the status quo offered by the Saudi Arabia-based LIV Golf Investments.
"What needs to be talked about is how the alignment with the PGA Tour evolves and what effect that will have in 2023 and beyond," says Paul McGinley, former European Ryder Cup captain and a member of the DP World Tour board of directors. "We're still finding our feet with that relationship, one that has never been better. We have aligned together against the Saudis. And that loyalty is being repaid in what they call 'working streams'. There is a lot more collaboration on social media. Communication is better. So many ideas are now being shared."
So it is that, in many respects, 2022 can be viewed as something of a transitional year for the rebranded tour. One week before the 150th Open Championship at St Andrews in July, the Scottish Open will become the first DP World Tour event to be co-sanctioned with the PGA Tour. At the same time, the Barbasol and Barracuda Championships in the US will offer starts to DP World Tour members.
Each tour gets 73 spots in the Scottish Open field, with any dual members counting against the PGA Tour's allocation. So the old line of "play better" will be the response to any DP World players who complain about not getting a start.
"But, on the other hand, I don't think there will be a more exciting or better time to play well on the European Tour," says David Law, a Scotsman who finished 100th on the 2021 Race to Dubai. "There are those opportunities to play in the States opposite the Scottish and The Open. Playing really well there could bring massive rewards."
Whatever, it is a safe bet that such arrangements will increase in frequency in 2023 and beyond. Which is easier said than done, of course. While it's not that hard to put together a schedule, it is difficult to be fair to all concerned. In particular, the guys down the points lists have to be looked after. Players like David Drysdale, who got the last European Tour card in 2020-2021, can't be lost in this. The tours can't just look after the star names. As member organisations, they have an obligation to make sure everyone has opportunities to play.
The same is true of the PGA Tour. But it's difficult to take 230 players from two tours, mix them together and be completely fair. So a schedule that works for both tours is required. Whatever the Saudis do, they will do. DP World Tour chief executive Keith Pelley has made his bed and has aligned with the PGA Tour in an attempt to present the best product he can. After that, players are free to make their own choices.
"To be honest, I'm not sure the likes of Paul Casey, Lee Westwood, Henrik Stenson, Ian Poulter, Luke Donald and Graeme McDowell making the jump to anything the Saudis come up with would necessarily do much harm to the DP World Tour," says Ewen Murray, a former European Tour player and now Sky Sports commentator. "Hardly any of them play that much in Europe these days. Like the PGA Tour, what the European Tour has done really well is to [just] keep going [during the COVID-19 pandemic]. OK, the money was down, but there has been a chance to play almost every week. I would have to question the integrity of those who say goodbye to all that, just to chase a few dollars."
In the meantime, work continues behind the scenes on both sides of the Atlantic.
"There is certainly more to come as far as our partnership with the PGA Tour is concerned," McGinley says. "More tournaments are likely to be aligned and co-sanctioned as time goes on. There is lot going on behind the scenes as we try to build a year-long international schedule that works for both tours. There are a few obvious opportunities for us. Post-FedEx Cup is one. Finishing in Dubai, that's a big part of our season."
The DP World schedule will offer $US200 million in 2022, twice as much as in 2021, and represents, according to Pelley, "a new era for global golf". Maybe, but still one that will retain some familiar aspects. Strong early in the Middle East – the tour resumes play the week of January 17 in Abu Dhabi – and around the Open Championship, the traditional ebb and flow on tour remains. Meanwhile, "in-between" times like February/March, April/May and August will still feature a mix of some strong and not-so strong events.
"Our long-established tournaments will continue to flourish under the DP World umbrella," McGinley says. "That level of sponsorship was a huge announcement for us, not just financially. It shows we are in good shape entering what looks like a new era for professional golf. But there are decisions to be made on what events remain just part of our tour and which ones are also part of the PGA Tour. It's all being navigated at the moment."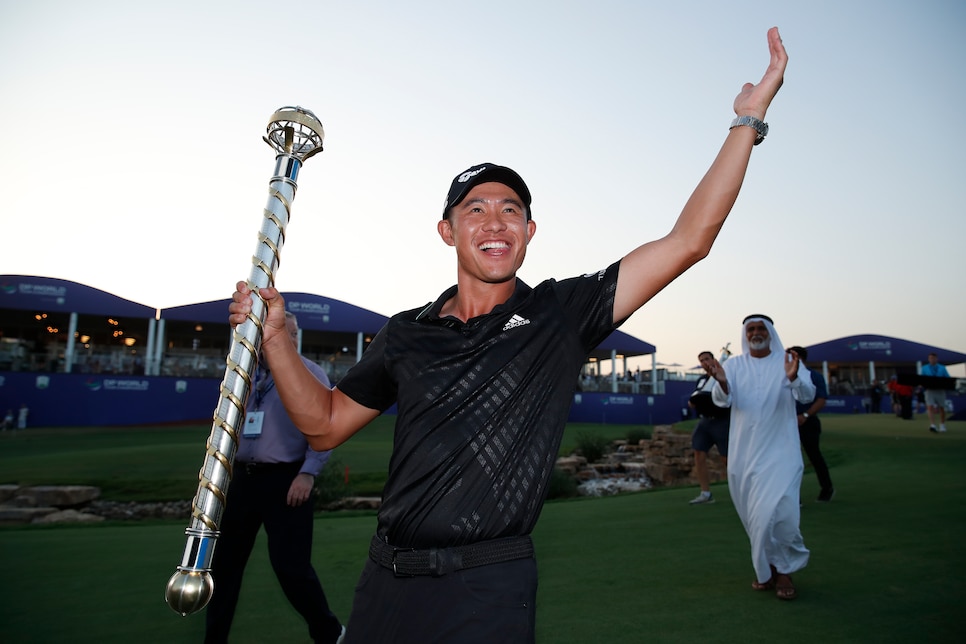 And not only on the main circuit. Recently, the second-division Challenge Tour announced a record-breaking global schedule for the 2022 season that will see the total prize fund surpass the €8 million mark for the first time. In all, the "Road to Mallorca" will consist of 31 tournaments staged across three continents in 18 different countries.
Which is all good. But Murray, would go further.
"I've always been an advocate of more changeover, a bigger influx of new players every year," says the Scot. "I don't think as many as 110 players should be exempt. I see 75 as enough, which would allow more spots to open up for those graduating from the Challenge Tour. I like to see young players getting a chance. If they get to play in what might be called 'average' DP World Tour events, the incentive and opportunity to move up and on into the premier events will be there. Those events will become important stepping stones for those good enough to make the next upward move."
Still, first things first.
"I'm thrilled to see the prizemoney boost there," says Law, who spent five years on the Challenge Tour before graduating to the European circuit. "A minimum purse of €250,000 every week will make a massive difference. It used to be that you had to make maybe €30,000 to keep your Challenge Tour card. And around €90,000-€95,000 would see you onto the European Tour. Next year those numbers will go up. Players will need to make around €45,000 to keep their cards. And those who do get promoted will have made some decent dough. Given the standard of golf being played on that tour, those numbers are far more appropriate."
Hang on, though. While the financial side of the tours is trending upward, some perspective is required. Yes, the prizemoney on the DP World Tour has doubled, but only when compared with last season. In many cases, purses have not yet returned to their pre-pandemic levels. By way of example, the British Masters will offer £1.85 million in 2022; in 2019 the prize fund was £3 million. The Dutch and European Opens will both pay €1.75 million this year, down from €2 million three years earlier. And the European Masters has fallen from €2.5 million to €2 million.
Which is not to say that the tour officials have failed in their primary mission to provide the membership with playing and financial opportunities. Yes, there have been more than a few €1 million events, and the odd dodgy course, but play continued. No mean feat for such a multi-national operation.
"It goes without saying that the European Tour had to work incredibly hard to keep going as it did," Law says. "Had we had the schedule we have for 2022 with similar money to what we have seen over the past 18 months, no one could really have complained. But we were beginning to see a knock-on effect at those smaller events. Take the caddies. Those guys make their living off the percentages of what their players earn. And when those percentages went down, it was starting to be tough to get caddies at events. So the boost to the prize funds was something the tour needed. They've done a brilliant job in that respect."
Elsewhere, this wouldn't be the tour formerly known as European if there was not some talk of the Ryder Cup. Even in years when the biennial battle is in abeyance, the subject is never far from the surface, both on the range and in the media. And in that, the DP World Tour will be no different. According to McGinley, an in-depth look at all things Ryder Cup has already begun in the wake of Europe's record-breaking loss at Whistling Straits.
"There's a big de-briefing going on, which is appropriate after such a heavy defeat," McGinley says. "We have to review a lot of things. I'm on the Ryder Cup committee, but our [mission] is not to control the team. We are more involved, alongside the PGA of America, in building the Ryder Cup brand going forward. But I'm aware of what is going on. [Ryder Cup director] Guy Kinnings is currently undertaking a long look at every aspect of the Ryder Cup."
Surely part of the eventual conclusions will be a close inspection of the qualifying criteria. With the changing landscape and the fact that so many of Europe's best players are now based in America, it is appropriate to question the process. Do Europe's young players get enough of a chance to make the team? Many feel there still needs to be a route into the side from the DP World Tour, although it is clear that it doesn't have to be one that makes up 50 percent of the squad.
"We need to have the best team out there," McGinley says. "And we need to have a qualification system that is evolving as the game is evolving. All of those things are being reviewed. We were beaten by a record margin. So we can't just say things will be grand in two years time, or that all we have to do is grow the rough and off we go. Things are a lot deeper than that. We have to lick our wounds and take a serious look at what we need to do next time. And when that is done present it first to the ex-captains who are currently choosing the next skipper."
A closer inspection of the scoring at Whistling Straits reveals the disturbing fact that, too often, the Europeans were beaten more by their own relatively poor play than American brilliance. There was also the impression that the narrative over the three days was more focused on team morale – "we're all great pals and that's what really counts" – than on the fact that they were getting royally thrashed.
"We can't brush Whistling Straits under any carpets," McGinley says. "There are many lessons to be learned. Although we had a lot of headwinds against us, what happened at Whistling Straits wasn't just a loss. It was a hammering. Away from home with no support was always going to be difficult against what was maybe the best-ever American team. And I mean team. I don't mean that in terms of this playing ability. I mean in how cohesive they were. And how well captained and structured they were. They kept it simple. Everything behind the scenes looked very straightforward."
All of which is for the future. More immediately, many questions remain for the new tour. Things clearly need to settle down. One way or another, the DP World needs to know where things stand with Saudi's LIV Golf Investments. Is there going to be a rival tour? Are some players going to make the jump? Where are we going to be with COVID? Are we going to see increased restrictions? That's a big question for a circuit that involves so much international travel.
"We are in the eye of the storm in that respect," McGinley says. "So it is difficult to predict what will happen in the next 12 months. There are so many challenges and so much turmoil in the world at the moment."
TOP/MAIN PHOTO: Stuart Franklin