Australia's Top 100 Golf Courses 2022/23
Brought to you by
Overall, our 140-strong judging panel lodged nearly 3,000 scores for 321 different courses across the country. They visit and score courses on seven criteria, which were revised slightly for this ranking period.
New definition: SHOT OPTIONS
How well does the course present a variety of options involving risks and rewards and require a wide range of shots?
Old definition: SHOT VALUES
How well does the course pose risks and rewards and equally test length, accuracy and finesse?
(Shot Options counts twice, just as Shot Values did, in our formula, because a survey of panellists 30 years ago felt it was by far the most important aspect of a course design and should be double-weighted.)
New definition: CHALLENGE
How challenging, while still being fair, is the course for a typical scratch golfer playing from the tees designated as back tees for everyday play (not from seldom-used championship tees)?
Old definition: RESISTANCE TO SCORING
How difficult, while still being fair, is the course for a scratch player from the back tees?
New definition: LAYOUT VARIETY
How varied is the physical layout of the course in terms of differing lengths (long, medium and short par 3s, 4s and 5s), configurations (straight holes, doglegs left and right), hazard/'penalty area' placements, green shapes and green contours?
Old definition: DESIGN VARIETY
How varied are the golf course's holes in differing lengths, configurations, hazard placements, green shapes and green contours?
New definition: DISTINCTIVENESS
How individual is each hole when compared to all others on this course? Additionally, how fun and enjoyable for all levels of golfers would this course be to play on a regular basis?
Old definition: MEMORABILITY
How well do the design features (tees, fairways, greens, hazards, vegetation and terrain) provide individuality to each hole, yet a collective continuity to the entire 18?
New definition: CHARACTER
How well does the course design exude ingenuity and uniqueness and possess profound characteristics that you would consider outstanding for its era?
Old definition: AMBIENCE
How well does the overall feel and atmosphere of the course reflect or uphold the traditional values of the game?
These two criteria stayed the same:
AESTHETICS
How well do the scenic values of the course (including landscaping, vegetation, water features and backdrops) add to the pleasure of a round?
CONDITIONING
How firm, fast and rolling were the fairways? How firm yet receptive were the greens? How true were the rolls of putts?
To arrive at a course's final score, we total its averages in the seven categories, doubling Shot Values (from 10 to 20) to create a score out of 80.
For their time and input, we thank our national panel of judges: Daniel Adams, Rohan Adams, Bree Arthur, Lachlan Begg, Selwyn Berg, Paul Bittar, Colin Bloomfield, Tony Bradley, Tim Browne, Paul Burgin, Michael Caridi, Tom Catoggio, David Chantrell, Luke Clark, Rohan Clarke, Alex Cleave, Brad Clifton, Andrew Coghlan, Damian Coolahan, David Cuda, Andrew Dalgairns, Matthew Davidson, Campbell Davies, Susan Dawson, Rod Doak, Glenn Domigan, Edward Dowling, Chris Dugan, Peter Ellison, Peter Farlie, Quintyn Fisher, Ben Flavel, Tyson Flynn, Thomas Forde, Chris Francis, Greg Fraser, Sam Fung, Hadyn Fyffe, Luke Gallant, Craig Gallie, Jason Gluch, Todd Greenberg, Jason Gullaci, Judy Haddrick, Ben Hall, Doug Hannaford, Matt Harding, Michael Hauser, Phil Heads, Rob Henschke, Tony Hicks, Glenn Hildebrand, Ross Hildebrand, Jason Hill, Andrew Hinchliffe, Shane Hooton, John Hopkins, Holly Ibbotson, Loren Justins, Steve Keipert, George Kidman, Rahim Lalani, Marcus Lancaster, Jayden Lawson, Gary Lisbon, Matt Lister, Damon Lonnie, Ruari Macdonald, Matthew MacMahon, Ian Markus, Andrew Martin, Ben Martin, John Martin, Leigh Martin, Richard Maxwell, Matthew McGuire, Ben McIlwain, Dane McKay, Robert Mead, Tony Meyer, Lachlan Miller, Wesley Milsom, Jacqui Morgan, Mitch Morgan, Wayne Moriarty, Scott Muller, Grant Naylor, Richard Norgard, Kevin Pallier, Mark Panopoulos, William Park, Jason Paterson, Tom Pearce, Tom Pennington, Lester Peterson, Michael Phillips, Peter Phillips, Trent Pilgrim, Brad Pole, James Ponder, Margaret Potter, Andrew Priory, Brad Pullin, Warren Rankine, David Raymond, Adam Ringrose, Trevor Roberts, Ken Russell, Rey Saballa, Craig Seckold, Robert Shakeshaft, Steve Shaw, Peter Sherry, Flinn Shiel, Mike Sidgreaves, Steven Slappendel, Aaron Spalding, Geoff Steer, Nick Stewart, Will Stubbs, Damien Tarbox, Chris Thomas, Sean Thomas, Greg Thomsen, Jamie Tomlinson, Matthew Toomey, Callum Tranter, Nick Tuddenham, Jason Van Vliet, Karen Van Vliet, Nick Wall, Sam Walsh, James Ward, Scott Ware, Paul Watts, Tony Webeck, Jeynelle Wilcox, Brendon Williams, Brent Williams and Jamie Woodhill.
Why are 4 courses missing?
It's becoming an increasingly common situation as more golf courses receive renovations, both large and small: deliberate omissions from our ranking. This time four courses are sitting on the sideline, and for three different reasons. At Links Kennedy Bay and Pelican Waters, ongoing and significant redesign work was extensive enough to warrant their omission until those projects are completed. However, it's a more sombre note for the Bungool course at Riverside Oaks, which was hit heavily by the major flooding along the Hawkesbury River in February 2021 then whacked by Mother Nature again in March this year, just as it was on the threshold of fully re-opening after the first deluge. We wish the club well and expect to see it back here in 2024.
A more startling omission comes higher up the list as the ultra-exclusive Ellerston course is left out for the first time. A series of panellist visits was scheduled for last spring, but ongoing COVID restrictions cancelled them while not enough other panel members saw the private and secluded layout in this judging period to justify its inclusion on this occasion. We hope to welcome it back in two years' time.
Auguring well for their returns are the four courses that were intentionally left out in 2020. The Gunnamatta (formerly Ocean) course at The National, Yarra Yarra, Killara and Castle Hill all worked their way back in after skipping one ranking period, each one richer for the revamp.
In 2020, not a single new course entered our ranking as only revamped or returning courses broke onto the list. Things were not so scarce this time with a collection of either newcomers or major refurbishments pushing their way in. We're expecting the momentum to continue when the 2024 ranking is published as several world-class layouts are set to join the fray.
Chief among them is Seven Mile Beach, the exciting project on amazing waterside land east of Hobart [pictured]. The Mike Clayton/Mike DeVries design is set to open in late 2023 and is a chance to be an inclusion next time if enough panel members see it before the judging period ends.
"It's sand dunes on the ocean, so it doesn't get much better than that," DeVries said in late March as shaping continued. "I'd place this right up there with any site [I've worked on]. It's just spectacular – and these sites are rare."
The nearby Arm End project, on a stunning peninsula south of Hobart, is aiming to open in late 2024 so is likely to debut here in the 2026 ranking. In South Australia, the exciting The Cliffs Kangaroo Island is on the cusp of construction work beginning and, as with the Tasmanian newcomers, could feature either next time or in 2026, depending on how things play out.
Add to those the renovated courses likely to return and some short courses where work is already underway, and the complexion of the next list may change considerably once again.
The end of any ranking list means the beginning of another rundown of who or what missed out. The Top 100 is as competitive as ever, as shown by the calibre of the courses that didn't make it.
Here, listed alphabetically rather than ranked, are 25 'fringe-dweller' courses to watch out for in 2024 and beyond:
Albany

Alice Springs

Araluen

Belmont

Eastern (South)

Eynesbury

The Heritage (Henley)

Horsham

Indooroopilly (West)

Kooralbyn Valley

Long Reef

Macquarie Links

Murray Downs

Noosa Springs

RACV Royal Pines (Green/Gold)

Ranfurlie

Rich River (East)

Royal Fremantle

Sandhurst (North)

Shepparton

Sun City

Tasmania

Twin Waters

The Vines (Lakes)

Yarrawonga Mulwala (Murray)
100: Kew
Previous ranking: NR
Melbourne's third oldest golf club returns to the Top 100 Courses fold for the first time since 2000 on the strength of several holes redesigned by Graeme Grant, a conversion to Santa Ana couch fairways and bentgrass greens plus a smart approach to tree management. While the city's busy Eastern Freeway adjoins the layout, parts of Kew feel magnificently secluded.
99: Maroochy River
Previous ranking: 100
It is uncommon for the course ranked in last spot to 'survive' the next time around, but Maroochy River breaks the mould – in some ways just like the layout itself. The golf course on a converted flood plain is notable for its excellent contouring in what was formerly a featureless site. A spike in scores for Conditioning helped its cause.
98: Monash
Previous ranking: NR
Back after a six-year absence, the course in Sydney's bushy north has long been renowned for its exceptional Conditioning as well as challenging green complexes and variety from tee to green. A series of redesigned greens in recent years has also strengthened the layout. The next quest for Monash is to fortify its upward trend, as six of its 13 appearances in the Top 100 have placed it in the 90s.
97: The Heritage (St John)
Previous ranking: NR
A course – and a club – on the rebound after a period of severe neglect. The St John course makes its first upward move on our ranking since 2004 and returns on the strength of its design attributes and a rededication to care and Conditioning. If its historical scores are any indicator, the St John has the foundations of a much higher position on the list.
96: Palmer Coolum
Previous ranking: 97
A surprise re-inclusion two years ago after a tumultuous period of Conditioning, the former home of the Australian PGA Championship holds firm this time just inside the Top 100. Tellingly, most of our panellists to visit Palmer Coolum did so in the last six months of the ranking period, adding a freshness to its bank of scores.
95: Warnnambool
Previous ranking: NR
Returning for the first time since 2004, Marc Leishman's home club has always owned a collection of high-calibre holes and now a series of design tweaks coupled with better vegetation management sees it make a long-awaited return. Together with Port Fairy, Warrnambool adds might to a golf trip to Victoria's south-western coastline.
94: Secret Harbour
Previous ranking: 89
A golf course not to be overlooked on the coast south of Perth. Secret Harbour routinely draws a consistent batch of scores across all criteria, as evidenced by its regular place within the last 25. Duneland, wetlands, pot bunkers and lakes amalgamate to form one of Graham Marsh's more diverse designs.
93: Royal Hobart
Previous ranking: NR
Back for the first time after sneaking into last spot a decade ago, Royal Hobart is a course on the comeback trail. A redesigned seventh hole paired with a renewed approach to tree management and consistently pure playing surfaces throughout the year, it returns as the southern-most course in the Top 100. More work lies ahead for the one-time Australian Open venue under a masterplan penned by course architect Richard Chamberlain.
92: Mollymook (Hilltop)
Previous ranking: 92
The Hilltop course validates its return two years ago after a long absence by keeping its spot in the Top 100 this time. While not all our panel members agree – it draws some of the most varied score totals of any course – the vast majority are fans. If there is a recurring knock on Mollymook's premier layout, it's that some greens are too severely sloped.
91: Riversdale
Previous ranking: NR
Another suburban Melbourne club steeped in history edges back into the Top 100 after two rankings on the outside. Neil Crafter and Paul Mogford's restoration work at Riversdale began several years ago and continues to bear fruit as the club revives many of Alex Russell's design philosophies while remaining modern and progressive.
90: Cypress Lakes
Previous ranking: 88
Evidence of where Cypress Lakes has improved came in early March when the course hosted the TPS Hunter Valley tournament amid the ongoing wet weather that plagued the east coast for most of the summer. The 'old' Cypress Lakes would surely have been too wet to allow play to go ahead, but the renovated version – where overall drainage and bunker drainage were key improvements – saw the event proceed.
89: Castle Hill
Previous ranking: Om
One of four courses intentionally omitted last time due to extensive course renovations taking place, Castle Hill lands in a familiar portion of the ranking on its return. Bob Harrison's upgrades – the redesigned 12th hole in particular – were well received by our panel, with a set of scores that was near-unanimous – an unusual outcome for a revamped course.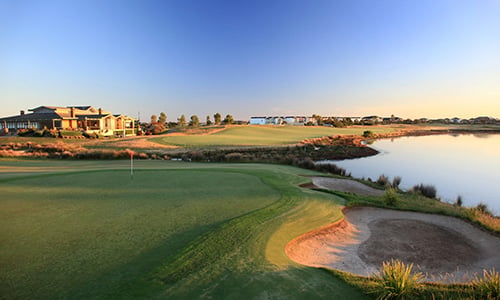 88: Sanctuary Lakes
Previous ranking: 90
The course in Melbourne's west arrests its slide down our list with a minor jump this time. The crux of the layout lies in the strong design characteristics, with Sanctuary Lakes' scores for Shot Options its strong point. "An enjoyable test – particularly with a driver in hand – but Conditioning is variable and ongoing works affect Aesthetics," notes panellist Ben McIlwain.
87: Brisbane
Previous ranking: 85
Brisbane holds its place in the 80s for a third consecutive ranking (the judging period for which closed just as the latest flooding impacted the layout). Strong Character and Conditioning scores bolster the course's standing, although it displays no clear weakness across our criteria in what is, once again, a very even set of scores.
86: Settlers Run
Previous ranking: 79
The collaboration between Greg Norman, Bob Harrison and Harley Kruse in Melbourne's south-east continues to own a place in the second 50, even if there was a drop this time. Numerically, where Settlers Run shines is in the Shot Options category. The primary difference from 2020 to this ranking is a dip in scores for Conditioning.
85: Narooma
Previous ranking: 82
A fifth consecutive place in the 80s highlights Narooma's consistent popularity – rarely in our ranking does a course in the always-volatile second 50 move no more than seven places across an entire decade. Long admired for its coastal holes, the layout's distinctly different nines and strong scores in the Aesthetics category lead the way.
84: Rosebud (North)
Previous ranking: NR
Bob Hawke was still Australia's prime minister the last time either of the two Rosebud courses made the Top 100 – in 1991. At one point running the risk of becoming 'just another golf course on the Mornington Peninsula', the Ogilvy Cocking Mead masterplan is seeing the potential of a tremendous site realised, as evidenced during the two TPS events the North course has now hosted.
83: Killara
Previous ranking: Om
Eighteen years have passed since the layout in Sydney's leafy north graced our ranking, but it's a deserved return on the back of a meticulous renovation authored by course architect Harley Kruse. Working within the site's natural constraints – Killara is split into three sections by roads – Kruse rebuilt the bunkers and greens (adding Zoysia and Pure Distinction), opened playing corridors through judicious tree removal and even reversed the direction of a couple of holes.
82: Meadow Springs
Previous ranking: 84
It was an unusual slip for Meadow Springs last time, so it's heartening to see a small uptick here for a course that offers so much, either when viewed through the prism of our seven ranking criteria or in general while playing the striking Robert Trent Jones Jnr design. Exceptional scores for Shot Options buoyed its overall mark.
81: RACV Healesville
Previous ranking: 86
The Healesville course makes the equal-largest upward move in this year's second 50. It is the shortest 18-hole course on our ranking but one that oozes Layout Variety and Character through exceptional, multi-faceted green complexes. "A wonderful little course that struggles in some criteria mainly due to the short length but excels in others," notes panellist Edward Dowling.
80: Federal
Previous ranking: 80
One of the most consistent scorers across the board (there was a spread of just 0.39 in its average scores, criterion by criterion), Federal holds its place in the 80s for a fourth consecutive ranking. "A very special surprise. The course was well presented, and the layout provided enough Layout Variety and Challenge to make the experience a very positive one," noted panellist James Ward.
79: Cranbourne
Previous ranking: 77
This year's host course for the Australian Amateur Championship kept its usual volatility on our ranking to a minimum with a small drop after several bounces around the last 25. Design-wise, perhaps all that holds Cranbourne back is the lack of a genuinely meaty par 5 (none measures 500 metres). Yet it received high marks for Shot Options, and even higher Conditioning scores.
78: Cottesloe
Previous ranking: 72
Another course where the scoring is tight (a quarter of a point the difference across the seven criteria) and the ranking consistent. The Cottesloe layout is parkland in style with many holes cascading down or climbing up the rolling site. The course also owns the distinction of appearing in every Top 100 ranking since the inaugural
list in 1986.
77: Mount Compass
Previous ranking: 73
It's back-to-back rankings in the 70s for the formally unheralded course south of Adelaide. Mount Compass is a layout that nails the crucial mix of being perpetually challenging for expert players yet entirely playable for novices. Pending boundary changes will mean some upcoming design tweaks to the early holes, giving the club a new challenge to navigate.
76: Pacific Harbour
Previous ranking: 74
It's four dips in a row for the course on Bribie Island, although this time the drop can be attributed to courses returning above it, as Pacific Harbour's average score was higher this time than in 2020. If a shortcoming is evident within the numbers, the layout's scores for Character don't keep pace with those ranked around it.
75: Stonecutters Ridge
Previous ranking: 70
Nearly a decade old and the western Sydney course retains its general consistency on our ranking, despite a slight dip this time. Its Shot Options scores remain healthy, while the club has embarked upon some bunker renovation; if this continues it can mean only positive things, as the striking and strategic bunkering is an integral aspect of the overall Stonecutters Ridge design.
74: Sanctuary Cove (Palms)
Previous ranking: 71
Inconsistent in its ranking since Ross Watson's lauded redesign in 2011, the Palms course at Sanctuary Cove on this occasion remains in the same group of 10 for the first time since then. Its score set remains true to each of its other rankings post-redesign: solid Shot Options and Conditioning scores, with Challenge and Character the only low-ish grades.
73: Black Bull
Previous ranking: 68
The pick of the Murray River courses settles between its first two rankings and again delivers a super-consistent stable of scores. As the hotel and residential precinct around it swells, Black Bull's initially prescribed routing is now in full place and culminates in a grandstand 18th hole. Conditioning is a high point; Distinctiveness the only minor question mark across the categories.
72: RACV Cape Schanck
Previous ranking: 75
The former site of the Victorian PGA Championship returned to the Top 100 with a bullet two years ago after a lengthy absence and fortified its leap with a slight jump again. Its scores for Distinctiveness were heightened, due in part to the incorporation of the 'fun' factor within that criterion [see page 58]. Aesthetics also struck a high note for RACV Cape Schanck.
71: Thirteenth Beach (Creek)
Previous ranking: 76
Thirteenth Beach complex now has a par-3 layout) hits its highest rank yet, partially on the back of several refinements led by consulting architect Darius Oliver but also by the continued exposure the Vic Open brings. The Creek course is another that's overall score is strengthened by a robust Shot Options and Conditioning combo.
70: Lakelands
Previous ranking: 66
The Gold Coast layout slips again but only due to marginally softer scores in each category rather than a dramatic drop in any single one. Lakelands is another course where little separates the scoring across the seven criteria (an average spread of 0.27). The surrounding environment has closed in around the site during its 25 years, but the golf course has required minimal tweaking.
69: Curlewis
Previous ranking: 69
A consolidation of its high-tide ranking two years ago. Curlewis continues to impress through its Shot Options, while maintaining average scores of 7-out-of-10 or higher across each category. It took the Bellarine Peninsula layout 48 years and the input of four separate course architects to break into our Top 100 ranking, but its foothold looks secure.
68: Glades
Previous ranking: 63
A rare Queensland course to attempt to nurture bentgrass greens, Glades' arrival on the Gold Coast golf scene in 2000 transformed former swampy grazing land into a high-calibre resort layout. The finer Creeping Bentgrass, so much purer for greens than the grainy strains of Bermuda common to warm climates, is a welcome point of difference for the region. Despite a dip, its Shot Options and Challenge scores remains strong.
67: Pacific Dunes
Previous ranking: 59
Not its lowest position (it ranked 74th in 2010). If there's a trend among our panellists who visited Pacific Dunes since January 2020, it's an acknowledgement of the high quality of the course but also its relentless difficulty and one aspect of its Layout Variety: "The par 3s are all about the same length, except for the 17th," noted panellist James Ward.
66: Mount Lawley
Previous ranking: 62
This is six straight rankings in the 60s for the Perth course, which resembles many of the other top West Australian courses by utilising the excellent natural features. Often thought of as a less undulant version of Lake Karrinyup, Mount Lawley places a premium on accuracy and working with the flow of the land.
65: Links Lady Bay
Previous ranking: 67
After a drop two years ago, South Australia's best regional course perks up by a couple of places this time. Yet again Lady Bay polled well for Shot Values, but also shone in the Challenge and Layout Variety categories. A return to the top 50 (it ranked 43rd in 2006) is not beyond the picturesque layout overlooking the waters of the Gulf St Vincent.
64: Avondale
Previous ranking: 64
The northern Sydney course has stayed within an eight-spot range for the past decade and does so again this time with an identical position to 2020. Feted for its seclusion and compelling contouring, Avondale also repeated its excellent Conditioning marks that were backed up by solid scores for Character and Aesthetics.
63: Bougle Run
Previous ranking: N/A
The 14-holer makes history as the first course with fewer than 18 holes to grace our ranking. The enchanting mix of 12 fun par 3s and a pair of short par 4s deserves a national ranking in an age when more diverse golf offerings ought to be encouraged. Bougle Run's only shortcoming, somewhat predictably under our criteria, was for Challenge, yet it nailed the Distinctiveness category. Time will also allow for the Conditioning to improve.
62: Kalgoorlie
Previous ranking: 58
Despite its isolated location – no other Top 100-ranked course is farther away from another – Kalgoorlie draws a surprisingly high visitation from our panel. It is also one of the most consistent courses in the second half of the Top 100, with only a four-place deviation in the past five rankings (including this one). Unsurprisingly, Distinctiveness is its forte.
61: Sorrento
Previous ranking: 60
A minor blip in what otherwise has been a steady rise in recent years on the back of a series of design upgrades, most recently a reworked first hole, which opened for play in December 2021. Sorrento received the highest average score for Conditioning of any course ranked outside the top 50.
60: St Michael's
Previous ranking: 61
Another course to receive a run of updates and seeing upward moves on our list as a result. The restoration of sandy waste areas across the St Michael's site is a fitting look for the location and saw its score for Aesthetics rise, while the design tweaks added substance and playability. "The course changes have definitely improved the experience," noted panellist Colin Bloomfield.
59: The Western Australian
Previous ranking: 56
The picturesque Perth course is another to bind strong Shot Options and Conditioning scores as it retains a place in the 50s. It dips a fraction this time despite significant upgrade work to its 17th and 18th holes to alleviate safety issues and improve playability. A rise in the land that formerly cut through both fairways obscured the view of play and did nothing for the design of either hole, so Graham Marsh returned to the course he'd previously renovated to offer a new plan for the closing pair. Aside from the ridge being lowered, the fairway bunkering was either added to or carefully recalibrated to fortfify both holes. As the work was only completed at the start of this year, the full ranking impact won't be felt until the 2024 list.
58: Sandy Links
Previous ranking: N/A
While not truly 'new', the revised Sandringham course saw enough change to be considered as a new layout by our definition, so Sandy Links enters the Top 100 on what can still be regarded as its debut. The redesign by Ogilvy Cocking Mead was a statement for public golf. "A great course that proves you don't need length to be challenging and fun," noted panellist Michael Caridi.
57: The National (Long Island)
Previous ranking: 54
A course that has benefitted from greater exposure and improved Conditioning scores (which was the case again this time) since falling under The National's umbrella. Its next ranking or two will be fascinating to watch as Ogilvy Cocking Mead work their magic on the Long Island layout, which offers significant opportunities for greatness.
56: Grange (East)
Previous ranking: 53
The course continues a succession of small slides ever since the Greg Norman redesign debuted and returned it to the Top 100 fold, but the East course at Grange holds firm inside the middle realms of the ranking. Impressive scores for Conditioning once again helped its standing for what is a fine sister layout to the club's West course.
55: Port Fairy
Previous ranking: 57
The 'secret' that is Port Fairy is becoming increasingly less hidden, which is fantastic for Victorian and Australian golf. "A gem of a links course with a number of holes that would not be out of place on some of the great courses of Ireland's rugged west coast. Holes 12-16 may be the best five-hole stretch in the country," notes panellist Ben McIlwain.
54: Spring Valley
Previous ranking: 55
Our panel loves the Shot Options on offer here, especially the par 3s, which draw repeated praise. The course lives in the sizeable shadow cast by its more revered Sandbelt neighbours, but Spring Valley is second-tier in geographic definition only. It maintains its run of rankings in the 50s (now six in a row).
53: Huntingdale
Previous ranking: 50
Falling scores for Shot Options is hurting this Sandbelt icon, which has renovation work in its midst – another course that is feeling the fingerprints of the busy Ogilvy Cocking Mead design team. Its next few rankings will be telling as the memory of Huntingdale being the home of the Australian Masters continues to fade.
52: Royal Sydney
Previous ranking: 48
Royal Sydney drops out of the top 50
for the first time ever as Gil Hanse's much-vaunted redesign work continues to be delayed, with January 2023 the new scheduled start date – almost two years later than originally forecast. Change
has been a constant companion for
the exclusive club in our largest city's
eastern suburbs but this next one is
its most anticipated. "One of the golf
world's great pieces of land that will benefit from a unified vision," notes panellist Phil Heads.
51: The Vintage
Previous ranking: 51
No movement for this Hunter Valley favourite. The Vintage ranks highly for Challenge but its Conditioning scores dipped fractionally. "There is a good mix of par 4s, but perhaps unusual for a Norman course, there is an absence of really strong, 400-metre-plus 4s," notes panellist Paul Burgin. "There's only one at The Vintage (the sixth)."
50: Links Hope Island
Previous ranking: 47
A lowest rank for a course that debuted generously at No.8 in Australia in 1994 but has gradually slid ever since. Hope Island's brand new ninth hole opened last July, a water-carry par 3 viewed as a 'little sister' to the course's menacing 17th hole. Regardless of the repeated drops, its appeal as a small piece of British golf in a decidedly un-British environment lives on.
49: Portsea
Previous ranking: 52
A return to the top half of our list for the first time in 10 years on the strength of three consecutive jumps. The union of a beautiful Mornington Peninsula location that's rich in natural features and a smart approach to design created a layout that has stood the test of time. The Portsea course wins fans for its genius and guile, while its Shot Options scores were particularly healthy.
48: Terrey Hills
Previous ranking: 49
This denizen of the 40s continues its hold on a place in the 'fifth 10', where it has landed for eight straight rankings. Terrey Hills is keeping pace through a series of refurbishments, including to its bunkers – a program that will be completed later this year. Shot Options and Challenge are its hallmarks, both enhanced by the addition of several new tees and bunkers.
47: Moonah Links
Previous ranking: 55
Moonah Links' formidable Open course appears to have found its true home within our ranking with some consistent placings at last. Immensely long, vulnerable to the winds whipping off nearby Bass Strait and cratered by innumerate pot bunkers, the Open course is about as tough as the game becomes. An inherent fairness is still evident though, as the Open course generated its highest marks in the Challenge category.
46: Concord
Previous ranking: 46
The major work took place ahead of our previous ranking, with maturation the only real change to the current New South Wales Open venue since then. In 2020, Concord made headway through improved scores across the board, led by its enriched Distinctiveness. Those attributes were reinforced through a near-replica scoring slate this time.
45: Elanora
Previous ranking: 42
The bushland course in northern Sydney remains a model of consistency since it sat out several consecutive rankings (at the club's request) in the early 2000s. In the eight lists published since, Elanora has stayed within a 13-spot spread and sits right in the middle of that space
here. Its Conditioning is outstanding, while the layout remains strong across
all criteria.
44: Grange (West)
Previous ranking: 43
The Shot Options/Challenge/Conditioning trifecta continues to sustain one of the most consistent courses in the central part of the ranking. Grange's West course lacks little and is popular with our panel. Mike Clayton's thoughtful overhaul of the West course 15 years ago in many ways began the 'Restoration Era' that is still engulfing many of Australia's best golf courses.
43: Moonah Links (Legends)
Previous ranking: 41
Here's a course that received some inflated rankings in its early days but now resides in a more appropriate portion of our list. The Legends course at Moonah Links once again out-ranks its big sister, as it has every time since its first inclusion. They form a potent double, with the less taxing Legends owning a marginally more complete set of scores.
42: Sanctuary Cove (Pines)
Previous ranking: 44
A deserved, if small, rise after a significant renovation to a Queensland favourite. The greens at the Pines now match those of Sanctuary Cove's Palms course with TifEagle grass, while the re-do also increased the size of the Pines' putting surfaces. The results were unveiled for only the final six months of our ranking cycle, which augurs well for its 2024 ranking.
41: The Grand
Previous ranking: 39
Another uber-steady course in the middle of the ranking that revels in its strong overall qualities (it averaged no lower than 7.5 out of 10 in any criteria). Now more than 20 years removed from its single staging of the Australian Open, The Grand continues to impress those golfers lucky enough to play it.
40: The Cut
Previous ranking: 36
Supported by enduring scores for Shot Options and Distinctiveness, the oceanside course south of Perth stays in familiar territory despite a small drop. Several of The Cut's opening holes are utterly majestic as they weave between the coastal dunes, while the routing loses little momentum as it works away from the coast or through the residential precinct that borders several holes late on the front nine.
39: Bonnie Doon
Previous ranking: 40
The revamped Bonnie Doon hits its highest ranking yet, its second listing after the completed Ogilvy Clayton Cocking Mead redesign that transformed a site which had long oozed potential into an open, linksy arena with umpteen strategic options. Yet more than one panellist noted an inconsistency to the grass coverage, likely a result of the staggered timeline to the lengthy renovation.
38: Magenta Shores
Previous ranking: 31
A second puzzling but sizeable drop in a row for Ross Watson's mighty oceanside layout on the New South Wales Central Coast. The course divides our panel, with a succession of high and low scores. There are moments to be daring and times to exercise caution at Magenta Shores; it's perhaps eye-of-the-beholder stuff as to which is which. Where it performs best is in the Shot Options and Challenge categories.
37: Lonsdale Links
Previous ranking: N/A
With its template holes and exceptional shapes, the new-look layout is an instant hit thanks to the vision and courage shown by Ashley Mead and OCM. There are holes and shots on offer at Lonsdale that you simply won't experience elsewhere in Australia. "A fun and different experience and a vast improvement on the old Point Lonsdale. Will only get better as the condition matures further," notes panellist
Andrew Coghlan.
36: Bonville
Previous ranking: 34
Bonville is working its way through the ranking's mid-30s as it hits its 30th birthday and continues to be a popular course thanks to its unique setting and 'wow' factor. The layout feels almost like 18 separate holes as the magnificent, fulsome treelines give privacy to most fairways. While most definitely adequate at an average score of 7.36 out of 10, Conditioning remains its weakest point.
35: Glenelg
Previous ranking: 37
The Adelaide course ascends into its highest position yet thanks to a bank of solid scores brought about by its revamped par-5 18th hole and some minor design nips and tucks. More hole-by-hole refinement is to come at Glenelg in the next few years as the club seeks to improve what is already a solid architectural offering.
34: Brookwater
Previous ranking: 29
A second five-place drop in a row can be explained partially by the closeness of the scores in this block within the ranking. Brookwater also has a history of volatility here, with six of its 10 inclusions seeing a seven-place move in one direction or the other. On this occasion it also relinquishes the mantle of being the top-ranked course in Queensland.
33: Hamilton Island
Previous ranking: 33
Course architects Peter Thomson and Ross Perrett needed to overcome environmental and logistical hurdles before crafting a layout that affords golfers near-360-degree views of the Whitsundays from most points. Accordingly, no other course gained more points in the Aesthetics criterion. Hamilton Island's idyllic setting combines with the demanding design to provide a unique experience.
32: Thirteenth Beach (Beach)
Previous ranking: 32
It is unusual for all but the top-ranked courses to generate the same ranking three times in a row, but the Beach course pulls off the feat with another set of ultra-consistent scores. New in recent times is a reconfigured and much-improved par-5 sixth hole, thanks to consulting architect Darius Oliver, which demonstrated its greater versatility during the most recent Vic Open.
31: Commonwealth
Previous ranking: 33
It's far from being the redheaded stepchild of the Sandbelt, but Commonwealth is crying out for some TLC. Fortunately it's coming in the form of Tom Doak and Brian Slawnik from Renaissance Golf Design. Their course masterplan was announced last July and is scheduled to be carried out nine holes at a time from this August.
30: Newcastle
Previous ranking: 28
Another course with redesign work in the wings, but on this occasion not in the immediate future. Bob Harrison has laid out an enticing redesign plan – that incorporates new land – but it is not expected to begin until mid-2023 or
2024. After a series of consistent rankings either side of 20th place, Newcastle slips a little further this time due to marginally lower average scores in each criterion.
29: Royal Queensland
Previous ranking: 35
A pair of curious drops into the 30s is corrected with the largest upward move by an incumbent course in this Top 100. Royal Queensland's return to the tournament spotlight this past January superficially looks like the reason, however our panellists repeatedly touched on the clever and enduring nuances of Mike Clayton's redesign.
28: Royal Canberra (Westbourne)
Previous ranking: 25
Our nation's capital braves a tough climate: searing heat in summer, bone-chilling cold in winter and only brief 'shoulder' seasons in between. It presents Royal Canberra with challenges unfamiliar to many of the country's other leading layouts. This is the third post-renovation ranking for the Westbourne course (holes 1 to 18), all of which have placed it in a similar bracket. A spike this time in scores for Conditioning sees it back to its best in that department.
27: Yarra Yarra
Previous ranking: Om
Back with a vengeance, the Yarra Yarra layout is now restored to the look original course architect Alex Russell intended. Tom Doak and Brian Slawnik from Renaissance Golf Design wound back the clock to help return the revered layout to its best ranking since 2000. "An extraordinary update, opening up vistas across the course and creating a totally different feel, highlighting the wonderfully undulating property," notes panellist Andrew Coghlan.
26: The Australian
Previous ranking: 21
At odds with its slide on our ranking, The Australian today is clearly superior to the pre-2013 version of the course. However, there is a rising sentiment that overall, the place is still a shadow of its potential. The original site is increasingly being recognised in course-architecture circles as one where the sand base and natural movement of the land could have yielded an exquisite, genuinely linksy layout befitting such rare and exceptional physical attributes. 'The Aus' is undoubtedly a tremendous tournament venue, and its Conditioning is peerless, but our (much larger) panel is certainly expressing a little historical regret.
25: St Andrews Beach
Previous ranking: 26
The public-access masterpiece on the Mornington Peninsula retains a place in the 20s with a raft of robust scores for Shot Options. Highlights abound at St Andrews Beach, but the bunkering dotted across the site steals the show. Numerous blowout bunkers litter the landscape, huge pits that create difficult recoveries as the unending thrust and parry between course and golfer goes on.
24: The Dunes
Previous ranking: 23
The Dunes edges its Mornington Peninsula neighbour by a smidgen in what is always a solid comparison given their similar location, style and topography. As several panellists noted, the 'fun' element is alive and well in this region. Replete with historic touches throughout, including an old kiln by the second hole, Tony Cashmore's design looks and feels ahead of its time.
23: Barwon Heads
Previous ranking: 24
Rich in Character and drawing healthy scores in all seven categories, the Barwon Heads layout is revelling in the steady and positive design tweaks made by Neil Crafter and Paul Mogford in recent years. "As good a condition of any course I've played in a while. When it's windy, it's still playable," notes panellist Michael Caridi. "There's a real Scotland vibe to this course."
22: Woodlands
Previous ranking: 27
Superficially, it appears to be an odd leap for an established course to make with no recent alterations of significance, yet Woodlands has a legion of supporters and this ranking merely returns it to a portion of the list it used to regularly occupy (this is its fourth time in 22nd spot). It drew numerous scores north of 70 (out of 80) and its high Shot Options average reinforces its greatness.
21: Joondalup (Quarry Dune)
Previous ranking: 18
It's another bounce between the high teens and low 20s for the exceptional course in northern Perth. As is often remarked about Joondalup's Quarry/Dune sequence of nines: there are holes and landscapes there unlike anything else in golf. "Aesthetically it is unique, and no two shots are the same," notes panellist Matt Harding.
20: Kooyonga
Previous ranking: 22
A third climb in a row for a course regarded by some judges as Adelaide's premier layout. This was the first full ranking period since Kooyonga's 17th green was redesigned by Neil Crafter and reconstructed in 2019, while it drew excellent scores in every scoring criterion. Additionally, only four courses in the country scored higher for Conditioning.
19: The National (Old)
Previous ranking: 16
The original of The National's three courses at Cape Schanck slides a little but exhibits no apparent weakness in any category. While polarising opinions to a degree – some golfers find the wild contours to be too extreme in places and the penalty for a missed fairway too severe – the Old course today retains the same bold and brash nature as when it was first unveiled 34 years ago.
18: The Lakes
Previous ranking: 19
The well-known and much-transformed Sydney course is another that divides beliefs – golfers seem to either love or hate The Lakes – however this time it garnered its most consistent set of scores from our panel in years. While the water-laden back nine steals the show, the section across the freeway (holes two to eight) challenges the grey matter just as thoroughly as the rest of the layout.
17: Lake Karrinyup
Previous ranking: 15
Western Australia's best course maintains its two-spot bouncing act. Long regarded as a right-to-left player's course, Lake Karrinyup owns far more intricacies than a series of right-to-left doglegs. The bunkering style – rugged and resplendent – is a vitally strategic element of the design, as are the numerous elevation changes. The course continues to be a test of golf intuition and savvy navigation.
16: Peninsula Kingswood (South)
Previous ranking: 20
There was a sense after the roaring return of Peninsula Kingswood's North course two years ago that a similar appreciation of the OCM-led renovation to the South course would trickle into our ranking this time, which is exactly what transpired. Achieving a four-spot jump is no easy task in this part of the list and the South did it with aplomb.
15: The National (Gunnamatta)
Previous ranking: Om
The formerly named Ocean course re-opened after its Tom Doak redesign just before the scoring cut-off for our 2020 ranking, so benefits from a full two years of exposure upon its dramatic return. The improvements are vast and the playability factor much higher without any dilution of the challenge. The Gunnamatta may not punish wayward play quite as severely as the Old or Moonah courses, but it thoroughly tests shot selections and strategic nous.
14: Cathedral
Previous ranking: 17
The private club in scenic rural Victoria moves up a few rungs courtesy of the course's continued maturation and a new tee or two. At Cathedral, his expertise coupled with a remote site riddled with architectural opportunities allowed Greg Norman's design juices to flow to their fullest. He penned a spectacular layout, one that takes golfers through an excursion of terrains and settings while repeatedly asking stern questions of each player.
13: Ocean Dunes
Previous ranking: 13
The Graeme Grant-designed Ocean Dunes retains its place just outside the top dozen via effective Shot Options and Aesthetics scores. "The rugged coastline, so close on the six coastal holes, is a stand-out," notes panellist Paul Burgin. Recently sold, the challenge for the new owners is to
make the King Island experience one that visiting golfers want to repeat.
12: Metropolitan
Previous ranking: 14
This marks the first time since 1994 that Metropolitan has improved its standing on our ranking. It tied for sixth for Conditioning, adding to the reputation it has long held for the quality of the playing surfaces. The club's time-honoured practice of mowing greens right to the edge of the greenside bunkers, leaving no fringe grass in a look that amplifies the distinction between sand and target, is now being copied elsewhere.
11: The National (Moonah)
Previous ranking: 12
There is serious competition at The National for bragging rights, but the club's Moonah course maintains its grip even if the top 10 ranking it once enjoyed is now at arm's length. There's a genuine distinctness between the three layouts and our panel savours the weaving nature of the Moonah that sees fairways moving between the weathered old trees that give the course its name.
10: Royal Adelaide
Previous ranking: 11
Royal Adelaide has moved on our ranking every time since 2008 and does so again to 'complete the set' between spots nine and 14. Tom Doak's touches have been felt on almost every hole as he draws out the best features of the site. It's a fitting return to the top 10 ahead of the club's 100th anniversary of receiving 'Royal' status next year.
9: Victoria
Previous ranking: 9
No movement for this year's Australian Open venue after a nice bump last time on the back of its conversion to Pure Distinction greens and a more refined approach to the off-fairway ground and vegetation. Victoria remains fixed in the six-to-12 bracket of our ranking, where it has sat on every Top 100 list since the inaugural one in 1986.
8: Royal Melbourne (East)
Previous ranking: 8
The East course has taken either seventh or eighth place every time since we stopped ranking only the Composite course at Royal Melbourne. Known worldwide for the six holes it contributes to the 'main stage', the other 12 are no slouches. How consistently good is the East? It scored between 8.68 and 8.86 in every one of our seven criteria.
7: Barnbougle Lost Farm
Previous ranking: 7
In defiance of its name, the Lost Farm course has found a distinct home on our ranking. Discussions will last for eternity about whether it owns more of the entire site's best holes, which now total 52, but it's certainly the one with the most variation. "Lost Farm makes good use of a more expansive property – there are more holes working 'across' the property, as opposed to up and down the line of the beachside dunes," notes panellist Paul Burgin.
6: New South Wales
Previous ranking: 5
Sydney's premier layout and one of the best sites in the country for a golf course loses one spot in what was a close numerical tussle. Minor changes have taken place at New South Wales during the past decade or so; their gradual nature hinting at an opportunity for the course to embark on a more full-scale update. Only two courses scored better for Aesthetics.
5: Peninsula Kingswood (North)
Previous ranking: 6
Proof that last time was no fluke, the North course at Peninsula Kingswood pops up a spot as it earns even more admirers. What should be held up as a posterchild for sensible and effective renovation work is at this stage generating nods of approval from only those who see it. Staging a top-tier, four-round tournament would earn it even wider (i.e. international) praise. It's that good.
4: Barnbougle Dunes
Previous ranking: 4
Our list is competitive at the top and the original Barnbougle course knows it with yet another finish just off the podium (for the sixth time in nine rankings). It cracked the 9-out-of-10 barrier in four of the seven categories and averaged 8.99 in another. As the Tasmanian golf scene continues to expand, Barnbougle Dunes deserves credit for starting the rush.
3: Cape Wickham
Previous ranking: 2
Cape Wickham moves back a notch, usurped by a mere 0.13 of a point overall. There is no more dramatic site for golf in Australia as the course successfully melds its many stunning coastal holes with a collection of inland ones that lose no momentum within the routing despite the non-oceanside setting. King Island requires effort to get to, but Cape Wickham alone makes it worthwhile.
2: Kingston Heath
Previous ranking: 3
Compact but classic, subtle yet sublime, Kingston Heath is an emblem to the sport as an arena that continues to serve up a complete test for amateur and professional golfers alike. Losing its opportunity in late 2020 to host its first Australian Open in two decades was a shame and if there's any justice a reprised chance won't be far away.
1: Royal Melbourne (West)
Previous ranking: 1
After a couple of ranking periods when the courses ranked below it edged nearer, score-wise, to toppling it, the West course at Royal Melbourne pushed more than two points clear at the top this time. There were just two categories – Aesthetics and Conditioning – it didn't lead, as the majesty and reputation of our best and most famous golf course continues to endure.