The PGA of America announced overnight that Zach Johnson will serve as the American captain at the 2023 Ryder Cup in Rome, Italy.
"I have all the emotions running through me," Johnson said. "Honour, pure honour comes to mind more than anything. Just knowing that I can lead this great team in Italy and represent my country, again, is flattering."
The AP first reported last week that Johnson would be selected for the job, and he was the overwhelming favourite to take over the head position after serving as vice-captain for Jim Furyk in Paris in 2018 and Steve Stricker at Whistling Straits in 2021, along with a stint as a Presidents Cup vice-captain under Tiger Woods in 2019. Johnson, 46, will be the youngest American Ryder Cup captain since Tom Lehman in 2006, which is coincidentally the first Ryder Cup in which Johnson competed. He's a 12-time winner on the PGA Tour, and a two-time Major winner, with victories at the 2007 Masters and the 2015 Open Championship at St Andrews. He was offered the job in January over a video call while on a ski trip with his family.
The other big news overnight is that Johnson will stick with six captain's picks, an innovation that began at Whistling Straits. Stricker expanded to six picks, but only after COVID-19 delayed the Ryder Cup for a year; initially, he allotted himself four captain's picks.
"The PGA Ryder Cup Committee really liked the system of six earned berths and six picks," Johnson said. "That's where we're going to stay… that equation worked, and I don't see any reason to change it."
Statistics show that captain's picks tend to perform better at the Ryder Cup than players who make the team on the low end of the points list, and Johnson clearly wanted to follow Stricker's lead in giving himself flexibility to select players who fit the course, and to influence (or preserve) team chemistry.
Johnson's other announcement was less surprising – Stricker will serve as one of Johnson's vice-captains. That continues a new American tradition of the previous captain transitioning into an auxiliary role in the subsequent Cup. Previously, Davis Love III was one of Furyk's assistants in Paris, and Furyk joined Stricker at Whistling Straits.
"It's the perfect choice," Stricker said of Johnson, when reached by phone. "The progression that he's been on as part of these teams, it's perfect. He's a fierce competitor, just a little bulldog of a guy with the respect of his peers. He was very precise as a vice-captain, and that's also the way he played the game. He's got that attitude where he'll do everything he can to get it done."
As far as transitioning into the vice-captaincy, Stricker sounded excited.
"We've had discussions already, that's how important it is to him," Stricker said. "It's a tall task, but the guys that are part of this are ready to take on the challenge."
The US has not won a Ryder Cup on European soil since 1993, and Johnson himself has never been to Italy, but already there was a sense that he embraced the challenge of undoing 30 years of history.
"Going over there is not easy, I get that," he said. "I frankly wouldn't have it any other way."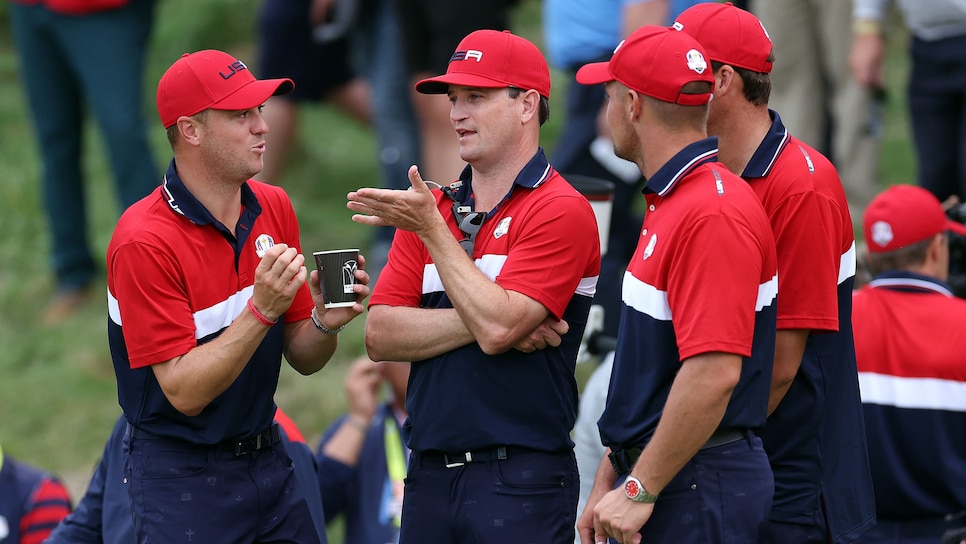 After the 19-9 blowout victory in Wisconsin, there is a sense that the US has its best chance to win in Europe in many years, and Johnson credited the team's positive momentum since the disaster at Gleneagles in 2014 to the ability of the Americans to establish a cohesive program where knowledge is passed on from year to year.
"[The PGA of America] really have kind of given us some freedoms as of late that has really helped I think kind of mould our system in place," he said. "We've got a system… almost like a template. And I'm not suggesting that's going to be the reason for a win or a loss but what I'm saying is, is that there's continuity. There's expectations laid out, and the consistency there I think is what's attractive, and I think that whole systematic approach has really led to giving the guys on the team… the freedom to just go be themselves and play and have a voice."
Johnson hinted that like Stricker, he'll try to get his team to play Marco Simone Golf Club in Rome to establish some familiarity before Ryder Cup week. That will be a more difficult task than the one that faced Stricker with his Wisconsin reconnaissance trip, but with several off weeks baked into the schedule after the conclusion of the 2023 FedExCup Playoffs, Johnson will have a better chance than past American captains. He also said he plans to use Scouts Consulting, the statistical group that has advised the US since Hazeltine in 2016.
"Scouts has been a nice tool for us, a nice asset as far as just data crunching and number crunching," he said. "I think the beauty of what we have there is that if we have a question that arises, they can basically answer that in a pretty timely manner, whether it's golf course-related, whether it's individuals-related, whether it's format-related or whether it's European Tour-related.
When asked about his best trait as captain, Johnson couldn't resist taking a turn from the press conference's serious tone.
"My wife would say my dimples," he said.
TOP/MAIN PHOTO: Montana Pritchard/PGA of America