Since news of its existence went public in April, the PGA Tour's $US40 million Player Impact Program (PIP) has been something of a punching bag. Its detractors bemoan PIP, as it has come to be known, as concrete evidence of professional golf's impending shift away from meritocracy and towards guaranteed money. It has been labelled a thinly veiled attempt by the tour to appease superstars in the face of legitimate competition. And, perhaps the most damning accusation of all: it's what unnecessarily perpetuated the Brooks Koepka-Bryson DeChambeau feud throughout the year.
The PGA Tour has stayed silent on its controversial new program. Until now, that is. To better understand how the PIP works, Golf Digest spoke with Andy Pazder, the PGA Tour's chief tournaments and Competitions officer, who helped spearhead the project. While he would not divulge who will be taking home the $US8 million grand prize – smart money says it's a man who did not play a single PGA Tour event this year – Pazder did provide details on the program: who's eligible, what the payment structure looks like and how it fits into the tour's larger aims.
Here, then, are answers for your PIP FAQs.
What is the PIP, anyway?
Simply stated, it's "a program designed to reward the players who have the biggest positive impact on our business", according to Pazder. Literally speaking, it is a $40 million fund of money earmarked for the top 10 finishers of an internal PIP points list, which uses five criteria to rank tour players based on how much attention they bring to the game. It was ratified by the tour's board in March 2020 and went into effect on January 1, 2021. The list will refresh at the beginning of each calendar year and it is not tied to the tour's wraparound tournament schedule.
Why now?
It's a great question, and the timing's hard to ignore. While Pazder said the tour had held internal discussions about creating a program like PIP for years, its start in 2021 coincides with discussion surrounding the potential rise of two upstart leagues – one surfacing from the Greg Norman-led LIV Golf Investments (which is pumping money into the Asian Tour), the other known as the Premier Golf League, which hopes to team-ify golf under the PGA Tour umbrella.
While it is not clear what the Saudi-backed LIV Golf Investments' ultimate vision is, Norman confirmed to Golf Digest that a significant portion of its $US200 million investment will go towards player appearance fees, which are prohibited on the PGA Tour. A number of stars including Bryson DeChambeau, Phil Mickelson, Dustin Johnson and Xander Schauffele committed to February's Saudi Invitational and are surely being paid handsomely to do so. The PGL has discussed a payment structure that does indeed reward higher finishes but pays all participants. This, then, would seem to be a mechanism for guaranteeing the very biggest names in the game a hefty payday even if their on-course form takes a dip.
How are the PIP rankings determined?
Pazder emphasised the objective nature of the ranking – suggesting that, given the subjective nature of popularity, the tour felt strongly about creating a system that filters out bias, is trackable in real time and relatively easy to understand. A player's score is determined by five total components that are all worth 20 percent of the overall mark. They are as follows:
• Google searches: How many times a player's name is searched for. Players will only receive credit for searches related to them, so Adam Scott won't benefit simply from having the same name as the actor.
• Meltwater mentions: Tracks how often a player is mentioned across global media
• MVP index: A measure of a player's reach on social media
• Nielsen score: How often a player is featured on the television broadcast
• Q-Score: A decades-old measure of an entity's familiarity and appeal
Notably, none of the five criteria are directly related to a player's on-course performance – although an in-form player will certainly be featured more often on broadcasts and in Google searches.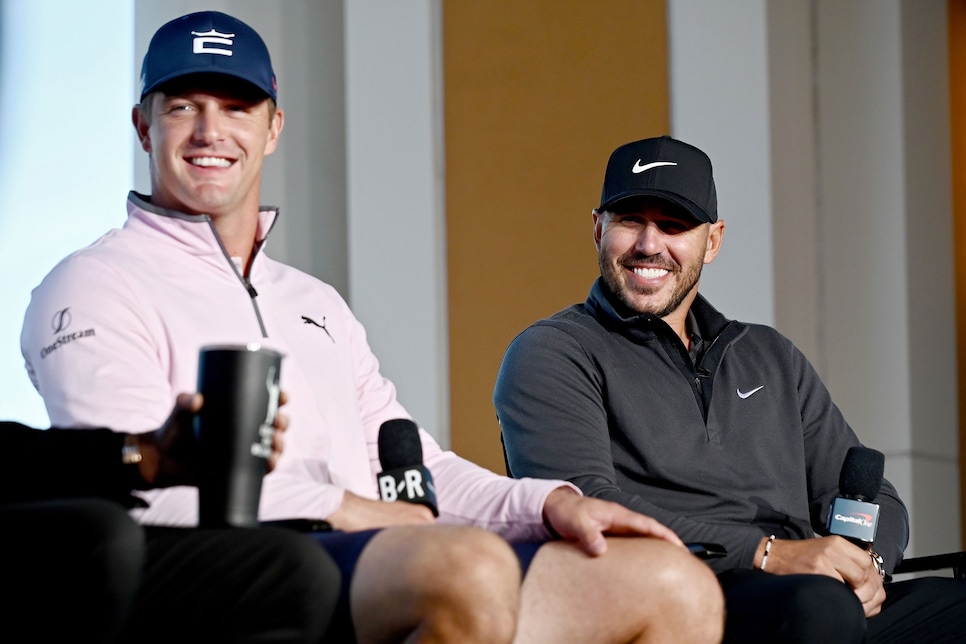 Who is eligible?
Any PGA Tour member who has played five or more events in the current season, or five or more events in at least one of the preceding five seasons. Tiger Woods, then, is eligible to win the 2021 grand prize and will be eligible through 2024 even if he never plays a tour event again.
"From the point when a player retires or isn't physically eligible to play," Pazder said, "there is a trailing period of five years when they can still benefit from this program. And that's by design. It's a reward for being a great ambassador of the game and remaining visible."
How is the money distributed?
The $US40 million fund for 2021 will be split as follows:
Winner: $8 million
Second: $6 million
3-6: $3.5 million
7-10: $3 million
The 11th-place finisher will receive no money from the pool. The overall prize fund will increase to $US50 million for 2022, with the winner taking home $10 million.
When will we know who wins?
The tour plans to distribute a list of the top 10 winners to its membership in mid-to-late February. And while that list will not be made public, there is little doubt the information eventually will find its way to the media.
Does the money come in a lump sum?
Players will be paid in two parts, but only after satisfying two requirements. The first half will be delivered after a player attends a mutually agreed upon "sponsor function". This can take the form of media interviews, a dinner party, a Q&A, a golf outing, etc. The second half comes after the player plays in a mutually agreed upon tournament on the PGA Tour schedule. The tour could use this rule to drive interest in a lagging tournament or to help a player satisfy his requirement to play at least one new event (defined as a tournament he has not played in the past four seasons) each year. "It can be a number of things," Pazder said. "Could be sponsor-related, or we're running a campaign and it makes sense for us to have a specific player there."
Is this a step on the road towards appearance fees in tour events?
As previously noted, the PGA Tour does not currently permit a tournament to pay players an appearance fee, and Pazder said that is not likely to change any time soon.
"We still want the vast majority of our player earnings to be based on performance," Pazder says. "We think that's a unique aspect of our sport. It's a differentiator for us. Is there ever a day where we allow appearance fees? I don't see it happening. The way our business model works, we're a very sponsor-centric sport. We rely heavily on our title sponsor base, our official marketing partner base and our media revenue, which is our largest source of revenue. We want all those constituents investing in the tour, which allows us to provide $838 million in player allocations for next season… as opposed to the tournaments themselves or the title sponsor doing side deals with players."
Can a player check where he stands in the PIP race?
Yes, players can receive a detailed breakdown of their standing throughout the year. They will not, however, be able to obtain information on where any other player ranks.
Does the tour care whether a player's coverage/attention is positive in nature?
Yes and no. Pazder said fears that a player might purposely act out to drive up his PIP score are unwarranted. The tour does hold the authority, however, to nullify a player's score in a certain category for extreme cases.
Seems like the tour is helping its richest players get richer. What about the other guys?
According to Pazder, the PIP is part of the tour's growing efforts to aid its membership in off-course business opportunities. The tour recently launched a Player Partnerships program, headed by Dan Glod, that seeks to help players market themselves to potential sponsors and, in some cases, to connect sponsors with potential ambassadors. The tour has accumulated data on how much players are paid for a varying number of agreements – how much does a 30-year-old with X number of PGA Tour wins and X number of social-media followers charge for the logo on his hat; his bag; his left sleeve – that it intends to share with members. The tour also will provide players with dollar-amount values for the exposure they receive through the tour's media channels, including broadcast and digital media content.
"We have no desire to replace what agents do. We view [the program] as complementary or supplementary to what a player's representative is doing… And if a company comes to us and says we're interested in sponsoring professional golfers, we can customise a program for them – do they want one headliner, or do they want eight mid-level people? We have the data now to filter by age, by availability on a player's shirt or sleeve or golf bag. And if a player is doing any contract negotiation, we can aid them and their representatives by giving them this data."
These types of services – industry-wide comparisons and analysis of earning opportunities – have previously been available to players, but they've been provided by for-hire consulting/media/marketing companies. The PGA Tour will provide this service to its membership free of charge.
"I've personally viewed in our sport, and this is always an interesting debate at the breakfast table with our players, their off-course income as their 'guaranteed income'. Jon Rahm knows what he's going to make from Callaway in 2022. The counter to that would be yeah, 'I had to play my tail off to earn those dollars and that's a reward for my play.' I wouldn't call it guaranteed money, per se, but my mentality thinks of it in that fashion."