Hurry up and wait is a game tour pros often play at Major championships. Large crowds at these big events can lead to delays as when players wander off the fairways and outside the ropes with errant shots. Back-ups happen and play in threesomes can stretch upwards of five-and-a-half hours.
This could be how things play out at Southern Hills at least for the first two days of the PGA Championship, but for additional architectural reasons as well.
Check out this image of the 13th tee early in the first round: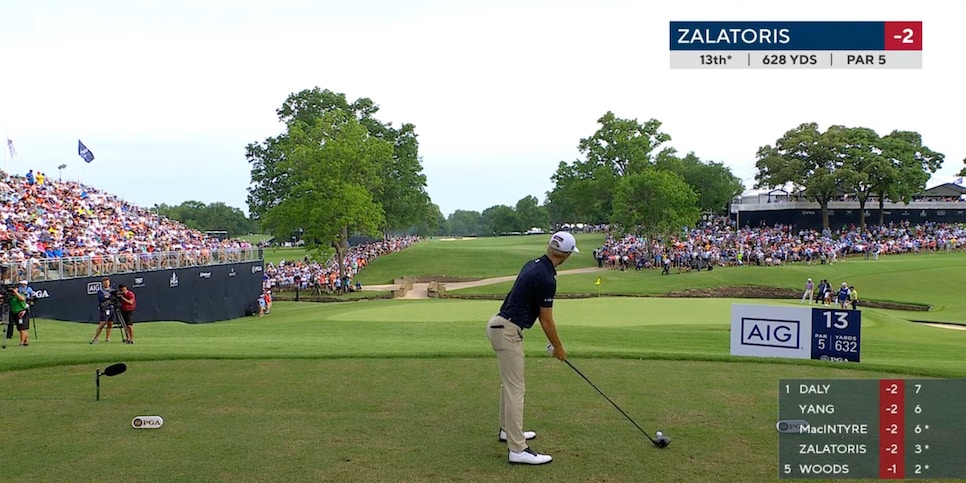 What makes it stand out? Well, Will Zalatoris is hitting his tee shot over the 12th green. And those players standing just beyond the 13th hole sign in the right of the photo? That's the threesome of Rory McIlroy, Tiger Woods and Jordan Spieth waiting for the group on the 13th tee to finish up so they can walk on to the 12th green, having already hit their approach shots.
Rory, Tiger and Jordan were just the seventh group playing through this stretch and they were already waiting. As the day rolls on, it's likely that longer delays might happen at this potential course bottleneck.
Interesting, this isn't the only place on the course where players on the tees will need to be mindful of play on an adjacent green – and vice versa – that is very much in the line of site.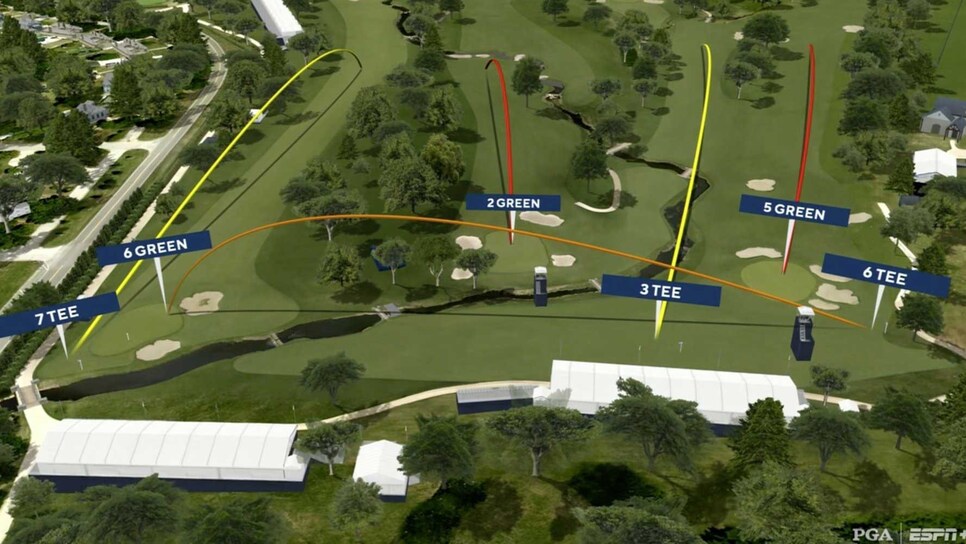 As you can see from this ESPN graphic, the tee shots on the third and sixth holes can potentially crisscross depending on where they're placed each day, plus the tee shot on the par-3 sixth hole does a bit of a fly by with the fifth green. Same with the tee shot on the seventh hole, which sits near the sixth green.
In the days leading up to the start of play, players have been highly complimentary of the restoration at Southern Hills overseen by Gil Hanse and Jim Wagner. The only caveat has been the possibility of bottle necks brought on but the close proximity of some tees and greens.
"They are going to have to be fairly careful with how they set the golf course up because of where some of the tee boxes are," said Tyrrell Hatton during his Wednesday press conference. "The rounds could be just stupidly slow, which at the end of the day no one wants. You want to get around in a reasonable time. Hopefully, they're fairly smart with how they do that."
"It'll be interesting with a back left pin on six, in case somebody just tugs it," said Brooks Koepka. "We're right in the firing zone. It is what it is. I can't do anything about it.
"It's the way the golf course is set up."
Again, it's early, but something to keep an eye on through the first two days in Tulsa.