[PHOTO: Mark Runnacles/R&A]
For long enough, centuries even, it was easy to point and sneer at the body of men known as the Honourable Company of Edinburgh Golfers. There they were in the stately clubhouse that sits directly behind the 18th green on the magnificent Muirfield links that has hosted 16 Open Championships, staring defiantly out at an ever-changing world seemingly beyond their ken – and one that could certainly never meet with their approval. The very idea of women members, by way of example, was typically greeted with kummel-fuelled guffaws. Dream on, brother.
Perceived misogyny was just one of their less-than-attractive traits. In so many other ways, the all-males of Muirfield lived down to just about every negative stereotype the wider populace, largely ignorant of the eclectic social mix golf encompasses across the globe, saw as the game's elitist place in society. Not for nothing did Golf Digest once publish a story calling the place "quite possibly the rudest club in the world".
And not always the most reputable. An entry in the club accounts from 1786 reads: "Cash for getting Dickson out of prison – five shillings and seven pence." More recently, there was also plenty of evidence that the club was largely populated by those keen to preserve their elitist environment.
To wit, future King Edward VIII was once denied access to the course. On separate occasions, a brace of US Open champions, Payne Stewart and Geoff Ogilvy, ended up playing nearby Gullane No.1 when told Muirfield was out-of-bounds. And both looked down from the seventh tee at Gullane to see a deserted Muirfield. Only hours after he had won the 1980 Open there, Tom Watson, along with Ben Crenshaw and Tom Weiskopf, was asked to leave the premises.
For many, that well-established and imperious level of arrogance was further underlined on May 19, 2016. On that day Henry Fairweather, then captain of a clearly not-so Honourable Company, announced that the membership had voted against the admission of women into their midst. To be fair, most who did vote were in favour of the motion to allow female members, but the 64 to 36 percent result fell short of the two-thirds majority required.
Retribution was swift. In addition to worldwide opprobrium that apparently came as a shock to even the hardest-liners within the club, within a day R&A chief executive Martin Slumbers announced that, as long as the HCEG's reaffirmed status quo remained in place, the Open Championship would not return to the jewel in East Lothian's "Golf Coast". Bad dream, brother.
"The wider reaction to the result of the first vote was, I didn't think, that surprising," says Peter Arthur, a former HCEG club captain. "Once you've gone from back-page news to front-page news, it doesn't really matter what the argument is, you've lost it. One of the reasons we had another vote so quickly was that everyone, including many of those who had voted 'no' initially, felt that it was really damaging to the club."
That it was.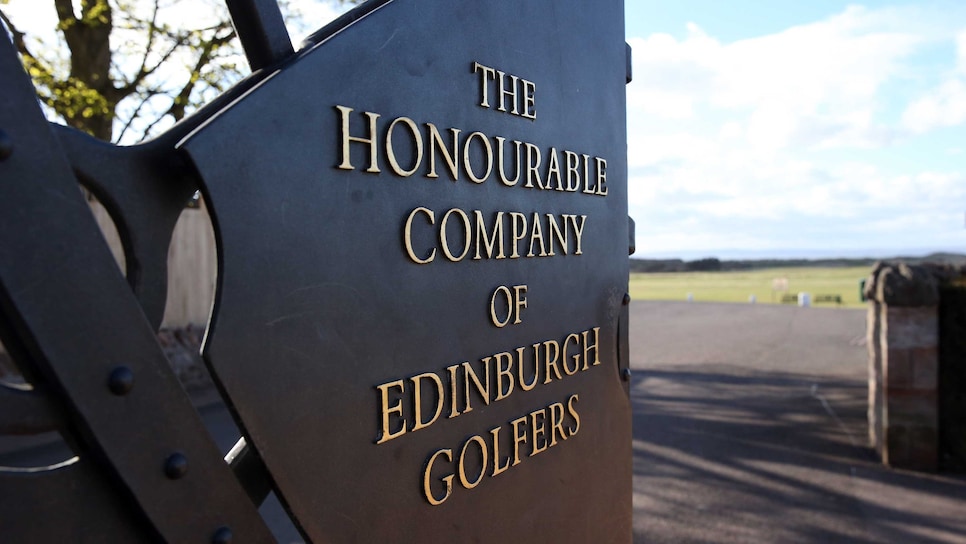 "I received two packages from primary schools in the wake of the vote," says Stuart McEwen, the club secretary who arrived at Muirfield after working stints at Kingsbarns and Gleneagles. "There were hand-written letters from the kids, all asking why we hate women. We also got many messages and e-mails targeting the club, which was unpleasant and showed us how serious this had all become. It was not just a golf issue. And it was global. When we shared all that with the membership, they became nervous about what was next."
Happily, what did come next was, as Arthur said, a second vote, one that saw 81 percent of those who voted in favour of women members. It was the end of one journey for the HCEG and the continuation of another that actually began as far back as Muirfield's most recent Open Championship in 2013. It was there that Peter Dawson, then chief executive of the R&A, was given a rough ride by a press core interested in why, in the 21st century, The Open was being played at a club where women were apparently not welcome.
"The gender issue was really gathering momentum then," says McEwen, who attended that Open in the wake of his appointment but two months before he actually assumed his current role. "I wasn't interviewed, but I was quoted in the Daily Telegraph. It was written that I was 'widely regarded as a reformer'. Those were not my words. But I was reading it thinking, crikey!
"So I was aware that the club was under pressure," he continues. "I had a conversation with an official at IMG. They were running the Women's Open then and he was asking if the club would be interested in hosting. My response was to ask how the sponsors would feel about the single-gender nature of the club. He came back and said they would not want to come here. We were creeping ever closer to untenable."
But that was then.
Today, a little longer than six years later, the HCEG numbers 20 females (a number that will soon enough rise to 25) within its 800-strong membership. And, this week, Muirfield will host the AIG Women's Open for the first time. All of which is the result of swift action that was slowed only by the result of the infamous first vote.
"I'm not sure when we decided that our reaction had to be pretty much immediate, but it wasn't long," says Arthur, who is chairman of the Women's Open championship committee. "We all felt it wasn't the right outcome. And we had to do something about it. The club as a whole, whatever people's personal opinions are, was hurt by the first vote. This place has a great history and certainly a great golf course, so none of us liked to see it being trashed."
Indeed, not long after hearing that the chances of hosting a Women's Open were virtually nil, a group – LTTF, "Looking to the future" – had been formed within the club.
"We talked about addressing issues… membership, equality," McEwen says. "Things that could further damage the club. There was a lot of consultation over two years until we reached the point of proposing change to the membership. We thought we had done enough to convince them."
Clearly, that was not the case.
"We had to do more work," McEwen adds. "We had to identify who was hesitant or who wasn't fully informed. One of the clear messages coming back was that they didn't think the negative reaction from the R&A and the wider world would be what it had been, which left some feeling pressurised. Many felt that this should be a club decision and that we shouldn't be told what to do. Within a year though, the second vote went our way. It wasn't 100 percent; 123 members still voted against women members. I'm not sure why; we haven't asked. But I feel sure that, if we had another vote now, the percentage in favour would be higher again."
Having passed that initial hurdle, further decisions were required. Exactly how were women to be introduced to the club? And how many was the correct number, at least initially? As things stood, it took (and continues to take) about seven years for a member to make his way through the process. When it came to the women though, such a time lag was clearly unacceptable.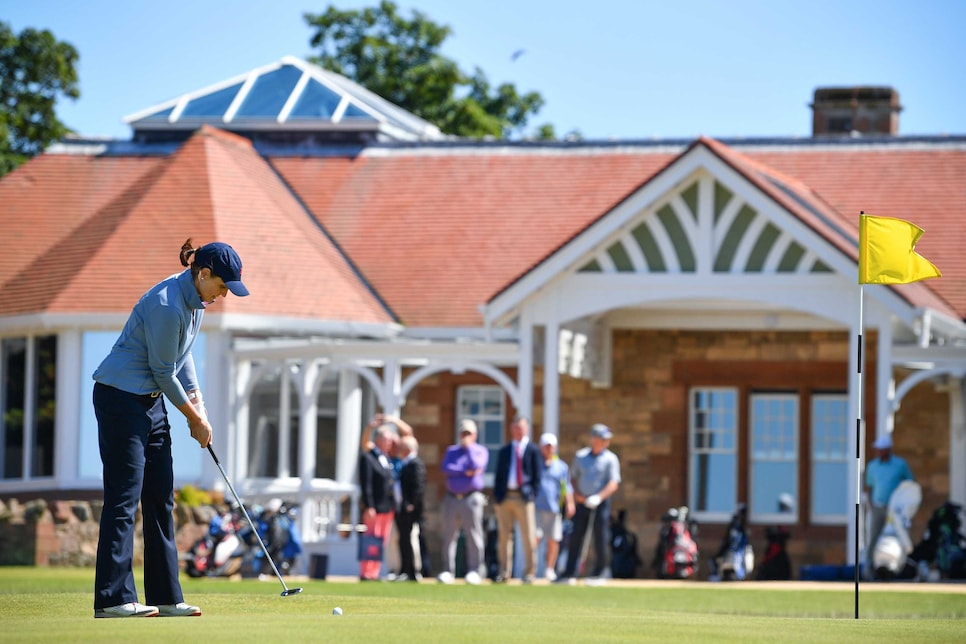 "You can't apply to be a member," McEwen says. "You must be proposed, seconded and have five referees. If we didn't add 25 women and create a mixed list, it would be at least seven years before we had even one female member. That couldn't happen. So we took it to a vote. And that was carried unanimously. But only for women. We guaranteed 25 relatively quickly. And that has come to pass. We'll have 20 by the time the Women's Open is played here. And five more after that."
Once the 25 figure has been reached, as McEwen is quick to emphasise, male and female candidates will be treated the same. But now that the initial 12 female members have been part of the club for more than three years, they are free to propose others, male or female, of course. Happily, too, the signs are good that the transition has, so far, been smooth and uneventful.
"The best part of being a member is the course, followed by the suet pudding," says Lindsey Garden, runner-up in the 1989 Scottish Ladies championship and another member of the Women's Open championship committee. "But the real surprise has been the club and the friendliness and openness of the male members. They have embraced our presence. The dinner matches are competitive, but it is important not to take yourself or your golf too seriously. When you come off, no one wants to hear about the putts you missed. Or how unlucky you were. There's plenty of banter."
Ah yes, within the HCEG, the dinners and the matches that are set-up there are a huge part of the club's culture. To "arrange" a match, a member must rise from his/her seat and make an announcement to the room. It goes like this:
"Mr Captain, sir, with your permission, on Wednesday, April 7, Mr Smith and Miss Jones wish to make a match against Mrs X and Mr Y for club stakes plus 10."
"That is quite daunting, with all those crusty old men listening," Arthur says. "But the women have coped well. Everyone has enjoyed their entry. Nothing has changed for the worse. People are still having the same number of glasses of wine. They are still betting on the matches. It's just great to see them as part of everything."
"We have fitted in and been made welcome," says Barbara Biggart, who will act as chief scorer at the Women's Open. "At the first club dinner I went to, there was no welcome for the new 'lady members'. It was 'we'd like to welcome our new members'. It felt like I was welcomed as a member and not excluded. I've taken part in every competition I can. And every club dinner. I've played in the match against the R&A. And I've played here for fun with lots of people."
"I'm not sure the atmosphere around the club has changed at all," Arthur says. "I always used to ask my fellow members what they were frightened of? What did they think was going to happen? I can honestly say it has made no difference. Maybe the first couple of dinners where there were women members they were noticed as women. But now they are simply seen as members. So the culture and behaviour is the same."
Integration works both ways, of course. And the women, by all accounts, have played their part in that process.
"What is also great is that we haven't seen a huddle of women members getting together to play a foursome," adds Richard Summers, Arthur's deputy on the Women's Open championship committee. "I've never seen a table of only women members. They play with everyone. Hopefully, they are feeling welcome and part of the club. The signs are certainly good. I know people who were quite vehemently against women members. But now they are proposing women. They've seen that it works. It's not the end of the world."
No, just the beginning of a new one, at least as far as the HCEG is concerned. Already £7.5 million has been spent on clubhouse renovations that have made the place suitable for a mixed membership.
And, soon enough, the best women golfers on the planet.
For the Women's Open, the course will be set-up much as it is for the members – male and female. The fairway widths will remain unchanged. The greens will run between 9 and 10.5 on the Stimpmeter. And the course will measure between 6,600 and 6,700 yards (6,000 to 6,100 metres).
It's expected that Muirfield will produce a top-class champion, just as it has nearly always done at The Open. All-time greats Harry Vardon, James Braid, Ted Ray, Walter Hagen, Henry Cotton, Gary Player, Jack Nicklaus, Lee Trevino, Tom Watson, Nick Faldo, Ernie Els and Phil Mickelson have all lifted the claret jug there.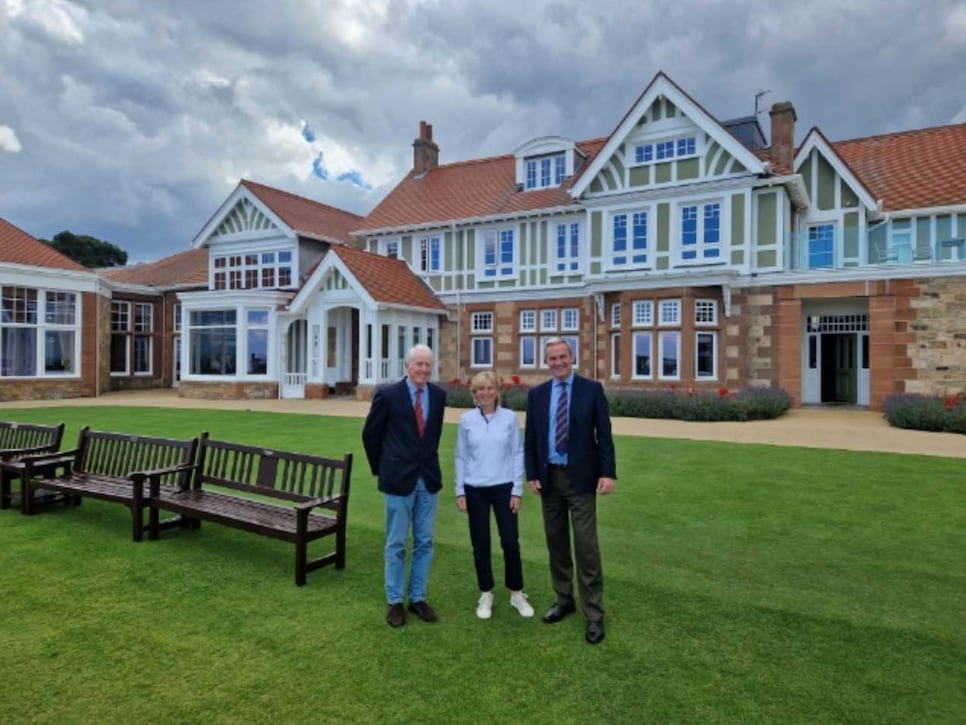 "I think the women will play the course a bit more strategically than the men," Arthur says. "They will not necessarily be going for everything. In other words, they will play Muirfield as it was designed to be played."
Perhaps more importantly, competitors at the Women's Open will also experience the club as it is today, a place to be enjoyed by all, regardless of gender.
"None of what we have done is tokenism," McEwen says. "We purposely avoided setting up a ladies section. This is a club. All are members and all are in this together. One day, eight of the ladies had arranged to play a game. Great. They had a table of eight in the dining room. The wine was flowing. They were having a great time, just like eight men would. I enjoyed that moment. They clearly felt comfortable enough to come in and do exactly what the men do."
"The rudest golf club in the world?" concludes Arthur in response to this new, more enlightened and more welcoming reality. "We used to joke about it. But only until we started to think about it. Why did we have that reputation? Because we deserved it."
Not any more though. Not the truly Honourable Company.