[PHOTO: Mark Runnacles]
Maybe it is something about the air in Scotland. Only two weeks after Cameron Smith came from four shots behind two overnight leaders to win the Open Championship at St Andrews, Ayaka Furue did the same to claim the Trust Golf Women's Scottish Open. Indeed, the diminutive 22-year-old from Japan went two better than Smith's closing 64 over the Old Course. Ten birdies dotted Furue's bogey-free final round over the Kyle Phillips-designed Dundonald Links, a best-of-the-week 62 that took her to a 21-under par 267 aggregate that turned out to be three shots better than anyone else in the field could manage.
There were other similarities, too. Just as Smith was aided by mediocre-to-poor play from Rory McIlroy and Viktor Hovland over the closing 18 holes, Furue surely gained impetus from the generally uninspired last-day performance and score of Lydia Ko (71). The other 54-hole leader, Celine Boutier, fared a little better, shooting 69 to finish second, one shot ahead of Hyo Joo Kim and Cheyenne Knight. But two dropped shots in three holes from the 11th ultimately left the Frenchwoman with too much to make up, her three-putt bogey on the 16th green effectively ending her increasingly slim hopes.
But no matter. This was play of the highest order from Furue, a 2021 LPGA Q-Series graduate in the midst of her rookie season. Seeing her chance of a maiden victory on the LPGA Tour, the seven-time winner on the LPGA of Japan circuit grabbed it with a prolonged sequence of brilliant putting. Guided by her Scottish caddie, Mike Scott, and clearly gripped by the kind of inspiration every golfer yearns for on the greens, Furue made virtually everything down the stretch. So it was that, to no one's surprise, the clinching eight-footer she holed for one last dip under par on the par-5 18th went in dead centre.
"My shots and putting and overall game were very good," said Furue, speaking through an interpreter. "The big birdie putts I had to make I was able to make. This win builds a lot of confidence, and I'm looking forward to playing in more big tournaments, starting with next week [at the AIG Women's Open]. I am so happy that I was able to win in my caddie's home country. He is always a big help to me."
As for the despairing challengers, Boutier will perhaps feel the most frustration. But also encouragement. Missed cuts in each of her two most recent starts meant the Duke graduate arrived in Scotland in something less than fine fettle. But moods can change quickly on tour. Despite what turned out to be a disappointing finish, the birdie the 28-year-old Frenchwoman made on the final green to clinch outright second place will see her pitch up at Muirfield for the aforementioned Women's Open with at least the hint of a smile on her face.
Equally, there have been times over the years when Ko has made the playing of great golf look like the simplest thing in the world. The then 17-year-old New Zealander's memorable display of controlled shot-making at Royal Melbourne en route to claiming the 2015 Australian Open title springs easily to mind. Later that same year, she strolled to a six-shot victory at the Evian Masters. And a month after that maiden Major triumph (what was already her ninth win on the LPGA Tour), Ko won by nine shots at the LPGA Taiwan Championship.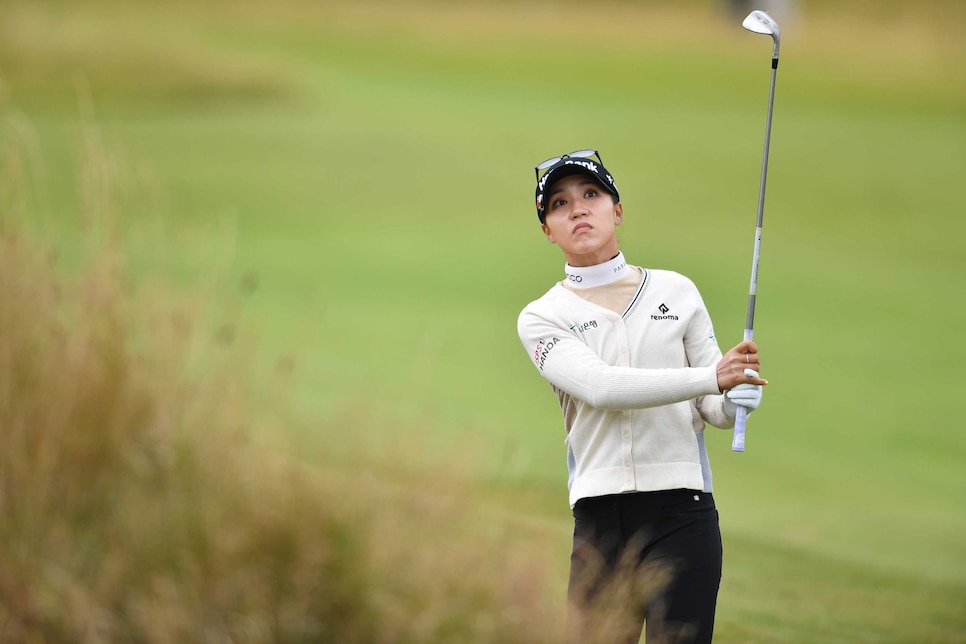 But this event turned out to be nothing like any of those. Battling rather than performing at something close to her imperious best, Ko's closing effort saw her pull up in a tie for fifth alongside American Alison Lee. Already 14-under par after 36 holes, her play over the weekend was best characterised by an inability to create many realistic birdie chances. It was, quite simply, not her day (or days).
That, along with just about everything else, belonged to Ayaka Furue.