The PGA Tour is back at Waialae Country Club, which is hosting this week's Sony Open in Hawaii for a 52nd consecutive time, dating back to 1965. It's special for many reasons, not the least of which because it's the only Seth Raynor original design played on the PGA Tour (now with the Greenbrier's Old White course not on the schedule). But the layout in general is also unique to tournament golf today, generally tighter with interesting fairway movement. The greens, though, restored a few years ago by Tom Doak, are worth our attention – especially the par-3 17th hole.
Background
The par-3 17th at Waialae Country Club (members play it as the eighth) runs along Waialae Beach and, like all oceanside holes, is subject to the whims and fluctuations of the wind. This is Raynor's original Redan, meaning the narrow green, flanked by bunkers short and behind, is angled from the tee with the back half of the putting surface running away from the player.
Why it matters
When the normal trade winds are at the players back the green is increasingly difficult to hit. Even with the tees occasionally moved up to 172 yards from the normal 192-yard markers, balls tend to land and run towards the back left of the green, often finishing in the rough. It's critical for players to somehow find the green and make par since the next hole, the par-5 18th, is annually one of the easiest holes on tour and viewed as an invaluable chance to gain, rather than have to make up, strokes.
A closer look at the green complex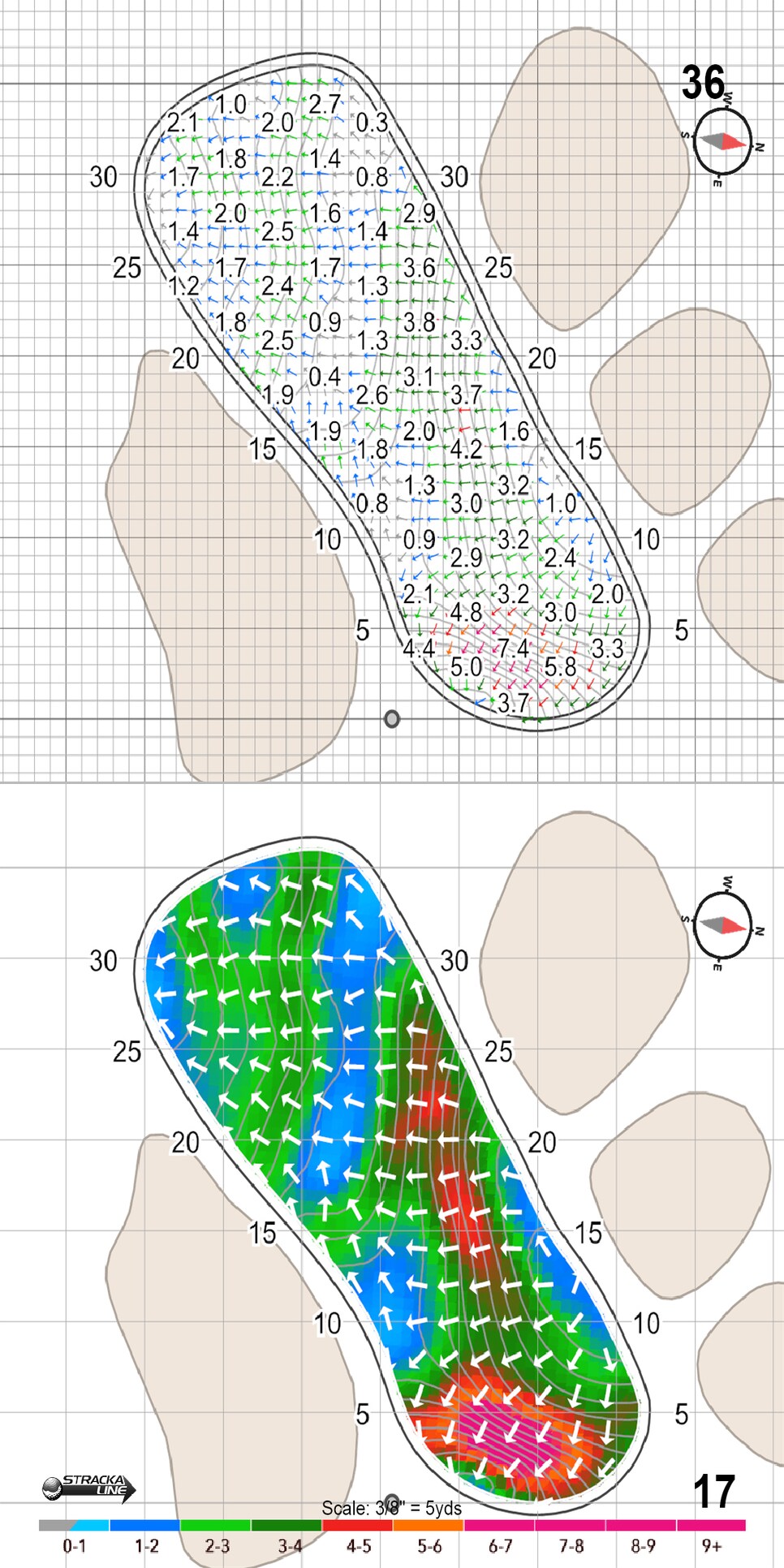 Aside from the large front-left bunker, the false front that covers the first 10 paces of the green is the most prominent thing players see from the tee. They will also notice the raised shoulder on the right just over the crest of the false front. As this map shows, the shoulder is the most critical element of this particular Redan. The mound pushes every tee shot long and to the left. When conditions are firm, it makes getting the ball near middle hole locations extremely challenging – as you can see from heat mapping, which indicates the severity of the slopes – and recovery shots played from the right-side bunkers difficult to control.
Stats
The 17th has played slightly over par each year since 2014 with a 3.058 stroke average. The green and bunkers were remodelled by Doak prior to the 2018 tournament to better represent Raynor's original architecture, but the changes did not impact the challenge of hitting the Redan green in regulation (62 percent success prior to the restoration, versus 61 percent post-restoration). However, players who find the new greenside bunkers have saved par only 45 percent of the time in the past three years, down from a 52 percent save percentage from 2013 to 2017.
(Green mapping courtesy of StrackaLine)
PHOTO: Stan Badz