The Yosemite Sam moustache is no more, the whiskers falling like leaves at the turn of the calendar. The outlaw disposition? Very, very much alive. While all eyes were elsewhere on welcoming the latest young gun to the sport, Sam Burns quietly and confidently captured the Sanderson Farms Championship.
"Yeah, I think it's, it hasn't really set in yet," Burns said after a closing 67 at the Country Club of Jackson in Mississippi. "Still looking out there at the golf course like kind of trying to figure out what happened. Yeah, just very honoured to win here, being so close to home. It's only two-and-a-half hours from where I live now, and having friends and family here, it's really cool and a special week and just really excited."
Like most outlaws, Burns is not one that emotes or wants for attention, instead relying on the steady undercurrent of conviction to get him to where he wants to go. It is also far from blind faith: Burns is coming off a breakthrough 2020-2021 season when he grabbed his first career PGA Tour victory along with eight top-10s. Though his game is complete (14th in strokes gained), the aforementioned stoicism belies a game that is among the more exciting follows on tour (fifth in birdie average, ninth in strokes gained/putting). When Burns gets hot – which has been often lately – it is a reminder that those inside the ropes can make this beautifully difficult sport look ridiculously easy.
So it may seem odd to claim Burns, 25 and the highest-ranked player in the Sanderson field at 25th, rolled into Sunday under the radar. He was in the penultimate group, one behind the 54-hole lead. But this round, this tournament was supposed to belong to someone else.
RELATED: The clubs Sam Burns used to win the Sanderson Farms Championship
That someone was Sahith Theegala, the Pepperdine University prodigy with a swing both graceful and fierce, like a bear taking a swipe at a picnic basket. Theegala, 23, was searching for a wire-to-wire win, a victory that would announce the former three-time All-American as the next "next big thing". And through 63 holes that coronation was in play, the Californian making the turn tied for the lead with Nick Watney. A bogey at the 10th, just Theegala's second of the week and first since the fifth hole on Thursday, did little to quell the belief that he was on a victory march, and a massive drive at the par-5 11th looked to atone for the 10th's sins.
However, while this is an autumn tournament that sits in the shadow of last week's Ryder Cup spectacle, it is a PGA Tour event, where anything less than good is not good enough. On this day, the bravo of youth came out on the business end. After calling off his caddie's suggestion to play his approach safely to the left side of the green, Theegala verbalised his intentions to go right at the pin… only for his approach to leak right into the water. He failed to get up-and-down to save par, with a missed 12-foot birdie putt at the 12th and three-jack from 15 feet at the 13th calling off the parade.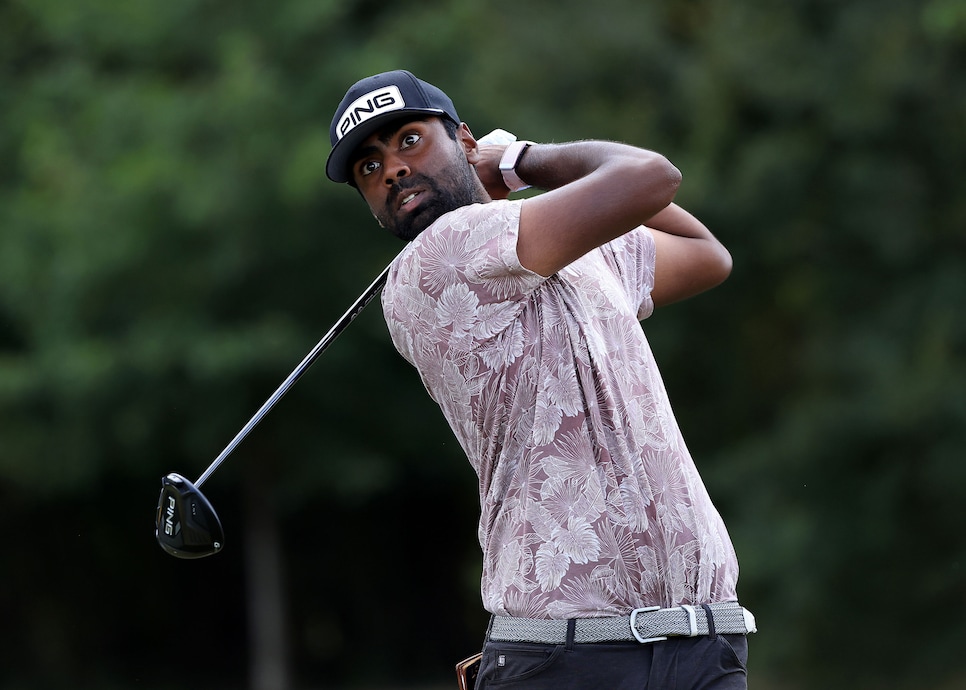 Theegala's future is bright, but even the brightest are occasionally tossed from the horse, and today left him rubbing his rear end.
"I played some really good golf and just a little unfortunate how that sort of… that back nine… it's my first one and first time really being in that position," Theegala said after a 71 led to a T-8 finish in just his 14th career tour start. "So I'm obviously going to learn a lot and just take so many positives away and even the last few holes there I was proud of myself how I held it in there making a couple pars after I was already kind of out of contention, but overall fantastic week."Theegala's struggles turned the Sanderson into a wide-open race. Among the crowd were:
• Watney, a former top-10 talent who entered the week outside the Official World Golf Ranking's top 600.
• Cameron Young, a rookie who won twice during the Korn Ferry Tour's superseason.
• Two-time tour winner Andrew Landry, journeyman Henrik Norlander and recent KFT graduates Trey Mullinax and Hayden Buckley.
Norlander's Sunday-best 64 took the clubhouse lead at 20-under, with Landry, Mullinax and Buckley finishing on that number as well, but the reins were soon surrendered to Watney. Making use of a one-time career-moneylist exemption this season, Watney shot a bogey-free 65 that was good enough for a four-day 21-under total. For the briefest of moments, it looked like the Year of the Comeback would carry into the PGA Tour's new season.
However, as Watney was finishing up, Burns and Young were saddling up to a scoreable stretch on the back nine. Young got it to 21-under but made a mess of the 14th, taking a 6 at the par 5, and though he followed with a birdie at the 15th, he couldn't get any more red on his card.
Burns? Like a good gunslinger does, he did not miss his targets.
Now, let us not be a prisoner to revisionist history. Good as Burns has been in his nascent career, there have been a handful of squandered chances, and though such stumbles are expected at this level and especially for newcomers, you're never quite sure how one will come out on the other side of the fire.
"I think last year having those experiences around the lead, I think those were really important for me, I learned a lot," Burns said. "Having that under my belt today, that experience was definitely helpful and coming down the stretch I felt a lot different than I have in the past and not necessarily more confident but just in a better state of mind and thinking process was much better."
It showed. Burns birdied the 11th, 13th, 14th and 15th, and did so in clinical fashion, his longest putt from 13 feet. The analytics back up the optics, as Burns finished second in the field in approach and first in strokes gained/off-the-tee.
"Yeah, I didn't really look," Burns said of scoreboard watching. "I made a comment to [my caddie] on the par-3, 13, can't remember what I said, but he kind of snapped me back into it, back into what we were trying to do and so he was great all week and just keeping us in the moment and keeping us focused on our process. I didn't really have necessarily a number coming into today. I thought it could be a few different numbers. I just think if we went out there and put a solid round together, I felt like we would have a really good chance."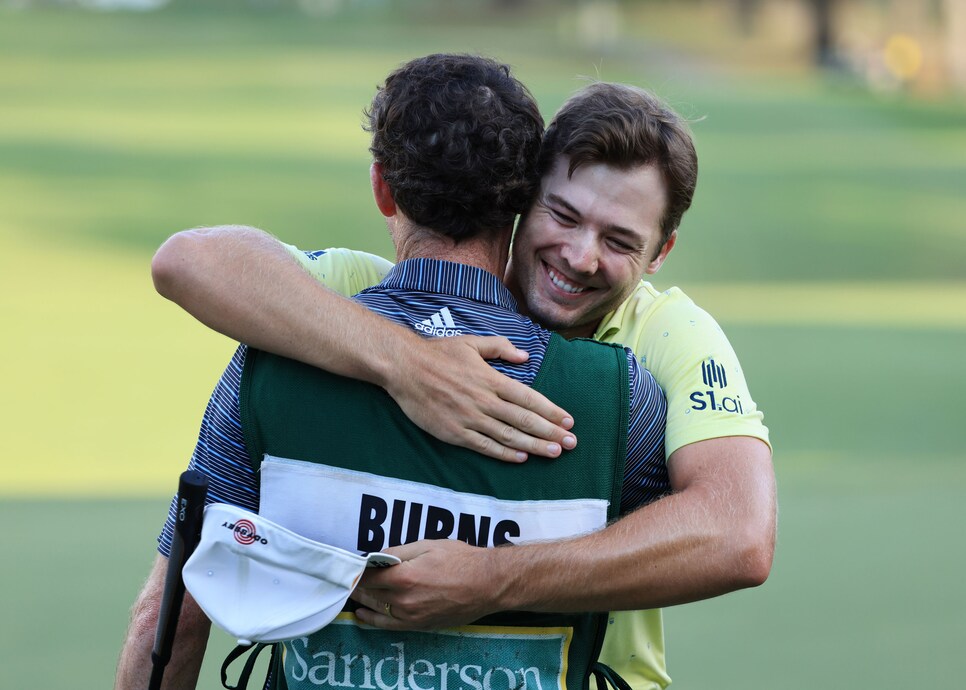 Frankly there could have been more fireworks, but Burns' flatstick – the tool that fuelled so much success last season – was not feeling it in Mississippi: out of the 68 players who made the cut, Burns finished 58th in strokes gained/putting.
But missed birdie putts at the 16th and 17th only made the final results look closer than they appeared. Carrying a two-shot lead into the 18th with Theegala and Cameron Tringale out of the mix, Burns enjoyed a carefree trek up the final hole. A flared approach led to a bogey, but no matter: for the second time in five months Burns was a winner, topping Watney and Young by one.
The Sanderson's bronze rooster joins the Valspar's golden snake on Burns' mantle and given the way things are going it's easy to envision more prizes joining their ranks. That is all well and good, and ultimately may come to fruition. But while today was a showcase for where Burns is and where he might be going, it also provided a chance to remember where he's been. Burns began his career at the Sanderson in 2017, and hailing from Shreveport, Louisiana, just down the road, the tournament is about as much of a home game as he gets.
"Yeah, it's definitely come full circle," Burns said. "This is one of my favourite events on tour. I always enjoy coming here, being close to home and to give me that opportunity as a kid coming out of college, it was really special to me and it meant a lot to me and, God willing, I'll be able to play here for the next 20 years and it will always have a special place in my heart."
Of course, outlaws – as Burns' performance stated emphatically this week – are cold-blooded, and Burns wasn't exactly thrilled at being left off the Ryder Cup team. "Hearing the news that I didn't make the team was definitely very motivating and definitely kind of gut-wrenching," Burns said. "And, so, yeah, I think it's definitely motivated me to try to be on the next team and continue to try to improve and hopefully be on it the next go."
A shame Burns shaved the 'stache, though. "Yosemite Sam" has a nice ring to it.