The 2023 Ryder Cup is still more than a couple weeks away, but if the scoring was based on calf muscles, the U.S. would already hold an edge. And a HUGE one at that.
Zach Johnson's squad gathered in Rome over the weekend for a scouting report of Marco Simone, but it was one particular photo from the team bonding mission that turned heads. And had everyone looking at Stewart Cink's legs.
That's because the 6-foot-4 American vice captain looked like an absolute unit wearing team shorts. Let's just say it doesn't appear that the 50-year-old has skipped leg day since winning the 2009 Open Championship. Have a look for yourself. (Cink is on the left side of the photo, but you'll have no problem finding the guy who looks like he's standing on two oil barrels.)
🇺🇸🇺🇸🇺🇸

Thank you @marcosimonegolf for an amazing weekend! pic.twitter.com/F2r3IF2uWi

— Ryder Cup USA (@RyderCupUSA) September 9, 2023
What a beast. Even Phil Mickelson would have to be impressed. Seriously, how did Cink get those weapons through airport security?
Here's a closer look. And we cropped the photo to keep Brooks Koepka in the frame because of his reputation for being a big, athletic dude: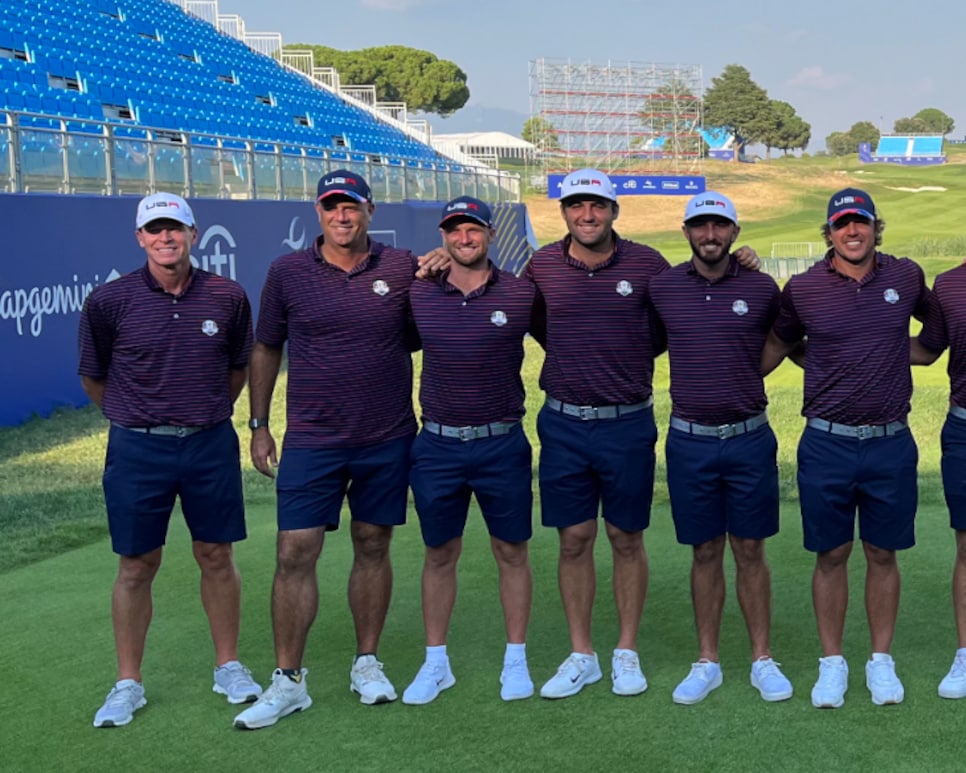 Crazy. Anyway, there were plenty of other astute comments like why is Rickie Fowler the only person wearing pants? Or why is Brian Harman the only player not wearing white shoes? Or where the heck is Jordan Spieth?! But our favorties all involved Stew's sticks. Here's a sampling:
Stewart Cink's calves make Phil's look like twigs

— Zachary Dosch (@zacharydosch) September 10, 2023
More importantly, what did they inject in to Cinks calves?

— A-A Ron (@Detroit_BC) September 10, 2023
Cink is such a unit. Kitchen!

— Taylor McCutcheon (@Cutch_T) September 9, 2023
I had no idea Stuart Cink is 6'10" #RyderCupUSA

— Scott Harb (@scottharb) September 9, 2023
My god, the calves on Stewart…

— Brandon Bush (@brandonbush817) September 10, 2023
Call off the golf and have each team send one guy out to compete for the cup in a cage fight. Cink will fight for the US. Europe will probably forfeit.

— Wild Bill (@WildBil18441743) September 10, 2023
We're guessing it won't come to that, but yes, we would like Team USA's chances in that unlikely scenario. Anyway, props to Cink for staying so fit at fifty. And if Captain Johnson doesn't have his vice captains wear shorts every day for intimidation he should be relieved of his duties.
This article was originally published on golfdigest.com