Welcome to another edition of The Grind, where we feel for all the Jets fans out there. As a Wake Forest/Chris Paul fan, I know a thing or two about rooting for cursed teams. It sucks. Just like it sucks to be cursed with bad weather, which I seem to be of late. Due to the kids' growing list of activities, I've basically been reduced to being a Friday-only golfer. And three of the last four Fridays I've gotten rained out, including this past one when Greg Snedeker and I had a potential classic semifinal in the Golf Digest Match Play Championship ended after 11 holes at Mansion Ridge. Bummer. That being said, we both got home feeling fortunate because there was a moment when we thought we might have to spend the night in this flooding tunnel as thunder and lightning crashed all around us: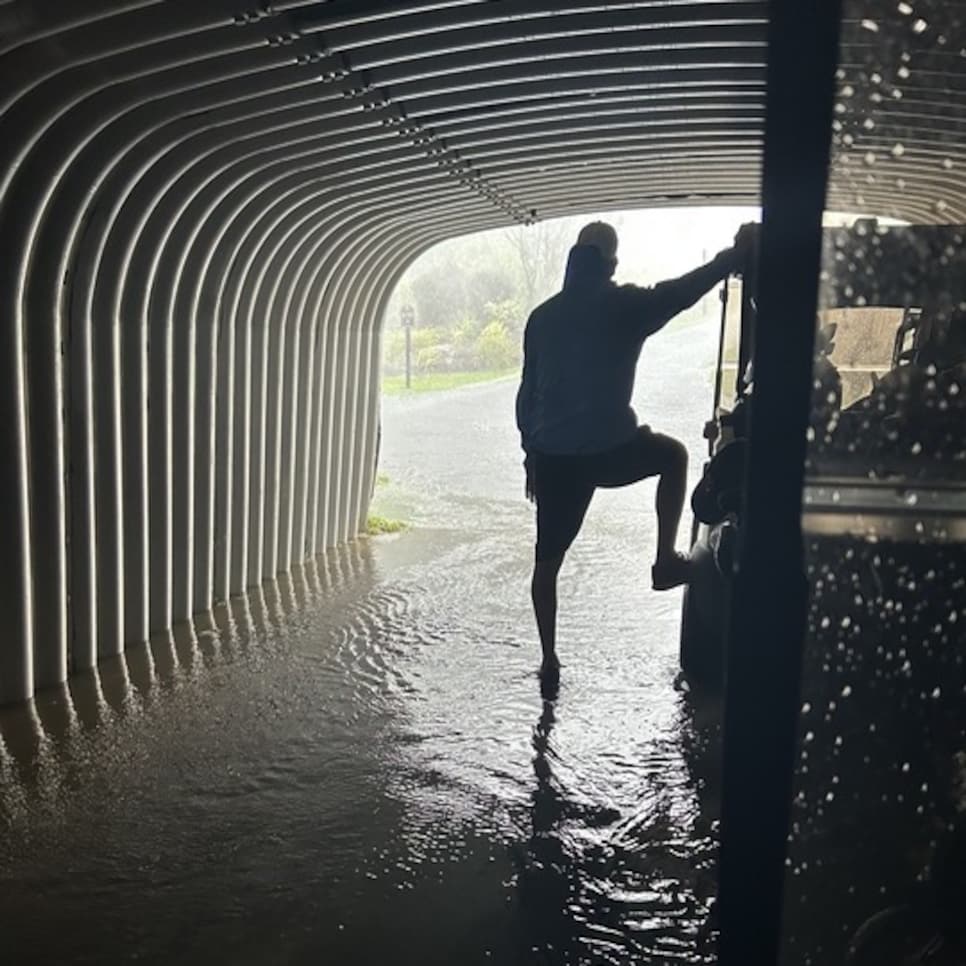 Scary times! Hopefully, we'll have better luck getting the round in this week. In the meantime, in between checking the forecast, let's talk about everything else happening in golf.
WE'RE BUYING
Vincent Norrman: In the span of less than two months this guy has won his maiden titles on both the PGA Tour and DP World Tour. The latter coming on Sunday with a final-round 65 that allowed him to track down Rory McIlroy (more on him later) and others at the Horizon Irish Open. It's too bad he didn't do this a couple weeks earlier or he might have just played in a maiden Ryder Cup also. (OK, techincally speaking the Barbasol win in July counted for both tours since it was a co-sanctioned event, but you get where we're going with this.)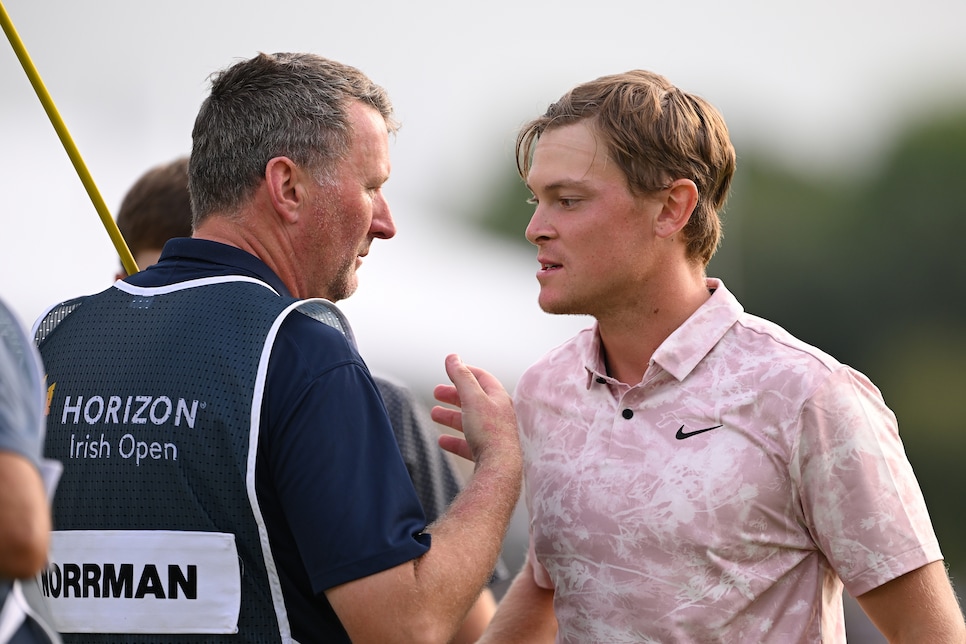 Ross Kinnaird
Although as Golf Digest's Stina Sternberg, a fellow Swede, pointed out, Normann's name is, um, interesting given his background.
Fun fact: Vincent Norrman is a Swede, but his last name means "Norwegian man" in Swedish.🙃 pic.twitter.com/3QaiUv7Muv

— Stina Sternberg (@StinaSternberg) September 10, 2023
The more you know. "I'm just as starstruck as some of those fans out here seeing those guys, and to be competing against them is so cool. To beat them is even cooler," the 25-year-old Norrman said after the win. Meanwhile, his girlfriend, Frida Kinhult, finished T-14 in the LPGA's Kroger Queen City Championship. Talk about a golf power couple! Speaking of the LPGA …
Minjee Lee: The two-time major champ won her ninth career tour title in Cincy despite the fact she blew a five-shot lead in a six-hole span to Charley Hull during the final round. But all's well that ends well, right?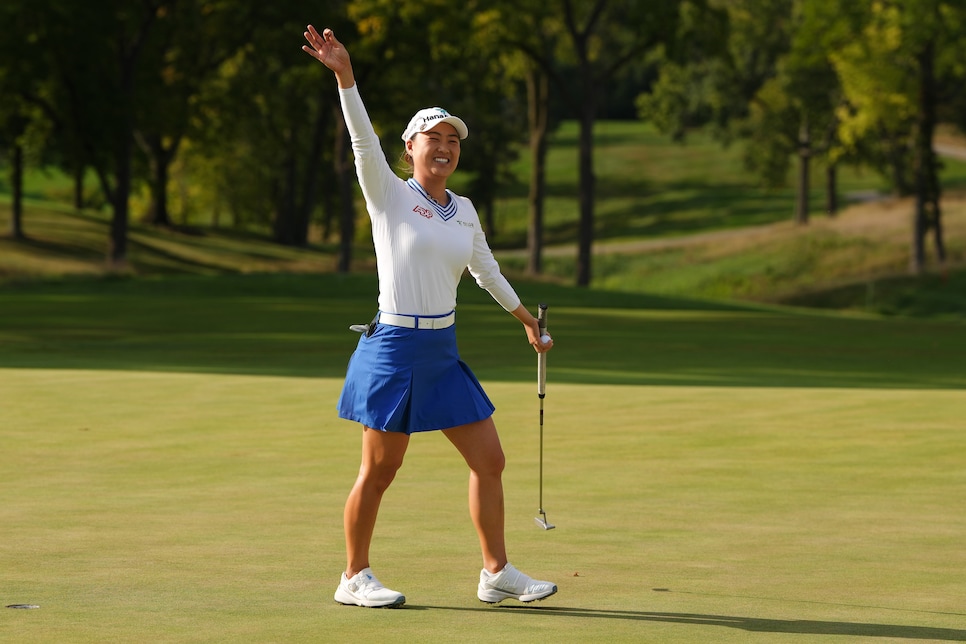 Dylan Buell
The win could prove to be as important as either of her major titles, because, stunningly, this ball-striking genius hadn't won since her victory at Pine Needles 15 months ago. Extending her winless drought with a Sunday collapse would have been particularly tough. "I feel like I really deserve this one," Lee said. "I feel like it's been a little bit of a long time coming after the U.S. Open, and like the past few weeks I've been really close." Her brother, Min Woo, finished pretty close himself with a T-7 at the Irish Open. Let him them cook.
Team USA bonding: The American lads took a scouting trip to Italy, but more importantly, seem to be getting along swell. Well, other than Scottie Scheffler taunting Justin Thomas during Texas' upset of Alabama:
Texas is back pic.twitter.com/18xUZinM1T

— max homa (@Maxhoma) September 10, 2023
But seriously, this was a great move to get everyone on the same page and to get a look at Marco Simone Golf & Country Club. Oh, and to get a look at Stewart Cink's calves: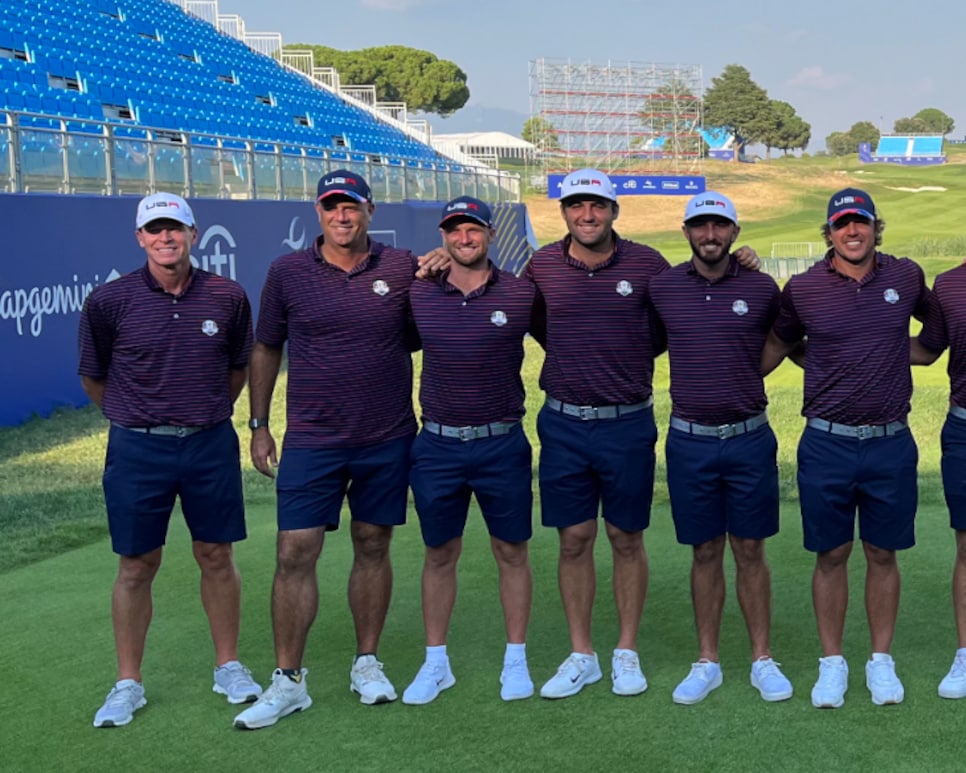 Those things are huge. And Cink was happy to draw attention from Golf Twitter for something other than, well, you know …
I've been the Tan Line Guy for long enough!!!! https://t.co/uFRQRQPtL3

— Stewart Cink (@stewartcink) September 11, 2023
Yes, you have, Stewart. Yes, you have. Anyway, look at how comfortable all these guys look together. Of course, it helps when the team selection is a bit of a boys club. And one of the older boys brought back an iconic shirt to add even more team spirit:
An amazing meal in Rome to close out an unforgettable trip 🙏

(& an unforgettable @jimfuryk fit 👀) pic.twitter.com/rARxdArORh

— Ryder Cup USA (@RyderCupUSA) September 10, 2023
My Team Europe bet might be in trouble.
WE'RE SELLING
Rory's wet Sunday: McIlroy was right there to capture a second Irish Open at the K Club, but had a disastrous final round playing in the final group that included four balls in the water. Four! Somehow McIlroy managed to only shoot two over, but he dropped from second into a tie for 16th place.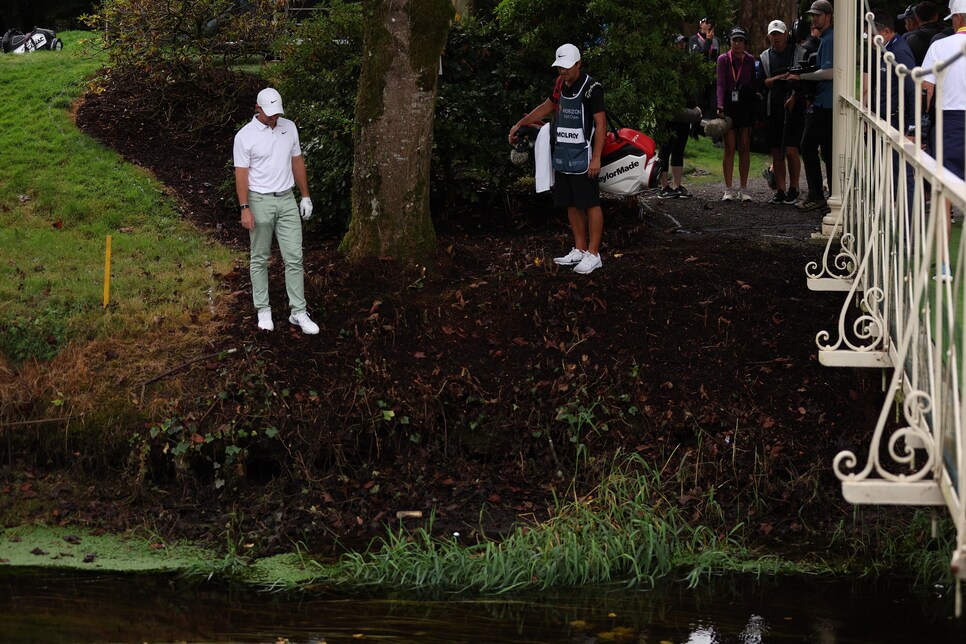 Richard Heathcote
And now suddenly my Team Europe bet is crumbling all around me.
Barely breaking 90: As a tour pro. If you thought Rory's Sunday was bad, wait until you get a look at Santiago Tarrio's Saturday. Not only did he put four balls in the water, he did it on one hole with a "Tin Cup"-esque moment. And three of them were from the drop zone!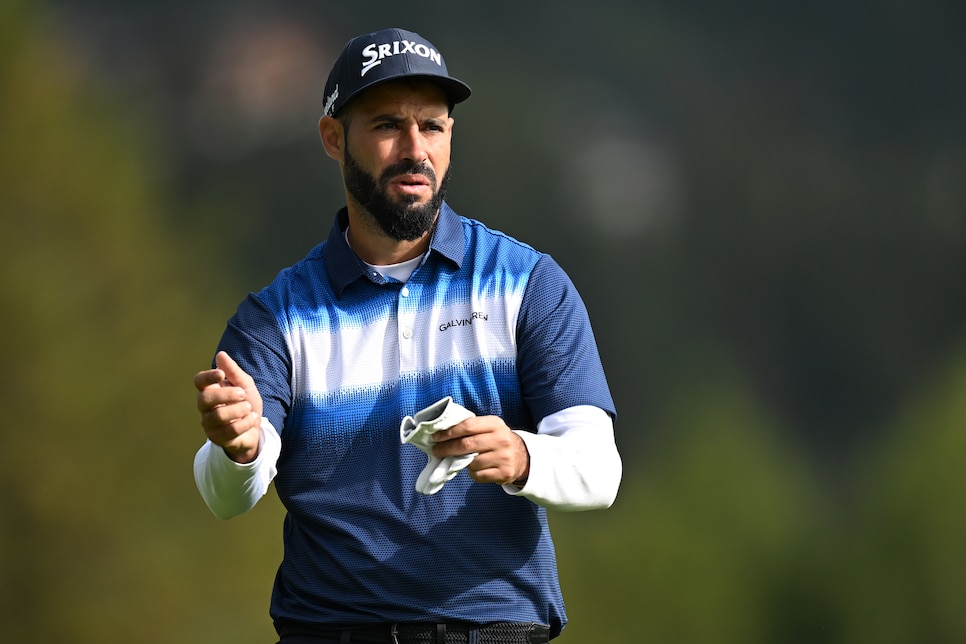 STUART FRANKLIN
That hole resulted in a 12, but at least he made a clutch par on 18 to shoot 89. Sorry, that was a bit mean, because anyone is capable of having a nightmarish day on the course. Heck, this guy made the cut at the Irish Open and then did this. My bad, Santiago. Keep your head up.
Sacks Parente stock: Kudos to Mike Stachura, E. Michael Johnson and Joel Beall for investigating a sketchy financial story involving this small golf equipment company. This ticker soared some 700 percent to $32 per share on its IPO day, growing to a market cap of $400 million despite the fact the company had done only $90,000 in sales this year. Absolutely wild stuff. Anyway, there are so many questions so I recommend you read the entire story. But let's just say the fact that it's now trading at about a buck fifty per share now is not surprising in the least.
ON TAP
The PGA Tour is BACK! That's right, after a two-week layoff the boys are back in town to start the "new" fall schedule at the Fortinet Championship, AKA that one in Napa, AKA the former Safeway Open, AKA that one Brendan Steele used to dominate. Oh, and that Golf Digest Match Play semifinal between Greg and myself has been rescheduled for … Sunday (I couldn't even play Friday this week and had to BEG to play the weekend). It also happens to be a rematch of last year's championship tilt that Greg won so wish me luck! But mostly wish me good weather.
Random tournament fact: Stewart Cink and his massive calves won here in 2020. His 21-under-par total is also the best in tournament history. Hang on, going to do some calf raises real quick.
RANDOM PROP BETS OF THE WEEK
—Sacks Parente will ever be a blue-chip stock: 1 MILLION-to-1 odds
—Vincent Norman will ever be a blue-chip Euro Ryder Cupper: Even odds
—It's going to rain here on Sunday now instead of Friday: LOCK
PHOTO/TWEET/INSTAGRAM OF THE WEEK
Jessica Hadwin is ready for husband Adam's offseason to be over. Just not for any reason you might think:
Can't believe I'm saying this, but it might be time for golf to get going again before this man kills himself doing home repairs. Pulled into the garage to the door wide open and Bob the builder with a sketchy 20 ft ladder set up pic.twitter.com/rvTJEZMSob

— Jessica Hadwin (@jessicahadwin) September 7, 2023
I couldn't be less handy around the house so I applaud all of Adam's efforts, but even I know not to climb up a ladder wearing only socks!
CLUB PRO GUY TWEET OF THE WEEK
Members – If we doubled the monthly dues, would more than half of you quit? We'd like to know before we do it.

— Club Pro Guy (@ClubProGuy) September 12, 2023
VIRAL VIDEO OF THE WEEK (WOO! DIVISION)
As if making a hole-in-one isn't cool enough (not that I would know), this guy made one on a par 4. And a famous one at that, acing the 17th at TPC Scottsdale, which just happens to be the site of the only par-4 ace in PGA Tour history (Andrew Magee, 2001 Phoenix Open). So it shouldn't come as much of a surprise that he ran the entire length of the hole to confirm his golf ball was in the cup:
HOLE IN ONE ON 17 AT TPC SCOTTSDALE WITH THE BOYS. UNREAL.

(via @CooperOpheim TW) pic.twitter.com/f656qHlaNh

— Fore Play (@ForePlayPod) September 6, 2023
Well played—and run. That was quite a workout.
THIS WEEK IN SENIORS SHOWING OFF
First, how about Steve Elkington letting us know he shot a back-nine 30(!) at Cypress Point:
We'll … Today is a good day
38+30=68 with a Birdie on 16
241 hybrid… pic.twitter.com/ecq2FTRJiv

— Steve Elkington (@elkpga) September 8, 2023
Jeez, Steve. Just telling us you played Cypress Point was enough to make us super jealous. And then there was John Daly, showing that he still possesses the skills that made him the placekicker on a Missouri high school football team that won a state title four decades ago:
Football is BACK and John Daly is drilling barefoot field goals. 😂🏈 @PGA_JohnDaly

🎥 @ChampionsTour | #Kickoff2023pic.twitter.com/s0uvnI65l6

— Golf Channel (@GolfChannel) September 7, 2023
And barefooted! JD is truly one of the great athletes of our time.
THIS WEEK IN CELEBRITIES PLAYING GOLF
How about Gaelic football player David Clifford attempting a shot similar to the one struck by Rory McIlroy at the 2016 Irish Open (when he didn't find the water four times in the final round)—and pulling it off as well:
David Clifford doing David Clifford things! 16th at the @thekclubgolf ! 290 yards out!!!! 15 yards back from Rory's plaque! 3 wood stitched to 10 feet! Insane😮 👏 @IrishOpen_ @GolfIreland_ @Kerry_Official pic.twitter.com/tocYmD5Cmv

— Conor Moore (@ConorSketches) September 6, 2023
Admittedly, I had never heard of David Clifford. Heck, I had never heard of Gaelic football. But that dude's an athlete.
THIS WEEK IN PUBLIC DISPLAYS OF AFFECTION
It's engagement season in pro golf! First, Matt Fitzpatrick got down on one knee to pop the question to girlfriend Katherine Gall:
And Akshay Bhatia is also taking the plunge with girlfriend (and sometimes caddie) Presleigh Schultz by taking advantage of his business trip to Napa (Savvy!):
You love to see it. Although my favorite part of both was someone in the comments saying Fitz's belt is a unit. Great point. That thing is a beast. Just stay focused on that Ryder Cup, Matt.
THIS WEEK IN PUBLIC DISPLAYS OF AFFECTION ANIMOSITY
Nick Faldo with an all-time troll of Greg Norman right here:
Remembrances of the hunt… when a certain🦈 lost its chops. @Jawsthemovie @UniversalPics @thedailyjaws @NickFaldo006 pic.twitter.com/Pd58f6GMjO

— ⛳️Sir Nick & Lindz Lady Faldo™️ (@SNFLLF) September 10, 2023
I don't care how many years it has been since Norman gagged away that green jacket, that still hurts. A lot. Sir Nick is ruthless!
QUOTE OF THE WEEK
"I think it's always really hard to back up an amazing year with another really amazing year. You have high expectations, and I think managing that is probably the hardest thing because you know you've been there, so it's like, Oh, why can't I do that every week! But obviously you can't because you're human." —Minjee Lee. I know the feeling, Minjee. I mean, I did successfully defend my HGGA title this summer so I did back up an amazing year with another really amazing year, but I know it's hard to do.
THIS AND THAT
Congrats to N.C. State's Lauren Olivares Leon on becoming the first woman collegiate golfer to shoot 60. She should get in touch with Bryson DeChambeau about making "Ms. 60" merch. … Stephen Curry is going to be on a new TV show in which he tries to replicate famous shots of Tiger Woods, Rory McIlroy and Jordan Spieth. Sounds cool—and a lot more likely than either of them replicating most of Steph's NBA shots. … A former pro named Linda Chen is suing multiple groups over being denied a hole-in-one prize, a Mercedes valued at $90K, because she didn't inform the charity event of her brief pro status more than a quarter century ago. Sounds like a great potential episode on "Suits." Yeah, I watch "Suits" now. What of it? So does Jon Rahm! … And, finally, these Miss Vickie's spicy dill pickle chips that Costco just started selling are outrageously good: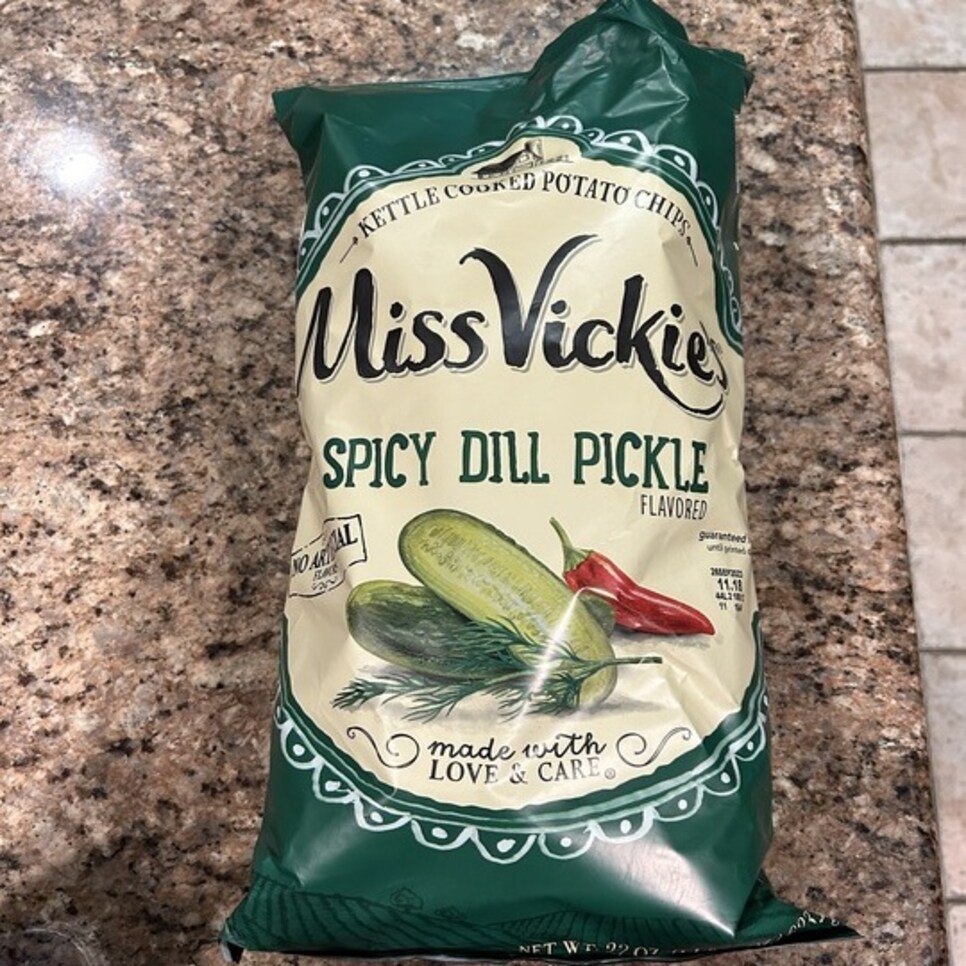 In related news, I've gained back the 10 pounds I lost at the beginning of the summer.
RANDOM QUESTIONS TO PONDER
When will Aaron Rodgers play football golf again?
Was that karma for his "crap" handicap at Pebble Beach?
Why is it so much easier to gain weight?
This article was originally published on golfdigest.com