After plenty of international intrigue, Fred Couples' gaffes and a late-breaking Sergio Garcia last gasp to play this year in Rome, the Ryder Cup is finally here, and the multinational event has never had higher stakes. The Americans, led by Captain Zach Johnson, will make the trek to Marco Simone in Italy and attempt to shatter a 30-year winless drought on European soil despite the odds (and playing conditions) firmly against them. Luke Donald and the European team are looking to keep the good times rolling at home and take back the Ryder Cup after a lopsided 2021 defeat at Whistling Straits.
This is the 44th iteration of the biennial event and, as always, the first team of pros to reach 14½ points will claim victory (a 14-14 tie means the Euros retain the Cup, just like at the Solheim Cup last weekend). The opening ceremony is set for Thursday, Sept. 28, and the matches play out Friday, Saturday and Sunday.
What is the Ryder Cup?
The Ryder Cup is a biennial competition between two 12-man teams, one made up of American players and the other made up of European players. Each team has a captain who gets six captain's picks and creates the pairings for the competition.
More Ryder Cup preview stories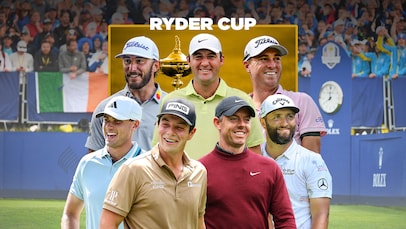 Meet the Players Ryder Cup 2023: All 24 players competing at Marco Simone, ranked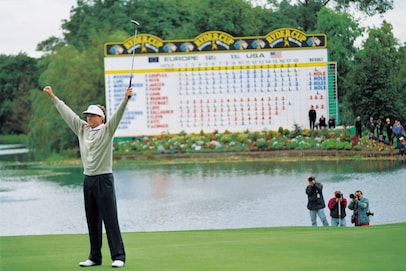 Flashback 30 years after the last U.S. Ryder Cup win in Europe, revisiting what went right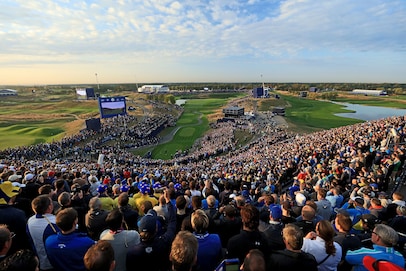 Ryder Cup Ryder Cup homefield advantage is so real it might be unfair Has the Ryder Cup always been between Europe and America?
The first Ryder Cup, which was played in 1927, was between the United States and Great Britain. That's the way the matches were contested until 1973, when players from Ireland were added to the Great Britain team. In 1979, all players from continental Europe began to be included on the team. Since then, it has been America versus Europe.
This year's squads are as follows:
United States
Scottie SchefflerWyndham ClarkBrian HarmanPatrick CantlayMax HomaXander SchauffeleSam BurnsRickie FowlerCollin MorikawaBrooks KoepkaJordan SpiethJustin Thomas
Europe
Rory McIlroyJon RahmRobert MacIntyreViktor HovlandTyrrell HattonMatt FitzpatrickLudvig AbergTommy FleetwoodNicolai HojgaardShane LowryJustin RoseSepp Straka
The winner will receive no prize money but monumental bragging rights for the next two years.
TV Schedule
Friday, Sept. 29: Foursomes and fourball from 1:30 a.m.-noon, USA Network
Saturday, Sept. 30: Foursomes and fourball from 1:30-3 a.m. on USA Network and 3 a.m.-noon on NBC.
Sunday, Oct. 1: 12 singles matches from 5:30 a.m.-1 p.m., NBC
More ryder cup preview stories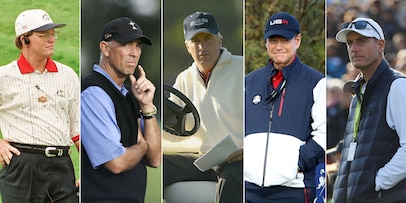 Road Trip The secret to a U.S. Ryder Cup win in Rome? It may lie in the lessons learned by these 5 American captains who lost in Europe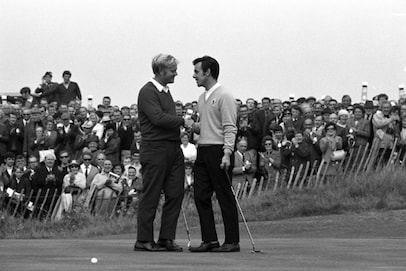 Memory Lane The 5 most controversial concessions (and non-concessions) in Ryder Cup history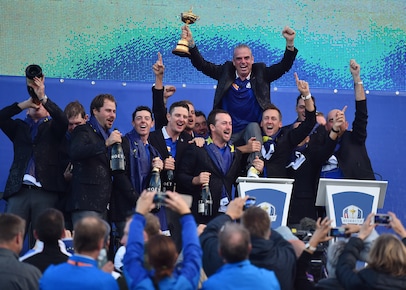 Letter from Europe How the magical power of the Ryder Cup can turn ordinary players into golf legends Streaming Schedule
All live coverage on NBC streams on Peacock, RyderCup.com and the official Ryder Cup app. Those streaming platforms will also have separate "featured match" coverage on Friday, Saturday and Sunday. Check back for updates on the specific matches that will be shown.
A Ryder Cup-themed Game Plan video, breaking down the clever (maybe unfair?) tricks and tactics the home team uses to win.

Super pumped at how this turned out, I hope you like it!!https://t.co/bakcdBysB8

— LKD (@LukeKerrDineen) September 20, 2023
Tee Times (all times EDT)
Specific tee times have yet to be posted for the matches. Here are the sessions that will be played:
Friday morning foursomes: 1:35 a.m., 1:50 a.m., 2:05 a.m., 2:20 a.m.
Friday afternoon four-balls: 6:25 a.m., 6:40 a.m., 6:55 a.m., 7:10 a.m.
Saturday morning foursomes: 1:35 a.m., 1:50 a.m., 2:05 a.m., 2:20 a.m.
Saturday afternoon four-balls: 6:25 a.m., 6:40 a.m., 6:55 a.m., 7:10 a.m.
Sunday singles: 5:35 a.m., 5:47 a.m., 5:59 a.m., 6:11 a.m., 6:23 a.m., 6:35 a.m., 6:47 a.m., 6:59 a.m., 7:11 a.m., 7:23 a.m., 7:35 a.m., 7:47 a.m.
Previous Results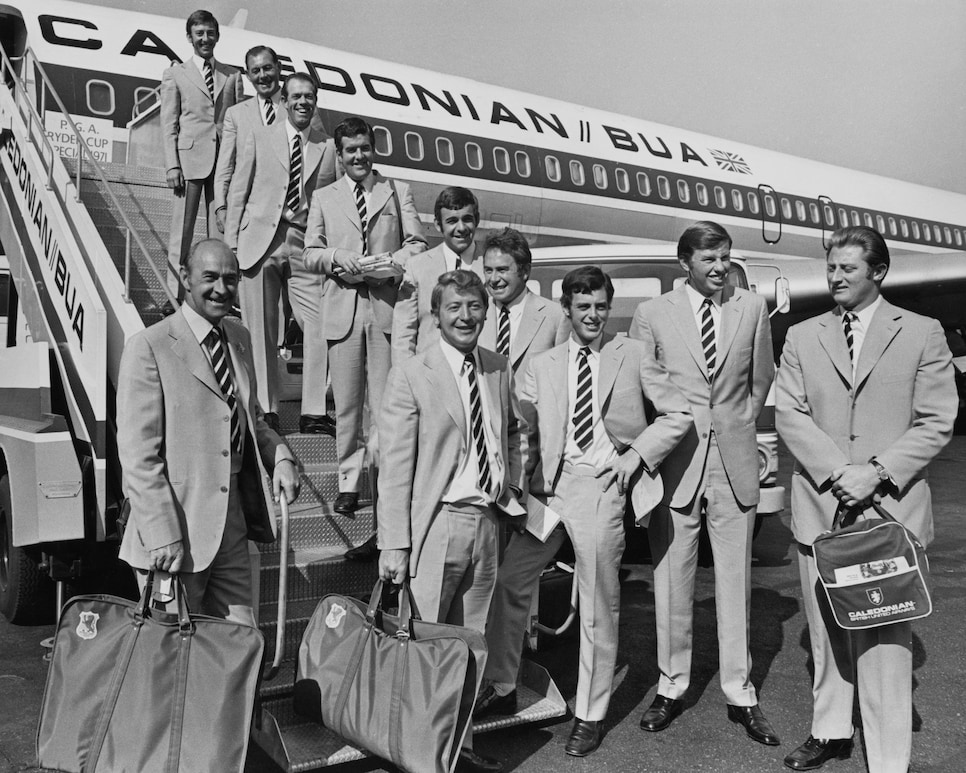 Central Press
The American team leads 27-14.
Year, Site, Score, Winner
2021, Whistling Straits, 19-9, USA
2018, Le Golf National, 17½,-10½, Europe
2016, Hazeltine National GC, 17-11, USA
2014, Gleneagles Resort, 16½,-11½, Europe
2012, Medinah CC, 14½-13½, Europe
2010, Celtic Manor Resort, 14½-13½, Europe
2008, Valhalla Golf Club, 16½-11½, USA
2006, The K Club, Straffan, 18½-9½, Europe
2004, Oakland Hills CC, 18½-9½, Europe
2002, The Belfry, 15½-12½, Europe
1999, The Country Club, 14½-13½, USA
1997, Valderrama GC, 14½-13½, Europe
1995, Oak Hill CC, 14½-13½, Europe
1993, The Belfry, 15-13, USA
1991, The Ocean Course, 14½-13½, USA
1989, The Belfry, 14-14, Tie (Europe retains Cup)
1987, Muirfield Village GC, 15-13, Europe
1985, The Belfry, 16½-11½, Europe
1983, PGA National GC, 14½-13½, USA
1981, Walton Health GC, 18½-9½, USA
1979, The Greenbrier, 17-11, USA
1977, Royal Lytham & St. Annes, 12½-7½, USA
1975, Laurel Valley GC, 21-11, USA
1973, Muirfield, 19-13, USA
1971, Old Warson CC, 18½-13½, USA
1969, Royal Birkdale GC, 16-16, (U.S. retains the Cup)
1967, Champions GC, 23½-8½, USA
1965, Royal Birkdale GC, 19½-12½, USA
1963, East Lake CC, 23-9, USA
1961, Royal Lytham & St. Annes, 14½-9½, USA
1959, Eldorado CC, 8½-3½, USA
1957, Lindrick GC, 7½-4½, Great Britain
1955, Thunderbird CC, 8-4, USA
1953, Wentworth GC, 6½-5½, USA
1951, Pinehurst CC, 9½-2½, USA
1949, Ganton GC, 7-5, USA
1947, Portland Golf Club, 11-1, USA
1937, Southport & Ainsdale GC, 8-4, USA
1935, Ridgewood CC, 9-3, USA
1933, Southport & Ainsdale GC, 6½-5½, Great Britain
1931, Scioto CC, 9-3, USA
1929, Moortown GC, 7-5, Great Britain
1927, Worcester CC, 9½-2½, USA
This article was originally published on golfdigest.com