There are many ways to prep for a Ryder Cup. Very few of them involve a weekend abroad drinking with the fellas. But Rory McIlroy is Rory McIlroy … and we're not. So we'll find out soon enough if this unorthodox approach works out for Team Europe.
Right before the biennial showdown later this month, McIlroy will be heading to Mykonos, Greece as part of a friend's bachelor party. It's been on the books for quite some time, so the World No. 2 will make the trek after this week's Horizon Irish Open and next week's BMW PGA Championship, leaving a bit of time before Ryder Cup week.
Close to full health after a back injury, McIlroy has told captain Luke Donald (and the rest of the world) that he'll be ready to go when it's time to compete. He even went as far as to say that he'll do his best to be "sensible" even though he did admit that he might need "a few days to dry out."
"Forty-eight hours, nice little trip, and probably needed as well. [I go] from here to practice in Rome next week, to Wentworth," McIlroy said. "I get back into London on Wednesday evening and then four good days in London to practice and get myself ready to go to Rome on the Monday."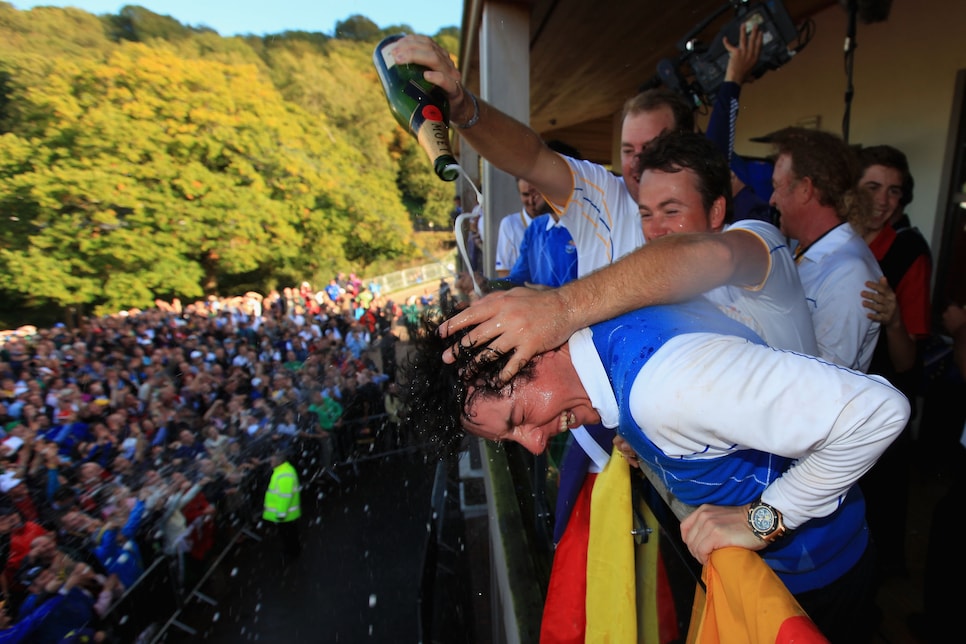 David Cannon
A little R&R never hurt anyone and perhaps a drink or two and an entertaining weekend is exactly what the European mainstay needs to be in the right mindset for the Ryder Cup. Luke Donald doesn't seem to be worried as well brushing off any concerns.
"Yes, the issue did crop up. It's not like Rory is 22 or 21. He understands.
"There's nothing wrong in going out and having some fun with your friends. But I think he's got wise enough shoulders to know that he won't go crazy, so no concerns there."
The 34-year-old is a critical piece for Team Europe as it tries to overcome its most recent 19-9 defeat at Whistling Straits. He's been a party to many memorable outings, including four wins out of six Ryder Cup appearances, so he certainly knows what it takes.
The Americans, on the other hand, will take any semblance of a break they can get. The U.S. team hasn't won on European soil since 1993. Perhaps it's time for Zach Johnson and company to help with the Mykonos bachelor party's bar tab or hire a ringer to send tequila shots over from a nearby table.
This article was originally published on golfdigest.com