Ryder Cup week always works the exact same way: incredible excitement as Monday rolls around, which lasts until about Tuesday morning, at which point you start to mentally calculate the hours until Friday. And then the feeling of anticipation turns to a combination of boredom, ennui and, finally, despair as Tuesday becomes Wednesday becomes Thursday, which is itself the longest day in golf. We're rescued at long last on Thursday afternoon with the first pairings, and then it's a wild roller-coaster as play begins, but Thursday morning and early afternoon is the peak of the doldrums. With that in mind, and knowing we have to make it through these last arduous hours, let's revisit the highlights, such as they are, from the week when we over-analyse every small nugget of information in order to satisfy our craving for real golf.
Monday
• In Steve Stricker's first press conference, he fielded questions about Brooks Koepka's feud with Bryson DeChambeau, and about Brooks Koepka's controversial Ryder Cup comments, and about Brooks Koepka's injury. The takeaway? He's not worried. Or so he says – he wouldn't even rule out the possibility of a Brooks–Bryson pairing, which is ludicrous and definitely not happening.
• A British media member was heard saying that Harrington "ran circles around Stricker" after what was actually a relatively dull and straightforward press conference. This should have been our first sign that the week was about to get long.
Tuesday
• Brooks and Bryson had the world's worst peace accord on the driving range:
• DeChambeau had his first appearance with the print media in weeks, made it clear early on that he was really only there so he wouldn't be a distraction to his team, and then told us he had a "brass chest".
• The practice-round pairings for the US, starting on Tuesday, made it abundantly clear that Stricker had a plan, and that we can expect a few pairings: Justin Thomas–Jordan Spieth (shocker), Patrick Cantlay–Xander Schauffele, Dustin Johnson–Collin Morikawa, DeChambeau–Scottie Scheffler, Koepka–Daniel Berger or Koepka–Tony Finau, with Harris English probably thrown in with that latter pair. On the European side, things remain confusing.
• Spieth backed up the general impression that Stricker has done some serious prep work, calling him the most prepared captain he's seen in four Ryder Cups.
• There was endless talk about envelopes, and which names go in envelopes in the case of a slew of COVID-positive tests. By day's end, we were all sick of envelopes.
• Lee Westwood sounded every bit of 48 years old when he complained about Viktor Hovland's love of heavy metal music.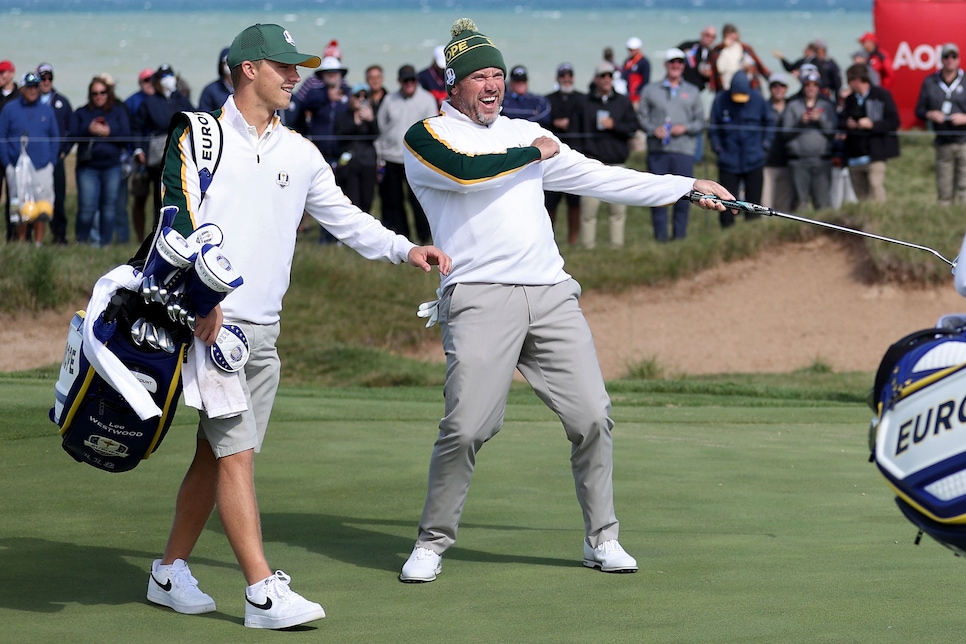 RELATED: The five holes at Whistling Straits that could prove most pivotal at the Ryder Cup
Wednesday
• The European team donned cheeseheads in an attempt to win over the Wisconsin crowd, and it's basically all we could talk about all day. Was this a brilliant PR move? Pure cynical pandering to mitigate America's home-course advantage? Both? In any case, the fans seemed to like it, so it probably worked… although it remains to be seen how long this goodwill lasts.
• Speaking of pandering, the Europeans also wore Green Bay Packers colours, and Tommy Fleetwood looked a lot like the new version of NFL quarterback Aaron Rodgers:
• Ian Poulter said the fans are being really nice to him. Which is, so far, the greatest upset of the 2021 Ryder Cup.
• They made Rory McIlroy a tiny hat for his tiny head, and his teammates roasted him.
RELATED: How analytics have become a crucial factor in the outcome of the Ryder Cup
• It became clear that Steve Stricker, with an assist from COVID, seriously cut down the number of obligations Team USA had this week. Koepka in particular appreciated it, saying a day later that, "it's definitely a lot easier. I think pretty much everybody has kind of noticed that and it's been great… I think it's definitely a lot better this year."
• Padraig Harrington confirmed he will get a tattoo if his team wins and, if you read between the lines, seems to have at least considered getting it in a very weird spot. Later in the day, when asked the same question, Stricker said he'd have to ask his wife and daughter for permission, but that if he got one, it would be on his… "cheeks". This is the word he used, while pointing in the general direction. It brings me no pleasure to report this.
• Patrick Cantlay continued his media tour de force with a theory about European Ryder Cup success that stems from, of all things, the game of gin. Cantlay is quickly becoming the American darling of the media room, starting with his intelligent thoughts on the Brooks–Bryson fiasco, and it's starting to seem that he may even be preparing his thoughts ahead of time. More of this, please.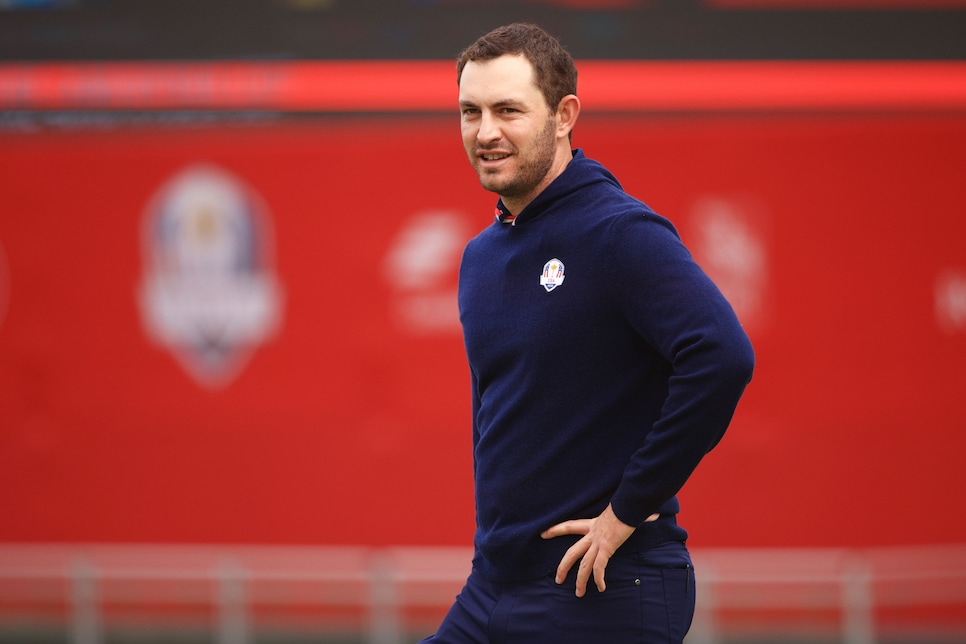 • We discovered a budding bromance between Cantlay and Schauffele, who even holidayed together with their families in Napa Valley. Dig this adorableness from Cantlay: "I don't think either of us would have gone out of their way to be friends with each other, but then spending that time together, we realised that we really got along with each other. I think he's incredibly smart, and I think he's incredibly conscientious. He is someone that probably brings out the best in me." These guys are the next Moliwood, no doubt.
• Justin Thomas debuted some ridiculous, amazing Team America shoes: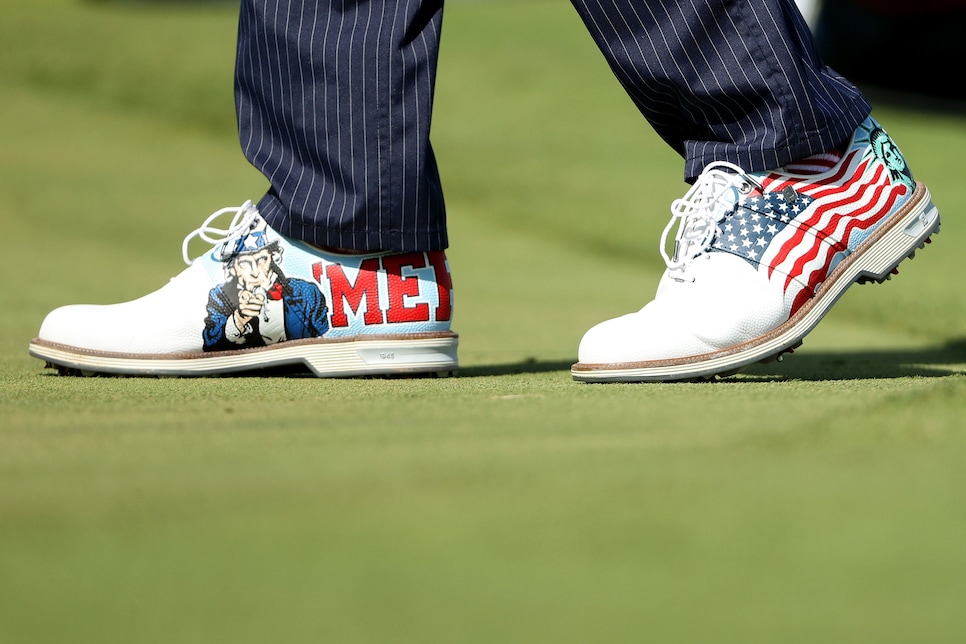 Thursday
• Koepka said he had absolutely no idea what DeChambeau was talking about when he said "something fun" was coming. Great stuff. He later said that he hadn't been in the team room to play ping-pong because he was "just chilling too much".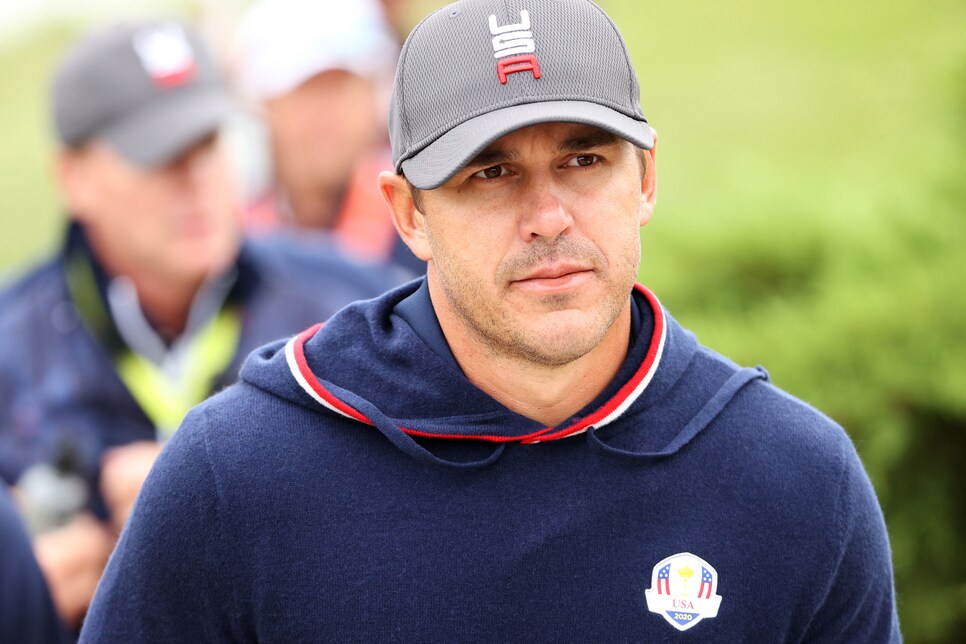 • In a sure sign that the US is about to lose 28-0, American TV host Carson Daly is apparently giving the team a pep talk.
• The entire staff of Golf Digest began to suffer involuntary shakes simultaneously, and as they were wheeled out of the media centre on gurneys, all you could make out among the strange utterances in their rare moments of sanity were the words, "please… golf…. play… golf."