The most nervous moment at the 2018 Ryder Cup for the Twenty First Group, the statistical analysts assisting European captain Thomas Bjorn in Paris – and who are back this year helping Europe at Whistling Straits – came after the very first session on Friday morning, when the Americans took a 3-1 lead at Le Golf National in fourball. These were competitive nerves, but they were also professional nerves and perhaps even existential nerves.
The group, known then as 15th Club, had been working with Bjorn for almost two years, feeding him reams of statistical insight in person and through an app it built called "Captain". The analysts had been slowly earning Bjorn's trust, the then-47-year-old Dane becoming remarkably open to the new approach they offered, but who was remained steeped in the tradition of a sport that has been one of the slowest to embrace the analytics revolution. If their recommendations didn't yield actual on-course benefits, they knew how quickly they could lose the foothold they had worked so hard to attain.
Indeed, in Europe's backroom there was talk of diverging from the plan during the Friday afternoon foursomes session. And that prospect was particularly heartbreaking; as Dan Zelezinski, Twenty First Group's chief commercial officer, explains, foursomes is the Ryder Cup format in which an informed statistical approach can provide a significant edge.
"[We were] identifying who complements who," Zelezinski said, "not only through that simple layer of aligning individual player attributes, but then it's who complements who in the context of this style of golf course and the specific challenges they're going to face. So it's multi-faceted, but it's fair to say there's a lot of value to be added."
The analysts at the Twenty First Group were truly excited about what was supposed to come next: the pairings that had been suggested for the afternoon were not just about meshing personalities and course fit, but going as deep as which players should tee off on which holes and how they should approach each hole strategically to optimise their advantage.
In the end, they had gained enough trust with Bjorn to convince him to stand strong – "stick to the plan!" became a kind of team war cry, according to CEO Blake Wooster. And not only did Europe win all four matches, but none of them even made it to the 17th hole. It was a thorough drubbing, and so was the rest of the Ryder Cup, with the Americans looking increasingly befuddled while the Europeans seemed perfectly tailored to the course.
When it was over, Bjorn credited his stat-heads for playing a "vital role" in the victory, one Padraig Harrington hopes can happen again this week.
So who exactly are those stat-heads and how did they become such a critical part of the Ryder Cup?
The 15th Club began as an offshoot of a company called the 21st Club, which was founded in 2013 to bring an advanced brand of statistical analysis to soccer. Both enterprises now operate under the umbrella of the Twenty First Group, but it was the 15th Club that first entered the Ryder Cup scene in 2015 as a strategic consultant to Darren Clarke. The Northern Irishman had heard about their soccer work and asked if it could translate to golf. Clarke had watched what Paul McGinley accomplished as a self-proclaimed stat-head in 2014 at Gleneagles, using a website called strokeaverage.com, not to mention McGinley's earlier mercenary efforts – a man holding stacks of paper everywhere he went, essentially – as vice-captain in the victorious 2010 and 2012 campaigns.
Clarke had ambitions to take that to the next step, and in service of that goal, officials at the Twenty First Group pored over all the data they could gather only to quickly realise there was a dearth of statistical "ingredients" in European golf. They knew they were capable of providing the guidance Clarke needed, but the European Tour had no ShotLink system, and thus no granular data to crunch. ShotLink is tremendously expensive and is run in America with the help of hundreds of volunteers that simply don't exist in Europe. So the 15th Club got creative and worked with the European Tour to develop an entirely new system. With the help of caddies, who logged shot-by-shot information after rounds, they compiled more advanced statistics, which paved the way to giving Clarke and future European Tour captains the insights they needed. (Today, in partnership with IMG Arena, a GPS-powered ShotLink-like system is used on the European Tour.) The solution was so clever that the LPGA decided to implement something very similar this season.
The blowout at Gleneagles was such an emphatic shock to the system that it woke up the Americans, too. Davis Love III had his own numbers team, Scouts Consulting Group, at his disposal for the Hazeltine Ryder Cup in 2016, and its advice, along with Europe's rookie-heavy team, led to a blowout victory for the US.
In Paris, though, Bjorn and Twenty First Group had control of the venue, and he'd relied on them for support from the start. They were the ones who showed him that Sergio Garcia's rough season didn't look so rough when you drilled down into the data, opening the door for Bjorn to select him as a controversial fourth captain's pick (Garcia went 3-1). They were the ones who recognised that unlike most courses, Le Golf National put a premium on driving accuracy rather than distance and helped Bjorn set up the course plus set his pairings for fourballs and foursomes in accordance with the course profile. Their models even suggested the "Moliwood" pairing of Tommy Fleetwood and Francesco Molinari would prove to be fabulously successful.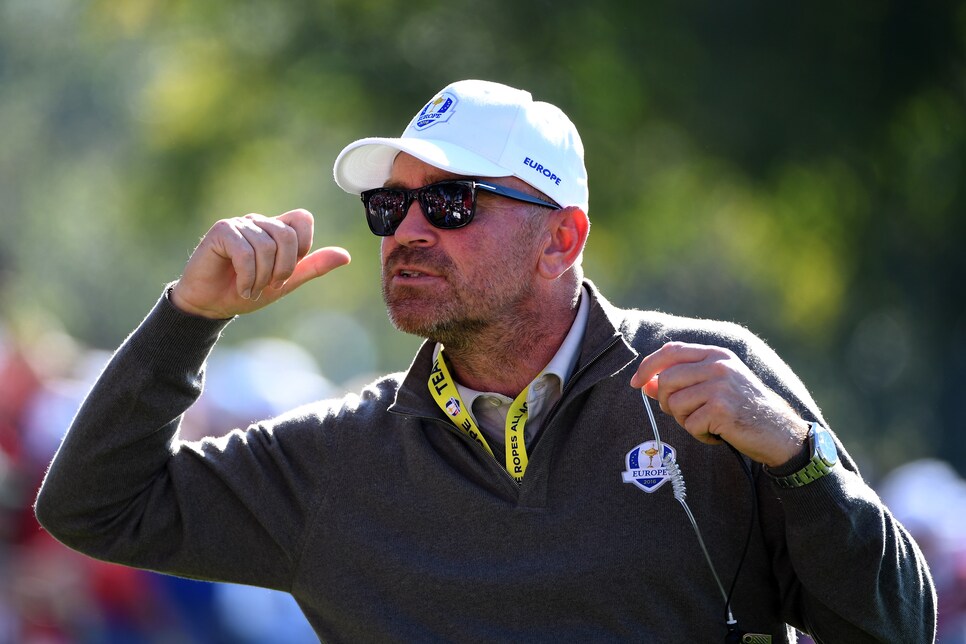 This week at Whistling Straits, while the focus of the golf world is on the play of the USA and Europe, the third straight duel between the stats gurus, Scouts Consulting vs Twenty First Group, will be waged off air. US captain Steve Stricker admits he's not a stat-head, but he's been impressed with the information Scouts has been providing, frequently alluding to stats earlier this month when explaining his six captain's picks.
"I'm kind of old school a little bit," Stricker said. "I'm trying to feel like stats has a place and part, an important place in our Ryder Cup selections and pairings and all that. So I struggle with that personally myself. There are other assistant captains that kind of help me along with that that feel like it's more important, less important. We've got a good mix of guys that way."
After two successive home blowouts, it's tempting to believe that home-course advantage is too difficult to overcome for either side. But people like Zelezinski, while acknowledging the enormous benefit of a home crowd, note that today's players are playing global schedules and that course setup isn't quite the weapon it had been years ago.
Mum's the word when it comes to specific tactics this time around, and understandably so. We know from 2018 that they consider 90 percent of their work to be done by the time the week of the Ryder Cup actually rolled around. Once course conditions and tee and pin placements are set, the plan that has been formulated over weeks and months and years will be largely in place before Friday's first matches.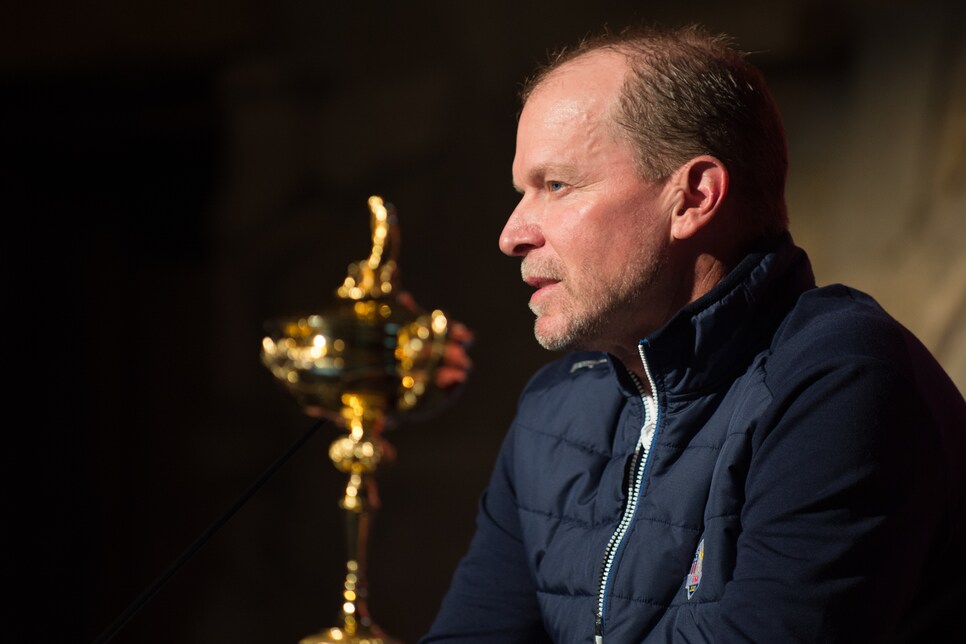 Since that 2018 Ryder Cup success, the Twenty First Group worked with Ernie Els for the International team at the 2019 Presidents Cup, loading him with insights that staked his side to a huge lead heading into singles, which the Americans barely reversed on the final day. But Europe faces a harder exam; not only are Harrington's charges competing on American soil, but unlike in Melbourne, the Americans are fighting back with numbers gurus of their own.
The outcome will be decided by the players on the course, but it will be influenced – significantly, if you believe the words of the last two victorious captains – by the data wars being waged behind the scenes.