Even without winning a tournament prior to today's unforgettable showdown at the BMW Championship, this has been the Summer of Bryson on the PGA Tour. He's dominated the news in every medium for what he's said, what he hasn't said, the beefs with players, caddies, his own equipment company and occasionally for his play, which has been both good and bad but never dull. So it was appropriate that the Summer of Bryson stretched through the final hours on the final weekend in August, continuing with him as much a part of the show even when he's not holding a trophy.
That hardware went to Patrick Cantlay, who carried the reputation of not only a top-10 golfer in the world but a top-10 iceman on the links. That legend grew today at Caves Valley, where the deadpan Cantlay got off the ropes time and again against DeChambeau both in regulation and throughout an exhilarating six-hole playoff.
There is an axiom in golf that the player plays the course and not an opponent. But it was fitting that in a week when the course was mostly defenceless for the best in the world, a true one-on-one clash made this BMW one of the most memorable tournaments in recent years on tour.
There are sudden-death playoffs that can become par-fest pillow fights. This one had a bunch of pars on the scorecards, but it was decidedly not that. It featured an all-world up-and-down par-save from Cantlay and a similar miracle save after a tee shot into a creek by DeChambeau (who outdrove Cantlay by an average of 38 metres as they kept playing up the hill on the 18th). There were two absolute darts their third time through the par-3 17th for matching birdies, and fittingly, an almost-20-footer putt right in the heart on the 18th green, again by Cantlay, to decide it. The putt mirrored the one that kept him alive in regulation.
It was frenetic, with each playoff hole building on the previous one with unexpected turns and an unresolved championship.
After Cantlay's birdie putt from 18 feet, DeChambeau missed from nine feet to bring an end to a wild day that barely beat the sunset in Baltimore. DeChambeau repeatedly burned the edges both at the end of regulation and throughout the playoff, with one incredulous reaction after another as he was unable to shake his newly christened Ryder Cup teammate. Cantlay had cause to be incredulous, too, as he gained 14.58 strokes on the greens, the most in the recorded history of that stat for a 72-hole PGA Tour event.
The result left DeChambeau stomping off into the night while Cantlay beamed about the "absolutely perfect" putter he put into his bag in the middle of last week after much testing and tinkering. "I'm finally starting to putt like me again," he said on the 18th green after clinching the win.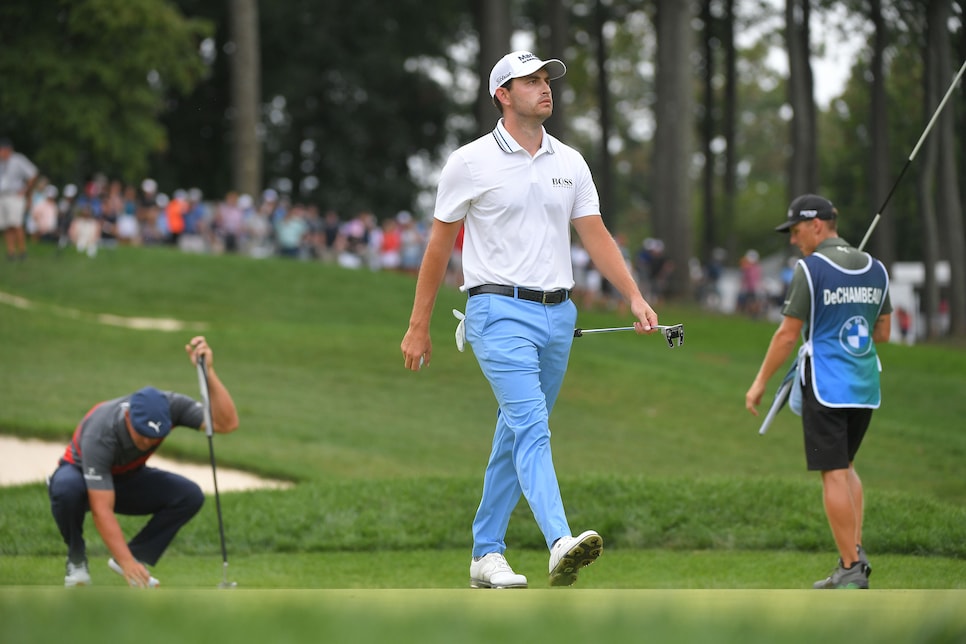 RELATED: The clubs Patrick Cantlay used to win the BMW Championship
With DeChambeau as the foil and a FedEx Cup Playoffs event as the stage, the perception of Cantlay as this ice-cold executioner will only grow after what went down today. This felt like a two-man battle at the start of the day, and it was for the full five hours.
It started on the first tee, where DeChambeau toyed with the assembled crowd that was imploring him to hit the big stick on the driveable (for a select few who walk the earth, at least) par 4. After a playful pump-fake iron pull from his caddie, DeChambeau did indeed pull out the driver and nuke one 314 metres into the greenside bunker. No one came close to that all day, with even big hitters like Rory McIlroy stepping off and hitting a lesser club 239 metres. The play left DeChambeau with an easy up-and-down birdie, while Cantlay, who put one out there 230 metres, poured in a 25-foot putt to keep them even.
The sequence previewed what would come over the next four-plus hours – one player mashing drives 310 metres, the other riding a hot putter to pile up birdies and escape from dire circumstances. Both continued to carve up a soft Caves Valley course where 27-under was not good enough to win outright.
RELATED: Here are the 30 players who qualified for the Tour Championship (and their staggered-start scores at East Lake)
The great burden of hitting it 30 and 40 paces past your opponent is that you're almost always hitting second while he is trudging up behind you as you get over the ball. In the 14th fairway, this apparently came to a head for DeChambeau, who stepped off his ball and asked his playing partner to stop walking.
"He just wanted me to stop walking," Cantlay said. "We had just been told by the rules officials to kind of speed up, and I'm not always the fastest walker, so I was trying to get ahead and do my part. No big deal; that stuff kind of happens every once in a while out here."
It was a polite enough request, but certainly added a tinge of tension to a final pairing. The two did not seem to engage each other at all until it was over and the customary handshake required.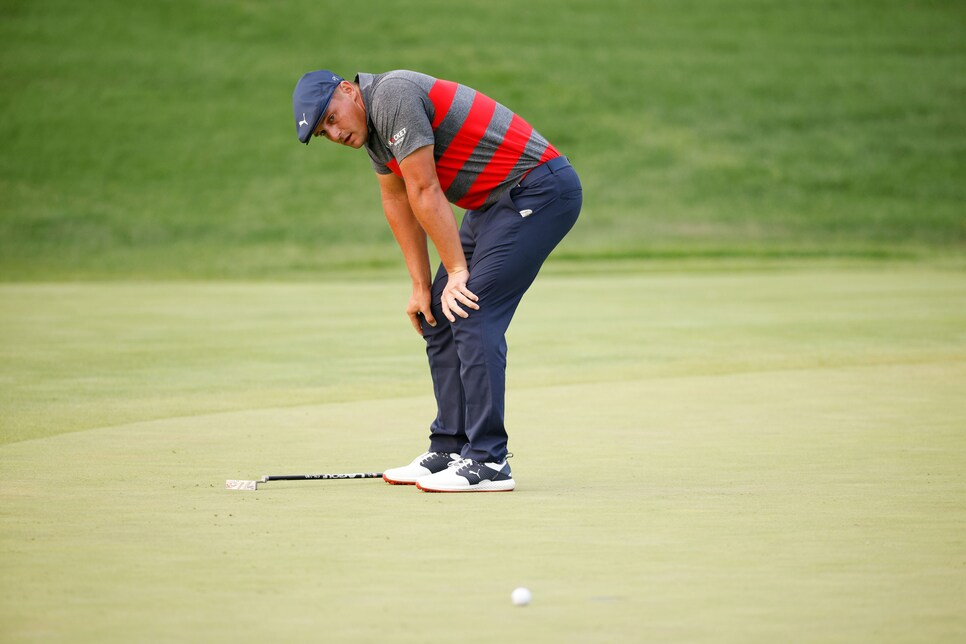 Even if there had been much chatter between them, it would have been hard to carry on given the din outside the ropes. The Baltimore area had not hosted a PGA Tour event in 60 years, and the Maryland crowd spent the weekend making up for lost time. There was a mix of support and antagonism for DeChambeau, which disrupted play at least once during the playoff as he was forced to back off an approach shot because someone shouted from high above the perches enclosing the 18th hole. Whether it had more to do with antipathy for his playing partner, or appreciation of their new iceman cometh, Cantlay felt support that he indicated he'd not heard on tour.
"These were some of the most supportive, loudest fans I've ever experienced," he said.
When Cantlay stepped up to hit second over the final few holes, the crowd would almost rise up like he was a batter facing a 3-2 count in a key situation, encouraging him to match or exceed whatever his partner had done to keep the show going.
That was especially noticeable when they came through the par-3 17th the first time, where Cantlay did not match DeChambeau and hit his tee shot into the water. This was the moment where this BMW Championship could have gone with another director, winding up being just a fun little Sunday afternoon on tour rather than one of the signature moments in the 15-year history of this FedEx Cup Playoff format. We were headed for a steady and impressive multi-shot victory for DeChambeau, who was dry and had just taken a one-shot lead with a birdie and a fist-pump at the 16th. Cantlay, however, hit a low spinner from the drop zone and converted a clutch bogey putt while DeChambeau stubbed a chip to make his own unexpected bogey. Of all the clutch conversions, Cantlay cited that putt as the biggest.
"You know, I think the bogey save on 17 was a tricky little putt," Cantlay said. "Obviously not the way I wanted to play that hole, but that kept me in the golf tournament, and it was a tricky putt, and saving just a bogey there and keeping me just one shot going into 18, that was a really big putt." The bogey "save" not only enabled everything that came after but foreshadowed the kind of unexpected see-saw that was to come.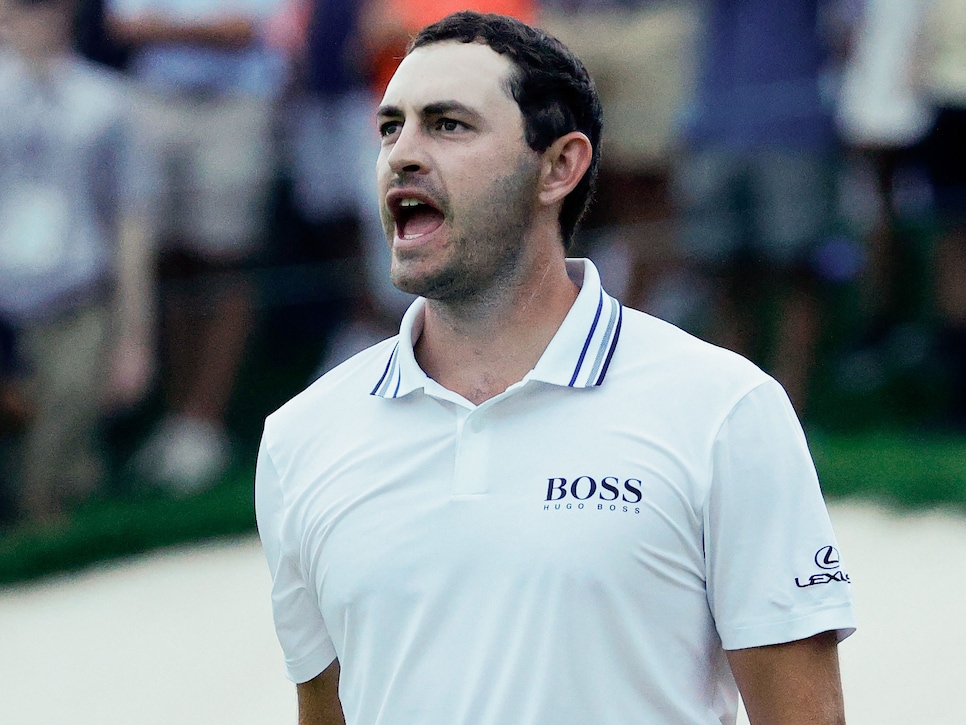 Indeed, the next seven holes were a jolt for an event coming at the end of an extremely busy and long 12 months, which had Rory McIlroy sounding exhausted and uninspired for his tour's playoffs. The FedEx Cup can be the subject of critique and confusion. It's not perfect and may never have the stature its hosts hope to achieve. But what it does do is get the best players in the world in the same place at the same time playing for a lot of money. Every now and then, that will deliver and what we got today was the player who has most dominated the headlines in the game for the past year up against an equal top-10 talent for a memorable tug of war. It was, perhaps, precisely the kind of spectacle these playoffs are designed to stage.
It also may have delivered another star talent to market not for his emotion but captivating lack thereof. This was a tour de force for that deadpan Cantlay style one might consider boring, until you see it surgically dropping in putts all over the most controversial star in the game and sending him home grumpy.
"I'm locked in, and I'm as focused as I can be," Cantlay said of that style. "Then I kind of let the chips fall where they do. Try not to get caught up in being out-driven 45 yards or whatever it is. I just try and lock in and do my absolute best in that moment, and my best is pretty good."
There have been lofty predictions for the icy Cantlay and big things will continue to be expected of such a talent. More may come in the future that will add to that resume in higher stakes events, but it will be hard to top this performance in the moment against DeChambeau.