The leaderboard was a bit contrived, but the drama was all-real. The best player in the world had nearly jarred a 5-iron for an albatross on the last hole of the 2020-2021 PGA Tour season, and Patrick Cantlay needed an answer to provide his one-shot lead some oxygen. He feared Jon Rahm would hole his chip because those are the things Jon Rahm does, so finding the green with his second became an absolute must. That is, if you're into $US15 million paydays.
Cantlay pulled a 6-iron, enough club to carry the bunker guarding the green, but only just. He had to strike it perfectly and he did, his approach landing on the front edge of the green and trickling out to 11 feet. It was the closest eagle putt anyone had all day on the par-5 18th at East Lake Golf Club. Surely, Rahm would summon some short-game magic, and Cantlay would pour in the big bird to provide the ultimate exclamation point to the, all together now, superseason. Only the scriptwriters fell asleep at the wheel. Rahm's chip rolled past on the high side, and Cantlay left his eagle putt short. Instead of marking his ball, letting Rahm finish and clearing the stage for himself, Cantlay went ahead and tapped in – an anti-climatic end to the richest golf tournament on the planet.
In other words, a perfectly fitting coronation for a now-superstar whose stoicism has become his calling card, a caricature and a meme. Cantlay's game lacks the firepower of a Dustin Johnson. There is no Jordan Spieth flashiness. He wears you down with consistency, with rock-solid ball striking that just won't quit, with 6-irons like the one that brought him the biggest title of his burgeoning career.
Cantlay did not shoot the lowest 72-hole score at the Tour Championship – Kevin Na shared that honour with Rahm, who must be wondering what the hell he has to do to officially win a golf tournament – nor did he replicate his unconscious putting performance in winning last week's BMW Championship. But only one man is leaving Bobby Jones' old haunt with the FedEx Cup trophy and the riches that come with it, and it's the guy whose nickname rhymes with Atlanta's NFL quarterback: Patty Ice.
RELATED: Patrick Cantlay – Put on a clinic
"This week, as silly as it sounds, the money is not what's really important for me," Cantlay said after a one-under 69. "The money is not what drives me to play this game. Winning golf tournaments, playing golf under pressure, and hitting quality golf shots under the gun, I mean, that's why I practise and that's why I've practised my whole life. That's the best feeling in the world, is winning golf tournaments for me."
His 11-under total for the week (21-under when you had the 10 strokes he earned for being No.1 on the points list entering the week) would've put him in a tie for fourth if this was a conventional tournament. It was not, and so this goes down in the Ponte Vedra Beach record books as his fourth victory of the wraparound season. He's put together a strong case for Player-of-the-Year honours even if the headlines favour Bryson DeChambeau and the stats favour Rahm. Plus there's the lingering truth that Rahm played the best golf in two of Cantlay's four victories. Back in June, Rahm was forced to withdraw from the Memorial with one round to play and a six-shot lead after testing positive for COVID-19. Cantlay claimed the hardware.
Today, in the final act of what was a two-horse race the past three full days – insert Ryder Cup comparison here – the Spaniard clipped the American by one shot (68 to 69). He began the week four shots behind, and nipped at Cantlay's heels all week, but failed to land a damaging blow.
"Patrick played great golf," Rahm said, "and he was four shots ahead of me, and even though I might have been the better man over the week, he earned it. He played amazing."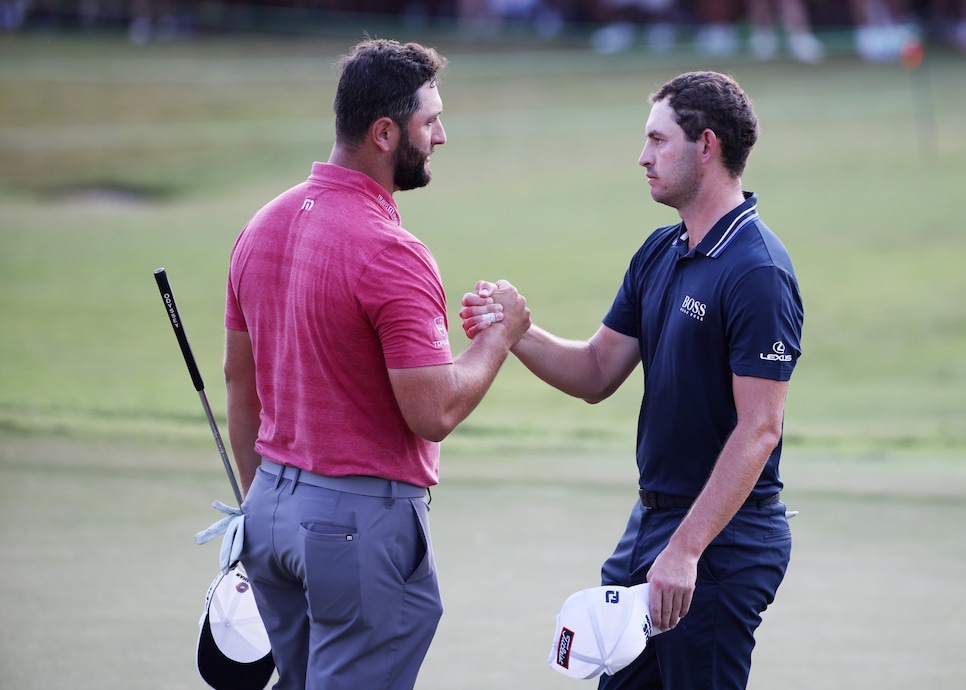 Cantlay held at least a share of the lead for all 72 holes this week. A birdie on the 16th today pushed his lead to two, the same advantage he began Thursday with, and Rahm needed some help.
Cantlay gave him some on the 17th tee by fanning a 3-wood into the right rough. The 29-year-old fought that miss all day; two holes earlier, at the treacherous par-3 15th, it nearly ruined his tournament. He owes the sticky Bermuda on the right side of that hole a few sheckles, for it kept his ball dry and made possible a momentum-saving par.
But Bermuda giveth and Bermuda taketh, and Cantlay caught a flier from the cabbage on 17 and airmailed the green. He then violated the first rule of flop shots, which holds true no matter if you're playing for $15 million or $15. You cannot leave it short. It has to get to the green. Cantlay's effort fell one step short of the putting surface and dove into the abyss. With Rahm inside 12 feet for birdie, a three-shot and $10 million swing – first loser this week meant $US5 million – seemed a distinct possibility. Rahm's effort missed low and Cantlay's caught the left side of the hole, preserving the one-shot lead that proved just enough.
"I don't mind right misses," he said. "I mind left misses, and I don't feel like I had very many of those today. I thought I did a good job of keeping the ball in front of me. I drove the ball very well all day. Didn't hit a good shot on the tee on 17. But actually made a really nice bogey, to be honest.
"Hit two absolutely perfect golf shots into the 18th hole, and under the gun, I thought it was great." And so Cantlay now stands atop of the PGA Tour ecosystem, at least on this day. The FedEx Cup is fodder for ridicule from Golf Twitter – a crazy big prize pool for already-rich golfers that's marketed ad nauseum year-round. It's no joking matter for the players. Of course, there's the money. But that squatty trophy also means that, no matter how screwy the maths might be, you beat all your peers in a competition that lasted a full year.
"I think it's right there with a Major championship," says Daniel Berger without a hint of irony. "You win the FedEx Cup, you've played an unbelievable year and you walk away with $15 million in cash. So I don't really know, it's tough to say I'd rather win a Major than the FedEx Cup."
Added Rory McIlroy: "It's a big deal."
Because he's hung around the elite level for a few years now, it's easy to forget the depths Cantlay trudged through to become a big deal. After bursting onto the scene as the world's top amateur in the early 2010s, a back injury after turning pro kept him out of action for more than two years. Years. During the injury, his best friend and caddie was killed in a hit-and-run right in front of his eyes. There is no sense of boasting or showmanship when Cantlay speaks of these dark years – his already monotone cadence slows down a touch. It's clear there is significant scar tissue, a 747's worth of baggage. He says, with conviction, that those years made him a better person and helped mould the stone-cold competitor he is today. You can't help but believe him.
"It gives me great perspective and it makes me very grateful to be in the position I'm in today, because it wasn't always a sure thing. I was very close to going back to school and putting golf behind me."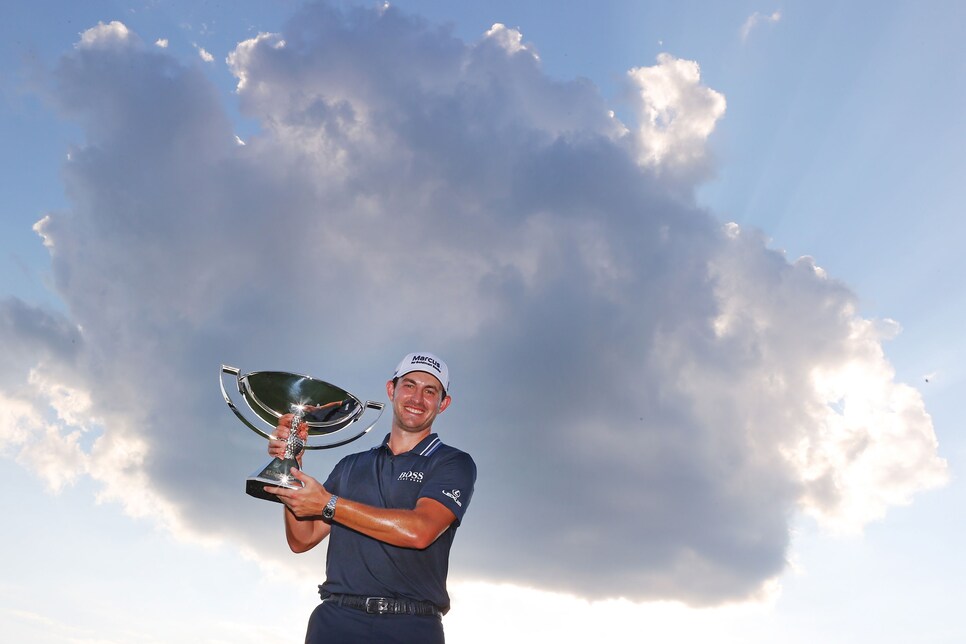 But he stuck with it, and now he's the newest and most cerebral voice in golf's upper echelon. Last October, after he won the Zozo Championship, Cantlay was asked why he was so quiet in an age of social-media self-promotion.
"I don't like talking when I don't know what I'm talking about," he said. "I try to be informed about what I do talk about, and when I have something meaningful to say, I'll say it."
He began the week by offering a remarkably well thought-out answer to a question about the ongoing Bryson DeChambeau–Brooks Koepka circus. It was so good that one reporter half-jokingly accused him of reading it from a prompter. He then analysed the emotional dynamics of Happy Gilmore and ripped the very format that made him FedEx Cup champion.
Turns out Patrick Cantlay's always had plenty of meaningful things to say – the only difference is we've started paying attention. It's no surprise. When winners speak, people listen.
TOP/MAIN PHOTO: Cliff Hawkins