So what if your bracket is busted. The real madness in March is happening this week on the PGA Tour.
The 2022 WGC-Dell Technologies Match Play pairings were announced Tuesday morning (AEDT) and though the reveal lacks the gravitas of college basketball's selection show, the drama that lies ahead does not disappoint. Austin Country Club has proven to be a more-than-suitable locale for fireworks since taking over hosting duties in 2016, and though the PGA Tour's past two winners (Valspar champ Sam Burns and Players champ Cam Smith) are not participating, the field is not short on stars.
The event revamped its format in 2015, partially leaving single-elimination in favour of 16 "pods" of four players, with everyone playing a round robin against the other three competitors. The players come from four categories divided by rank; the top 16 players are considered the "A" group, the next 16 classified as "B" and so forth. The players are grouped randomly by a ping-pong lottery machine. From there, the 16 group winners advance to a single-elimination bracket, contested over 18-hole matches on Saturday (Sweet 16 and quarterfinals) and Sunday (semifinals and finals). Here are the round-robin pairings for the 2022 WGC-Dell Match Play:
Group 1: Jon Rahm (1), Patrick Reed (23), Cameron Young (40), Sebastian Munoz (58) 

It's not fair to say Rahm is struggling although he is in the smallest of slumps over the past month. Luckily no better place to get right than Match Play, where Rahm finished runner-up in 2017 and made the final eight last year. Coupled with his dominant showing at the Ryder Cup, he'll once again be the man to beat. But to do so he'll have to get through Rookie of the Year favourite Young, Munoz (33rd in FedEx Cup) and Reed. … For a player known for his match-play dexterity, Reed actually doesn't have a particualrly great track record in this event, never advancing past the Sweet 16 in seven tries. He's also in a big-time rut this season (189th in strokes gained). Still, he's not an opponent you are dying to see in this format.
Group 2: Collin Morikawa (2), Jason Kokrak (22), Sergio Garcia (43), Robert MacIntyre (61)

These players are as different as they come in terms of playing profiles, which should make for a fascinating watch. … This is just his second Match Play appearance but Morikawa is coming off a 3–0–1 at the Ryder Cup, is sixth in birdie average and 13th in scoring and, oh yes, does have two Major tiles to his name. … Kokrak is also making just his second appearance at this tournament and hasn't played well since his fall win in Houston, with just one top-20 finish in six official starts. However, his distance and a sound short game (32nd in SG/putting) won't make him an easy out. … Somewhat shockingly, in spite of his Ryder Cup conquests, Garcia has reached the Final Four just once in 18 Match Play appearances. He has, however, advanced to the weekend in each of his last three Match Play starts. … Big Shot Bob reached the Sweet 16 in his debut last year and is coming in with top-15 finishes in his last two starts.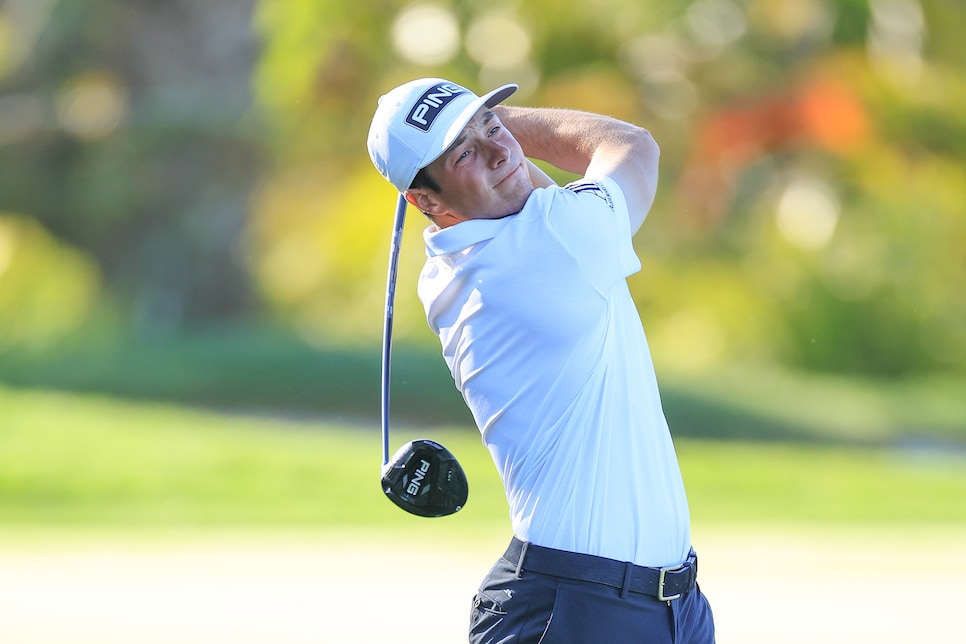 Group 3: Viktor Hovland (3), Will Zalatoris (24), Cameron Tringale (45), Sepp Straka (63)

The, ahem, "vagaries" of match play usually lead to at least one dust-up per tournament. Don't think you're going to see it in this group; there's a better chance Hovland, Zalatoris, Tringale and Straka open a lemonade stand on the 12th tee than any manhoods being affronted. … For all of his struggles around the green, this format will allow Hovland to shake off any potential hiccups with his chipping and, in that same wavelength, amplify his second-shot talents (third in SG/approach). Not sure the same could be said for Zalatoris and his putting woes, yet Bubba Watson's win in 2018 proves you can be a so-so putter and still excel at this event. … Both Tringale and Straka are making their Match Play debuts, but Straka is coming in hot with a win at the Honda and a T-9 at the Players.
Group 4: Patrick Cantlay (4), Sungjae Im (21), Seamus Power (42), Keith Mitchell (62)

Listen, we know there are no bad players in this event, but some groups are deeper than others. And boy, good luck finding a breather in this one. … Not much of a track record for Cantlay at this event, but no matter. Going back to last year's FedEx Cup Playoffs, Cantlay has finished T-11 or better in seven of his last nine starts. Coupled with a 3-0-1 display at the Ryder Cup, the man will be a tough out. … Im has cooled off, ever so slightly, from his blazing start to the season (five T-11s or better – including a win – before February). He's still 13th in strokes gained and 24th in scoring, and without any real weaknesses in his game, he's made to wreak havoc in this event. … Power is not a household name but has been playing like one over the past nine months. The Irishman enters the event sixth in greens in regulation and 15th in scoring, should anyone be looking for a betting flyer. … Mitchell's game may not aesthetically "wow" yet he's 18th in SG/tee-to-green and 20th in strokes gained.
Group 5: Scottie Scheffler (5), Matt Fitzpatrick (20), Tommy Fleetwood (41), Ian Poulter (59)

We have a British friend who swears there's always one Match Play group filled with Europeans so that they cannibalise themselves, and while we don't agree, we know he's somewhere screaming "I told you!" at this pairing. … Hard to go against Scheffler, who reached the finals in last year's Match Play and has won two of his past four starts. If there's one Achilles' heel for Scheffler it's, well, actually, he doesn't have one. Godspeed to his challengers. … Talk about an expanse between Fitzpatrick's FedEx Cup standing and his actual performance. The Englishman is 48th in the tour's season-long points list yet is first in strokes gained and fourth in scoring. Fitzpatrick is especially hot as of late with four top-10s in his last five starts. … Fleetwood seems close to putting it together with three consecutive top-25 finishes. But if he wants to reach the weekend Tommy Lad is going to need a lot of red and that hasn't been his forte (117th birdie average, 59th in eagles). … Poulter's recent Ryder Cup performances illustrate he's not the match-play juggernaut he once was. Conversely, he's a former Match Play winner, has advanced to weekend play in two of his last three appearances and might be the most terrifying "D" player in the tournament.
Group 6: Justin Thomas (6), Kevin Kisner (29), Marc Leishman (37), Luke List (53)
What a bracket! Thomas reached the Final Four in 2018 but hasn't advanced to the weekend in four other starts. That said he's second in scoring, third in birdie average, fourth in strokes gained and has finished T-8 or better in eight of his past 12 outings. Another solid showing this week could make him the Masters favourite next month. … Kisner is a former winner and runner-up in the event and comes in with form thanks to a fourth-place finish at the Players; Leishman has reached the weekend in three of seven Match Play starts. Yet the wildcard is List. He won at Torrey Pines in January and leads the tour in SG/tee-to-green, yet he's been shaky as of late and he's one of the worst putters on tour (205th SG/putting). Still, a very formidable challenge in the "D" slot that is more than capable of doing damage.
Group 7: Xander Schauffele (7), Tony Finau (18), Lucas Herbert (39), Takumi Kanaya (56)

It seems like Xander is having a quiet year. Then you dig into the stats and realise he's 10th in birdie average, 17th in SG/tee-to-green and his only bad performance was coming out on the business end of the brutal Players draw. He's yet to advance to Sweet 16 play, but the Olympic gold medal winner will be just fine. … Speaking of which, Finau is 0-for-3 in advancing to the Sweet 16 and enters the week a surprising 159th in the FedEx Cup. Finau is too good, too polished, too talented for both of those standings; don't be surprised if he corrects them this week. … It's been feast or famine for Australia's Lucas Herbert this campaign; he has missed the cut in five of nine starts and has just two top-25s but one of those top-25s was a win and the other a T-7 at Bay Hill two weeks ago. His short game (fourth in SG/putting) will make him a formidable foe. … Kanaya makes his bones in Japan, and we do mean "bones," with a whopping 10 top-10s in his last 13 starts to finish 2021.
Group 8: Dustin Johnson (8), Max Homa (30), Matthew Wolff (38), Mackenzie Hughes (51)
This week marks the first time in seven years DJ is outside the world's top 10. He hasn't been bad in his limited starts this season, but it's also been a far cry from the standard he has lived up to over the past decade. As a former Match Play winner perhaps this is the week Johnson gets right, but he also hasn't advanced to the weekend in his last three Match Play appearances. … Wolff hasn't finished better than T-61 in 2022 and after a strong fall Hughes hasn't been much better, missing four of six cuts. … This is only Homa's second Match Play start but he has been quietly one of the more consistent players on tour this season, capturing the Fortinet Championship in the fall and finishing T-17 or better in five of his last six outings. With the other three coming in relatively cold, this could be Homa's group for the taking.
Group 9: Bryson DeChambeau (9), Talor Gooch (27), Lee Westwood (47), Richard Bland (54)
Results are secondary this week for the beefy man, as a litany of injuries have limited DeChambeau to two starts on tour this season. With the Masters two weeks away, this event is all about getting competitive reps and remaining healthy. … Gooch's lack of experience is compensated by his play this season, ranking 18th in scoring and 20th in SG/tee-to-green. As long as his short game behaves (94th in SG/putting) Gooch could be a nice dark horse pick to reach the weekend. … Since Westwood's rejuvenation last March with back-to-back runner-ups at Bay Hill and Sawgrass he has not turned in a top-20 finish on tour. However, he brings a ton of experience with this his 20th Match Play appearance, his best showing coming in 2012 in a fourth-place finish, … Give it up for Bland, making his first Match Play appearance at the age of 49. He grabbed his first career European Tour victory at May's Betfred British Masters and, proving it was no aberration, has six top-five finishes since that breakthrough.
Group 10: Louis Oosthuizen (10), Paul Casey (19), Corey Conners (36), Alex Noren (50)
It may lack the starpower of other quartets but goodness is this group deep. Oosthuizen finished runner-up in 2016 and enters off his best tour season in his career. His irons and putting have been a little off in the early going yet nothing to be worried about yet. … Casey is a Match Play savant, reaching the Sweet 16 seven times in his last 11 starts here and finishing runner-up twice, performances that can be chalked up to his second-shot prowess (sixth in SG/approach). He's also coming off a third-place finish at the Players. … Conners posted eight top-10s in the super-season and though his results may not convey it, he's playing well again this year, ranking 14th in SG/tee-to-green and 21st in in strokes gained. … Noren doesn't have a lot of buzz, yet his T-12 at the Valspar – coupled with a T-5 at the Honda Classic and T-6 at the WM Phoenix Open – show he can still hang with the best as he nears 40.
Group 11: Jordan Spieth (11), Adam Scott (32), Justin Rose (46), Keegan Bradley (60)
Spieth has made the weekend three times in seven Match Play appearances, but save for a runner-up at Pebble Beach, the three-time Major winner has been off in 2022, ranking 92nd in strokes gained and 153rd in scoring average. His playground awaits at Augusta, yet Spieth could use a couple good days in Austin. … For all of Scott's accomplishments, Match Play has not been one of them. Only three times in 14 previous appearances has Scott reached Sweet 16 play. Same goes for Rose, just 2-for-12 in that department, as well as Bradley (0-for-6). That said, Bradley knocked down the cobwebs with a fine performance at TPC Sawgrass and could be in line for a mid-career revival.
Group 12: Billy Horschel (12), Thomas Pieters (26), Tom Hoge (33), Min Woo Lee (49)

Sneaky fun group. Hoge is enjoying a career campaign in his eighth season on tour (win, runner-up, 12th in SG/tee-to-green, fifth in FedEx Cup). Perth's Min Woo Lee, 23, has already won twice on the European Tour and is a former US Junior Amateur champ, and Pieters – after a stint in golf's wilderness – is showing flashes of the golfer on full display at the 2016 Ryder Cup and 2017 Masters. Oh, and the reigning winner is in this group.
Group 13: Tyrrell Hatton (13), Daniel Berger (17), Si Woo Kim (48), Christiaan Bezuidenhout (52)
Hatton reached the weekend in both 2018 and 2019 and enters with a tour-best 1.168 SG/putting mark. He has the penchant for making big numbers (T-75 in bogey avoidance), but his ability to match with birdies (19th in birdie average) makes him a tough out. … Berger hasn't played much in 2022, just five official events to his name. But when he's played he's been lights-out, ranking fifth in strokes gained with a T-20 or better in four starts. In four Match Play appearances Berger has not advanced to the Sweet 16. … Kim has been sort of "eh" this year, making the cut in 11 of 13 starts but ranking 94th in strokes gained. However, he does have the ability to post birdies, and lots of them (27th in birdie average), which could spell trouble for his opponents. … Bezuidenhout has already logged 11 starts on tour this season and does have five top-25 finishes. And while the South African does a decent job of avoiding the big numbers (26th in bogey avoidance), to have any shot of advancing out of the round robin Bezuidenhout needs to do a better job of racking up birdies, which has been a major problem for him this season (198th in birdie average).
Group 14: Joaquin Niemann (14), Kevin Na (25), Russell Henley (34), Maverick McNealy (64)
It's a pretty simple equation: When Niemann is just average on the greens – like at his win at Riviera or strong displays at Mayakoba and Torrey Pines – he's going to be a fierce bear to tangle with. When the flat stick isn't working – he comes at 137th in SG/putting – he can be tamed. … We haven't seen much of Na this season with only six starts but he's a frustrating out at this tournament, making the weekend in two of his last four starts. … Henley has been absurdly consistent this year, leading the tour in SG/approach, third in scoring and seventh in strokes gained. He hasn't played well at this event but go with form over past results. … McNealy got the late call with Sam Burns dropping out but at 31st in strokes gained he's more than capable of busting some brackets.
Group 15: Abraham Ancer (15), Webb Simpson (31), Brian Harman (44), Bubba Watson (57)
Bubba's win is what will be cited this week, yet it was no fluke: The two-time Masters champ has made it to the Sweet 16 in three of his last four appearances. … Ancer has not advanced out of the round-robin format in two previous appearances and he comes into Austin cold, ranking 129th in strokes gained with a T-33 his best finish in seven starts in 2022. However it's seems like only a matter of when, not if, he wakes up from his slumber. … We are contractually obligated to remind you that Harman won the 2003 US Junior Amateur and to please refrain from drinking every time the broadcast refers to him as a bulldog/Bulldog. … Simpson has made two starts since returning from injury, and though his results may not say it (MC at Players, T-48 at Valspar) his steadiness is made for this event.
Group 16: Brooks Koepka (16), Shane Lowry (28), Harold Varner III (35), Erik van Rooyen (55)
Because of injury Koepka has only played in this event four times, although he's made it to the weekend twice in those appearances. Koepka had a good Sunday finish at Valspar and said he's healthy for the first time in years, which is not exactly what his opposition wants to hear. … Lowry has made it to the weekend at Match Play but that was back in 2013. However, he is 15th in SG/approach and 10th in strokes gained this season, making him a pesky foe. … A T-6 at the Players showed Varner can hang at the important events, and his birdie average (11th) and bogey avoidance (36th) circles him as an underdog with a lot of bark. … By most strokes-gained categories there's not a lot to like about van Rooyen, except he is 23rd in SG/approach. If he gets those irons firing and forcing opponents into difficult spots he may still be alive come Saturday.
[Images: Getty]