The first round of the Masters was all Tiger, all the time – but there was plenty of other action to take in producing some facts and figures that interested or outright wowed us. Here's a look at five stats that stood out from round one:
Scheffler looks to reverse the No.1 curse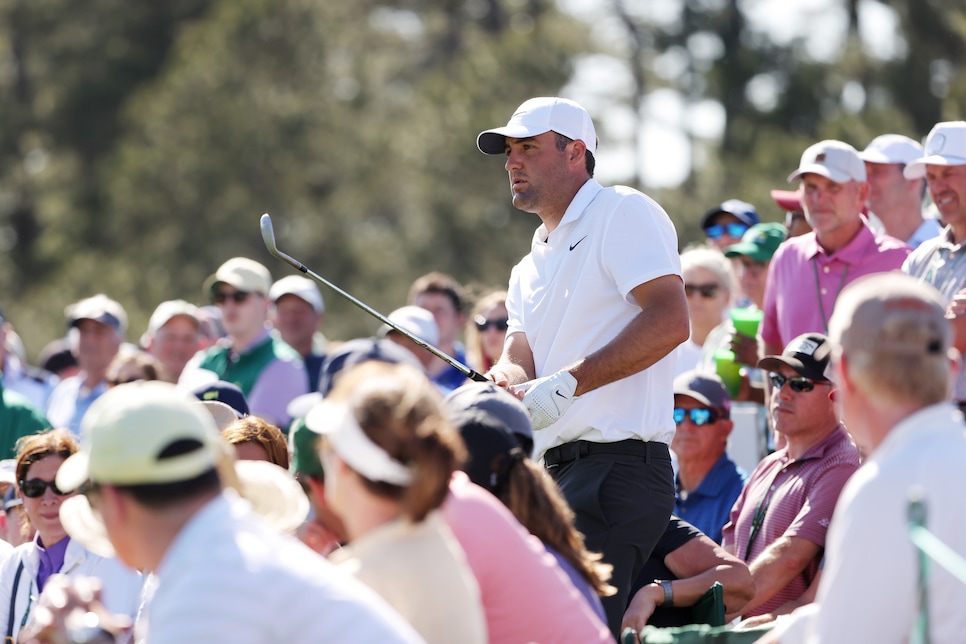 World No.1 Scottie Scheffler opened with a three-under par 69 to finish the day in equal third position. It is an uncharacteristically good spot for the world's best player (at least according to the ranking). Since the ranking started in 1986, those atop it have struggled in the opening round at the year's first Major. Only two: Greg Norman in 1996 and Dustin Johnson in 2020, have finished the first 18 in the lead or tied for it. Sixteen times the player shot over par and only four times before Scheffler did they shoot in the 60s – and remember, Tiger Woods held that spot for 12 of those Masters.
Double trouble but still delightful for Smith
Cameron Smith had quite the day, opening and closing with a double-bogey and still shooting 68 to reside in second place. Although he fell one shot short of the first-round lead, he was within striking distance of rare company. The last player to earn the crystal vase for having the low score after 18 holes with a double-bogey on the card was Dennis Paulson, who shot 68 to take the outright lead in 2000 despite making a 6 at the par-4 11th. The upside for Smith is that hopefully his fate will be better than Paulson's, who failed to break par in any of the subsequent rounds, shooting 76-73-72 to finish T-14. 
Zalatoris seeks to win after losing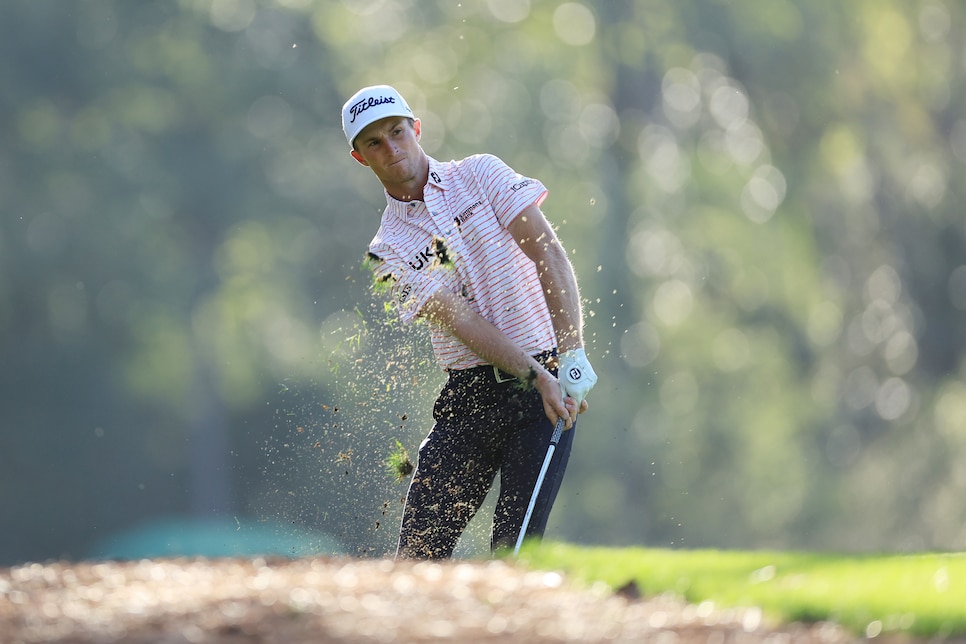 Nine times in the history of the Masters a player has finished runner-up and won the green jacket the next year. Will Zalatoris finished second in his inaugural Masters last year and got off to a decent start today with a one-under par 71 as he seeks to join Ralph Guldahl (1937-38); Byron Nelson (1941-42); Arnold Palmer (1961-62); Jack Nicklaus (1964-65); Billy Casper (1969-70); Nicklaus again (1971-72); Ben Crenshaw (1983-84); Jordan Spieth (2014-15) and Dustin Johnson (2019-20). Zalatoris is also seeking to join Nelson, Casper, Crenshaw, Spieth and Johnson as those who won their first Major a year after finishing second.
On target but not in contention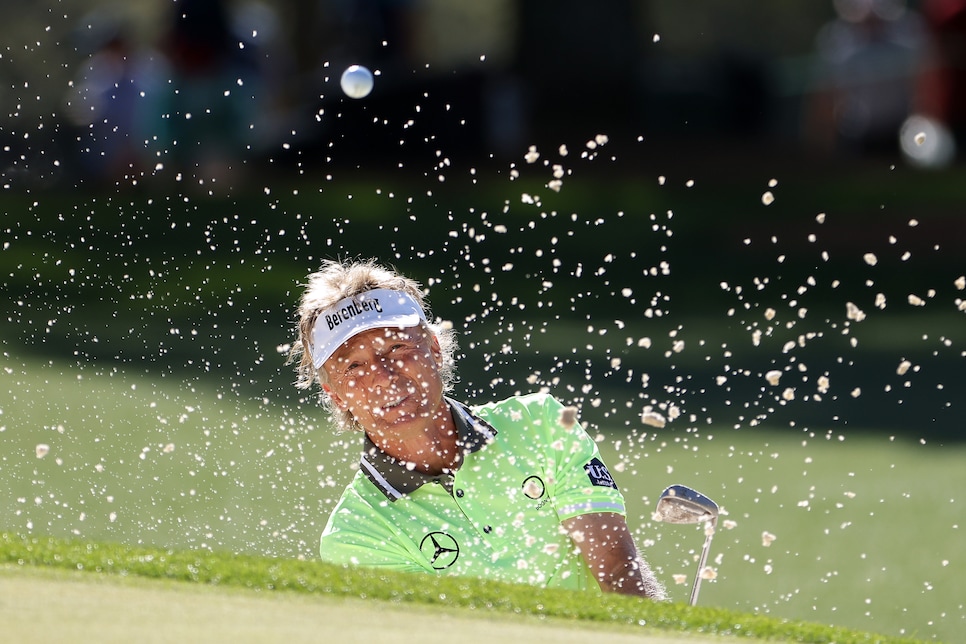 Two players hit all 14 fairways in round one at Augusta National – Bernhard Langer and Louis Oosthuizen. But being a perfect 14-for-14 did not result in the desired results on the scorecard as both Langer – a two-time Masters champion – and Oosthuizen, who won the 2010 Open Championship, shot four-over par 76s.
Bryson continues to be the master of disaster at Augusta National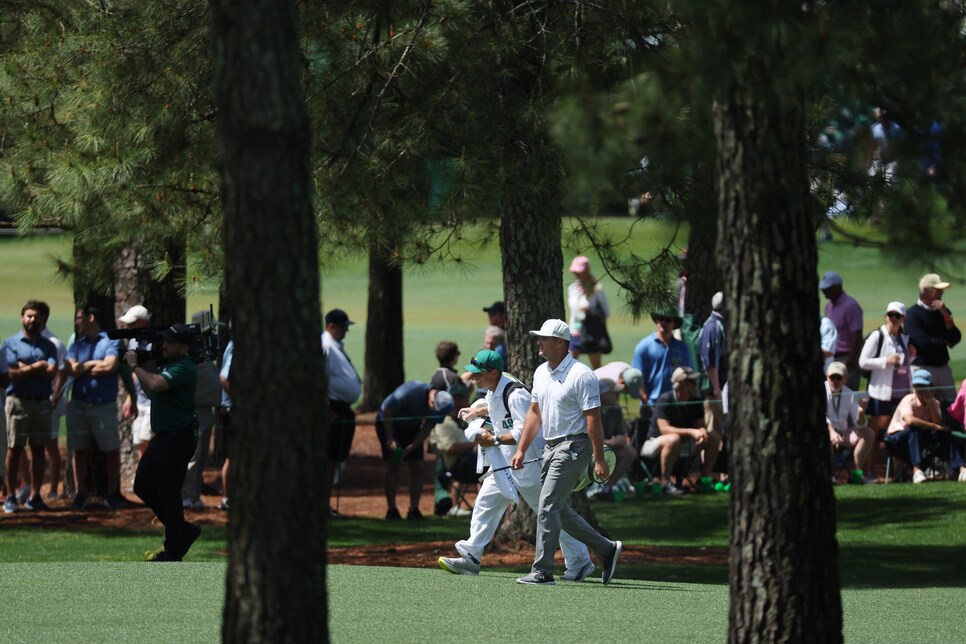 Bryson DeChambeau's double-bogey 6 at the par-4 14th continued a disturbing trend for DeChambeau, namely his penchant for putting up big numbers. Playing in his 21st competitive round at the Masters, DeChambeau now has 13 double-bogeys at Augusta National plus a quad at third hole in 2021's second round. For a man who once famously said Augusta National was a par 67 for him, it's kind of difficult to get to that number with a double square on the card.