Early in the final round of the John Deere Classic, the leaderboard was as bunched as ever, which meant one thing: another PGA Tour playoff was on the horizon. Lucas Glover, who clearly had a plane to England to catch, was having absolutely none of that noise.
Glover, who last won on the PGA Tour at the 2011 Wells Fargo Championship, shot a closing 64 at TPC Deere Run, securing a two-stroke victory over Ryan Moore and Kevin Na. Much has happened to the former US Open champ, good and bad, on and off the course, in the past decade. To put it lightly, this win was very long time coming.
"Pretty ecstatic," he said. 'Still hasn't really sunk in yet."
Amid some widely publicised off-course issues with his wife, Krista, Glover was struggling on the course, too, failing to seriously contend in a tour event since Quail Hollow, something he readily admitted to CBS's Amanda Balionis. You wouldn't have known that today, though, as Glover holed a number of clutch birdie and par putts on the back nine to comfortably close the deal. The flatstick has always been an issue for Glover, a world-class ball-striker who hasn't gotten the most out of his career due to poor putting.That's no longer the case for the 41-year-old, at least during the past five months. The putting narrative has completely flipped, with Glover gaining strokes on the greens in eight of his past 10 events. As a result, he's picked up three top-20 finishes, two top-8s and now a win during that stretch. Today, he gained 2.51 strokes on the greens, the most of any round he played this week.
Glover's win is the latest drought-snapping victory of the 2020-2021 PGA Tour 'Super Season'. He joins Harris English, Martin Laird, Brian Gay and Stewart Cink in ending win droughts of at least seven or more years. Only Cink's was longer than Glover's at 11 years and one month.
"Rededicated is an interesting term, I guess," Glover said when asked about making it back to the winner's circle. "I've always worked hard and believed in it, but made some changes two or three years ago that needed to do for more longevity with my body and my trainer, Kolby Tullier. He's done a great job with me and kind of reinvigorated fitness for me, which is a big thing.
"I want to play a few more years and try to keep going. It was just getting back refocused. I always thought I could do this again, and I just needed to figure out the best way to go about it again."
The win, Glover's fourth on tour, was made extra sweet because it was the first time his two kids, and his wife, have seen him raise a trophy.
"She's never seen me win a tournament. Very excited. I spoke to my daughter a minute ago, and it wasn't official yet. She just said 'nice job' and she was happy for me. My son, he probably doesn't care, but that's the way it is.
"But pretty cool. I remember that was my biggest takeaway when Tiger won his last Masters is that his kids got to see him as a champ. That was a goal of mine, too."
On a tour where another 20-something pops up every week, the likes of Cink, Phil Mickelson and Glover continue to prove that in golf, age is just a number.
Ryan Moore plays his way into The Open, may decline invite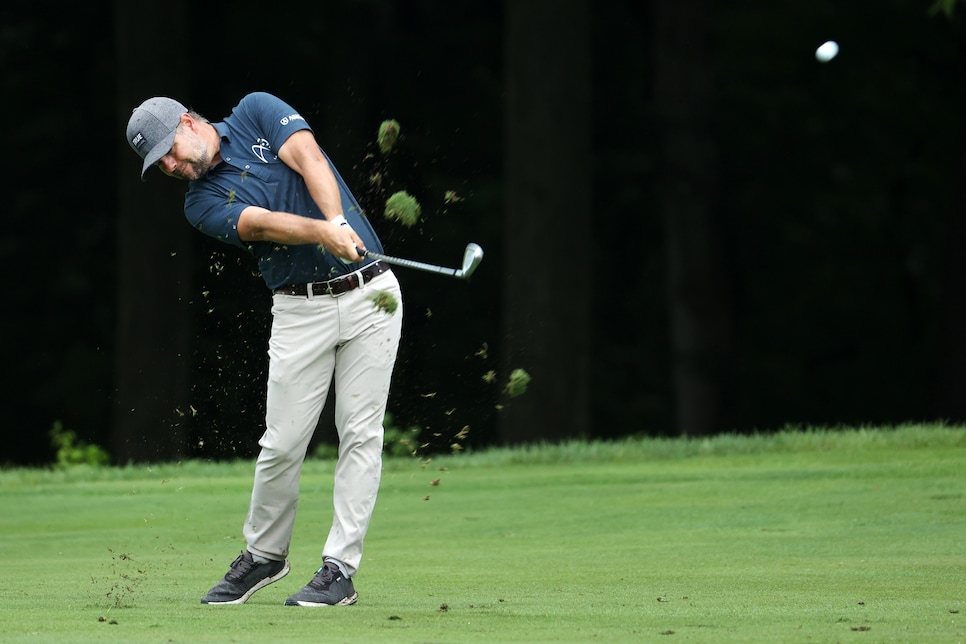 File this one under things we did not expect to see: Ryan Moore, who had not had a top-10 on the PGA Tour in 21 starts dating back to January 2020, tied for second, his first runner-up since the 2018 Safeway Open. With that T-2, he earned an invitation to next week's Open Championship, an event he hasn't played in since 2018, when he tied for 12th. His response? Let me think about it.
Now, considering all the other dropouts due to travel concerns, it wasn't all that surprising, not to mention Moore has been dealing with back issues that have led to his recent slump. Then again, Moore hasn't been in a position to play in a Major in so long (his last was the 2019 PGA) that you'd think he'd jump at the opportunity, COVID concerns or not. What gives? Well, actually, Moore's reasoning is sort of heartwarming. It's family 'vacay' week next week.
"I need to go talk to my wife about that, but she's going to tell me to go," Moore said, adding, "We've had a family trip planned for next week basically for the past few months, and at this point in time in my career I've played a lot of golf tournaments. I don't want to bail on a trip like that."
Well, isn't that just the sweetest. Moore did still leave it up in the air, but the family trip, plus the bad back, might make it an easy decision for him this evening.
"You know, it's hard for me. There's just a few too many variables there. Just again with my body did feel good this week, but it's a long flight. It's a long week. It's hard, tough, cold conditions. That makes me a little nervous just forcing it."
Moore, who has been known to focus much harder on the FedEx Cup than Majors in the recent past, will now turn his attention to the playoff push, which seemed out of the question when he entered the week at 194th in the standings.
"That's probably going to be the decision. I would love to have known a month ago I was in it. Then absolutely I'd go there. But coming here, I had my plans made, and knowing you have to finish second basically to get in there, it's hard to plan around that. Obviously, I'm thrilled I did. It's awesome they extend that, you know, that spot for a person in this tournament. But for me in my position this year I just don't think I'll be able to take it."
Dropping out of the Open Championship… so hot right now.
Adam Schenk's brutal break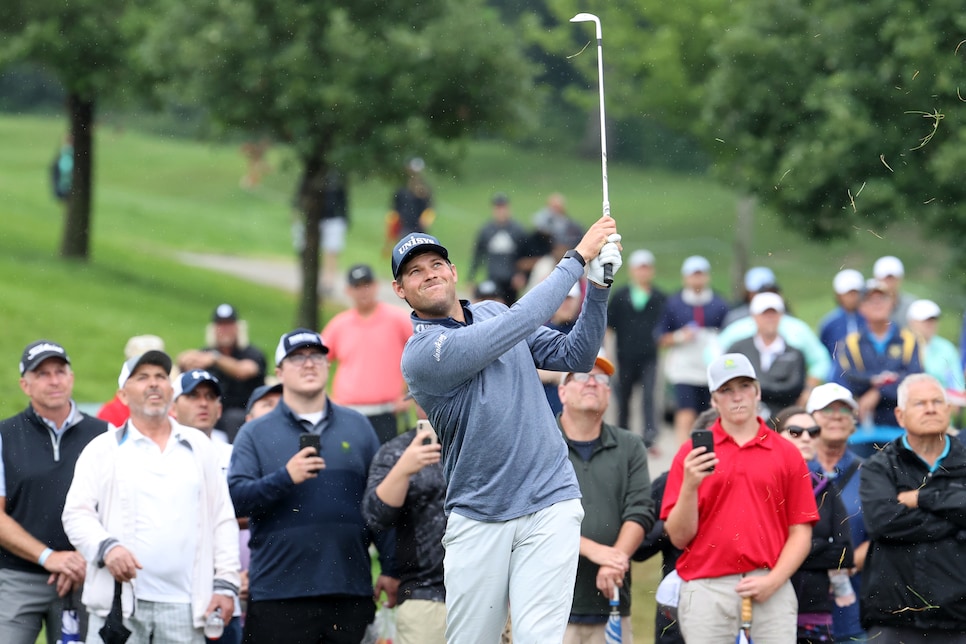 For a brief moment on the back nine, Adam Schenk, who was playing alongside Glover, looked like he'd be the guy to have a birdie party and run away with his first PGA Tour win. After turning in two-under 33, Schenk made birdies at 10, 12 and 13 to reach 17-under, grabbing the outright lead over Glover, who was at 16-under. At the 14th, though, fortunes changed quickly, as Schenk's tee shot sailed to the right and caught the cartpath multiple times, his ball finally coming to rest in an impossibly thick lie to the right of the 15th tee. Schenk chunked one short from there, then chipped one 20 feet past and two-putted for bogey. Glover, meanwhile, stuck his approach to six feet and made one of his four straight birdies. It all escalated very quickly, and Schenk, who was in line to either win or at least grab that spot in the Open Championship, did neither of those things. He should still be proud of his T-4, though, as it's his best finish on tour, his first top-10 this year and it vaulted him inside the top 125 of the FedEx Cup standings. Not all bad.
Pair of uncharacteristic bogeys the difference for Kevin Na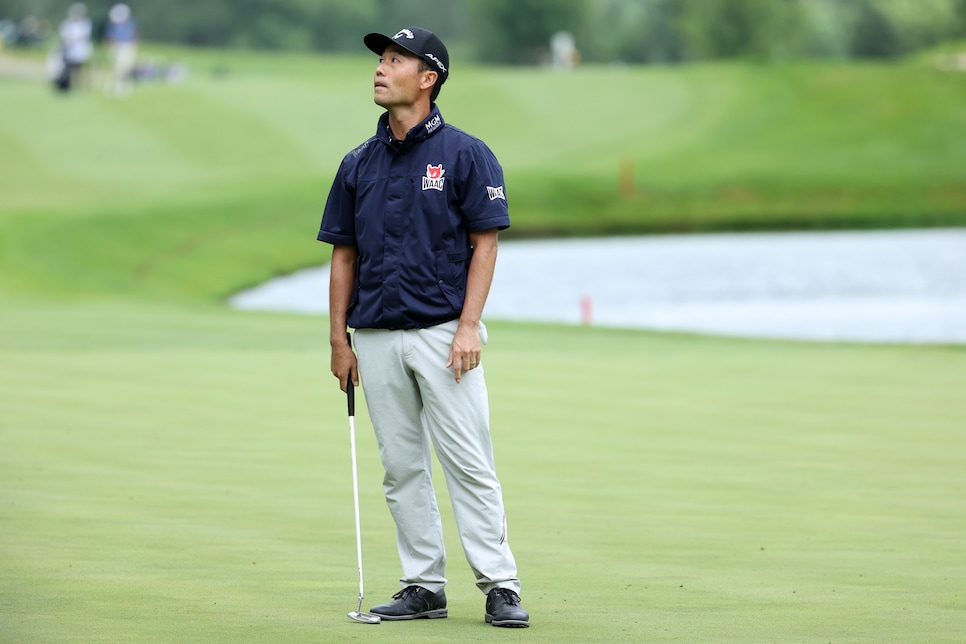 Na, who has played the Lucas Glover role numerous times in the past few years on Sundays, made two unbelievably silly mistakes for him in the final round at TPC Deere Run, and they proved to be the difference. At the par-5 second, Na badly missed the green with a 3-wood, finding the water hazard left, which led to a bogey. At the 15th, just as he had closed the gap and moved within two shots of Glover, he hit a poor drive down the right side, but an excellent recovery shot put him in a good spot to get up and down. But his chip was fat out of a hairy lie, leading to another bogey. He did make one other bogey at the par-4 eighth, missing a six-footer for par. Very unlike Na, who has shown an incredible ability to close the deal in the past few seasons. Nobody can say he didn't go for the win today, though. That man remains as aggressive as ever, a mentality literally pasted across his back – "WIN AT ALL COSTS" – which rests right underneath his walk-in putts logo.
Maverick McNealy's impressively boring round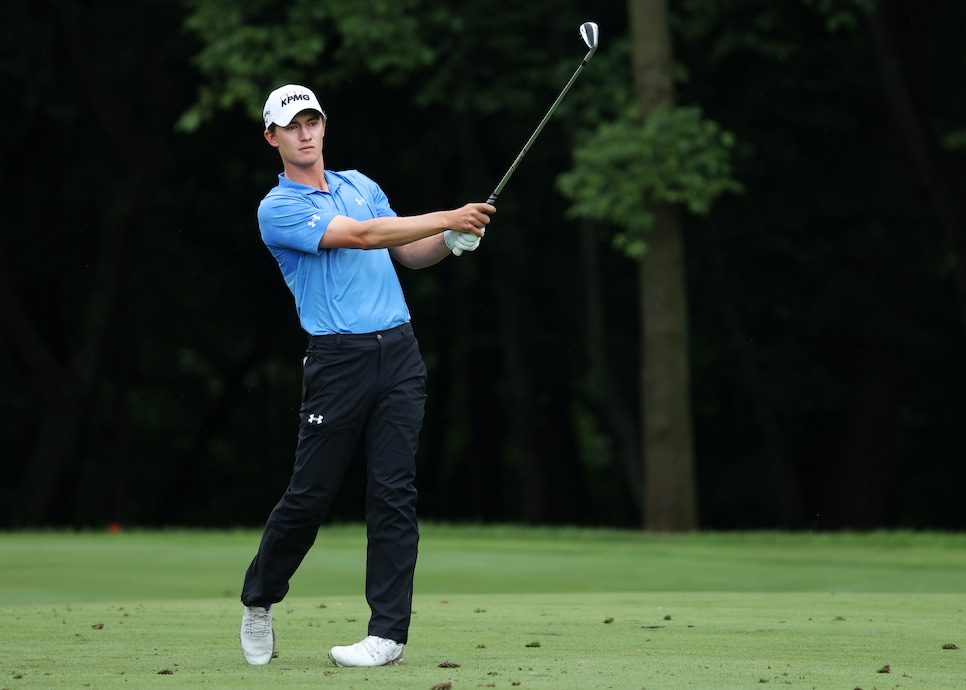 It wasn't exactly Nick Faldo at Muirfield in 1987, but Maverick McNealy did pull off one of the more impressively boring feats in golf today: 18 straight pars. For his troubles, he dropped 10 spots on the leaderboard, tying for 18th. Pars are always good, but not good enough at tournaments like the John Deere Classic. That said, it was made more impressive by the fact he played the whole weekend without a bogey. Also, it shouldn't have even been possible, because McNealy played the par-4 14th in three shots. But according to the CBS broadcast, he was hit with a one-stroke penalty for moving his ball, which gave him par on the hole and made this feat possible.
TOP/MAIN PHOTO: Andy Lyons