So, how was it for you? Did the earth move? Or was an underwhelming feeling of "meh" the prevailing aftertaste after three days of no-cut, guaranteed money tournament golf at The Centurion Club north of London?
As ever when it comes to the controversial Saudi-backed LIV Golf Invitational Series – there are seven more installments scheduled for this year – a wide range of opinion covers the answers to those questions.
But for one man at least, things have gone just splendidly. Ron Cross, formerly of the PGA Tour and Augusta National, is LIV's chief events officer and the man in charge of the show on display in leafy Hertfordshire these past few days. Which he is well qualified to do. During a two-decade spell in Ponte Vedra, Cross ran a few of the tour's premier events, including the Presidents Cup, the Tour Championship and World Golf Championships.
"I'm very happy and very excited by what I saw this week," said Cross. "I've had great experiences in my career over the years, working with the PGA Tour and Augusta National. But this one is absolutely special because of the time we had to get things done, as well as the support we've had from the players and the caddies. If you look back just eight weeks ago when we announced that we were coming here for the first event, what we have achieved reflects a tremendous team effort."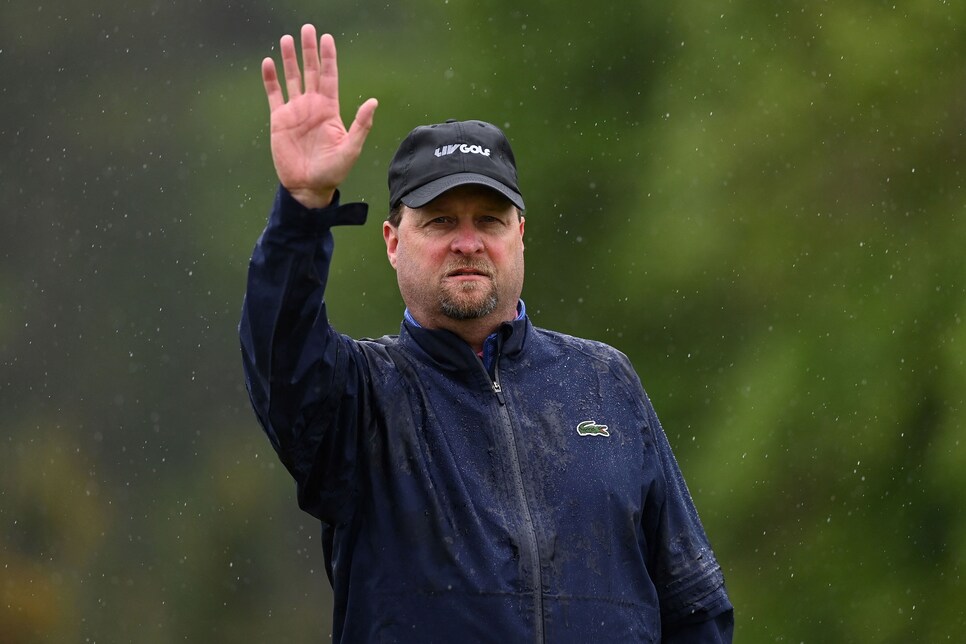 Which is, of course, what you would expect the man in charge to say. But it has to be acknowledged that, if we divorce ourselves from the source of the money paying for all that went on and focus on the golf/entertainment aspect of the project, a lot of good things happened. Yes, some tweaks will be required as the series moves on to Portland later this month, but what was on view was, if not exactly thrilling, at least entertaining.
The team aspect maybe needs to be emphasised more. Adjusted too. But something different amidst a sea of individual 72-hole stroke-play events must be applauded. It went like this: A dozen four-man teams added their scores together – best-two scores counting on Days 1 and 2, best three on Day 3 – to see who would take home the biggest share of the $US5 million team purse.
Which was fine. But it is hard not to think a little more pressure could have been introduced if, say, two scores counted on Day 1, then three on Day 2, then all four on Day 3. Throw in a duel that says no player could be a "non-counter" more than once and we have ourselves a more captivating spectacle.
"We have a start-up mentality," says Cross. "We're going to try a lot of things that sound good and work good on paper. But if they don't pan out, we'll be flexible and improve next time. That's a fun experience for me. We're not stuck in a 'this is how we've always done it' mentality. This is new and different. And anything that works we'll continue to try and improve. If it doesn't work, we'll try something else.
"So yes, we will consider all ideas for the team format," he continued. "This week, what we came up we felt kept everyone involved and engaged. A guy who maybe didn't play well the first two days still had a chance to come up with a great score on day three."
Also under the microscope is the perhaps restrictive nature of the 48-man field. That helped when it came to the much-ballyhooed shotgun start each day, but with more and more names coming forward to play – former Masters champion Patrick Reed and three-time PGA Tour winner Pat Perez are the latest – will that be practical going forward?
"For now, we are not looking at changing the 48-man field," said Cross. "We haven't had any conversations along those lines. For a first event we've had an impressive lineup this week. And 48 feels right. Plus, we'll have a stronger field in Portland next time. There are more announcements coming. So we'll see something stronger almost every week as we move forward. That's a good thing. But the 48 number works well for us."
Indeed, the shotgun start worked well. It was a novel idea and introduced a new aspect to the event, the players starting on a different golf every day. Transporting them to their starting points in a fleet of black London cabs driven by bona-fide cabbies was fun too.
"The good news is we had all the players out there at once," agrees Cross. "That created a five-hour window to go watch the golf and see everybody. The feedback we've had from the players is that they like starting late every day. They like the fairness that comes with everyone starting at the same time. There are no bad draws, guys playing in different weather conditions."
As for the eternally problematic human rights issues that will surely continue to dog the LIV Golf experiment, Cross was more Switzerland than Saudi. He isn't going anywhere near comment on the awkward press conferences that often featured awkward silences as players attempted to find answers – despite being coached beforehand – to questions on political and human rights issues.
"My answer is that I run professional golf tournaments," he says. "That's what I do. That's all I worry about. So all I can tell you is that, from a tournament perspective, this week has been awesome."