Donnie and Jamie Solesbee had no intention of getting their soon-to-be-daughter Autumn into golf. She was a 7-year-old in the foster-care system, and the Solesbees were a couple on a journey to adopt. They met and fell in love with the young girl, unaware the game was about to become a big part of their life as a new family.
Yet there they all were, at Topgolf in Greenville, South Carolina, in November 2019. The Solesbees were introducing Autumn to Donnie's father. In looking for a place where everyone could have fun and get to know each other, they landed at the golf entertainment venue. Jamie didn't play, but Donnie and his father were golfers, and they figured it was a lively spot with music and food so even if Autumn didn't like the golf aspect, everyone would still have a good time.
Once she started hitting balls, she didn't want to leave.
"She was a natural in that she made contact with the ball more often than she didn't," Donnie said. "I would say that Autumn's gift is that she has amazing body awareness. Once she's shown how to do something, it's easy for her to do it."
To the Solesbees' knowledge, Autumn had never played any sports before, let alone golf. They had been told that Autumn liked to run and climb. "Her swing looked like a beginner's, but once you showed her how to do it the right way, she just picked up on it so fast," Donnie said. "She's never been surfing, but I bet if you took her out there she'd be surfing in five minutes."
By the time the Solesbees adopted Autumn on April 21, 2020 ("She'll tell you that she knew right away that we were going to be her parents. And we felt the same way," Donnie said), their daughter was hooked on the sport. She and Donnie had gone on Netflix and watched "The Short Game", the 2013 documentary that chronicles different young players' paths to the US Kids Golf World Championships. Autumn told her parents that she'd play in that one day. That summer, they went to a US Kids Golf parent-child camp at Pinehurst.
"She left that camp saying, 'I want to be the best golfer in the world.' Since then, everything has been about golf," Donnie said.
Autumn played her first nine-hole US Kids tournament in June 2020. She shot 59. She practised a lot in the summer, and played in another US Kids event in the autumn. She shot 39. That autumn, she played in more events and won the season-long trophy as the best player in her age category.
In 2021, the Solesbees found another competitive opportunity in the Drive, Chip & Putt events run by the Masters, USGA and PGA of America. "We really didn't have any expectations, [but] Autumn's very competitive. We really tried to bring it down some," Donnie said. "Drive, Chip & Putt is nine shots. If you're having a bad day, it's hard to put all of your eggs in that basket. We just went to have fun with it."
She won the first qualifier, then the second (in pouring rain) and finally the regional qualifier at Quail Hollow in September. The child who hadn't ever touched a club less than two years earlier was now headed to Augusta National.
"I like winning tournaments," said Autumn when asked why she enjoys golf during a press conference held by the LPGA after the tour featured her story in its "Drive On" series and in honour of November being National Adoption Awareness month. "And I like making friends and I like the feeling when I hit a great shot. It feels like a refreshing drink to me."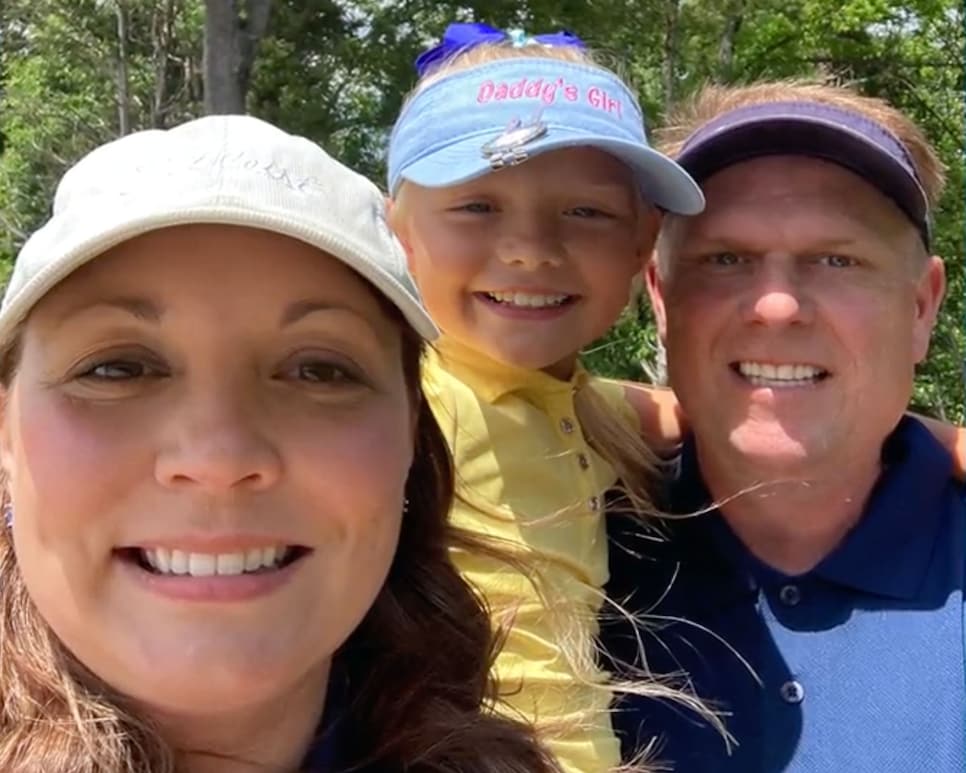 Thanks to golf, Autumn has made a lot of good friends. But there's something more important Donnie has seen in his daughter since she took up the game. In late 2020, after Autumn had won the trophy for her performance throughout the autumn season, she had to give a speech.
"We didn't know what to expect. Autumn looked up and started to say, I want to thank my mum and dad, and she just broke down crying," Donnie said. "She ran into my arms and hugged me, crying. She told me why she broke down: 'I've never won a trophy.' One of the reasons I think she loves golf is because she knows she's good at it. And that has led to confidence. Golf has given her so much confidence."
As she's settled in with the Solesbees, joined a new school and made new friends, Autumn has used her newfound confidence to navigate it all. Autumn has gone from a shy kid to a leader in her classroom, according to her teachers.Come April, she'll be taking that confidence to Augusta, where new friends and more opportunities to hit great shots await.