Tiger Woods has provided a specific update on the state of his game in his first news conference since his car accident in February.
Speaking ahead of the Hero World Challenge, a 20-man exhibition that benefits his TGR Foundation, Woods said that he has indeed played full golf holes, but not from the back tees as he's accustomed to. He also suggested he sought his family's approval to even begin considering a comeback to competitive golf and remains a long way away from competing against the best players in the world.
"We had a talk within the family, all of us sat down and said, 'If this leg co-operates and I get to a point where I can play the tour, is it OK with you guys if I try and do it?'" said Woods, who looked fit but acknowledged he felt pain in both his back and his leg while sitting.
"The consensus was yes. Now, internally, I haven't reached that point. I haven't proven it to myself that I can do it. I can show up here and I can host an event, I can play a par-3 course, I can hit a few shots, I can chip and putt, but we're talking about going out there and playing against the world's best on the most difficult golf courses under the most difficult conditions. I'm so far from that. I have a long way to go to get to that point. Now, I haven't decided whether or not I want to get to that point. I've got to get my leg to a point where that decision can be made."
Meeting the press a day after talking to Golf Digest about his recovery and his future in golf, here are the other highlights from Woods' 40-minute question-and-answer session.
On how this recovery process compares to those from injuries past:
This one's been much more difficult. Either… the knee stuff that I had on my left knee, those operations were one thing, that's one level. Then you add the back, that's another level. And then with this right leg, that was… it's hard to explain how difficult it has been just to be immobile for the three months, just lay there and I was just looking forward to getting outside. That was a goal of mine. Especially for a person who has lived his entire life outside, that was the goal. Finally got to that point when transitioned from wheelchair to crutches to now nothing. It's been a lot of hard work.
Woods told Golf Digest in May that the traumatic injuries to his right leg – comminuted open fractures in both his tibia and fibula bone, as well as significant nerve damage – were the most painful thing he's ever experienced. He expressed a similar sentiment today and has clearly worked remarkably hard to be walking upright, without assistance, just over nine months after the accident.
• • •
On when he might be able to return to competitive golf, in one form or another:
I'll put it to you this way: as far as playing at the tour level, I don't know when that's going to happen. Now, I'll play a round here or there, a little hit and giggle, I can do something like that. I certainly like… you know, the USGA suggested Play It Forward. I really like that idea now. I don't like the tees on the back. I like Play It Forward. Come on, let's move it up, let's move it up. To see some of my shots fall out of the sky a lot shorter than they used to is a little eye-opening, but at least I'm able to do it again. That's something that for a while there it didn't look like I was going to [be able to do]. Now I'm able to participate in the sport of golf, [but] to what level, I do not know that. I'll keep you abreast, all of you abreast as progress continues to go on, whether I'll be out here and at what level and when.
The USGA line drew a laugh from the 50 or so assembled writers, photographers, tournament organisers and tournament staff. The hit-and-giggle seems to be a reference to the PNC Championship, which he played in alongside his son Charlie last year to much fanfare. After Woods posted a video of him flushing an iron shot last week, a Golfweek report suggested Woods still hadn't ruled out a return to the event, which takes place in two weeks in Florida. Woods didn't distinctly shut down the possibility of playing this year but drew a firm line between that sort of exhibition and the grind of playing on the PGA Tour. One might happen soon. The other, not so much.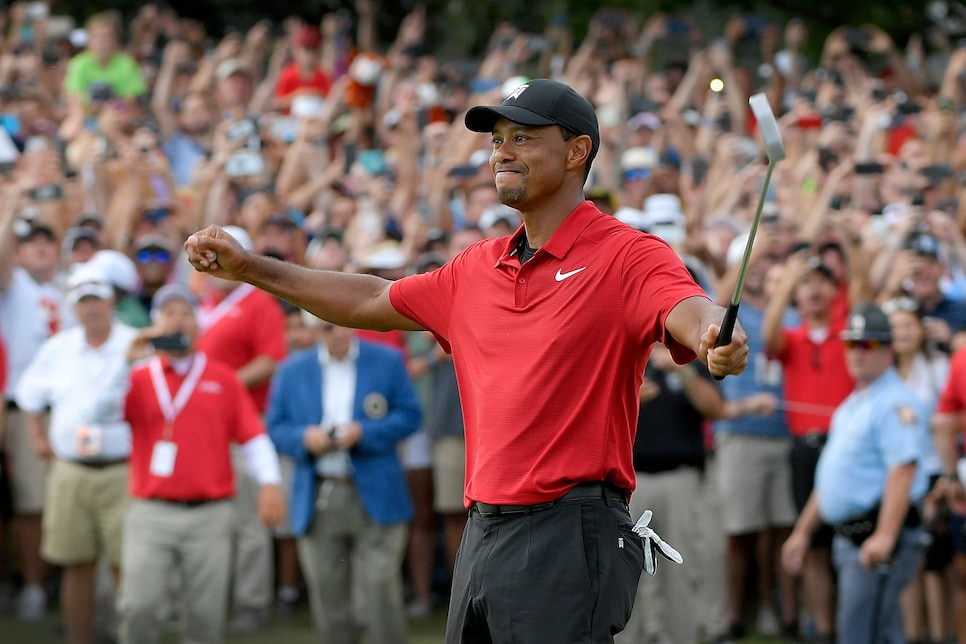 • • •
On what he remembers about the accident:
Yeah, all those answers have been answered in the investigation, so you can read about all that there in the police report.
No surprise here – Woods was clearly expecting this question and had his answer ready to go. This sounded rather similar to his responses in 2009 when he was asked specifics of his Thanksgiving-day accident that started his infidelity scandal. The Los Angeles Sherriff's Department did not press charges against Woods in connection with the February accident, which they said was the result of speeding.
• • •
On the difference between his mindset for this comeback, and the one from his spinal fusion surgery in 2017:
Once I started building, I realised after Tampa [2018 Valspar Championship] that I could win. OK. Then I proved to myself that I could take the lead in the British Open [at Carnoustie in 2018]. OK. Well, I could close. Even though I did not win, I closed pretty good at the PGA at Bellerive, and then '19, I won the Masters. Well, I don't see that type of trend going forward for me. I won't have the opportunity to practise given the condition of my leg and build up. I just don't… I'll just have a different way of doing it. And that's OK and I'm at peace with that, I've made the climb enough times.
This echoes what Woods told Golf Digest in a 30-minute video interview on Monday: that he'll never play the tour full-time again, and that he'll have to pick and choose what events he plays. One has to think Augusta National would be first on that list, with the other Majors coming next, but only time will tell.
• • •
On the prospect of having his leg amputated:
Yeah, it was on the table.
An illustration of just how serious and traumatic his leg injuries were. "Comminuted" means in multiple pieces, and "open" means bone had broken the skin. A comminuted open fracture is not a pretty picture. His leg was essentially crushed by the vehicle, and there were multiple surgeries that happened in different waves to save the leg and allow Woods to walk, let alone swing a golf club again.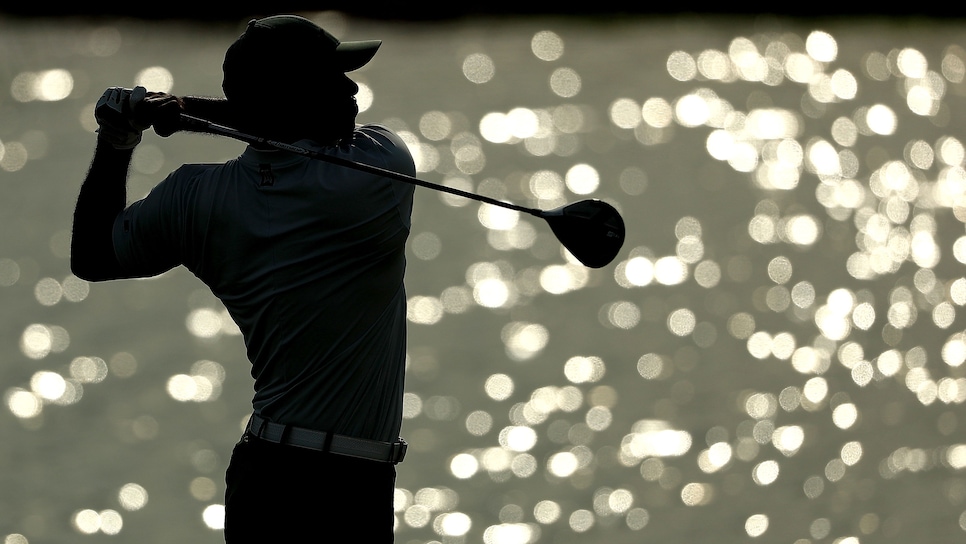 • • •
On how he consciously avoided the public discourse surrounding the accident:
Well, I kind of feel that way with most of my life. Doesn't really work out that way. I understand that it's… I had friends that insulated me from a lot of the things that were said outside. I didn't have my phone, I didn't have access… well, I did have access to a TV and I was just watching sports. But I refused to turn on the local channels and news and stuff like that, I didn't want to go down that road. I wasn't mentally ready for that road yet. A lot of things in my body hurt at that time and whether I was on medication or not, it still hurt. And just trying to imagine me coming off of that stuff, how much it was going to hurt, I didn't want to have my mind go there yet, it wasn't ready. Yeah, people are going to poke and prod and want to know more about my business, I understand that. Just as long as they don't go into… they can poke and prod at me all they want, just stay away from my family.
A fascinating insight into what life is like inside the fishbowl. Woods essentially said that he understands all the public interest in his life and the speculation regarding the crash, but that getting caught up in the public discourse would not benefit him in any way. So he stayed away from it, opting to let his most trusted confidants filter any necessary information his way.
RELATED: The untold stories of Tiger Woods
• • •
On the constant rumour mill regarding rival golf tours – specifically, Greg Norman's LIV Golf Investments and the Premier Golf League:
I've decided for myself that I'm supporting the PGA Tour, that's where my legacy is. I've been fortunate enough to have won 82 events on this tour and 15 Major championships and been a part of the World Golf Championships, the start of them and the end of them. So I have an allegiance to the PGA Tour. And I understand that some of the comparisons are very similar to when Arnold and Jack broke off from the PGA of America to start the tour. I don't see it that way… I think the tour is in great hands, they're doing fantastic and prizemoney's going up. It's just not guaranteed money like most sports are. It's just like tennis, you have to go out there and earn it.
This was Woods' first time commenting on what's become a hot-button issue during his absence. Perhaps unsurprisingly, the man who played an instrumental role in building the PGA Tour into what it is today – and a man tied for the most victories in the tour's history – threw his full support behind Ponte Vedra. This will make Jay Monahan smile, and Greg Norman and Andy Gardiner won't love hearing it. A fierce competitor to his core, Woods clearly prefers the play-for-pay model rather than the pay-for-play that has been proposed by both LIV and the PGL.
• • •
On why fans shouldn't give up complete hope of seeing Woods hoist a trophy once more: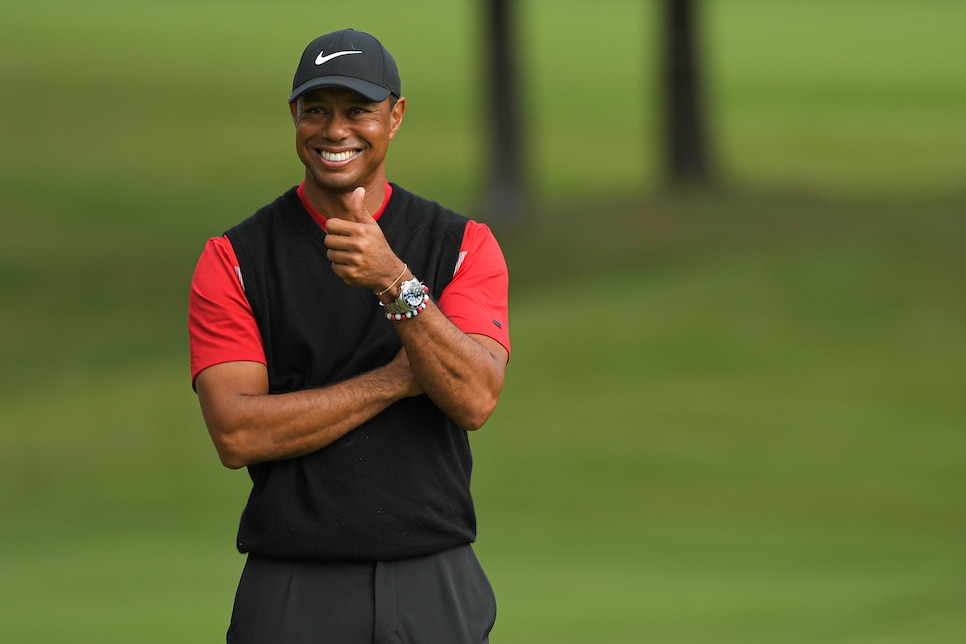 I don't foresee this leg ever being what it used to be, hence I'll never have the back what it used to be, and clock's ticking. I'm getting older, I'm not getting any younger. All that combined means that a full schedule and a full practice schedule and the recovery that it would take to do that, no, I don't have any desire to do that. But to ramp up for a few events a year, as I alluded to yesterday, as Mr Hogan did, he did a pretty good job of it. And there's no reason that I can't do that and feel ready. I may not be tournament-sharp in the sense I haven't played tournaments, but I think if you practise correctly and you do it correctly, that I've come off surgeries before, I've come off long layoffs and I've won or come close to winning before. So I know the recipe for it, I've just got to get to a point where I feel comfortable enough where I can do that again.
Count the man out at your own discretion.