Rory McIlroy hesitated to use the word. In fact, he said he "hated" it, because he no doubt understands the connotations it carries.
Anytime you use the word "product" when it comes to speaking about sports, it feels as if you could be selling beers or cars rather than acknowledging the emotional investment that fans carry for athletes and teams. No one wants to see their favorite golfer or tournament reduced to TV ratings and clicks on social media.
Yet, this week at Riviera Country Club, where the $20 million Genesis Invitational starts on Thursday, three of the game's most influential players—McIroy, Tiger Woods and Adam Scott—repeatedly used the word "product" when trying to add perspective to the watershed changes that are beginning to come into play on the PGA Tour this season.
McIlroy did try to catch himself on Wednesday during his formal interview, but ultimately said, "I hate calling it a product, but a product that this year's forecast to do $2 billion in gross revenue, you're trying to grow that product as much as possible."
That's three "products" in one sentence, so you get the idea.
The PGA Tour is being talked about as a product like never before because the business side of the sport has never captured so many headlines. The tour went for decades selling tournaments on a handful of stars, the fair and orderly nature of the game, and on the charities that benefitted in each community.
For two decades, Tiger Woods became the engine for the entire operation, and when the tour seemed weakened of late by his extended absences, Saudi Arabia-backed LIV Golf arrived last year to turn the entire sport and its financial outlook upside down. With a few true stars and many more middling pros getting huge, guaranteed cash from LIV, the conversation quickly turned to how to gather the biggest names together more often, for bigger money, of course, while ensuring that rank-and-file members and tournament sponsors still feel as if they're part of the big show and not forgotten bit players.
Woods being the Godfather in this current tour movie, he's hearing from all sides about it.
"From top players to players who obviously have injuries or the fact that you have guys that are journeymen, back and forth, yes, I've talked to the whole gamut," Woods said on Tuesday ahead of playing in his first regular-season tour event in more than two years. "As I've said, there's mixed emotions. But at the end of the day, we're trying to create the best product, and how do we do that? That's what we're trying to do and we're still figuring it out.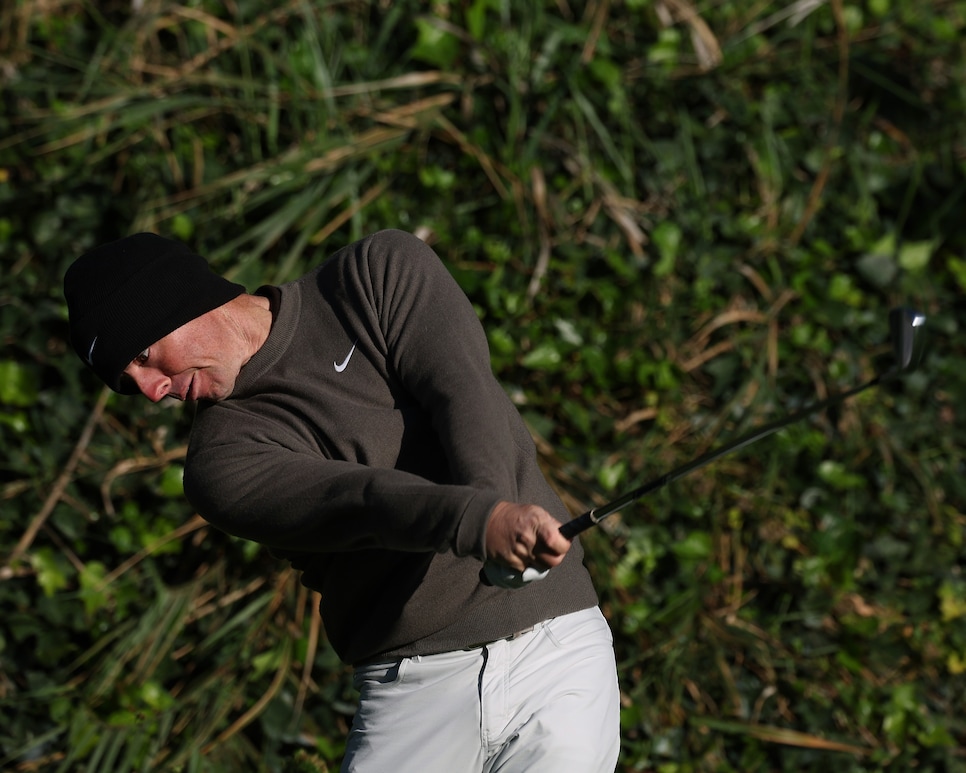 Rory McIlroy hits a shot on the sixth hole during a pro-am before the Genesis Invitational.
Harry How
"We want to," Woods later added, "create the next stars."
The gap between the tour's upper echelon and the rest of the pack has seemingly widenened this season with the advent of elevated events—the tour has now dubbed them "designated"— that have smaller fields and substantially bigger purses. Over these last two weeks, in Scottsdale and now L.A., the fields are playing for a combined $40 million, with the winners each earning $3.6 million. Scottie Scheffler got that big Phoenix Open check this year, while his win in the same tournament a year ago scored him $1.4 million.
The financial impact is just as significant on the lower end. Jim Herman finished 66th and last on Sunday at TPC Scottsdale and made $42,600. Charley Hoffman was 67th last year and got $17,302.
The concern among some players is that with smaller fields they may get shut out from getting to play for those bigger checks. This year, the Phoenix Open had a field of 135 players, but the discussion is that the number will be reduced to 70 or 80 for the designated events next year and beyond. (The tour and the Players Advisory Council are still working out the details for what 2024 will look like).
Beyond that, of course, is the fact that only the top 70 players in the FedEx Cup standings at the end of the season will be guaranteed their status for '24. The rest will have to battle it out for the remaining 55 spots. (It should be noted that last year 126 players made more than $1 million, so the bottom of the pack isn't a terrible place to be.)
Scott, a Masters champion and 14-time tour winner, joined the PAC this year and has become its chairman. He said he joined to have a voice in future proceedings, and it sounds as if he's fully on board pushing forward with a system that separates the stars more readily. He's not mincing words about the need for those down the food chain to embrace it.
"I think the hardest part of achieving the balance is having a big group accept change," he said. "We're not very good at that generally, especially as individual professional golfers that make decisions for themselves most of the time.
"I think realizing this is really one of the times of change in the professional game and things are going to have to change, and people in all positions on the tour have going to have to adapt to what that is in the future. I think that will be when we can accept that balance."
Among the players who have risen to a higher level, Max Homa knows what it's like to be outside the golden bubble. In 2016-17, he missed 15 of 17 cuts, lost his card, and it took him two years to get back. He then won the 2019 Wells Fargo and now has six tour victories while rising to a career high of No 12 in the world.
Homa also is on the PAC and has heard the concerns from his fellow golfers. His perspective is that while there are bigger financial opportunities for the top players, the rest of the membership is still vying for substantial prize money, and in some cases will face less difficult competition at tournaments that the stars skip. He sees it as a win-win.
"It feels like the ceiling is being raised and the floor is staying exactly the same," Homa said on Wednesday. "Of course, you need to play well to get into that, but I had to play well to get into that as well. I might have done it a couple of years ago or last year, but there's so much room for growth and I don't see a drastic downside.
"I totally understand people's potential gripes with it," he said. "But I don't think they are completely accurate based on what they are getting at the moment."
Homa contends that, if anything, the line that defines greatness is more clearly drawn.
"I don't want to speak for other people, but obviously that's motivation and that's great in a way for competition," he said.
As for the lure of the bigger events that feature more stars, Homa asserts they have a chance to take on a life of their own. With many of the most popular players in the world competing against each other more regularly, he says there are greater opportunities for rivalries to develop and fans to get more excited about marquee events beyond the majors.
Homa compared it to watching his beloved Los Angeles Lakers, despite how bad they are now, play the Boston Celtics because he'll revel in LeBron James taking on Jayson Tatum. In the same light, he envisions Scheffler and Jon Rahm battling as they did at Phoenix last week, and then maybe seeing a matchup the next week, say, between Collin Morikawa and Viktor Hovland.
"It's not going to be the same guys every time, but it will be two guys that you know very, very well, that are great at the game that will be going toe-to-toe coming down the stretch on Sunday," Homa said. "I think that overall will be better, and I don't think that will drag on and become the norm like in a boring way."