Rory McIlroy being in the thick of contention for his third straight RBC Canadian Open victory on Sunday needs some context.
It was a year ago that the Ulsterman shot a 62 in the final round at St George's Golf & Country Club in Toronto, and in the TV interview on the green afterwards, he said with a knowing grin, "My 21st PGA Tour win – one more than somebody else. That gave me a little extra incentive today and I'm happy to get it done."
McIlroy was, of course, taking a shot at Greg Norman, the 20-time tour winner and CEO of LIV Golf, and McIlroy had been one of the Saudi Arabian-backed league's biggest critics.
That's a remarkable juxtaposition with this week, which began with McIlroy, Norman and virtually everyone in the golf world being blindsided by the announcement that the PGA Tour and DP World Tour were teaming with the Saudi's Public Investment Fund to start a new for-profit business that is expected to shape the future of professional golf around the world.
On Wednesday in Toronto, McIlroy expressed his continued "hate" for LIV Golf, but also acknowledging that it might have been the only realistic solution for everyone involved.
"It's hard for me to not sit up here and feel somewhat like a sacrificial lamb and feeling like I've put myself out there," McIlroy said.
"Again, removing myself from the situation, I see how this is better for the game of golf. There's no denying that."
With that, it was time for golf, and McIlroy has once again shown he can compartmentalise well in Canada. With a third-round six-under-par 66 at Oakdale Golf & Country Club in Toronto, McIlroy is in a six-way tie for second, with the half-dozen chasing C.T. Pan, who birdied the last two holes to gain a two-shot lead by shooting 66 to get to 14-under.
Beyond McIlroy in the group tied for second are Tommy Fleetwood (64), Justin Rose (66), Mark Hubbard (66), Harry Higgs (67) and Andrew Novak, (67).
None of them are Canadian, but just another stroke back is Nick Taylor, who hammered Oakdale early on Saturday for a course-record 63.
McIlroy is essentially an adopted Canadian after his Canadian Open victories in 2019 and last year, with COVID-19 having wiped out the 2020 and 2021 editions. As such, McIlroy has the chance to become the first PGA Tour player since Tiger Woods to win a single tournament three straight times at three different venues.
Woods did it in the rotating WGC-American Express Championship from 2005-07. Before that, we have to go back to the 1950s, when Aussie legend Peter Thomson won three straight Open Championships.
"I would love to win the Canadian Open for the third time. I've never won a tournament three times in a row," McIlroy said.
"I felt like last year the win wasn't just for me' it was for a few other things. But this one, this year, if I were able to get over the line, will be solely for me."
The World No.3 did admit that it seems like there have been a series of distractions in the golf word.
"Honestly, it feels like every week there's something new," he said. "So it's, like, just drama, part of a soap opera, unfortunately. … As I said at the start of the week, I feel terrible for RBC and this tournament because they're such a great supporter of the tour and they have just been really unlucky the last couple years with all the noise surrounding their tournament."
There is no quibbling with the kind of leaderboard the event produces. Last year, McIlroy outduelled Justin Thomas and Tony Finau for the win, and though he is one of the few higher-ranked players in this year's field ahead of next week's US Open in Los Angeles, he's contending with two of his European Ryder Cup buddies, Rose and Fleetwood.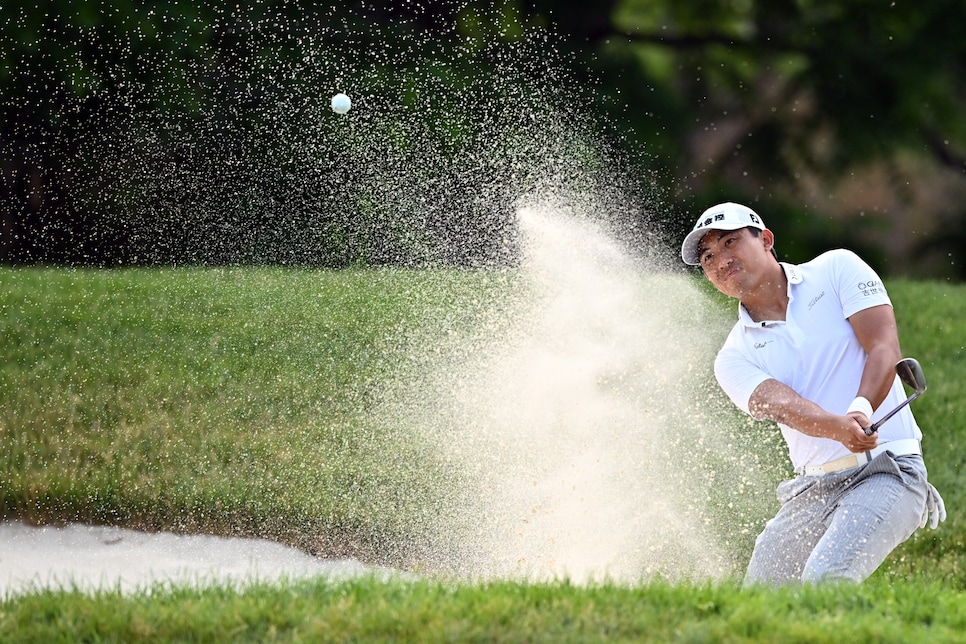 "Looks like there could be a lot of guys up around the lead tomorrow," McIlroy said. "So it's going to be really interesting day."
The leader, Pan, is a former University of Washington standout whose lone PGA Tour win came in the 2019 RBC Heritage. The 31-year-old is only making his fourth start of the calendar year because he took seventh months off to recover from a left wrist injury. He missed the cut in his first two outings back but closed with a 62 in the Byron Nelson to finish solo fourth.
In his post-round TV interview, Pan said that he's had to be careful to take care of his wrist, and added with a chuckle that his physical therapist said, "don't get in the rough."
"I played well the first three rounds. So, course management, I won't do too much to change," said Pan, who seventh in the field in strokes gained/tee-to-green and third in SG/putting.
"You still have to play aggressive, because this course, it's a lot of rough, but if you hit it in the fairway you will have a lot of short irons in and you're going to create a lot of birdie opportunities.
"I wouldn't be surprised if someone shoots eight-, nine-under, because the PGA Tour guys are really good."
• You can watch Rory McIlroy and the stars from the PGA TOUR on Fox Australia and Kayo Sports.