This one was pre-ordained. Or at least it was supposed to be, if the majority of the pre-tournament publicity was to be believed. It was supposed to be won by a Spaniard. And it was supposed to be won by a member of the recent European Ryder Cup team.
So close.
The first part came true at the Acciona Open de España. And the second nearly did. But here's the thing. None of the above involved Jon Rahm, the only Spaniard in the field at Club de Campo in Madrid who played for Europe at Whistling Straits last month.
As Rahm surprisingly struggled to a T-17 finish in his quest for a third consecutive victory at his home national Open, the ultimate triumph went to countryman Rafa Cabrera Bello. On a low-scoring Sunday in which only five of the 75-strong field shot over par, the Canary Islander, part of the losing 2016 European Ryder Cup side at Hazeltine National, reached 19-under par with a closing 69. His 72-hole 265 total was good enough to take Cabrera Bello into a sudden-death playoff with another countryman, Adri Arnaus, one that would last just one hole. Cabrera Bello's birdie from 10 feet on the 304-metre 18th was good enough to clinch the victory, his fourth on the European Tour.
RELATED: Hit your irons like Cabrera Bello
There was a time, not so long ago when such a scenario would have come as no surprise. As recently as the 2017 Open Championship, in which he finished T-4, Cabrera-Bello was 16th in the world ranking. But things have changed, and not for the better. This week, the 37-year-old arrived in his homeland's capital city ranked 231st, having recently lost his playing privileges on the PGA Tour. Cabrera Bello finished 170th in the FedEx Cup standings in 2020-2021. In 26 starts, he missed 14 cuts and failed to record a top-20 finish.
Still, all of the above was forgotten during a final round that could have started less auspiciously. Cabrera Bello lost his initial two-shot advantage with a double-bogey 6 on the opening hole, where he thinned a greenside bunker shot far over the putting surface. That lapse, however, was to be his last deviation from par or better, four birdies and 13 pars following.
The last of those pars was hard-earned. Tied with Arnaus on the final tee, Cabrera Bello badly pushed his drive. The ball hit a tree, rebounded backwards onto a cart path and didn't stop until it had retreated almost 100 paces. Bunkered in two, Cabrera Bello got up-and-down to match Arnaus' par and set up the playoff.
"I am so happy," said the champion, his first win since the 2017 Scottish Open, in the immediate aftermath of victory, one that paid him €233,900. "I knew it was going to be a very hard battle. I arrived here in the worst shape I have been in over the past decade and I don't have to tell you I didn't get off to the ideal start. But I believed in myself and had some amazing support from the crowd. Over the past couple of years, I have felt a really special connection with the people here in Madrid. They were [cheering] for me right from the first round. So I hung in there, knowing I would have an opportunity. To walk away with a win is very special. This is a trophy I have always wanted to win."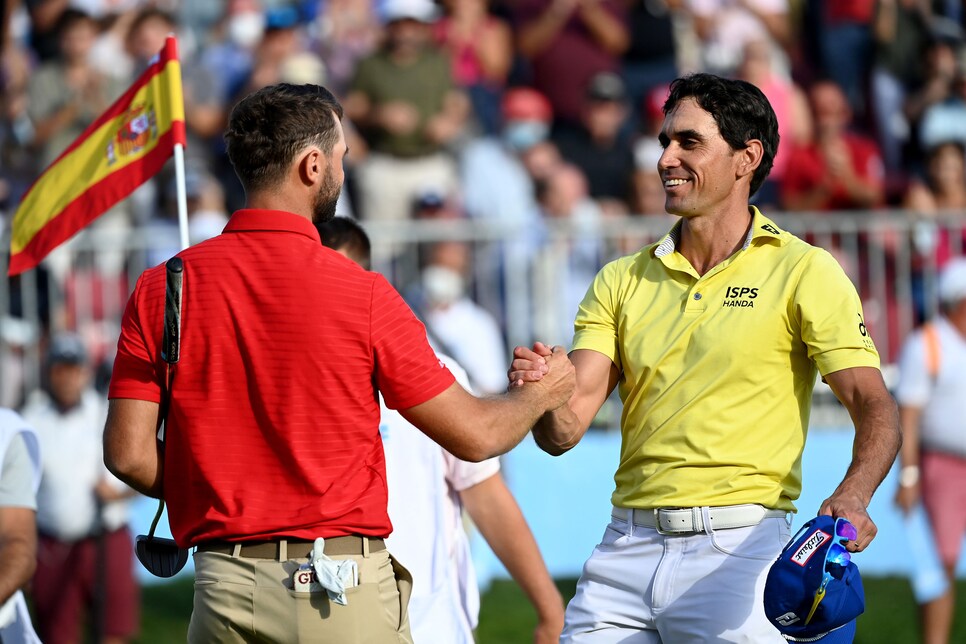 As for Rahm, the two-time defending champion had the small compensation of witnessing first-hand the most remarkable run of scoring on a final day in which that accolade had much competition. One-over par after eight holes, Grant Forrest proceeded to make nine 3s en route to the clubhouse and a tie for third place alongside Julien Guerrier and Shubhankar Sharma. The Scot played the back-nine in seven-under 28, five shots better than Rahm. But Cabrera Bello beat Rahm by six over 72 holes, which turned out to be much more important.
Less notably, another Scot, Marc Warren, broke 70 in all four rounds. The former World Cup winner pulled up a tie for ninth place, just over a month after he shot 86 in the opening round of the Italian Open. As was made clear this week, in golf you never really know what's going to happen.
TOP/MAIN PHOTO: Stuart Franklin