It was time to talk about the future, the commissioner wrote. In a letter dated September 12, 2022, Mollie Marcoux Samaan – then 16 months into her new role as head of the LPGA – sent a note to players congratulating them on a successful season, expressing her gratitude for the opportunity to lead their tour and optimism for where it was headed. However, Marcoux Samaan said, the LPGA could only get where it wanted to go by having everyone headed in the same direction. "This is your tour and our success depends on your passion, your actions and your commitment to both your individual success and that of the organisation," Marcoux Samaan wrote.
A former athlete and athletic director at Princeton University, Marcoux Samaan said she would be providing information on conversations the LPGA was having with players on the Ladies European Tour and with LET officials, "and hope we can share perspectives on the changing global golf landscape." The letter did not state the series, organisation or monarchy that was spurring this change although the implication was clear: if LPGA players had the same reservations about dealing with the Saudis as their PGA Tour counterparts, this was the time to talk about it.
Marcoux Samaan went on to outline that she would be at six of the remaining eight events on the 2022 LPGA schedule, starting that week in Portland, Oregon, for roundtable discussions to share information, thoughts, concerns and ideas. "I know it's hard to make time during a tournament, but I can't stress how important it is for us to communicate," Marcoux Samaan wrote. "Your legacy is more than just how you play on the course or how much money you earn." The first meeting was scheduled at noon on Wednesday, September 14, in the player dining area at Columbia Edgewater Country Club.
No players showed up.
Some of the attendance issues could be attributed to miscommunication. Months later, miscommunication was blamed for players skipping a sponsored dinner at the CME Group Tour Championship, leading to the sponsor's chief executive publicly blasting Marcoux Samaan. Players did attend other meetings in the northern autumn with LPGA brass; still, while no one is sure of Saudi Arabia's long-term aspirations with the women's game, few expect resistance to the kingdom's efforts from LPGA leadership like those encountered by LIV Golf on the men's side. Or, as the incidents above illustrate – along with snafus at this week's season-opening Tournament of Champions, where players were initially denied locker-room access by the host course – whatever resistance exists may be rudderless.
It's already been documented that Golf Saudi's genesis is tied to the kingdom's Vision 2030 blueprint, a plan to diminish the country's reliance on oil by diversifying the economy, modernising its public services and improving its global reputation. Golf was seen as a vessel to those ambitions with projects like developing courses and hosting professional competitions. It is this last point that sparked the Saudi International into existence in 2019, a tournament that was initially sanctioned by the European Tour. But Golf Saudi – and, as an extension, crown prince Mohammed bin Salman – were rebuffed in their attempts to become a more permanent fixture in golf's political matrix with the PGA Tour and DP World Tour. This is what led the Saudis to start their own tour, which beget LIV Golf and the current schism in men's professional golf.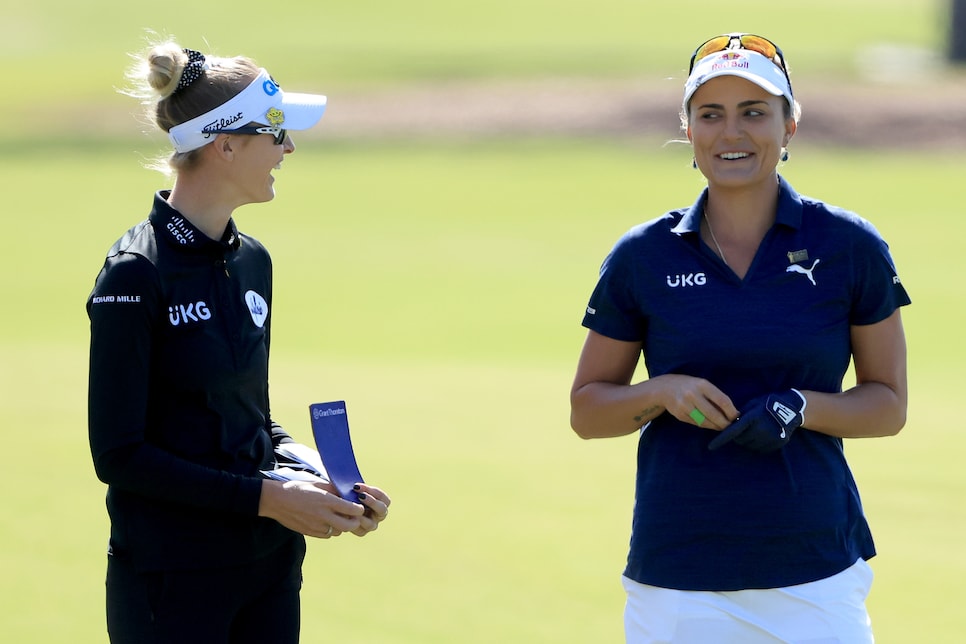 However, Golf Saudi has had far more success making inroads into the women's game. In just two years, Golf Saudi has gone from hosting one event on the Ladies European Tour to six, with one of those events played in the United States. Unlike LIV Golf – which is composed largely of players a notch or two below the game's elite – Golf Saudi's women's events have attracted in-their-prime talent. Popular American players such as Lexi Thompson, Danielle Kang, Nelly and Jessica Korda, and Alison Lee have competed in Golf Saudi tournaments. So have international stars such as Lydia Ko, Brooke Henderson, Atthaya Thitikul, Anna Nordqvist, our own Minjee Lee and Leona Maguire. In fact, Jin Young Ko is the only player in the top seven in the Rolex Women's Ranking who has not played in a Saudi-backed event. Similar to men's Golf Saudi events, there are extravagant purses to be had with opulent appearance fees for big names.
All six events – the Saudi Ladies International plus five "team series" tournaments played in Bangkok, London, Sotogrande in Spain, New York City and Jeddah – are sponsored by Saudi Aramco, the country's state-run petroleum company. Aramco's chairman is Yasir Al-Rumayyan, who is also the governor of the Public Investment Fund, the kingdom's sovereign wealth fund that controversially backs LIV Golf. Al-Rumayyan is a passionate golfer who believes the game can be a conduit to political and economic influence for the kingdom, and his input carries particular weight in bin Salman's circle. Greg Norman may be LIV Golf chief executive, but Al-Rumayyan and Golf Saudi chief executive Majed Al Sorour are the two people who have final say over LIV/Golf Saudi matters.
Publicly, Norman's voice has been the loudest during the past year. And while some of his statements have been contradictory in nature, the 67-year-old Queenslander has been adamant that a LIV women's league is coming.
"One hundred percent. Drop the mic on that," Norman told the Palm Beach Post last July. "We have discussed it internally, the opportunity is there… We've actually had one of the most iconic female golfers sitting in this room having a conversation with her. She absolutely loves the whole concept and is behind the whole concept."
Months earlier in an interview with the BBC, Norman went so far as to say that LIV Golf attempted to make a strategic investment in both the LET and LPGA similar to the partnership LIV made with the Asian Tour, only for both women's circuits to turn down the proposals. "Just because we offered that up we may have a different strategy going forward, so sit back and wait," Norman said. "We're here for a long, long period of time. We're here to grow the game of golf on a global basis, not just in one specific sector, which is men's. It's across the board."
LPGA sources told Golf Digest that there has been no formal offer from LIV Golf or Golf Saudi. Multiple sources familiar with Golf Saudi assert LIV's focus is on its current men's league, set for its second season in 2023. But Golf Saudi's overtures into the women's game have not gone unnoticed. That includes from the LPGA commissioner.
A week after Norman told the Palm Beach Post that LIV was interested in the LPGA, Marcoux Samaan told The Times of London she was open to discussions. "It's my responsibility to evaluate every opportunity," she said. "I would engage in a conversation if it would achieve our aim of promoting women's golf, but there needs to be input from players and sponsors. There's a lot of factors to consider before we do business with LIV Golf."
However, in an interview with Golf Digest's Kent Paisley during the Australian spring, Marcoux Samaan said those conversations, at that point, had not transpired.
"No, nothing, nothing to report there," Marcoux Samaan said regarding LIV rumours. "Just more generally… obviously, the golf world is changing and evolving and so it's really important to hear the player's perspective."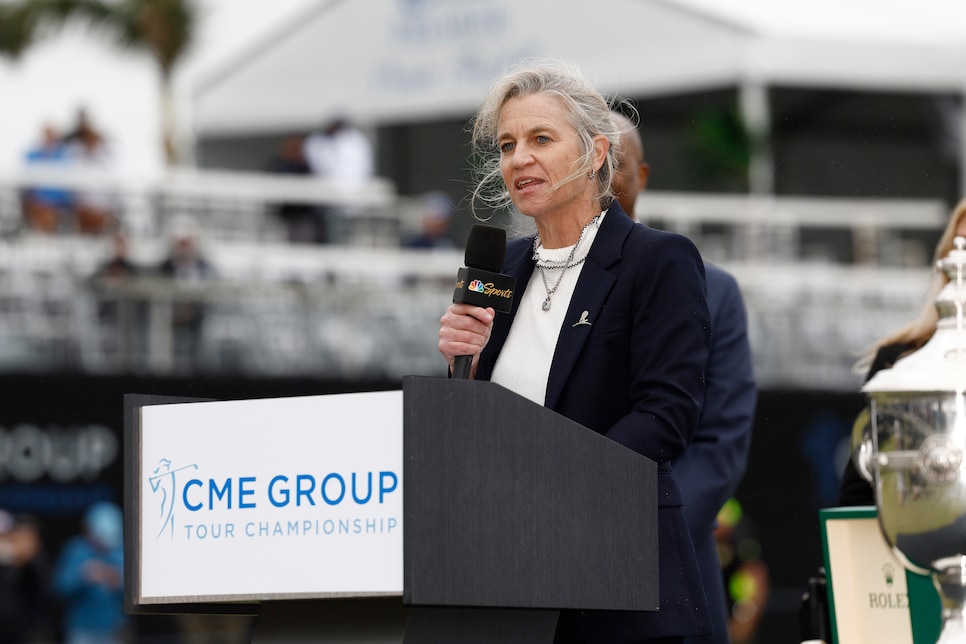 Marcoux Samaan said "nothing specific" caused her to have the series of conversations with the membership she outlined in the September 12 letter to players regarding the LPGA's future. "I think part of my leadership style and what I think is really important is just to communicate," she said.
As for what the agenda had been at those late-2022 meetings, Marcoux Samaan said there was none. "Again, there was nothing specific that we were looking for, just to say, like, how are they feeling about the tour?" she said. "How are they feeling about what ideas do they have that we can make? We have to focus on ourselves. I think that's the most important thing for us to do is control the things that we control."
Multiple industry sources outlined four potential scenarios regarding Golf Saudi's ambitions with professional women's golf. The first is to continue, and possibly expand, its current Aramco series within the LET framework. Aside from its existing six events, sources tell Golf Digest that two potential additions to the line-up could be visits to Australia and South Korea. The second scenario involves buying the LET; the third, buying the LPGA. The fourth would see Golf Saudi attempting to build its own circuit similar to the LIV Golf model.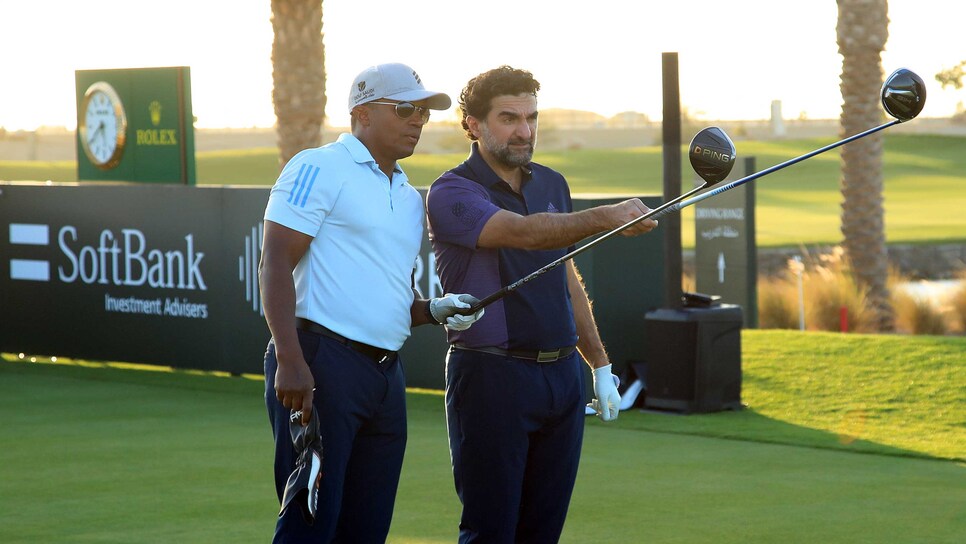 As noted, the LPGA has maintained that no official offers have been made from Golf Saudi, LIV Golf or Aramco. The LET, however, renewed its agreement with Golf Saudi in November, highlighted by the announcement that the Saudi Ladies International, set to be played from February 16-19 will see an increase in its prizemoney from $US1 million to $US5 million in 2023 – the same purse as the men's Saudi International and the largest non-Major purse on the LET. "It will allow the tournament to grow in every way, from its purpose and impact on social change to the delivery of exceptional experiences for fans and for players at the event and in the community," said LET chief executive Alexandra Armas. "This is a message to all young women that golf is for them, and they can pursue the sport as a passion and as a career."
The LET was on the brink of financial collapse in 2017, with the tour forced to cancel five tournaments due to sponsorship problems. Its dire economic straits and growing player frustration with leadership prompted then-LPGA commissioner Mike Whan to strike a partnership with the LET in 2019 to strengthen the struggling European circuit. Though that partnership has instilled some stability, the LET remains cash-strapped, which is why it has been willing to partner with Golf Saudi and the riches it promises. In turn, the LET facilitates world-ranking points to Golf Saudi events, along with access into Major championships and the entry of LPGA stars.
It's hard to overstate that last point: the current system offers the ability for LPGA players to play in its events without sanctions. The women's game is more global than its male counterpart; still, most of the best players compete primarily on the American-based LPGA. Sources familiar with Golf Saudi's strategy maintain the LPGA and its players' involvement are a major part of Golf Saudi's ultimate blueprint for its women's golf endeavour. It's why Golf Saudi has hosted events in New York the past two seasons, why it and Aramco sponsor multiple LPGA stars such as Alison Lee, Bronte Law, Anna Nordqvist and Carlota Ciganda, and why the Korda sisters and Thompson reportedly received major appearance fees to play in the Aramco series.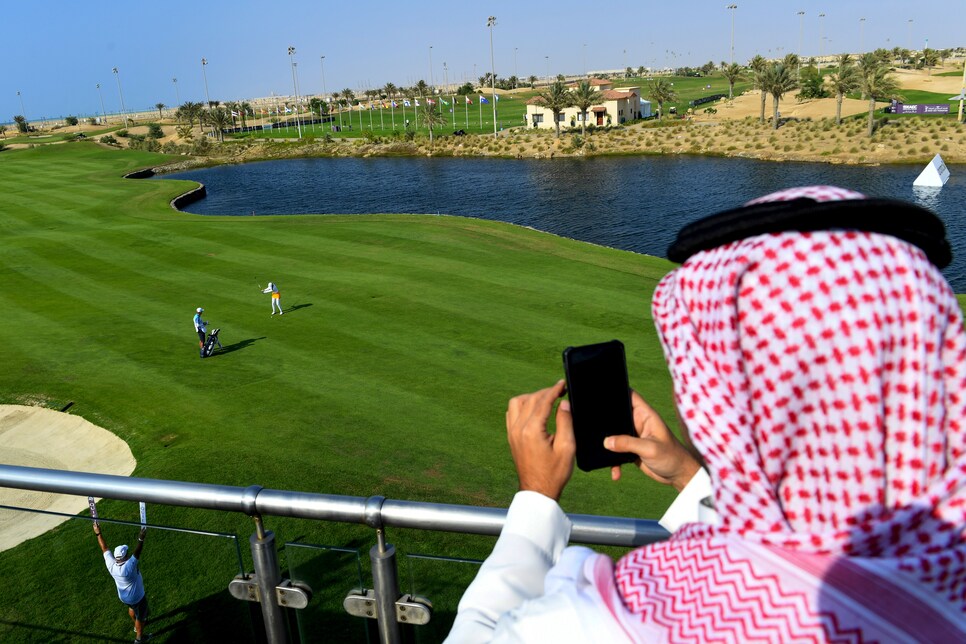 So why is Golf Saudi interested in the LPGA and the women's game?
Like much of the Saudi involvement in golf, a clear answer is elusive. The uncomfortable truth is that women's professional golf garners nowhere near the amount of attention – and by extension, money – as its male counterpart, so it's doubtful Golf Saudi is investing millions and millions into this realm solely for financial reasons. Chalking up the Saudi's efforts as mere sportswashing seems to be an elementary distillation of the matter, and yet that observation rings louder here than other Vision 2030 sports undertakings.
The Saudi government has been accused of myriad violations of human rights, many of which involve its treatment of women. Publicly, the country has touted some reforms in recent years, some of which Norman has been happy to parrot. "Women's rights issues – the women there now, I've been so impressed," Norman told Golf Digest in spring 2021. "You walk into a restaurant and there are women. They're not wearing burkas. They're out playing golf."
Still, Saudi Arabia ranked 147th out of 153 nations in the World Economic Forum's Global Gender Gap Index for 2021. According to Human Rights Watch, Saudi women still must obtain a male guardian's approval to get married, leave prison or obtain certain healthcare. Women also continue to face discrimination in relation to marriage, family, divorce and decisions relating to children, including child custody. Historically human trafficking was rampant, according to the US Department of State, which accused the Saudis of bringing women from Africa for sexual exploitation and commercial trading. There is no official prohibition on rape, and often sexual assault victims are punished for being alone with a male. Women's activists are routinely imprisoned and ruthlessly silenced.
After Marcoux Samaan said she would listen to Golf Saudi, activist Lina Alhathloul – whose sister, Loujain al-Hathloul, is a two-time Nobel Peace Prize nominee and current political prisoner of Saudi Arabia – implored the LPGA to reconsider. "I am sounding the alarm on the consequences of such actions," Alhathloul wrote in an open letter. "I urge you to consider the human rights aspect of your potential involvement with LIV Golf and use your influence to positively raise the situation of women in the country and to publicly distance yourself from the Saudi regime."
So far, many of the best women pros have not been deterred by the stigma of association with the Saudi regime. There have been dissidents, though most, including Hall of Famer Karrie Webb, are no longer active players. Unlike their male counterparts, this is not the rich getting richer. It's the upper to middle-class players becoming rich, or ensuring stability to those just getting by. The case can be made that some don't have a choice: the Aramco series is roughly 20 percent of the LET schedule. If a player on that tour sits out those events, there's a good chance they risk losing their card.
"To be honest with you, it's hard to compare what the partnership that Aramco Series has with the women versus what's going on with the men," Lee told Golfweek. "It's apples and oranges. The women on the LET, they play for almost nothing. It's very similar purse sizes on the [Epson] Tour. A million-dollar purse for them is huge, absolutely huge. It's almost life-changing for some of those girls when they make a big cheque at the end of the week. I feel like on the men's tour, you don't have guys rooming every week with another player; you don't have them sharing an AirBnb; you don't have them sharing a rental car, staying at host families every week."
There's also the air of inevitably, that the LPGA doesn't have the means for a fight and resistance is futile. "I hope we survive it," Stacy Lewis told Golfweek last year. "I'm scared for this tour. I'm scared to lose all the opportunities that we've created… I think you have a majority [of players] that would ask, 'What's the number?' Should we talk to them? Absolutely. Ultimately, I think we have to find a way to co-exist."
"Put it this way, I think you would see almost the entire tour do it here," said veteran Cristie Kerr at last year's KPMG PGA Championship. "What we play for here compared to the men's tour, the scale is different."
Optically, the LPGA is seen as particularly vulnerable in its transition from Whan, who left the tour in 2021 and has since become USGA chief executive, to Marcoux Samaan. Filling Whan's shoes was going to be a tough task for anyone, and a grace period is expected for a job of this importance. Nevertheless, there have been some public missteps under Marcoux Samaan, such as this week at the season-opening event in Florida, where players initially did not have locker-room access and were given restricted practice time. There was also a November story reported by Golfweek in which Terry Duffy, chairman and chief executive of CME Group – one of the LPGA's biggest sponsors – expressed frustrations with LPGA leadership.
Should a rival league manifest, sources close to the LPGA point to Thompson as Golf Saudi's top target. Not only has she already played in their events, Thompson is represented by GSE Worldwide, the agency whose clients make up roughly a quarter of LIV's membership. The Korda sisters are also seen as potential signees, sources close to the LPGA say, due to their marketing power; they both have competed in the Aramco series.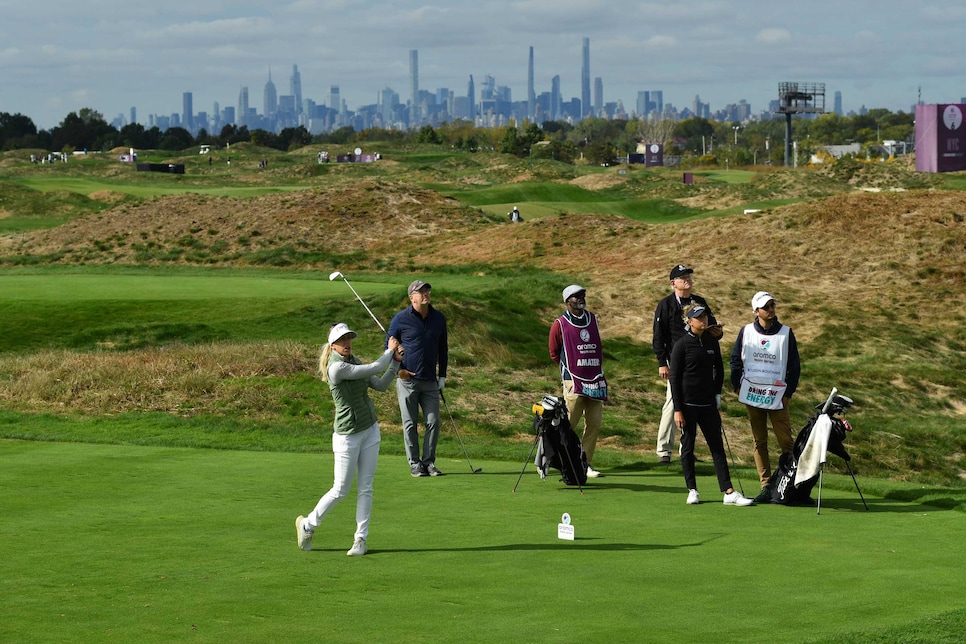 When asked about the matter of a Saudi-LPGA partnership late last year during the New York-Aramco event, both Thompson and Nelly Korda were non-committal. "I mean, right now that's kind of speculation," Korda said at the New York-Aramco event. "As a player I don't really know and that is not in my hands. That's for the tour commissioner." Added Thompson: "Yeah, exactly. I mean, the talks are out there that that might happen but hasn't been brought to us. We are just doing what we can and that's playing the LPGA and there's not much else. We are just growing the game. There's not much else we can do."
As for the baggage that comes with partnering with Saudi Arabia, and if female players should face the same backlash as those who defected to LIV Golf, Thompson chose to focus on the support received from tournament backers. "I would say that without the support of Aramco, the LET would not be as strong as it is today," Thompson said. "And I think they are growing the game of golf in women's golf, and I think that if you speak to any of the Ladies European Tour players, they are extremely grateful for this opportunity, and I think that's what Aramco is trying to do. They are trying to grow the women's game, and I support that fully."
The LPGA is in a better financial spot than the LET, with players competing for a record $US101.4 million in 35 events this season. It is also not in the same financial class of the PGA Tour (which is paying more than $US450 million in prizemoney in its events during the 2022-2023 season) and doesn't have the same ability to fight off a potential Saudi-backed organisation. The men's Saudi International proved to be a good barometer of the players that would eventually defect to LIV Golf. If the women's Saudi International and the Aramco series act as the same indicators to a potential new league, the LPGA could be in trouble.
There's no doubt that Golf Saudi has put its imprint on the women's game. The question now is how much larger will it grow. And, by doing so, if it will stomp anyone out.