Bryson DeChambeau is the reigning US Open champ, and despite the occasional battles with galleries of late, he received a champion's welcome on the first afternoon at Torrey Pines. From the crowd, we should say. The course? Not as hospitable.
There were no "Brooksy" jeers but DeChambeau found himself bullied by the San Diego public course, making six bogeys in a seven-hole stretch in round one en route to a two-over 73, sitting in a tie for 61st as play was suspended by darkness on the first day of this US Open. The only soother was beating the sunset and finishing his round on a fog-delayed day.
As he's done to most venues since his physical transformation, Bryson laid into Torrey with the big stick, gaining two strokes on the field off the tee, and his putter continued to be an underrated weapon (1.87 for strokes gained/putting). But instead of following suit the rest of his game came out on the business end of this tournament. His irons were out of tune, hitting just 10 greens and losing more than a stroke-and-a-half to the field in approach, and his work around the greens was just as offensive (-1.64 for strokes gained/around-the-green). There were some bad breaks, highlighted by his second shot at the par-5 13th coming to rest in a divot – leading to a chunked chip into another devastating lie in the bunker – but this was not a round that warrants an asterisk. The man simply didn't have it.
Which happens to the best, and Bryson has certainly been one of the game's best during the past year. To his credit he rallied with birdies on the 14th and 18th. But this is the US Open, which punishes anything less than good, and for all the hype surrounding the beefy man and his feud with Brooks Koepka entering this championship, DeChambeau finds himself needing a strong second round to keep aspirations of a title defence alive.
Here are five other things you might have missed from the first round of the 2021 US Open.
Oosthuizen lives up to his Major reputation
There's a bit of revisionist history with Louis Oosthuizen. He is an Open champion, and has the distinction of finishing runner-up at each of the four Majors, with one of those silver medals coming in last month's PGA Championship. Conversely, his track record at the Big 4 is not quite as good as the esteem we hold it in, with eight top-10s in 40 Major starts since his St Andrews triumph in 2010. That is very, very good, but by no means legendary; Xander Schauffele, as context, has just as many top 10s in only 16 Major outings.
We say that to say this: Oosthuizen was on fire today.
The 38-year-old racked up five birdies on the first afternoon, sitting in a tie for the lead with Russell Henley at four-under through 16 holes.
"I just enjoy playing really tough golf courses," Oosthuizen said. "I think somehow I focus a little bit better when I play those courses, knowing that the margin for error is really small. Especially around this place, you've got to drive it well, you've got to start it in the fairway, and you're going to have trouble if you're missing fairways around this golf course and I've really been driving it good lately."
Oosthuizen's been doing a lot of things well lately. He entered Torrey with five top-10s in 15 starts this season, with one of those top-10s coming last September at Winged Foot. He's also been lights-out with the flatstick, leading the tour in strokes gained/putting.
"You can feel the firmness of the greens," Oosthuizen said. "It's getting a little firmer. But yeah, I played nicely, putted nicely and hopefully just keep the momentum going."
Should he keep momentum in his corner and grab that elusive second Major, his results would live up to his reputation.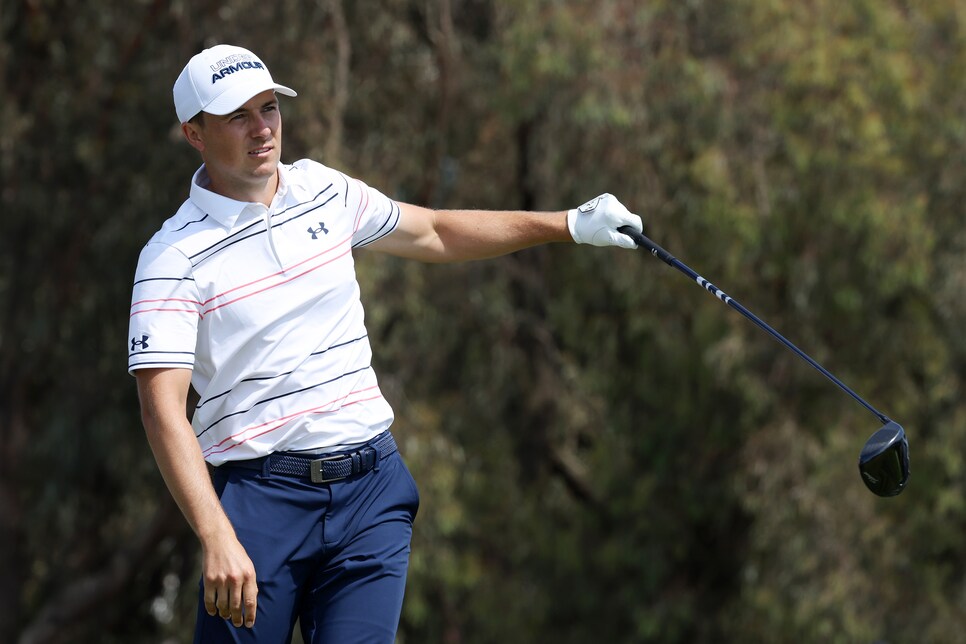 Spieth goes south
Jordan Spieth is a former US Open champ but you wouldn't know it by his recent US Open history.
Since winning at Chambers Bay in 2015, Spieth has finished no better than T-35 in his past five US Open starts and has missed the cut in two of the past three appearances. He is in line to make that three of four missed weekends after a six-over 77 left him T-128.
What went wrong? Well, everything. He hit just four fairways and ranked 127th in strokes gained/off-the-tee. His second-shot prowess, the prowess that has spurred his turnaround this season, failed to show up for his tee time as Spieth lost 1.26 strokes to the field in approach. The putting numbers were just as ghastly (-1.53 for strokes gained/putting).
In a sense this wasn't unexpected. Aside from his US Open woes, Spieth has struggled at Torrey Pines, a T-19 in 2014 his best finish in six starts at the Farmers Insurance Open. The US Open has also turned into a power game, and for all his assets, the long game is not Spieth's forte.
Still, given his revival in 2021, contending at this championship didn't seem out of reach. Now he'll need to go low in round two to see round three.
Rahm survives a rocky start
The good news: Jon Rahm was even-par after his first eight holes today. That is a standing any player will take at a US Open. The odd news: Rahm's first par came seven holes in. "That's what happens at a course like this," he noted.
Luckily for the Spaniard, he kept the big numbers at bay the rest of his round while adding a few more red figures to turn in a two-under 69.
"I was hitting good shots, it's just bogeys can happen quickly," Rahm said. "Greens get a little bumpy and making putts can be difficult. But after, yeah, I believe I was bogey-free from 16 on, which was really good golf. Even the misses were missed in the right spot and difficult ones I made up-and-down. Overall, really solid, I feel like it got better as the day went on, which is kind of what you want. So hopefully tomorrow I can keep this good game going."
The world No.3 entered this week as the favourite, and today's performance put to rest worries that his brutal COVID-19 withdrawal at the Memorial would having lingering effects. Despite an abbreviated practice schedule heading into San Diego, Rahm has looked very much like the player who accumulated 10 top-10s this season and rolled the field through three rounds at Muirfield Village earlier this month, and seems galvanised, and perhaps a bit thankful, to be here after that scare.
Also noteworthy: Rahm was able to finish his round before dark, saving him from coming back early in the morning.
"I mean, even 20 minutes difference on sleep, when you're going from late to early, I mean, it is less than a 12-hour turnaround and you got to include the warm-up, the cool downs," Rahm said. "Sometimes you wish you had a couple of extra minutes and by finishing today we get that. So it's a big difference."
Rahm has a steady diet of good finishes at Majors in his young career, but has yet to get his breakthrough on the big stage. He's been seeking that something, that extra push or lucky break, to get him to the Promised Land. We won't know until Monday morning if today's finish will be that surge. It definitely nudged him in the right direction.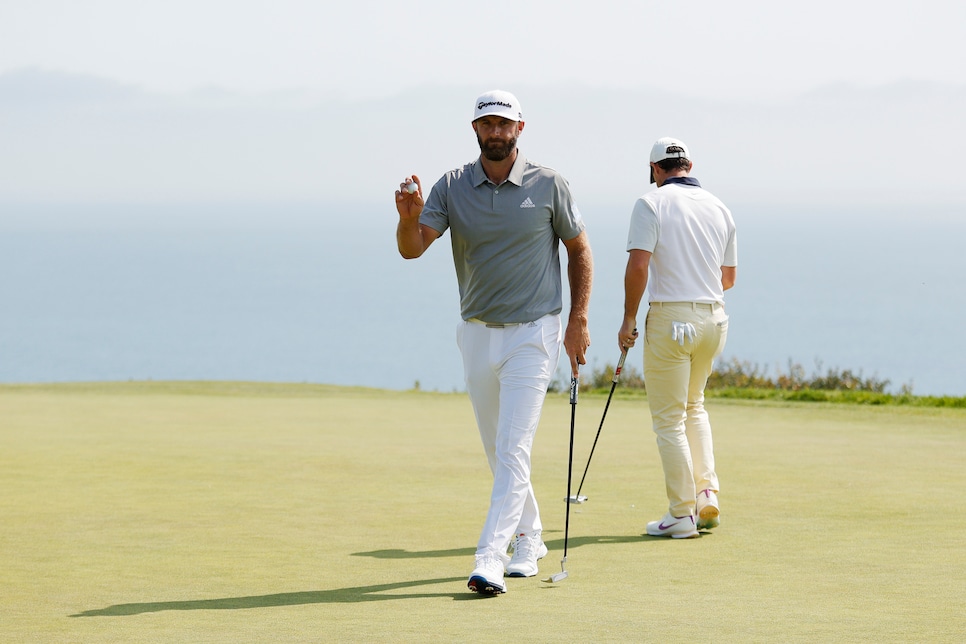 There's a certain world No.1 lurking…
Dustin Johnson hasn't been lost in the wilderness; his Masters win technically happened during this 'superseason' on the PGA Tour. In that same breath, the Johnson we've seen in 2021 is not the Johnson we're used to seeing. Even a 10th-place finish at last week's Palmetto Championship at Congaree was somewhat of a disappointment, as Johnson faltered on the weekend due to a handful of unforced errors.
On Wednesday Johnson dismissed anything was wrong with his game, insisting his recent results were the byproducts of small mistakes rather than systemic issues. Today, he proved his words true.
No, it wasn't flashy, even by US Open standards. Sixteen pars, a birdie and a bogey. But that even-par round has him in T-24, just four shots off the lead.
There are a lot of big names on this leaderboard, including a certain four-time Major winner once identified as Johnson's friend who's now not so much. Still, after a wobbly six months, the Johnson of today looked a lot like the Johnson of old. That is bad news for the rest of the field.
Most of the Aussies are in with a shot
Pars are always a treasured commodity at US Opens and fortunately for the seven-strong Australian contingent, there were plenty of them on the first day. Of the seven Aussies, four sit within a stroke either side of par – headed by Adam Scott's one-under 70, which was achieved with birdies on his last two holes. Otherwise, the Queenslander hugged that even-par figure most of the day in a round that included 13 pars.
Cameron Smith was even more machine-like, notching 14 consecutive pars to commence his US Open campaign. He upset the run with a bogey at the 15th hole before rolling in a solid birdie putt on the 16th, the last hole he completed before darkness stopped play. He sits at even-par, tied for 23rd. Wade Ormsby shot a creditable one-over 72, while 11 pars in his first 16 holes have Matt Jones at one-over with two holes of his first round still to be completed. Marc Leishman sat at even-par after 13 holes but jumped on a roller-coaster at the end of his round, mixing three late bogeys with a birdie to card a 74 – the same score shot by Brad Kennedy, the only Aussie to play in the morning wave of the field.
Steve Allan, the feel-good story from the US Open qualifiers, sadly carded an 80 with his son on his bag. It's a score that beat only one other competitor.
TOP/MAIN PHOTO: Harry How