[IMAGE: Courtesy of the USGA]
Remember green-reading books? Those auxiliary yardage books really took off about a decade ago, most notably at the Olympics in Rio in 2016, and became a staple for several years on the pro tours and many other levels of elite golf. But they also rubbed traditionalists the wrong way, leading them to suggest that one of the game's fundamental intangible skills was being reduced to a soul-less paint-by-numbers mockery.
It led the R&A and USGA to implement restrictions on what these books could contain, how big they could be and even the size of the font. Now a special rule, known as a model local rule, that's being implemented at many top amateur events, including this week's US Junior Amateur at Daniel Island Club, and all USGA amateur championships in 2023, may go a long way to eliminating these books entirely from any level of play going forward.
The rule, known as MLR G-12, was instituted at the start of the year and provides guidance for any tournament committee to severely restrict the use of green-reading materials. But unlike past efforts that described specifically what a green book was allowed to look like, G-12 takes a simpler, more direct approach. Once their ball is on the green, players simply can't look at any kind of book – including a standard yardage book. So far, in addition to all USGA amateur events this year, it's also been used in the British Amateur and the Latin American Amateur as well.
The penalty for a first infraction is two strokes, or loss of hole in matchplay. A second subsequent violation would result in disqualification.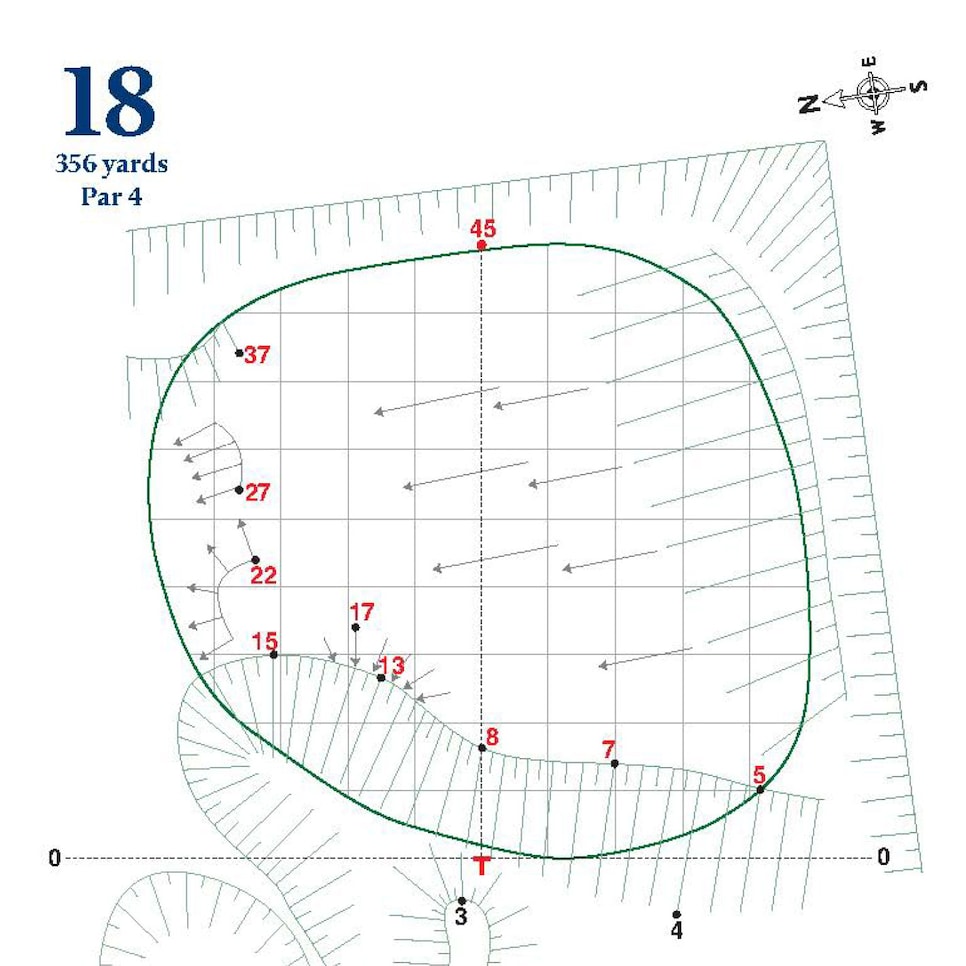 According to Craig Winter, the USGA's senior director of rules and amateur status, this simpler approach to the use of green-reading materials was the original proposed fix for the green books that were becoming prevalent about 2015-2016, particularly on the world's professional tours. But that guidance was kept in reserve, and the rules governing green-reading materials announced in 2018 focused on what could be in the books themselves, limiting the amount of specific slope shown on a book and the size of the book itself. Last year, another MLR called G-11 was adopted that required players only be able to use a specific yardage book provided by the competition with much less detail on the greens than the original green books had. It dramatically decreased the elaborate green charts with hundreds of arrows and heat maps and other markings of slope and break. Even the kinds of notes that players might add to those books was restricted to what players (and caddies) experienced themselves.
While G-12 is the latest implementation of restrictions on green-reading materials, it may be the most effective in returning the practice of reading the line of the putt to what a player and his or her caddie see and feel when they stand over it.
"The art of green reading is something that we were very comfortable saying on the record that we feel like it's being lost with players having these maps, and that's why we put the limits into the Rules of Golf in 2019," Winter said.
Winter, who also spends a fair amount of time at elite events including at last week's Open Championship, said he's seen a change in the past couple of years as the use of green-reading materials was effectively limited by the G-11 one-book rule. He said fewer and fewer tour players are pulling out green-reading books and looking at 10-foot putts with the intensity of a land surveyor studying a topography map.
"By and large players and caddies are just not putting notes into their books anymore for green reading," he said, indicating that a significant portion of elite players have advocated for more of a return to traditional green-reading skills.
"Fortunately, the players were very much involved in helping get the initial side of this rule through," he said. "That was really helpful for the game of golf generally. The interest they had to, 'Let's get this out of the game because it has changed so much,' especially if you're a great green reader, you don't want to see that taken away or diminished. So kudos to them. They're caretakers of the game, too."
The one area of golf that is still seeing a certain prevalence of green-reading materials being used by players is the elite college game in America. Winter said NCAA golf coaches are still studying options, and while G-11 might make for a more natural transition to the pro game, it also would require every tournament to provide players with a tournament-approved book. Meanwhile, G-12 would be simpler in another way: it wouldn't cost anything to implement.
So far, there have been no incidents of major penalties or disqualifications, but with the US Women's Amateur and US Amateur coming up next month, Winter knows that group is the most likely to be affected by G-12. But he's been encouraged by what he's seen to this point and the conversations he's had with players and coaches.
"We're not going to be shy about reminding players that this is a change for some of them," he said. "What we do is we just over-communicate, and players at that level, especially, they're so attentive to this kind of thing that when when we say it a few times, it raises their intention to say, 'OK, I really need to figure out how to do this.'
"It's significant, and they need to remember that, even when they've got a birdie putt to win a hole. The danger is sometimes you go back to old routines. But it's all about player education."
While G-12 isn't yet widespread, Winter believes many state associations across the US have been watching what's taking place this year, and it could lead to more amateur events playing by the rule banning green reading materials while on the green in 2024. Of course, there is no indication such a change is in the offing, and several major state golf associations contacted by Golf Digest had no plans to implement the MLR, including the Carolinas, Texas and Southern California golf associations. Still, it was employed by the Massachusetts Interscholastic Athletic Association for its girls high school championships this spring without incident.
Despite that, don't expect anything to trickle up yet to the PGA Tour. In other words, it's quite simply a fact that the average 18-year-old competing at the US Junior this week will be getting less help on putts than the best players in the world competing at the 3M Open.
For now, at least.