Timing. Amid all the other attributes required to win a golf tournament over the closing nine holes on Sunday afternoon, making something positive happen at just the right moment is perhaps the most important thing of all.
Step forward Victor Perez.
Leading the Abu Dhabi HSBC Championship by one shot with two holes to play on a breezy Yas Links, the Frenchman based in Scotland found sand with his tee shot on the 187-metre par-3 17th. Meanwhile, Perez's playing partner and closest challenger, Sebastian Soderberg, was putting for birdie from about 20 feet.
It was time to step up. And Perez did, with a little good fortune thrown in. Clearly struck a little thin, his attempted recovery landed a few feet past the pin and spun back into the cup.
The shot of his life!@v_perez2 leads by two with one to play.#ADGolfChamps | #RolexSeries pic.twitter.com/D9NGAuyBLv

— DP World Tour (@DPWorldTour) January 22, 2023
When Soderberg missed and, minutes later, Min Woo Lee dropped a shot on his penultimate hole, the previously doubtful destination of the $US1.53 million first-place cheque looked assured.
Not quite, though.
A "necked" drive from Perez off the 18th tee found a fairway bunker and an awkward lie. Bad enough, but worse was to follow. The now three-time DP World Tour champion's attempted recovery flew left and finished on a steep slope a few feet into the penalty area bordering the circuitous fairway on the 591-metre par 5. From there, a hack-out and an eventual bogey 6 at last brought about a predictable end to Perez's closing round of 66. And by one shot from Soderberg and Lee – whose pitch for a tying eagle on 18 scuttled past then circled back to finish inches from the cup – Perez's 18-under-par 270 was good enough.
The shot that nearly forced a play-off 😮#ADGolfChamps | #RolexSeries | @Minwoo27Lee pic.twitter.com/wErYFsM5Ht

— DP World Tour (@DPWorldTour) January 22, 2023
"It wasn't actually such a difficult shot," said Perez of his sand shot on 17, what was surely the ultimate turning point in a final round that began with 19 players within four shots of the lead held by Lee, Shane Lowry and Francesco Molinari. "It was downhill to the hole, flat at the hole and into the wind. I was basically trying to fly it all the way. If I did hit it a little heavy, it was maybe going to release down there. But at the back of my mind, I was thinking Seb was going to make 2. And it was a '3½' par from where I was. So I was just hoping to make a 3 and be, at worst, tied with one hole to go. I'm not going to lie, the contact between club and ball was maybe a little 'skinny'. Then it spun back and went in. It was probably the greatest shot I've ever hit."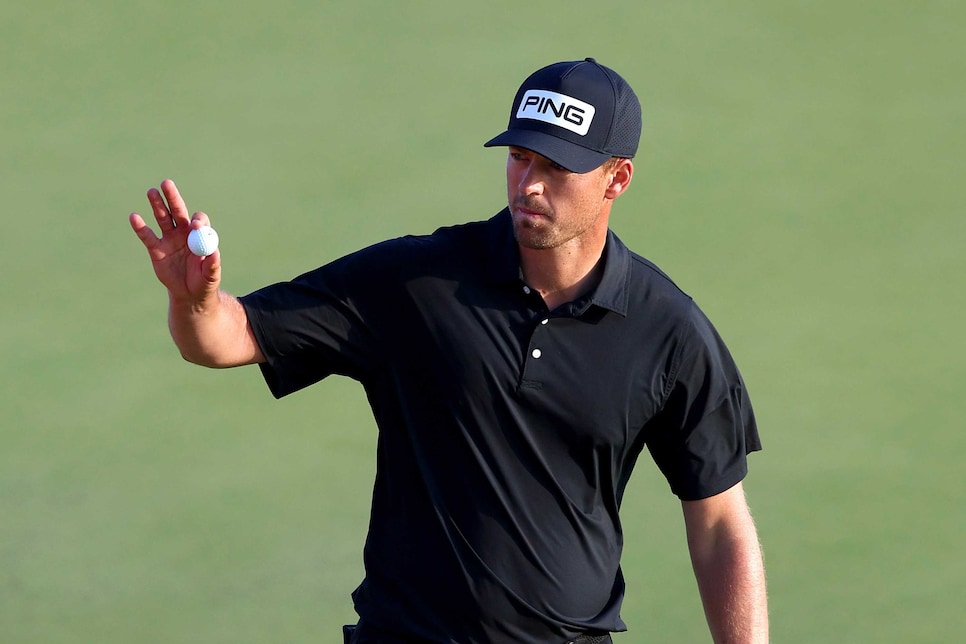 Which is not a testimonial he will apply to at least the first three shots he hit on the final hole. The 6 that went on Perez's card could have been anything up to 8 or 9 had his second from the sand tumbled a few more paces and disappeared down the steep cliff face.
"The wind was off the left and the tee had been moved up, so it was disappointing to end up in the bunker on the 18th," said the 30-year-old who makes his home in Dundee, only a few miles from St Andrews. "It was just a horrible lie. If I hit it square, I'd maybe chunk it up there and have a really long third shot. But we thought I could maybe make some sort of decent contact and have the ball get over the ridge up ahead. That would take the water out of play and make the third shot a lot easier to deal with."
But the ball went straight left. "It was a giant fortune that it didn't bounce down into the hazard," Perez said. "Then I'd have to drop in the rough and be playing 4, which would have put the whole thing back on the table. I hit a great 7-iron in though. And there is nothing better than an eight-inch putt to finish."
All of which represents the good news. Less chuffed at the end of the proceedings were a host of challengers who, at various times and with differing levels of incompetence or inadequacy, slunk from contention. Lowry was perhaps the most dramatic in so doing. With five holes to play, the former Open champion was 15-under for the week and surely maintaining at least a vague hope of duplicating his 2019 victory in this event.
Oh, but that didn't last long. A run of bogey/bogey/triple-bogey/bogey saw Lowry topple down the leaderboard into an eventual tie for 28th.
The other 54-hole leader, Molinari, unsurprisingly fared better and avoided such a catastrophic sequence of events, albeit his closing 71 was marked by an almost complete inability to hole a putt from almost any distance. In the end, he finished T-5 alongside Alex Noren.
Perhaps only Padraig Harrington is exempt from such criticism. In his quest to become the oldest player to win a DP World Tour event, the three-time Major champion made seven birdies en route to a five-under 67 that saw him pull up alone in fourth place, two shots behind Perez.
On the eve of the final round, Harrington had talked of his wish to at least be competitive over the closing 18 holes, a feat he clearly achieved. So it will be interesting to see if any desire to claim that "oldest winner" title from Miguel Angel Jimenez and, along the way, make an outrageous return to the Ryder Cup as a player, means he spends more time with what he calls "the juniors" going forward.
"Me winning might mean a lot more to my fellow Champions Tour players," Harrington said on Saturday evening. "I could see myself chasing my tail all year and trying to get a win on the regular tour. It's an interesting place I'm at. I believe I'm better than I've ever been but that doesn't mean it's a fact or true. We'll see. I'm not going to put myself under too much stress but it's nice. I think it would mean an awful lot to me to become the oldest winner. It would mean I am actually competitive."
Which he was. But just not quite good enough on a day when Victor Perez lived up to his first name and hit the shot that really mattered. At just the right time too.