[PHOTO: Kevin C. Cox]
Call it an anti-climax. Billed as the potential golf equivalent of Ali vs Frazier battling it out in the "Thriller in Manilla", the annual Tuesday players meeting at the BMW PGA Championship turned out to be more of a "Walkover at Wentworth". Lasting no more than 20 minutes by one observer's estimation, the expected clash between the LIV players in the field – Australia's Wade Ormsby, plus Sergio Garcia, Ian Poulter, Abraham Ancer, Graeme McDowell and Bernd Wiesberger are known to have attended – and those still competing on the DP World Tour, along with its chief executive Keith Pelley, was over almost before it began.
"I was shocked by how little the LIV guys had to offer," says one DP World Tour player in attendance, who spoke on the condition of anonymity. "I thought they would arrive all guns blazing. Ian Poulter asked only three questions [of Pelley]. All read from his phone and sounding like they were written by someone else, probably a lawyer."
The first, according to the player, was about the accusation that the DP World Tour is nothing more than a "feeder tour" for the PGA Tour. The second concerned the fact that the top 10 players on the DP World Tour will gain PGA Tour cards at the end of each season. ("Poulter called that 'giving away' players to the detriment of our overall quality.") And third was whether Pelley thought the tour would lose sponsors in the future.
"It was game over after that."
RELATED: Billy Horschel has a simple but direct question for LIV golfers at the BMW PGA – 'Why are you here?'
All of which occurred after Pelley had talked for 15 minutes on where the DP World Tour stands amid the currently chaotic professional golf scene. Yes, the PGA Tour is No.1. And you can argue that LIV is No.2, if you just look at the money. But Pelley argued the DP World Tour offers more opportunities for those seeking to play in golf's most important events.
"End of discussion," says our witness.
Not quite though. Not surprisingly, given that he is the record-points scorer in the biennial contest between Europe and the United States, Garcia asked if the Old World LIV players could be part of the next Ryder Cup in Italy.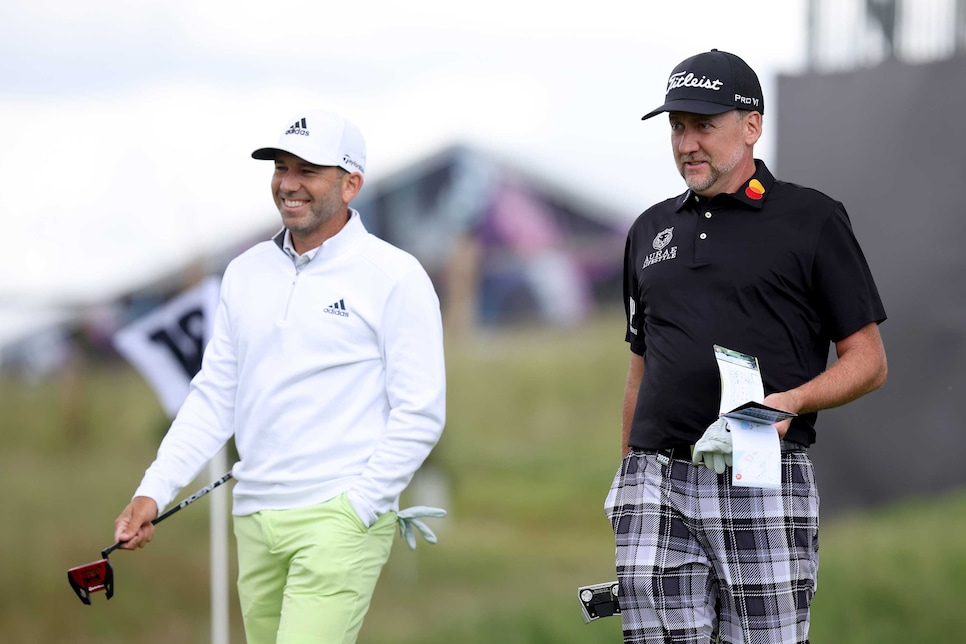 "Pelley's response was that they can certainly earn points starting this week, but we don't know what will happen in the next 12 months. Any more questions? You could hear a pin drop. I was laughing at that point. I had expected this to last at least 90 minutes and maybe get a little hostile. But no. Just about nothing came of it all."
Well, not quite nothing. Pelley did express disappointment in those players who are currently fighting to maintain their presence on what was, before this year, the European Tour. Having had discussions prior to every European LIV player opting to switch, he found it hard to believe they did not seem to realise there would be consequences.
"In contrast, he used the example of Louis Oosthuizen," says our witness. "He has behaved like a gentleman throughout. He understands what the tour's reaction is, and he is staying away. The others have benefitted from being stars on the European Tour. Now, as the French say, they are 'spitting in their own soup.' It's very disappointing that they have gone to the press to criticise what was once their home tour."
And so it goes on. The question is for how much longer.