Some days you just don't have it.
In every step of his resurgence, Jordan Spieth has put an emphasis on process over results. Through that prism his week at Colonial was a success. He was near the top of the field in strokes gained/putting and tee to green. He galvanised the crowds and gave them a show. He was in it until the end.
In that same breath… boy, he was never quite in it on the final day. He fought his swing from the first hole to his final approach. He galvanised the crowds, but he also spent a lot of time mingling among them, and for that Spieth ended up two strokes short of Jason Kokrak at the Charles Schwab Challenge.
"I didn't play well at all quite simply. I could have shot even-par today and won the golf tournament, but from the very get-go, just a really bad start, and then tried to fight my way through it," Spieth said after his closing 73. "But I was just really off with my golf swing. I really lost it this weekend. You just have to be in control around Colonial."
It went south from the start. Spieth blew his approach at the par-5 first well right of the green, failing to birdie Colonial's easiest hole. What followed wasn't much better, stringing together three consecutive bogeys. To his credit he was able to steady himself a bit, making birdies at the sixth and ninth to tie things up with Kokrak heading into the second nine. But Spieth's irons, which have lit the way for his turnaround in 2021, were out of lighter fluid today, unable to get anything close to the hole down the stretch. Spieth's putter, which had been so good through three days, wasn't today, either (-1.114 strokes gained/putting).
Kokrak stumbled towards the finish, briefly giving Spieth some hope of stealing a win at the siren, but Spieth kept that from happening with a poor tee shot on the 18th and a second shot that found the greenside pond.
RELATED: The clubs Jason Kokrak used to win the Charles Schwab Challenge
There are more positives than negatives for Spieth to emerge from the week. Colonial marked his sixth T-4 or better finish in his past 11 starts. Though he wasn't particularly accurate, he's driving the ball well. Heck, he's basically doing everything well at the moment, which is fortuitous given there's another Major in three weeks.
"I putted really well this week. I made a couple of really nice par saves on putts that had to start outside the hole in ranges where I just kind of have been struggling to hit really solid putts and I thought that was a big move," Spieth said. "And then I've been striking the ball beautifully this year. I just have to hit the reset button tomorrow and get to work the next couple days and not let this weekend throw me away. Look at the positives of the ball-striking and look at the positives of the putting."
Yet it is a process, and right now Spieth is battling a case of the Sunday scaries (T-126 in fourth-round scoring). To get where he ultimately wants to go, he'll need to come to peace with demons. All it takes is one day to get past them. But this day wasn't it.
Four other takeaways from Colonial:
Kokrak takes Colonial, building Ryder Cup case
Despite the silver medal, Spieth will be the headliner from Colonial. But give it up to Kokrak. He battled Spieth on Spieth's playground in front of Spieth's crowd and came out with an 'away' victory.
"I don't know if it motivated me or not but I told myself like the last time… just stay patient, one shot at a time," Kokrak, who finished with an even-par 70, said of playing in hostile territory. "That sounds like everybody else, but you know, you can't get ahead of yourself in this game. This game doesn't owe you anything, and you know, you take each shot for what it is, whether you make a bogey or a par or a birdie. Each hole is an individual match against yourself, and Jordan was there the whole day. He was up a couple, down a couple, and I made my mistakes. He made his mistakes. I tried to stay patient."
While that does sound like athlete jargon, it's true. Things could have gone bad quickly as Kokrak made a bogey at the first, essentially giving a stroke-and-a-half back to the field. Another bogey at the fourth made it look like Spieth's tournament for the taking. But Kokrak answered, and answered with vigour with five birdies in his next nine holes, highlighted by a haymaker birdie at the par-3 13th.
Yes, it wasn't the prettiest of finishes, but last we checked the winner's tartan jacket doesn't show a round's stains, and Kokrak now becomes a dark-horse pick with Torrey Pines on the horizon.
"I think I'll just stick to what's working for me," Kokrak said of his plans. "Don't do anything that hasn't worked for me in the past, and I'd say this year has been pretty solid so far."
Kokrak has been making that case most of this season. His victory in Fort Worth gives him two wins on the season, joining Stewart Cink and Bryson DeChambeau as the only two-time winners this PGA Tour season. (What a list!) He's finished in the top 25 in half his starts, and he's 16th on tour in strokes gained. He's evolved from a bomber into one of the better short-game players in the game (sixth in strokes gained/putting).
Now, the unfortunate truth is a Ryder Cup bid is political, especially this year with half the picks coming via captain's selections. But while he doesn't have the name power as other candidates, Kokrak is not a man short on gusto. Mentioned above, he took Spieth down in Spieth's backyard. That is one heck of a résumé builder.
The Hoffman Revival continues
He hasn't won so his story hasn't been included in the ongoing "Year of the Comeback" narrative, but Charley Hoffman is enjoying a nice revival in 2021. Hoffman, who made the Presidents Cup team in 2017 but hasn't finished better than 77th in the FedEx Cup since, came to Texas with eight top-20 finishes in his past 10 starts and ranking 16th in strokes gained. Those standings will improve after another strong showing this week. Hoffman posted a final-round 65 to finish T-3 at the Charles Schwab Challenge.
It wasn't a steady performance – Hoffman opened with a 71, came back on Friday with a 62 only to somewhat struggle to a 72 on Saturday – but it's a performance Hoffman will gladly take.
"You know what, I had days where I putted good and there's days where I didn't putt good. The days the putts went in, I shot a decent amount under par," Hoffman said. "Yesterday [the] putter never got going, and today, made a few early, which got the round going, but iron play was good pretty much all week. I gave myself a lot of opportunities for birdie and I was able to capitalise on a majority of them."
The week moves Hoffman, a San Diego native, closer to getting an invite to the US Open at Torrey Pines. At the moment he's just on the number of the Official World Golf Ranking top 60, and can punch his ticket with a good finish at the Memorial this week.
"There's only one goal," Hoffman said about the prospect of playing Torrey Pines. "I'm obviously trying to win golf events but getting in that US Open is a key."
Rough finish for Compton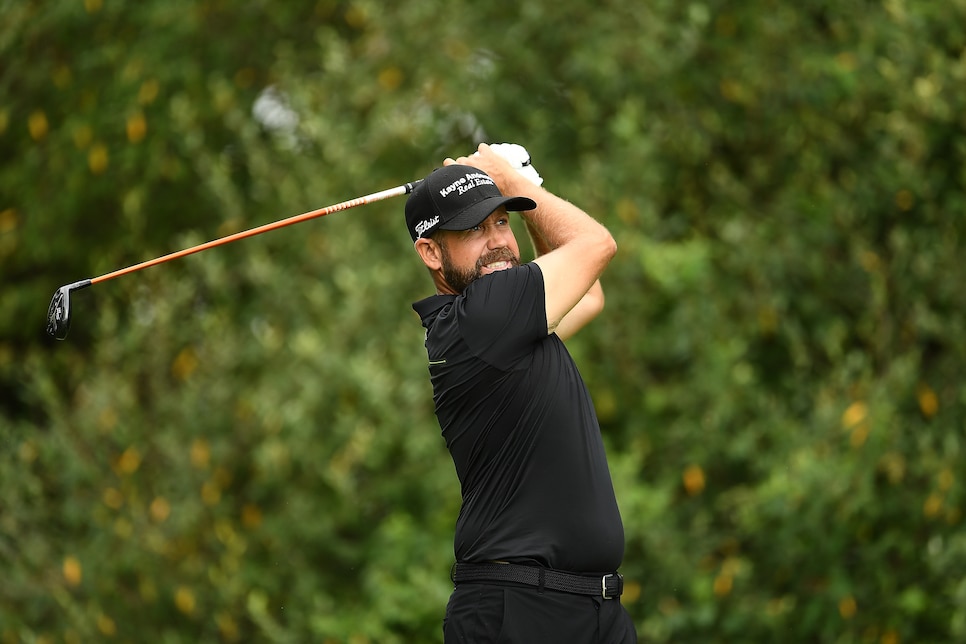 Erik Compton, you may recall, is a former US Open runner-up (in 2014), yet is more well-known for surviving two heart transplants on his way to reaching the apex of golf's professional ranks. Unfortunately, Compton, now 41, hasn't played full-time on the PGA Tour since 2016, and became so frustrated with the game he once told Golf Digest's Dave Shedloski, "I'm thinking about packing it in. I just can't get it done anymore."
But Compton has continued through the struggle, and though he currently resides outside the top 100 on the Korn Ferry Tour points list, this week has brought mostly good tidings. Playing at Colonial on a sponsor's exemption, Compton turned in a 65 in the opening round and a 68 the next day to find himself in contention, and though a Saturday 70 put a win out of reach, he was very much in line for a top-10 finish, which would have earned him a spot into the Palmetto Championship at Congaree in two weeks. However, Compton went south on Sunday, a three-over 73 dropping him 14 spots for a T-20 finish.
The week is not a total loss. While most weekly earnings on the PGA Tour are merely numbers padding an already-healthy bank account, Compton has taken to giving lessons to help pay his family's bills. In that vein, the $US68,437 he's taking home from Fort Worth is a not insignificant payday. And just as importantly, Compton proved he can still hang with the world's best. Here's to hoping we see his name again, and often, the rest of this PGA Tour season.
Thomas' good deed
One of the feel-good stories of the season has been Michael Visacki, a 27-year-old mini-tour legend who made a 20-footer in a playoff at a Monday qualifier to earn his first career PGA Tour start at the Valspar Championship. Thanks to Justin Thomas, that story will continue a bit longer.
Visacki played this week at Colonial on a sponsor's exemption, missing the cut. There are plenty of avenues for Visacki to return to the top ranks; that is the beauty of the sport's meritocracy. But the hard truth about mini-tour life is it costs a lot to compete for only a little. To stay afloat Visacki has taken jobs working in cart barns and pro shops to support his dream. And helping with that dream is Thomas. During today's PGA Tour Live broadcast, announcers noted that Thomas (who finished T-40) cut Visacki a cheque to ease those financial burdens.
Thomas is far from the first top name to help out a fledgling pro, and it's unclear how much money Visacki received. That is besides the point. Good deeds should not go unnoticed, so good on Thomas for giving Visacki a bit more runway to chase his dream.
TOP PHOTO: Tom Pennington