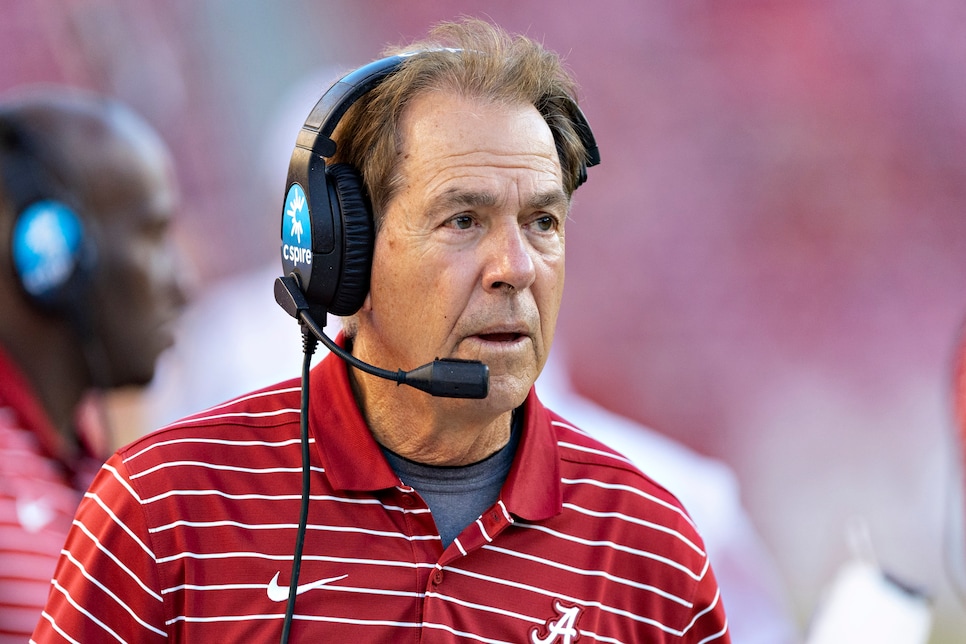 Wesley Hitt
Nick Saban loves golf almost as much as he loves making the Auburn student section cry. Over the years we've retold countless Saban golf stories, like getting police escorts to tee times, scheduling a hip surgery around 18 holes and even purchasing a home down the street from Tiger Woods. Seven national championships aside, he's One of Us™. So where does the fiery, quick-tempered ball coach get his all-consuming love of smacking a little white ball around a big green field? As it turns out, his mother.
Back in May, Action Network college football reporter Brett McMurphy joined Saban at the SEC Spring Meetings. There Saban told McMurphy one of his finest golf yarns yet, one that sheds light not only on his love for the game, but on the relentless, ruthless competitor he's become.
Nick Saban's 81-year old mom w/an urgent call to her son to talk trash? Years later Saban gets a hole-in-one during bye week but told his group to keep quiet. "If we lose to LSU next week & people find out I was playing golf, they'll run me out of Alabama"https://t.co/Ww5jxD0tKL

— Brett McMurphy (@Brett_McMurphy) September 6, 2023
The story begins at spring practice back in 2013. That's when an Alabama staffer received a call from Saban's mother Mary. The Crimson Tide ball coach was in the middle of practice, so the staffer, terrified of interrupting him, asked Mary if he could call her back later.
"Absolutely not!" she said. "Put my son on the phone now!"
Working up the courage, the staffer told Saban who it was and that it was urgent, and Saban, fearing something was wrong with his then-81-year-old mother, took the call right there on the practice field. According to McMurphy, it was the first time in 51 years of coaching that Saban had stopped practice for a phone call.
So what was so urgent that it ground the unstoppable Alabama football machine to a halt?
"I just wanted to let you know," Mary said as her son answered, "I just made a hole-in-one and you've never made one."
Safe to say the crab apple doesn't fall far from the tree. In classic Saban fashion, however, he took that as a challenge and has hit two aces in the decade since.
The first came Halloween weekend 2016 on an Alabama bye week. Saban was celebrating his birthday at his lake house with friends when he pured a 3-wood on a 230-yard par-3 after not playing for three months. Despite the incredible feat, Saban swore everyone to secrecy. "If we lose to LSU next week and people find out I was playing golf, they'll run me out of Alabama," he reportedly said. Saban's second came in 2021, when he dunked an 8-iron from 154 yards.
We're sure Mary, now 92, is proud, but she's also a Saban. You know she still wants to win.
This article was originally published on golfdigest.com