It's been Nelly Korda's world and we're just living in it. The 22-year-old has been on a tear in 2021, winning three times – highlighted by capturing her first Major last week at the KPMG Women's PGA Championship – to become just the third American to reach No.1 in the Rolex Women's World Golf Ranking.
Days after her breakthrough at Atlanta Athletic Club, Korda chatted with Golf Digest about finding the perfect driver, the wedge stamps that cause a share of second-glances, and why she never had to worry about paying for her own clubs.
A lot of women on the LPGA don't get the kind of equipment support that you do from Titleist. How much of an advantage is that for you?
NK: I'm super lucky to be supported by Titleist. They go above and beyond. It's nice because every week we play different places. At the British Open, for example, you may need 3-iron and boom, there you go. For them to be with us, to give us the chance to adjust, is huge.
The TSi1 driver wouldn't seem to be an obvious choice for someone with your ball speed. What attributes of that driver led you to put it in play?
NK: It was crazy. I had a hard time finding a driver. I went through a couple of clubs looking for the right one; I believe I tried the TS2 as well. I just had a hard time drawing and I'm a draw-biased player. Don't like to see a fade. I was working on something that fits. The TSi1 fit right away. I didn't know I was the first one to win [at Lake Nona] with the club on any professional circuit until afterwards.
You have a 21-degree fairway wood in the bag. What does that provide you that a hybrid doesn't?
NK: Oh, I love that 7-wood. Honestly, every time I have a number I try to lay up into that fairway wood number. It's that good. It goes so high and lands soft too. I've struggled with hybrids for whatever reason, I hit them out right. The look of the 7-wood, the smaller head, and the fact that I can control them better, it's just perfect for me.
The T100 irons are in your bag at the moment. Have you seen the new version and, if so, what do you think of them?
NK: I haven't; they are on their way to my place as we speak. I'm super excited for them. Just looking at the photos, they are amazing.I put the T100s I have in the bag now in at the beginning of last year. So much more consistency with them, and I knew right away. Sometimes you get irons that get hot, you don't see the shape you like to. There's so much consistency with shape of the ball and with distance, it's exactly what I want.
Three Vokey wedges – anything unusual with the bounce or grinds on them? Any stampings of note on the back?
NK: I love my wedges. Aaron [Dill] did a great job. I met him for the first time a few months ago. I used to call him up and give him what I wanted through the phone, but when I got fitted in person we found my 58 flew a little too high. We've been able to get that down to where I want it.There's nothing too special about my wedges. 58, 54, 50. I love skulls, which I think is odd. People are always like, "Uh… what?" So I have them stamped on, and there's a lion on one of them too.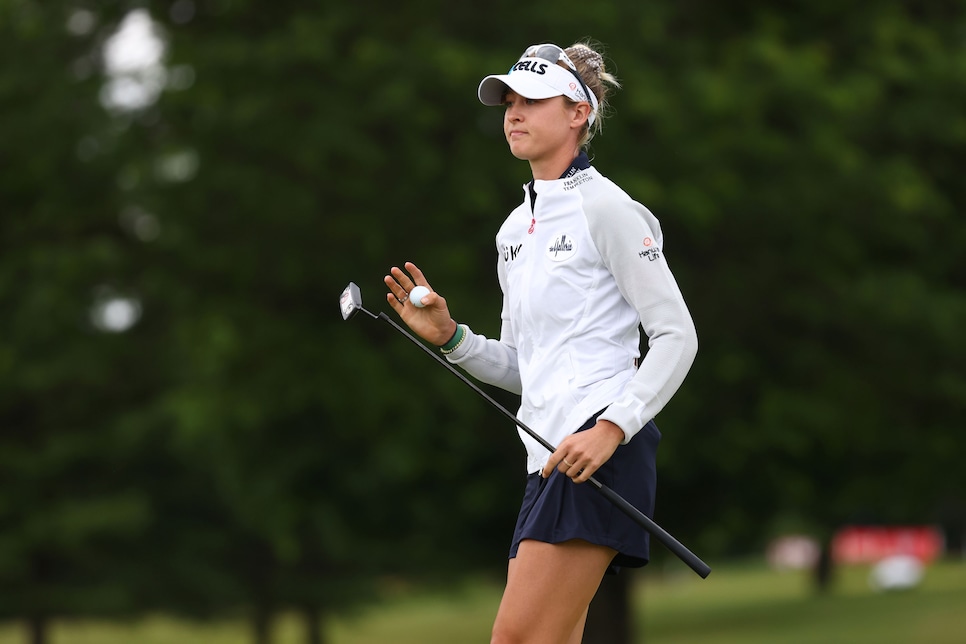 You've had some success with the Squareback 2 putter. What about the larger blade style appeals to you as opposed to a mallet?
NK: So I switched to the putter right before the US Open, before my first two wins. Before I had the Newport 2. I like black putters so I can see the white line easier. With the Squareback it's easier to line up, the line is longer. I like the look of it because of the mallet, because it reminds me of the Newport, I didn't really want to switch, but this fits my stroke so well.
When you test equipment, what's your final box to tick before it goes in the bag?
NK: For me I'm such a feel player, I just need to see that draw. If I don't see a draw with the woods and irons, it's a no go. Thankfully I've had such an easy time with the woods. I thought I would never find a driver like I had before. Soon as I put it in and I won and I was like, "I love this baby".The ball has been the same way. I put the new ProV1 in at Lake Nona and won that week. The data showed the peak in ball flight was just a bit higher and got an extra bit of distance, too.
You're a feel player, but when testing, do you rely heavily on launch monitor numbers or is it more feel and look?
NK: I don't look at the numbers too much. It's feel and seeing that draw when I put it in play. When you're practising and see numbers it's great, but putting it in play under pressure, when it matters, is a great way to discover how it will hold up.
Finally, what's the last club that you bought with your own money?NK: So, I had hand-me downs from [sister] Jessica. So I never had to buy any! Worked out well, at least for me [laughs].
What's in Nelly Korda's Bag:
Driver: TSi1 10.0° | Graphite Design Tour AD IZ 6 S
Fairway woods: TSi2 16.5°, 21.0° | Fujikura Ventus Red 70 S and Mitsubishi Tensei AV Raw Blue 75 S, respectively
Irons: T100 (5-PW) | Aerotech SteelFiber i80cw F4
Wedges: Vokey Design SM8 50.08F, 54.10S, 58.08M | Aerotech SteelFiber i95cw S
Putter: Scotty Cameron Special Select Squareback 2 tour prototype
TOP/MAIN PHOTO: Kevin C. Cox