Augusta National is known for having a lot of rules to adhere to, whether you're a fan patron, media member or even one of the best golfers on the planet. I found this out firsthand during my first Masters when I was scolded for not sitting up enough. Yep, seriously.
Others, however, haven't been as fortunate when running afoul of Augusta National (especially when actual running is involved). While we can't confirm if Phil Mickelson falls into that category, we do know for certain he won't be playing this year for the first time since 1994. And had he played, at the very least, he probably would have gotten a public scolding by the club's chairman like Tiger Woods did in 2010 when he made his return from a sex scandal. Even though that had nothing to do with Augusta National.
And another past Masters champ, Angel Cabrera, will miss his second consecutive Masters because he's in an Argentinian gaol after being convicted of assaulting, threatening and harrassing a former partner. For a place that takes sitting up so seriously, we're guessing he's probably driven down Magnolia Lane for the last time. But for the purpose of this list, we're sticking to infamous infractions against some of the club's strict policies – and the punishments that were doled out.
It should be noted that troublemakers can turn into trailblazers at Augusta National. For example, Ken Green initially received angry letters from the club both for having his kids caddie for him at the Par 3 and for skipping a tee shot across the pond at 16 during a practice round. Of course, those former "crimes" are now beloved traditions. But we'd advise abiding by the rules if you go there. In fact, fingers crossed they let me through the gates again after publishing this.
Frank Stranahan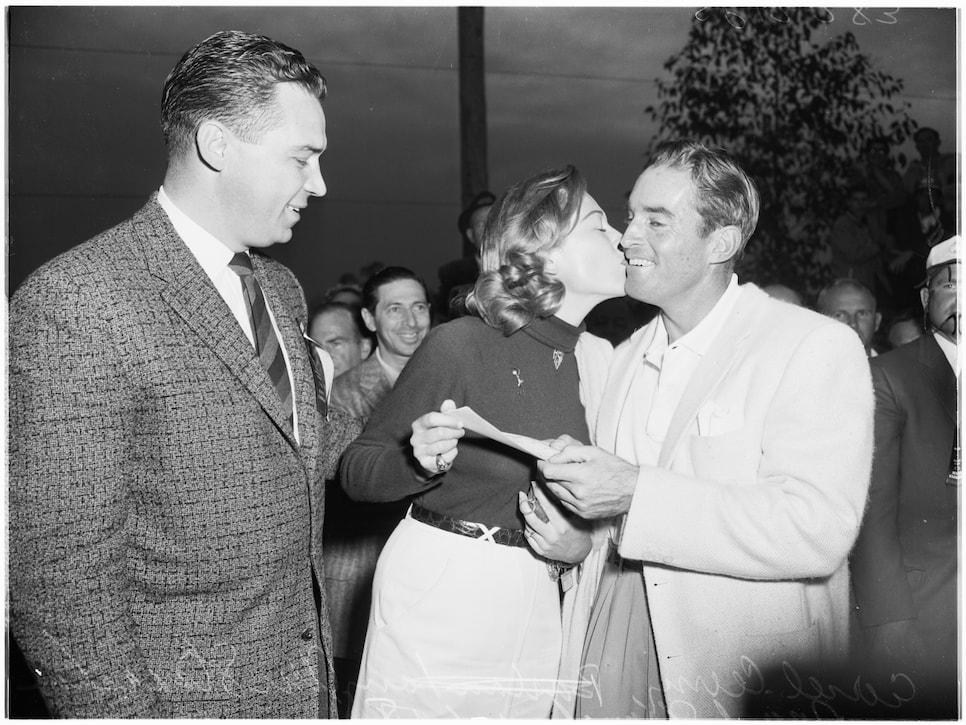 The crime: Hitting a second ball during a practice round
The punishment: Kicked out of that year's event
The backstory: Like the patrons I saw running, Stranahan was escorted off the premises ahead of the 1948 Masters after allegedly playing two balls during a practice round. Stranahan denies the charge, saying he only hit multiple balls around the green, which is permitted. Regardless, the reigning runner-up was booted from the tournament! Imagine if that happened today to this year's reigning runner-up, Will Zalatoris?! Golf Twitter would burn to the ground. Anyway, Stranahan was allowed back the following year when he finished T-19, and he'd play the following 10 years as well, earning low-amateur honours two more times.
(Also, it should be noted that there was probably more at play here. Rumour has it that Stranahan had had a fling with a woman who had a relationship with a member. A rumour Stranahan didn't exactly shoot down when interviewed by Sports Illustrated in 1998. He was a fitness fanatic known for being a ladies man – just look at that photo! OK, so apparently, that was his wife. But still, dude was a stud. Anyway, digging deeper into the rumour mill, that lady may have been the secretary of Augusta National co-founder and chairman Clifford Roberts. And the member may have been Roberts himself … spicy!)
Doug Ford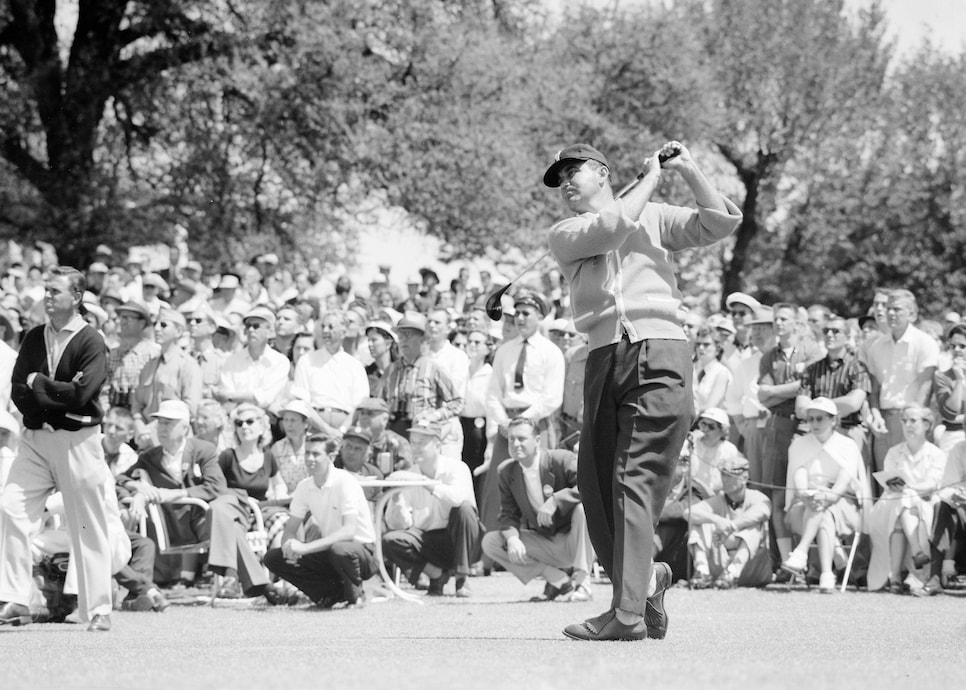 The crime: Playing (well) past his prime
The punishment: Asked Ordered to stop playing
The backstory: Billy Casper is the most well-known past champ to take that lifetime exemption a bit too literally after shooting a 105 (our E. Michael Johnson counted every stroke) in the first round in 2005 and withdrawing without turning in his scorecard. Augusta National wasn't too thrilled with that either, but officials were more upset with Ford showing up for years just to miss the cut and pocket the money for competing. At age 78 in 2001 – a full three decades(!) after he last made a cut at Augusta National – he took this to the extreme by withdrawing after an opening double-bogey and was finally told to stop playing. Soon after, the club decided to put a 65-age limit on participants, but it wound up scrapping that. So it's still up to the players, but you better believe they'll get a nudge when the club feels it's time to exit stage left.
Jack Whitaker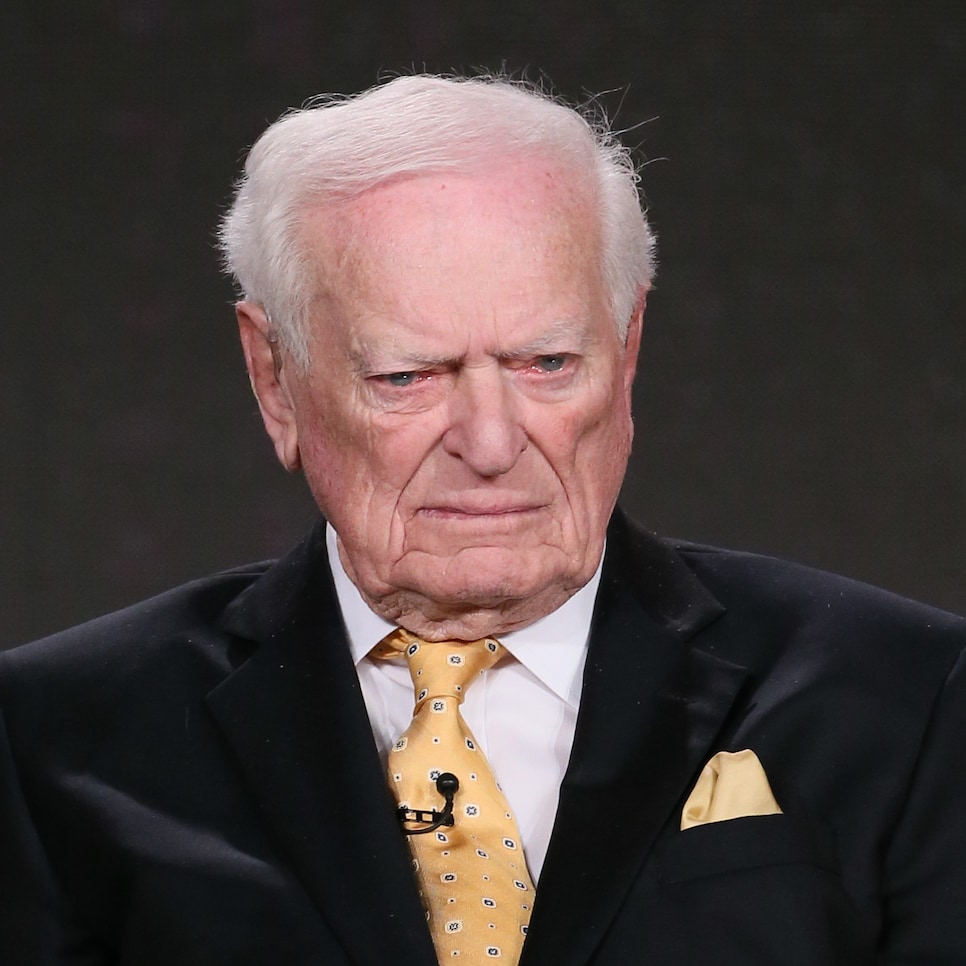 The crime: Calling the gallery on 18 a "mob"
The punishment: Stopped covering the Masters for CBS
The backstory: The legendary announcer was removed from CBS' coverage ahead of the 1966 tournament after using that nasty "M"-word the previous year and for failing to mention that the green jacket ceremony would be held after the final round. "It looked like a mob of people scurrying towards the green, but Mr Roberts took offence," he told the Associated Press in 1979. "He said the gallery at the Masters was not a mob. And that was that." Again, you did not want to get on Mr Roberts' bad side. Even someone who looks as intimidating as Mr Whitaker in that photo.
Gary McCord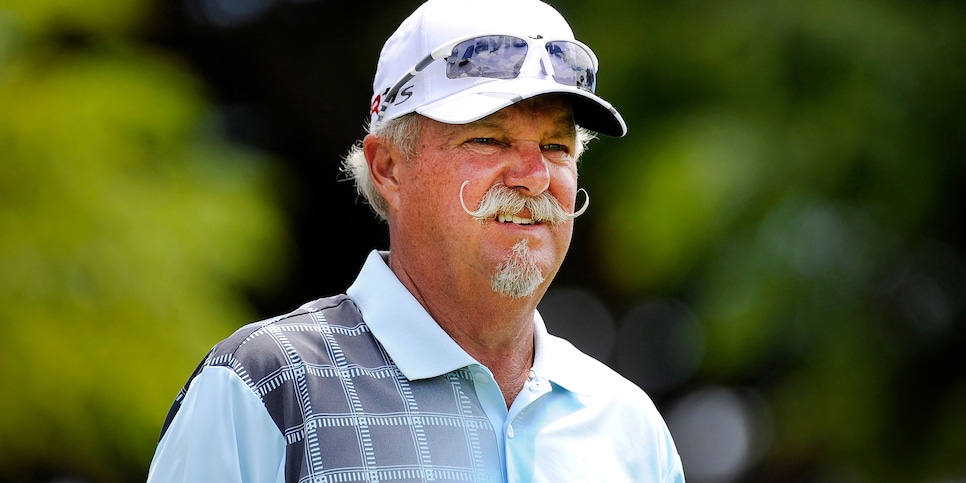 The crime: Saying "bikini wax" during TV coverage
The punishment: Also stopped covering the Masters for CBS
The backstory: Similar to Whitaker, McCord was never part of CBS' Masters coverage after 1994 when he joked that Augusta National used bikini wax to get its greens so slick. He also used the phrase "body bags" for a trouble spot on the course. Ironically, it was McCord's Masters broadcasting career that died that day.
Curt Sampson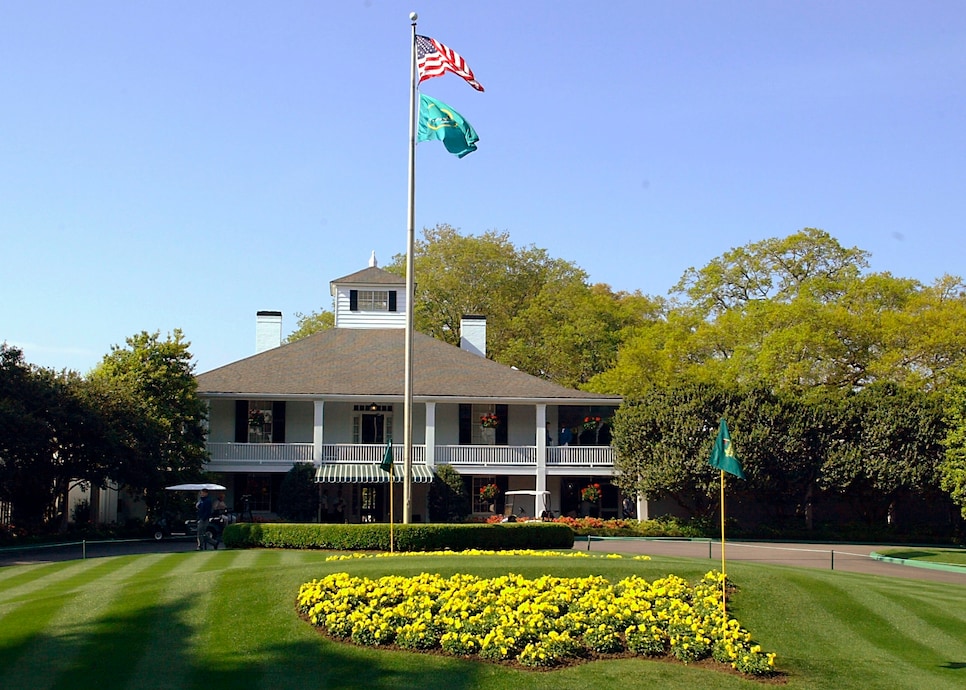 The crime: Writing an unauthorised book about Augusta National's history
The punishment: No longer credentialed by Augusta National
The backstory: Unlike David Owen, who got cooperation from the club – and amazing playing privileges! – when writing his history of Augusta National, "The Making of the Masters," Sampson went rogue for "The Masters: Golf, Money, and Power in Augusta, Georgia." In fact, he's the one who wrote about the potential Stranahan-Roberts-secretary triangle. Golf Digest's Shane Ryan wrote a chapter on the Masters in his 2015 book, "Slaying the Tiger," with the following passage: I called up Curt Sampson after reading his book and asked if he'd ever been issued another media credential. I could hear a small laugh on the other end of the line. "Oh, Shane," he said, as if I were a 19-year-old who still believed in Santa. "No."
Alan Shipnuck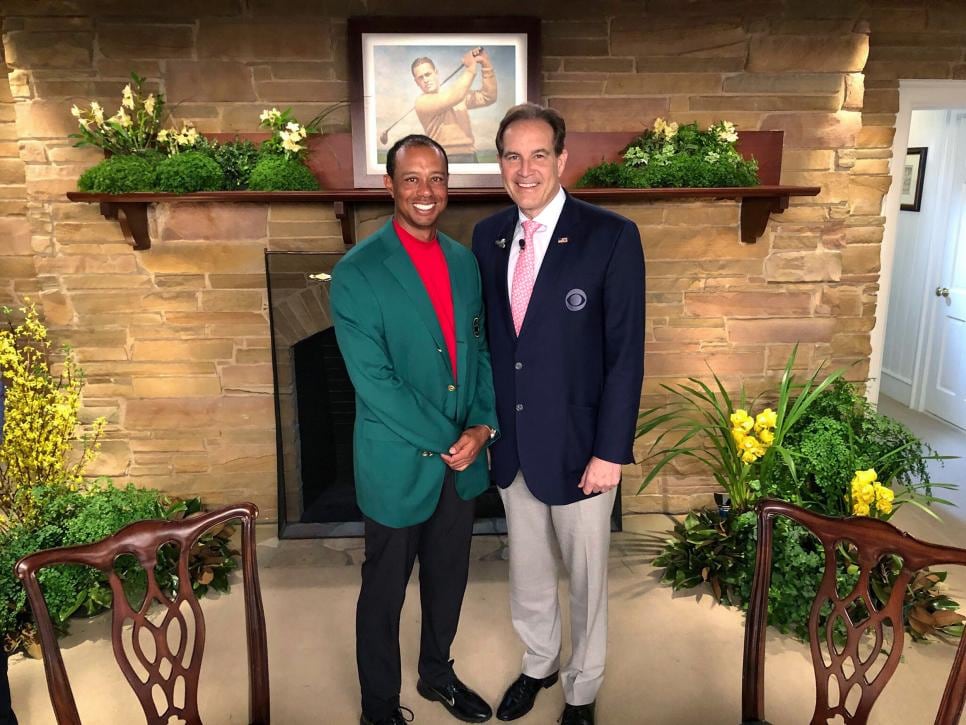 The crime: Sneaking into the green jacket ceremony
The punishment: One-year ban from covering the tournament
The backstory: The veteran golf writer has been in the news a lot this year because of the Phil Mickelson-Saudi Arabia comments he published, but he's never been afraid to mix it up to track down a good story. That includes trying to crash the green jacket after party following Bubba Watson's win in 2012. Shipnuck snuck into Butler Cabin, but was eventually removed. He was banned from covering the tournament the following year, but has since been allowed back.
Charlie Rymer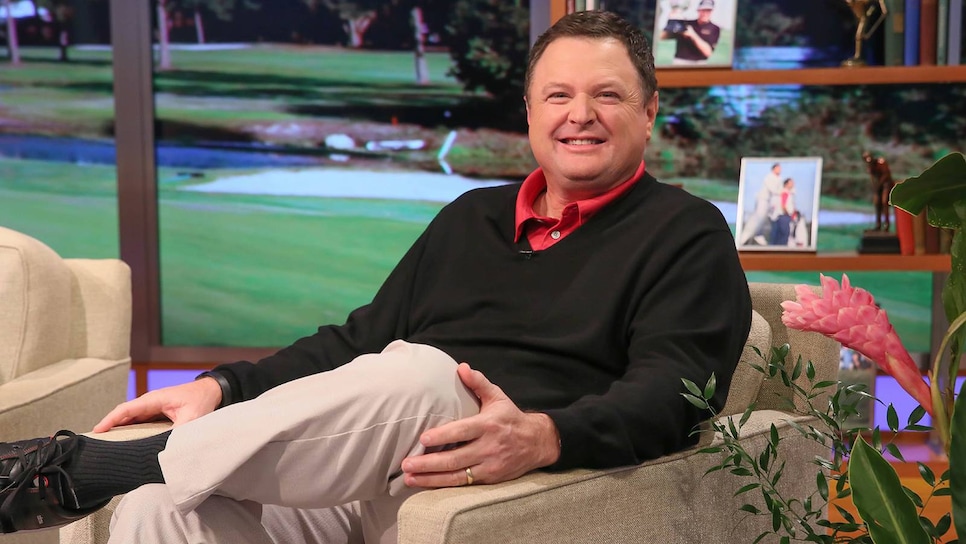 The crime: Using a mobile phone
The punishment: One-day ban from covering the tournament.
The backstory: If there's anything Augusta National takes more seriously than running, it's using a mobile phone. (Rumour has it both a prominent coach – and an even more prominent player wife – both got booted for the first round in 2021 due to forgetting that mobile phones were prohibited on the course.) And Rymer found this out the hard way during the first round of the 2011 tournament. As an employee of Golf Channel and Westwood One Radio, Ryder used his phone outside of the media complex and security quickly swooped in to remove him from the premises. After apologising, he was allowed back the following day. That must have been one hell of an apology.
Ian Poulter/Graeme McDowell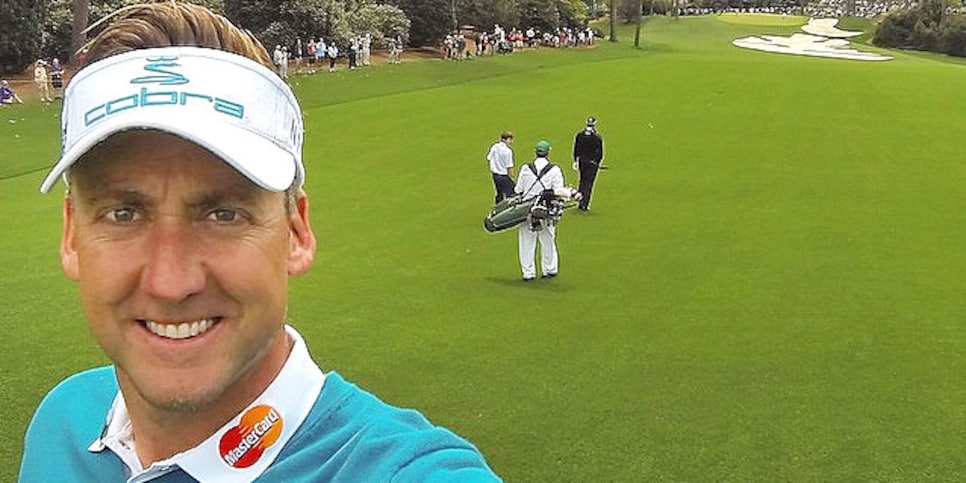 The crime: Posting video from the club
The punishment: Wrist slap
The backstory: These two Ryder Cup pals boldly posted video from a practice round that included footage from inside the clubhouse and locker room. Let's just say it didn't stay up on Twitter very long. Poulter pushed the envelope again three years later when he shared the above selfie, but he appears to have escaped any formal disciplinary action. So far.
Rickie Fowler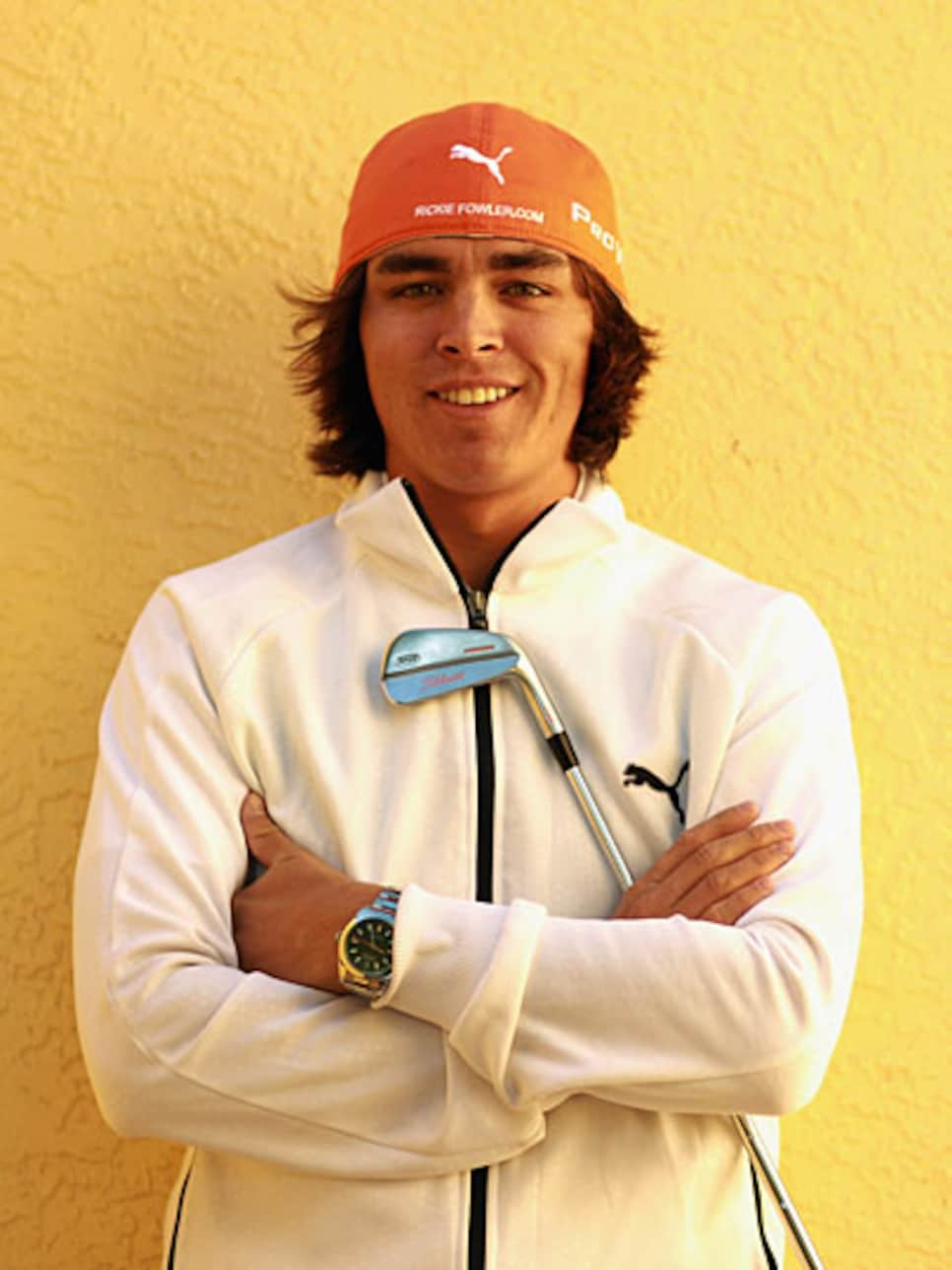 The crime: Wearing his hat backwards
The punishment: Turned his hat around
The backstory: Like me on that hill, Fowler got a bit too comfortable when he showed up to his pre-tournament press conference in 2011 with his Puma cap turned around. Fowler was asked to turn it back by Augusta National member Ron Townsend, but when he explained he wore his hat so people could see his face better, Townsend said it was cool. Kidding! He asked again, and Rickie obliged. And I would wager Fowler's career earnings that he's never made that mistake at Augusta National again.
Gary Player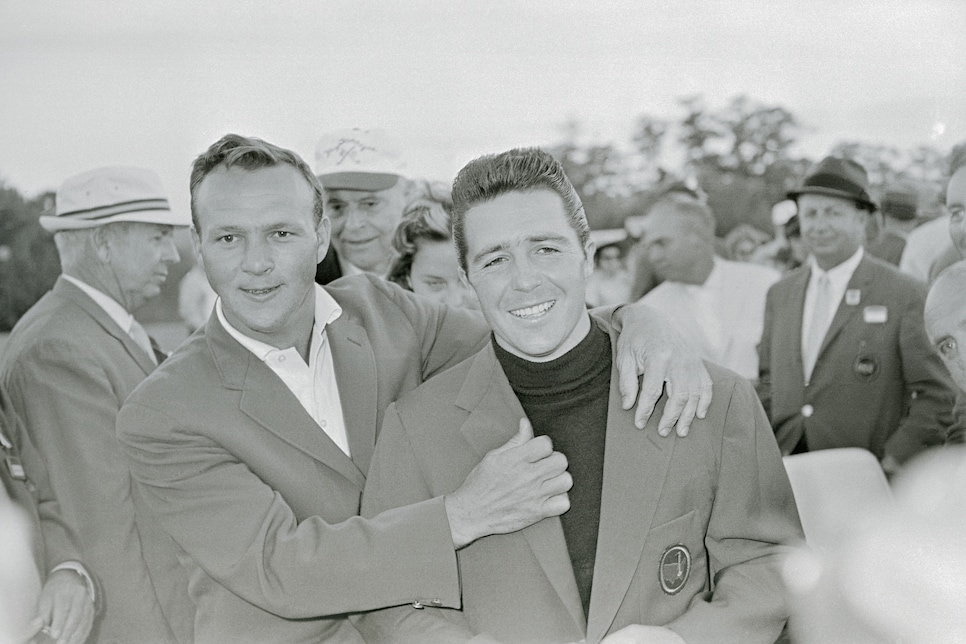 The crime: Taking his green jacket home after not winning
The punishment: A stern call from Cliff Roberts
The backstory: After losing to Arnold Palmer in a playoff in 1962 in his first title defence at the Masters, Player took his green jacket back to South Africa. When Cliff Roberts called to inform him that only the current champ is allowed to do that, Player says he told Roberts, "Why don't you come and fetch it?" Bold! The two wound up compromising with Player promising to put a plastic cover over the special garment and to not wear it again until returning to Augusta National for the 1963 tournament. Good thing he was allowed back on the premises, because he wound up winning a couple more times.
Wayne Player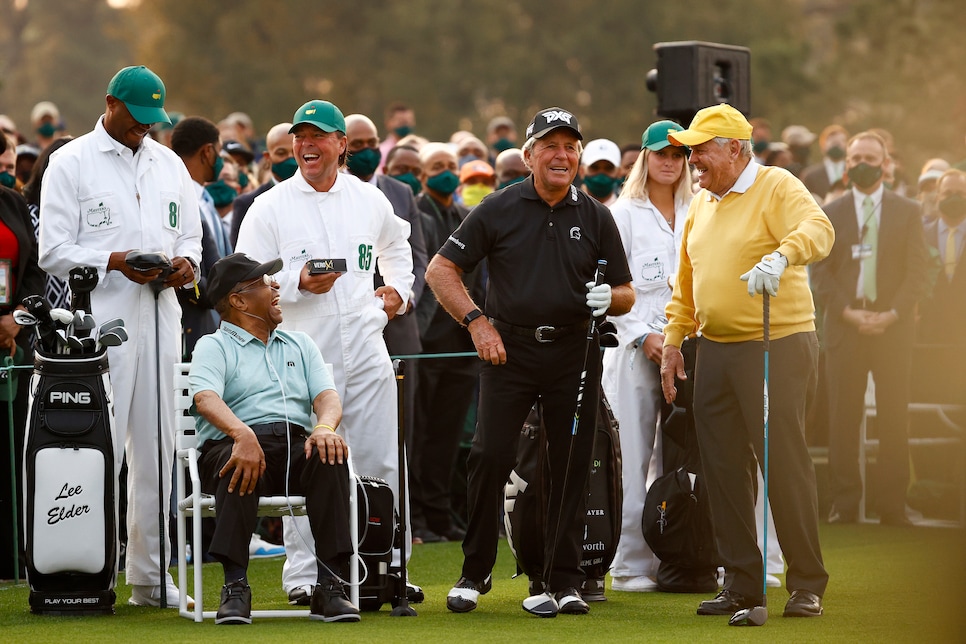 The crime: Inappropriate product placement
The punishment: Reported lifetime Masters ban
The backstory: In what has to be the tackiest moment in Masters history, Gary's son used the special ceremonial tee shot featuring Lee Elder in 2021 to promote his own golf ball deal. According to Wayne's brother, Marc, Wayne has been permanently banned from the Masters – despite the fact his dad is a three-time winner, nine-time Major champ and a Masters honorary starter. The good news for Wayne? If he wants to hawk merchandise, he can always join John Daly in the Hooters carpark down the street.
Ticket scalpers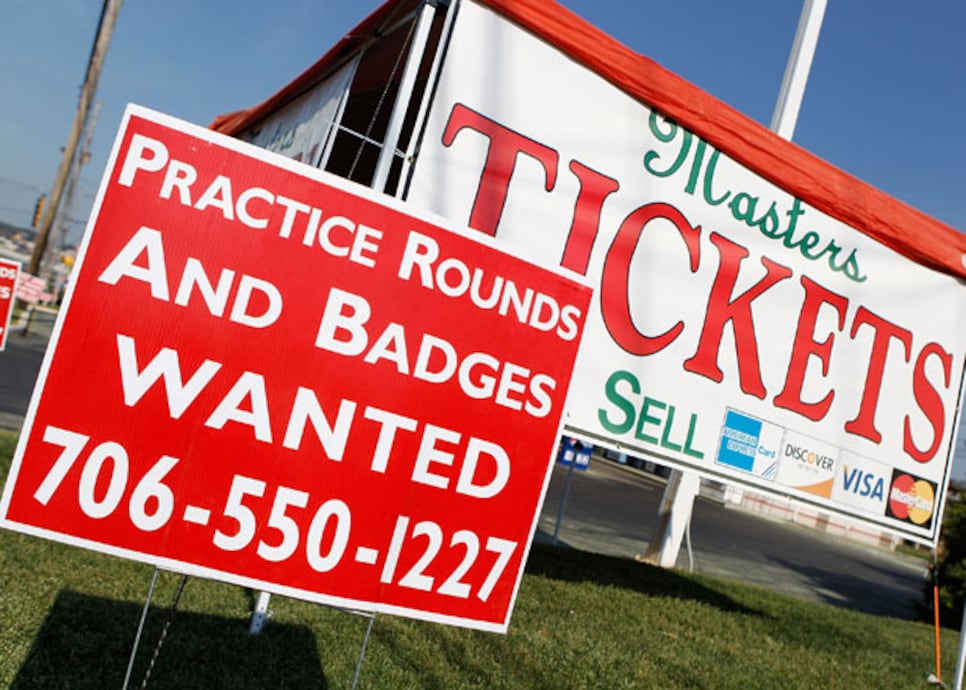 The crime: Scalping tickets
The punishment: Lifetime ban and taken to court
The backstory: OK, so the club might take scalping Masters tickets even more seriously than mobile phones. There are obviously way too many people to name here, but we'll focus on Michael Freeman, his parents, Diane and Steven, and his sister, Christine Oliverson. The Texas family plead guilty to fraudulently obtaining tickets and selling them and agreed to pay more than $US275,000 in community restitution. Michael was also sentenced to 28 months in prison.
Clayton Baker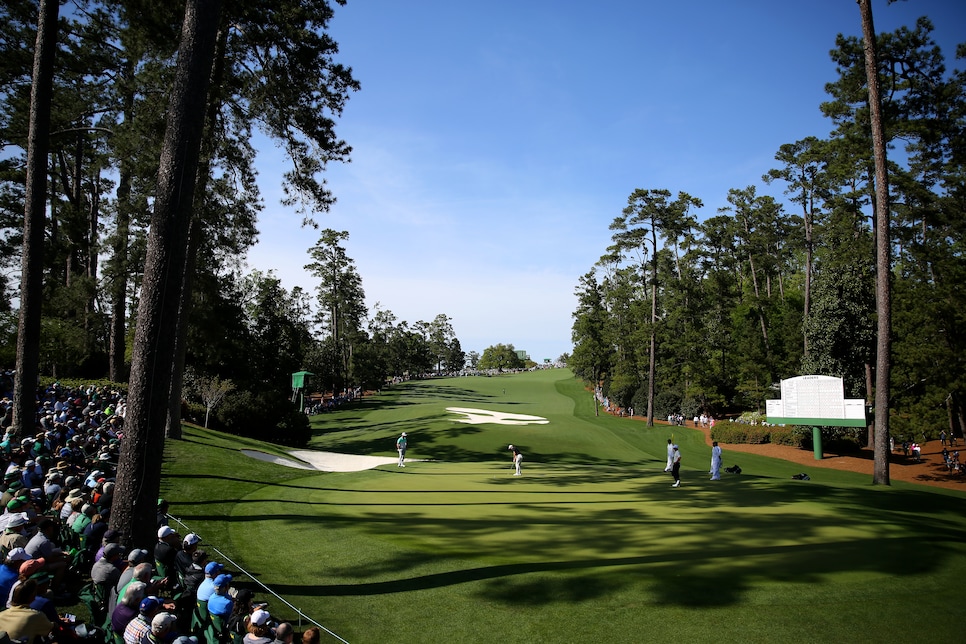 The crime: Stealing some sand
The punishment: Arrested, lifetime ban and taken to court
The backstory: That's quite a trifecta, eh? In 2012, Baker made the mistake of slipping under the ropes on the 10th hole to scoop some of Augusta National's pristine sand into a beer cup. Moments later he was surrounded by security and put in handcuffs. Years later, he said the whole ordeal sent him into depression and cost him $US20,000 in legal (and other) fees, even though charges were eventually dropped. Seems a bit much for a little bit of sand.
Mike Stachura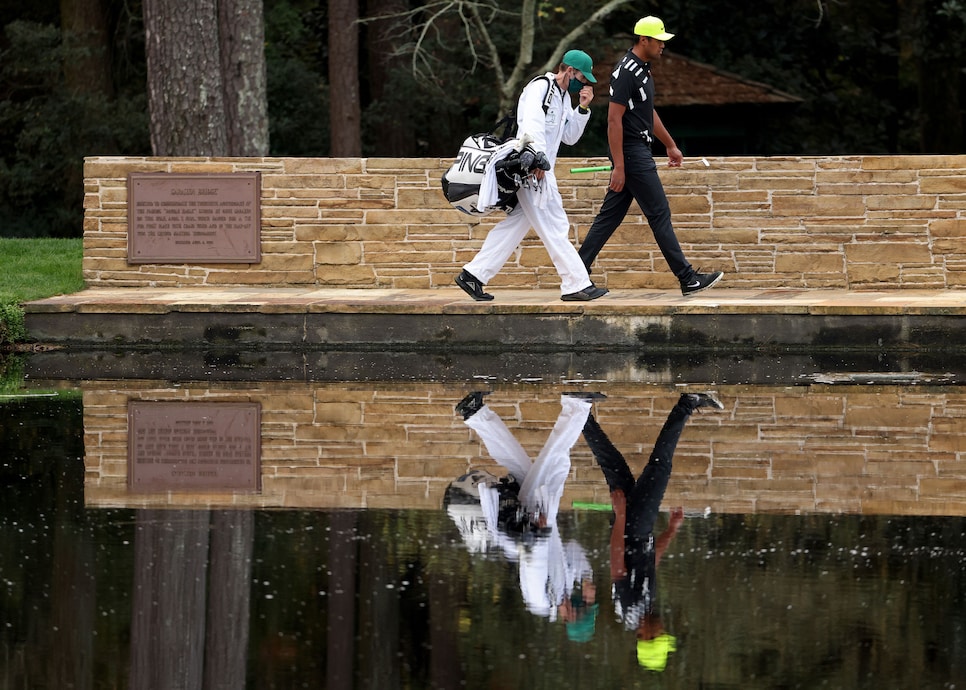 The crime: Stealing some water
The punishment: Hasn't been back
The backstory: Our fearless US Golf Digest co-worker took a sample from the pond guarding the 15th green in 1996 after winning the media lottery to play the course the Monday after the tournament ended. The purpose was to see how the club keeps its water looking so perfect, and lab results found traces of blue food dye. While Stachura hasn't officially been banned, he hasn't thought about going back in the quarter century since. Oh well. Sometimes you have to make sacrifices in the name of big-J Journalism.
OK, I should probably wrap this up before I'm placed on double secret probation like Mike. At the very least, I'm never going to win that media lottery now.