It says something, and quite possibly a lot, that Angela Stanford has played in 21 US Women's Opens and was immediately rendered frightened when walking down the opening hole in her first tour this week of the Olympic Club's Lake course. "I was terrified," Stanford says.
Maybe that's slightly melodramatic on the part of the 43-year-old, seven-time winner on the LPGA Tour. After finishing her second practice round on Tuesday, she recounted that first gut reaction with a smile on her face and a tone that bordered on gallows humour. Stanford was not joking, however, about the onerous conditions the competitors will face in the 76th edition of the championship.
From the cool, damp and breezy weather, to the tilted, twisting fairways, to tiny greens, to the dense rough, Stanford is of the opinion that this could be the most difficult test she's seen in her two-plus decades on the tour.
"It's a different kind of beast," Stanford said.
"Every time I come to an Open," she said, "I try to find the one thing that they are trying to 'get' you on. It's everything here."
Until Monday night when she saw some posts on social media, Stanford said she didn't know the history of how tough Olympic has played in the five men's US Opens contested there. She didn't know that only four players total – winners Billy Casper and Scott Simpson and runners-up Arnold Palmer and Tom Watson – have finished in red numbers for the week.
"When I heard that, I was, 'OK, that makes sense,'" Stanford said.
In two days of practice rounds, it's all starting to come together for the players about the challenge ahead. The clichés at USGA championships that par should be a good score will be uttered countless times. In fact, par could be a tremendous score. Stanford said she and her caddie think the course, set up to play to a par of 71, could play at a par-76 under certain conditions.
"You just got to get in the hole," she said. "It's like us starting on No 9 [instead of the 10th tee for the split-tee starts]… who cares? It's the one week I don't care where I start. They're just throwing you out there. You could start anywhere because it's all the same."
Of primary consternation for Stanford is the length of the rough – "I was shocked." The rye grass is thick, deep and heavy, and though the USGA reportedly trimmed it on Monday night, Stanford said she couldn't see a difference.
"I told the USGA guys that somebody lost the key to the lawnmower. Holy cow," she said with light exasperation.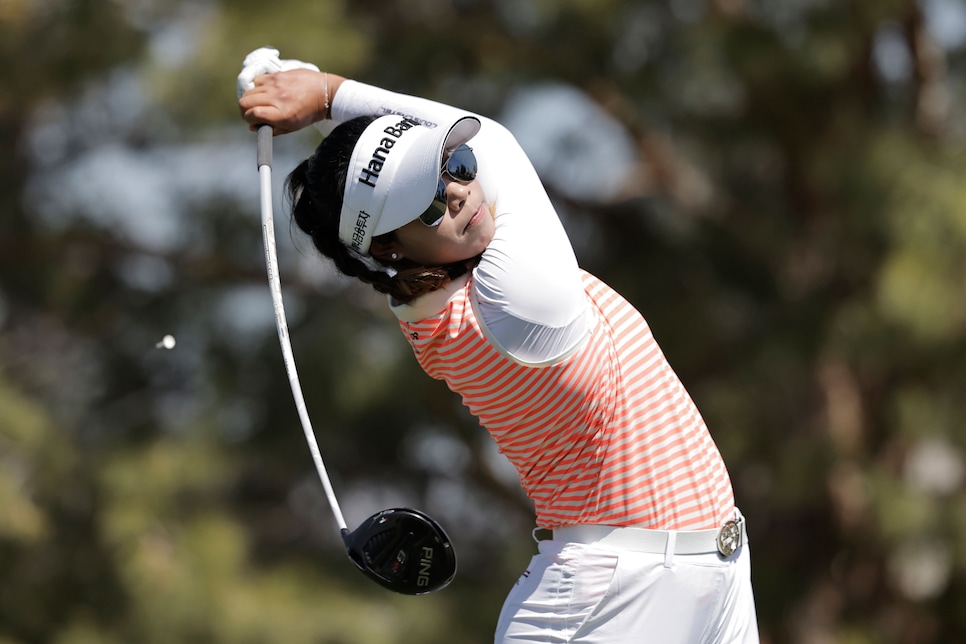 Surprising, she said, is that there is no "first cut" to the rough. It transitions from fairway to a depth that tickles the shoelaces. It's nothing different to what the men see in Majors, but that's the point – this isn't the PGA Tour. Stanford said she won't be able to hit more than a 7-iron out of even the best of lies in the thick stuff.
"They talk about us hitting it straighter than the guys," Stanford said. "The problem is that when we get in the rough, we can't advance it as far as the guys. That's why [the rough] didn't have to be that high. It's still going to affect us because of our [slower] clubhead speed."
Stanford emphasised that she is enjoying the venue, with its extended history and character. It's just that at this stage in her career, she's wondering if it's a bit too much for her to tackle, while also noting that the younger players have seen few courses where there is so much demand on a variety of shots.
"It's going to be interesting watching some of the younger players this week," Stanford said. "They don't necessarily know how to move the ball both ways. Not naming any names, but there are some girls who I'd love to watch to see how they play this golf course only hitting it right-to-left."
Olympic definitely stirs a power vs control debate. Long-hitting players have won the most recent US Women's Opens, and they could have an advantage on the Lake course simply because they'll be closer to the hole – in the fairway or rough. The layout also includes the longest par 5 in Women's Open history – the 515-metre (563-yard) 16th. But there are certainly holes where the driver is taken out of their hands, including the 298-metre 18th, where many will opt for a irons or hybrids to still only have a short club into the green.
LPGA rookie Patty Tavatanakit, winner of the LPGA's first Major of the season, the ANA Inspiration, ranks third on the tour in driving distance (257.2 metres/281.3 yards) and hardly seemed daunted by the layout.
"I feel like the course is setting up wide and manageable," Tavantanakit, 21, said. "There's a little bit of forgiveness to it… I think this course sets up pretty fair given how tough it is."
Stanford laughed when she said she was already visualiszing how the walk might be up the 18th hole on Sunday. Not as the winner, necessarily, but as a survivor. But it's also players such as Tavantanakit who make her realise that this Olympic test might be one for the young.
"I keep thinking this is the hardest US Open I've ever played," Stanford said. "But, inevitably, there will be one girl who goes out and shoots five-under the first day, and it's like, How did she do that?"
If somebody pulls that off this week, she'll likely be holding the trophy on Sunday.
TOP PHOTO: Chuck Burton