Dull moments have forever been difficult to locate on the former European Tour that now goes by DP World. During the 50 years of the Old World circuit's existence, goings-on have always been on-going. Contentious issue has invariably followed contentious issue, with controversy only rarely far behind. Appearance money. Slow play. Ryder Cup qualifications. Scheduling. Membership requirements. The concession of putts. The often-erratic behaviour of Sergio Garcia. Even cheating. You name it and the diverse and cosmopolitan membership has debated it, often enough heatedly.
In such an environment, rumour and half-truths have tended to flourish. Disillusionment is out there too, accompanied by moans and groans of varying legitimacy. But so is approval, optimism and even contentment, if you know where to look. The range of emotion and opinion is wide indeed.
Much of the talk as the DP World Tour heads into 2023, with hope amid uncertainty, revolves around the decision to spurn LIV Golf in favour of a strategic alliance with the PGA Tour. (Golf Digest previously reported the DP World Tour considered a Saudi-funded proposal in 2020, only to align with the PGA Tour, and pondered a relationship with LIV in 2022 before doubling down with the PGA Tour again last June.) As things stand, the Old World circuit's attempt to ban those who made the jump to the LIV series remains unresolved; next month, a court will decide whether or not the likes of Ian Poulter, Lee Westwood, Henrik Stenson and Martin Kaymer can continue to compete on what was once their home tour.
Still, there are more issues driving discussion as the calendar turns. According to chief executive Keith Pelley, at the behest of players, the tour's schedule introduces gaps (as long as three weeks in duration) at various points prior to the end of the PGA Tour's 2022-2023 season in mid-August.
Innovation is also part of the mix. Beginning in 2023, the 10 leading players on the DP World Tour who do not already hold a PGA Tour card will qualify for one. What business, argue many, gives away 10 of its biggest assets at the end of each year?
A perennial problem endures as well, one that may even get worse now that the emergence of the PGA Tour's "elevated" events all but ensures the DP World Tour's biggest names will often be elsewhere. Events of no real consequence fill the period between the end of the Middle East run in January/February and the Scottish Open in early July. Only the Italian Open in May at Marco Simone Golf & Country Club – venue for this September's Ryder Cup matches – stands out even a little.
And it is safe to say that the new allocation of world ranking points, one that has negatively impacted DP World events, has provoked much reaction. By way of example, Rory McIlroy and Jon Rahm have already set out diametrically opposing views, for and against. (Rahm subsequently got the backing of Tiger Woods.) As is so often the case when subjectivity is part of a debate, this one is set to run and run.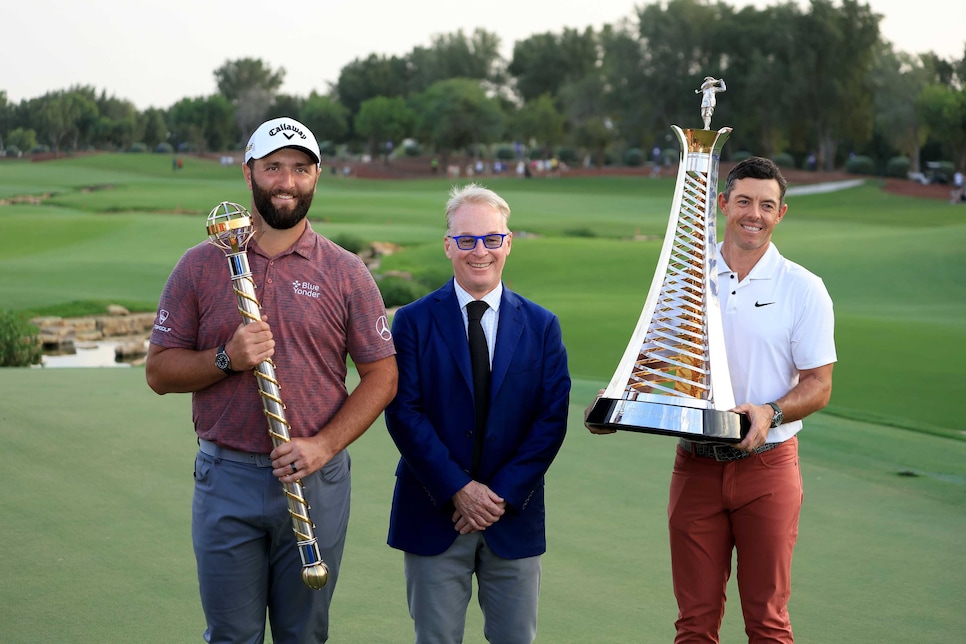 It's not just the players who have things to say, positive or negative. In November at the season-ending DP World Tour Championship in Dubai, this journalist bumped into veteran caddie Billy Foster, who over his long career has served the likes of Seve Ballesteros, Woods, Lee Westwood, Garcia, Darren Clarke and now US Open champion Matt Fitzpatrick. During an emotional chat, Foster covered a lot of ground.
"I'm upset," said the normally amiable Englishman. "For one thing, this isn't the European Tour anymore… We've sold our soul to an organisation [the PGA Tour] that has done nothing but stamp its foot on us for the past 40 years."
Foster also questioned the attempt to ban LIV players. "They should be welcome on this tour," he said. "I'd also have them available for Ryder Cup selection. And the captaincy. In contrast, too many players out here bring nothing to the party. The European Tour is dead. It's on its arse. It has lost its heart and soul, which breaks my heart."
"We're struggling," concurred Pete Cowen, the prominent swing coach whose students have won more than 300 tournaments. "The standard is dropping. And has been since the better players basically stopped competing here. You get better at golf by playing against better players. But if they're not there, you're not getting better.
"I was here before the European Tour existed. I'll probably be here when the European Tour ceases to exist. That's what I fear. For this tour not to align themselves with the Saudis was a mistake… Players see the LIV people earning huge money that could have created 30 unbelievable tournaments on this tour. At the right time, too, which would have enticed a lot of big names."
That said, those prepared to put up a robust defence of the establishment's vision are equally prominent.
"Even if we had gone with the Saudis, we would have reached a moment when they would have pissed everyone off," countered former Ryder Cup player Nicolas Colsaerts. "They would have wanted to own everything and be the biggest voice in every room. When you look at the European Tour now and what it was at the turn of the century, it's all good. The safest move was to get into bed with the PGA Tour. Was that what we really wanted? No. But when you only have limited options, you have to choose the best one long-term. The Saudis never offered long-term stability."
Of course, the undercurrent to all this is money. Many times, cash is the topic du jour in DP World Tour arguments, with the lack of it – relative to prize funds on offer across the Atlantic – perhaps the most common theme. But it is safe to say that the past couple of years have seen a more general turbulence within and around the Wentworth-based organisation than the previous 48 combined.
The pandemic didn't help. Dealing with an enormous variety of rules and regulations across many nations was a task of epic proportions laced with difficulties.
"Through COVID we had to give the players opportunities to make a living," said Paul McGinley, former Ryder Cup captain and a member of the DP World Tour's board of directors. "You eat what you kill in golf. So if they weren't playing, they weren't earning. We had to do something. And we had to use our own money because sponsors didn't want to get involved. It was a short-term fix. But we were made to look weak because the PGA Tour was able to dip into their coffers and keep prizemoney high [most tournaments north of $US7 million while several DP World Tour purses hovered around €1.75 million]."
Soon after came LIV with all of its attendant disruptions, a catalyst that led to the formation of the 13-year joint partnership between the DP World Tour and the PGA Tour signed last June. In the wake of a COVID-induced struggle to maintain prize funds, the deal that bumps overall DP World purses in 2023 to a record $US144.2 million and guarantees a rise in total purses in each of the next five years has understandably found a welcoming audience.
"I was worried for a while," said Oliver Wilson, another former Ryder Cup player. "I didn't want to be away from my family playing for $1.5 million when it was costing me $5,000 every week. All with the hassle of travel. It just wasn't appealing. But the deal with the PGA Tour changed all that. This is a great time to be playing golf. We're going to play for a lot of money." Wilson is also hearing, as are other players, that the 2024 schedule will be improved in terms of a reduction of lower-paying tournaments. "We'll play less in better quality events. The tour has been devalued in the past few years, which isn't fair. The tour is strong."
On the other hand, the pact also guarantees the aforementioned PGA Tour cards to the 10 leading DP World Tour players not already playing in the US. Plenty are those who see such a move as self-abuse. Pelley, who has overseen the tour since 2015, is quick to underline the benefits of a closer bond with the tour's more affluent trans-Atlantic cousins.
"The players I have talked to believe we have a great deal with the PGA Tour, one that we are only at the beginning of," Pelley said. "The PGA Tour has been wonderful in their support of the DP World Tour. They have brought in sponsors like Horizon and Genesis. There will be a couple more announcements on the way. They are topping up our purses in 2023 to an all-time high. To have record prize funds amid roaring inflation and an economic crisis is remarkable.
"Plus, I think that saying we are giving away our assets is a complete fallacy," Pelley continued. "Our tour will get stronger in every way. The quality of the lower-ranked players will rise. I would ask any player with concerns to come and ask me about it. They should be thrilled that the PGA Tour has this relationship with us."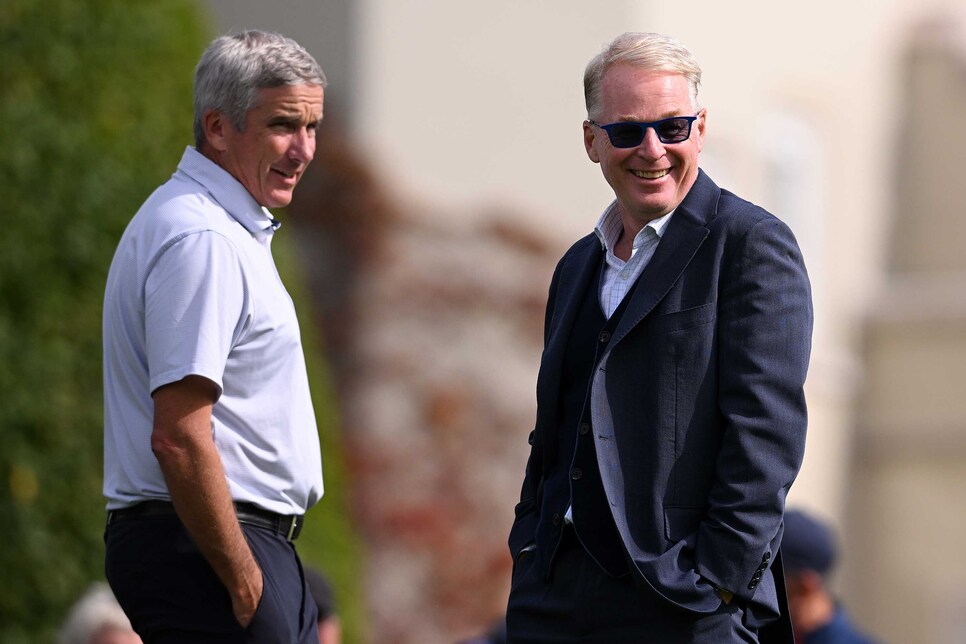 Many are.
"Every young guy these days dreams about playing on the PGA Tour," Colsaerts said. "I didn't grow up doing that. It wasn't on television. I never dreamt of playing there. Now it's different. The guys don't watch golf during the day. They watch at night. And what's on? The PGA Tour. The relationship the modern generation has with the PGA Tour is much closer. So if you give 10 cards to guys who grew up idolising the American way, how can you say no to that?"
Yet the new coalition hasn't gone down well with all the members. Then again, nothing ever has. They are an argumentative bunch.
No one knows that better than Pelley. One long-time tour observer likens the 58-year-old's job to "herding cats", so difficult is it to gain consensus on any direction. Take the world-ranking points. At the recent – and star-studded – DP World Tour Championship, Rahm earned only a little more than half the number of points awarded to the champion that week at the PGA Tour's RSM Classic. Rahm repeatedly described the OWGR's new formula as "laughable".
Pelley, who serves on the Official World Golf Ranking board, isn't saying so out loud, but he clearly has concerns about such an obvious anomaly, even if, as one player points out, "the world rankings are basically irrelevant in this tour. They mean nothing to just about everyone on this tour."
"When we looked at the OWGR, four independent studies all came to the conclusion that the points as they were did not reflect the proper valuation of the players," Pelley said. "As a result, we implemented the new system [in August]. However, as with anything new, you continue to modify and re-evaluate. There are some things we will talk about at the next board meeting. The situation we had in Dubai, despite so many top players present, will no doubt be discussed. When you implement something and see what actually happens, impressions can change. Unintended consequences do happen."
So it is that the biggest effects of what some call a "pseudo-takeover" by the PGA Tour are beginning to be felt, not least in what the DP World schedule will look like in 2024 in the wake of the New World "blowing up" its long-established timetable.
"The DP World Tour has never been in a better place," McGinley said. "We are continuing to react to dynamics and the cards we have been dealt. We follow the migration of the players. Not because we have done a bad job, but because the top players are more and more living and competing in America. We can't do anything to stop that. So why we get criticised is a mystery to me. The decision-making process of the players is obvious."
Indeed, this year will see the continuation of a new, enlightened future as far as the DP World Tour is concerned. For the second straight year, the top players in the "Road to Mallorca" Challenge Tour rankings will receive financial support through the John Jacobs Bursary Award as they move to the "big" tour. All 20 graduates will benefit from the Earnings Assurance Program, which will guarantee each minimum earnings of $US150,000, as soon as they compete in 15 or more events.
By way of further example, there will be a three-week gap in the schedule immediately after the Open Championship in July. At first glance that seems self-defeating. A three-week hiatus in the middle of the northern summer? But it makes sense, insist its proponents. With the demise of the PGA Tour's wrap-around schedule, the northern autumn will become available to the DP World Tour, which means the players will need a break before an intensive period of events.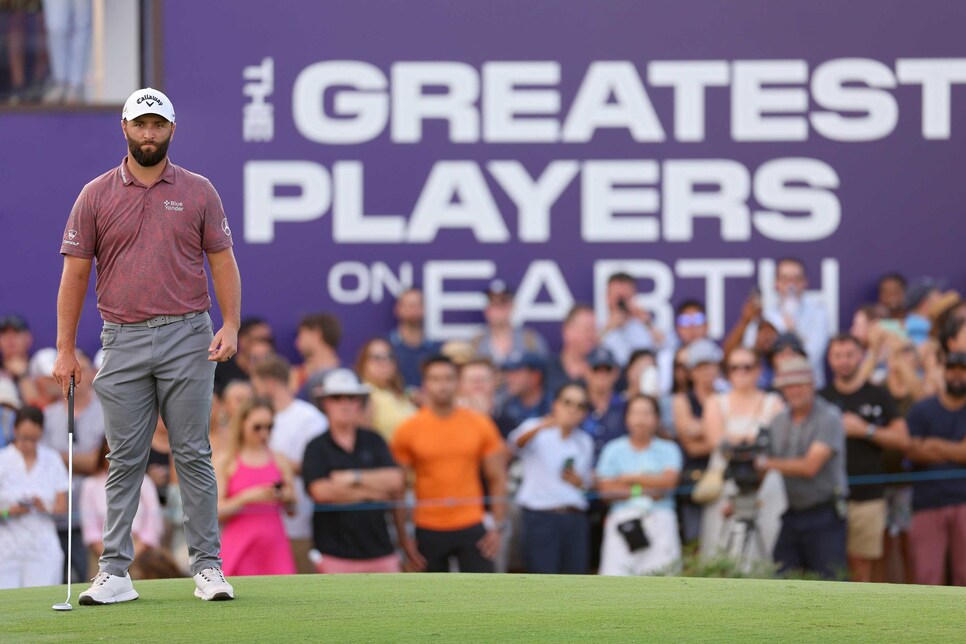 "That three-week gap is there at the instigation of the players," Pelley said. "Everyone is so used to the mindset that we have to play every week. But the players wanted it. And it allows us to extend that into other natural gaps in 2024. The tournament committee are working with us on that."
"We know we have too many events," agreed Scotsman David Law. "So to pause is a good thing, especially for a family man like me. But for any player to get a break at that time of the year is a chance to rebuild and regroup, to do the work that they need to do. It's almost like a mini off-season. It's important that we get away from the mind-set that we have to play every week."
Law isn't alone in welcoming the change.
"If we are going to play from mid-January all the way to mid-December, we need to have natural breaks," Wilson said. "That's logical. if we are going to work with the PGA Tour to maximise our fields, Autumn is going to be our time. We cannot keep playing week-after-week, year-after-year. It's too much of everything. And it's boring for the fans."
So autumn is when the DP World Tour is going to rise. But apart from the Middle East run later in January and a couple of weeks before the Open Championship, Pelley still has February through June to deal with. Pretty much a barren wasteland, especially as the elite players are always elsewhere – the PGA Tour's new elevated events accentuating that – it is a tough sell to prospective sponsors.
"The period between the Middle East and the Scottish Open has always been our biggest challenge," McGinley said. "It's difficult because the top players are in America, building their schedules around the Majors. I don't care what you do. We could put on $20 million events. But they would still be in America."
That is a view confirmed by the players themselves, though all have regrets, neatly summed up by Alex Noren. "I really miss Europe," said the Swede. "I would be here more if I played better in America, and that's my goal, to be at home more."
"I want to support the European Tour as much as I can," Rahm agreed. "But what is in place for 2023 will impact on my ability to do so. Especially in summer. It's hard. So yes, it will be more challenging. I'm hoping that in the future the PGA Tour and DP World Tour will figure out a way to make it easier for people like Rory [McIlroy] and me."
Rahm's refrain is echoed elsewhere, although the possible integration of what Pelley calls an "ambassador program", a fund aimed at getting "influencers" (McGinley's word) more involved and more inclined to cross the Atlantic more often. In other words, appearance money. And, to be fair, that cash will also filter down a little. The appearance of the Hojgaard twins and Adrian Meronk at the recent Australian PGA and Australian Open was no coincidence. Already the ambassador program is taking effect, "encouraging" players to compete in events they might not have considered without financial inducement.
But the basic problem remains. The biggest names are still going to spend the vast majority of their time at least 5,000 kilometres west of Europe.
"I have less freedom now," said Shane Lowry. "I would love to play the Italian Open [this] year. But it is just too busy. It's difficult for Europeans playing both tours."
World No.10 Viktor Hovland, a single man with time on his hands, is a little more encouraging.
"I love coming over to Europe to play," said the 25-year-old Norwegian. "So I'll do it whenever it makes sense. I don't mind playing a lot of golf. I'm young. I don't have anything else to do. My disappointment is being told we have to play so many events. We don't have the freedom to pick as much as we might want to, especially now that I have to play 20 over there. I'll make it work, but I'm not sure how sustainable that is in the long run. I'm not a big fan."
One consequence of the shifting schedule is that the DP World Tour is going to evolve into at least a two-tier entity, a first and second division. Nothing will be announced officially, but that fact will be clear.
"We have so many events because Keith Pelley has to represent all of the members," McGinley said. "If he wanted to create a tour of, say, 20 huge events, he could do that and keep the top players happy. We could have three in the Middle East, two around the Open and 15 after the FedEx Cup. We could happily give every other week to the PGA Tour. McIlroy and Rahm would love that idea. But Keith also has to think of the rank-and-file. What about them? They want opportunities to play and earn money."
There's that word again. Whatever else happens on the DP World Tour going forward, you can be sure lucre will continue to be at the forefront of every mind. On that at least, no one is arguing.