It's a great idea. An obvious idea. And now it is going to happen. Driven by the formidable pair of 2006 US Open champion Geoff Ogilvy and former European Tour player Mike Clayton, the inaugural Sandbelt Invitational will take place from December 20-23. Four of Melbourne's world-famous collection of courses – Royal Melbourne, Kingston Heath, Peninsula Kingswood and Yarra Yarra – will host one round each in a 72-hole event with 60-strong mixture of male and female pros and amateurs, a relatively low-key start to what both men hope will evolve into one of Australia's biggest tournaments.
The potential is obvious, the philosophy novel in a world typically driven only by financial matters. Yes, Ogilvy's eponymous foundation is kicking in a $50,000 (Australian) purse – and other sponsors will hopefully be in place by December. But for now the motivation is more altruistic than economic.
"Clayts has to take most of the credit for the idea," Ogilvy told Golf Digest. "A couple of months ago we heard that the Australian Open was unlikely to happen [the men's and women's events were officially cancelled last week for the second year due to the pandemic], at which point Mike decided we had to have something in its place. We've been doing a few little things over the past few months, one-day 18-hole events that gave promising youngsters opportunities to play some competitive golf. So he called round a few clubs in Melbourne to see if we could expand that to a four-day deal."
It didn't take long. Ogilvy describes the reaction as "unbelievable". Royal Melbourne was in straight away. Peninsula Kingswood said yes within 30 seconds. Yarra Yarra and Kingston Heath followed quickly, too.
"Once we had the clubs involved, we sat down and thought about the field," Ogilvy said. "The actual breakdown isn't too clear right now because of COVID travel restrictions, so we'll have to see how that pans out. But we'll have the best field we can get, both men and women, professionals and amateurs."
RELATED: Geoff Ogilvy is (still) the best interview in golf
That concept, too, is an extension of what the Ogilvy/Clayton team has been doing with what they call "the game", a series of one-day 18-hole events with men and women competing against each other designed to provide promising young Australians with competitive opportunities in these trying times.
"I want to make it clear the Sandbelt Invitational is not going to be like a 'normal' event," says Clayton, who, much to the amusement of all who know him, will be "tournament director". "Not yet anyway. It's not going to be on television. There won't be too many spectators. There won't be any roped-off fairways or scoreboards. It's all about getting the best players we can find competing with each other again. But the real stars of the show will be the courses. It's not an event built round star names, which has been the norm down here for a few years."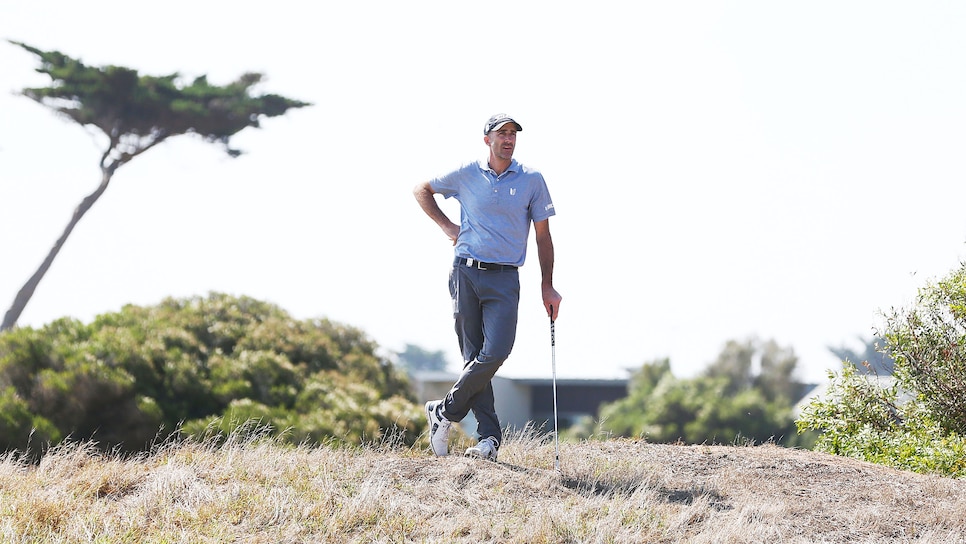 Disappointingly, it would seem unlikely that the leading Australians on the PGA Tour – Marc Leishman, Cam Smith and Adam Scott – will be able to tee-up this year. But the reaction from Ogilvy and Clayton's fellow pros has been, as you might expect, unanimously positive.
"What a treat this will be, undeniably one of the best collection of golf courses worldwide," said former Ryder Cup player Nicolas Colsaerts (whose wife is Australian) in a tweet.
Japan Tour player Matt Griffin was even more effusive.
"Since the halcyon days of the 1990s, Australian golf has been all about who is not here rather than who is," said the native Melburnian. "This announcement is the perfect example that it might be time to celebrate who is here rather than who isn't. We have a heap of talent that's been starved of big tournaments for 24 months desperate to prove itself. If you forget about the names, the product is basically the same and possibly even better, as the Vic Open has proved."
Speaking of which, the Sandbelt Invitational will offer exemptions into both the Vic Open (a mixed-event sanctioned by the European Tour and the LPGA) and, for the men, the Australian PGA Championship. Already, legitimacy is growing.
"I really hope this will expand every year, to the point where it becomes a really big and important event," says Clayton, one of golf's most erudite and thoughtful commentators on all things architectural. "But we don't need a huge purse at this stage. That only raises expectations, ones we can't meet because of all the travel restrictions in place. Players from Western Australia, for example, can't come to Melbourne right now. So the money doesn't really matter that much.
"People have criticised Golf Australia for cancelling the Australian Open. But our event is different. We're not comparing apples with apples. We don't have to deal with sponsors or television. We have no expectations. All we're trying to do this year is run an 'amateur' tournament with good players on great courses. And we'll see how it goes."
TOP/MAIN PHOTO: Gary Lisbon