"Will he ever have a better moment in his entire life?"
This may seem like a loaded question, but it seems quite possible that we've all witnessed the peak of one man's athletic existence. An eagle is one thing. A walk-off eagle to win a Fall Member Guest is almost too good to be true. In fact, we wouldn't believe it if there wasn't video proof.
"This Past Weekend was a Movie!" the countryclubdadz account correctly declared. "Walk off Eagle to win the Fall Member-Guest @northstoneclub. Congrats @bobbydewese for the dunk and his partner @bettercallcub for the win. Truly a dream finish!"
As you can see, Chase Dewese made the shot of his life to cement a victory for himself and his partner at NorthStone Country Club recently. The private club in Huntersville, North Carolina, is a Pete Dye course, and DeWeese will certainly have fond memories of the Carolina gem for the foreseeable future.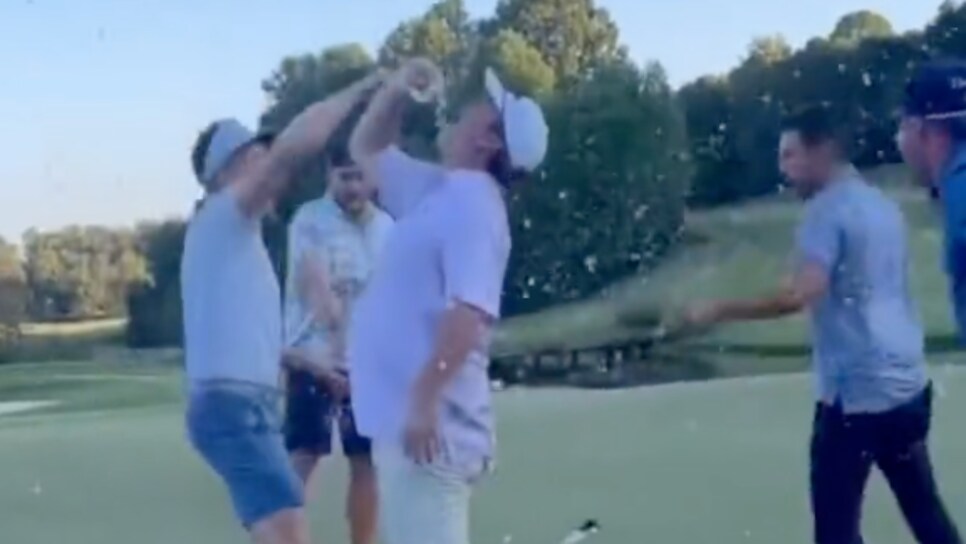 The only thing as good as the shot itself is the celebration, despite DeWeese not jumping into the pond when given the opportunity. When the camera jumps back to the golfers post-shot, most of them are on the ground. One can only assume a tackle was made.
The beer shower may be tough to get out of those golf shirts, but we're sure that DeWeese and company will be just fine to have the scent of lager around for a bit longer. What a day for the Lefty. Unfortunately, it might be time to hang it up, because how does it get better than this?
This article was originally published on golfdigest.com