For the first time in a long time, Wayne Player watched the Masters this year from home. It might be a new tradition, albeit not of his choosing.
"Well, they say there's no such thing as bad publicity," Player says. "I found out that that's not quite true." That's because Player, son of three-time Masters champ Gary Player, is banned from Augusta National.
Player, 58, attempted to follow in his father's footsteps in professional golf and competed in 17 PGA Tour events but never made a cut. After his playing career, he has been involved with various health and fitness endeavours, yet he's known to most in the golf world for two recent incidents at the Masters, incidents that Player would like to forget.
The first came in 2019 when Player was arrested and charged with deposit account fraud/bad cheque stemming from renting a house for clients during the 2018 Masters. Player was involved in a civil suit related to a promotional package tied to the Masters with a man named Todd Feltz. The suit from Feltz claimed Player acted in bad faith, caused unnecessary expense and physically assaulted Feltz when he pried about the whereabouts of promised Masters badges.
The second incident arrived on the first tee at the 2021 Masters during the Honorary Starters ceremony. While one of the tournament's most cherished traditions, the 2021 gathering was especially poignant as Lee Elder, who broke the tournament's colour barrier in 1975, was recognised for his courage and efforts as a trailblazer and joined Jack Nicklaus and Gary Player for the event's opening tee shots. Touching as the moment was, in the hours afterwards fans took to social media to express frustration at the perceived actions of Wayne – who was serving as his father's caddie – as Wayne stood behind Elder during Elder's introduction holding a box of OnCore golf balls in a brazen attempt at guerrilla marketing.
"I had probably 50 texts after that, 40 of them said I'm a marketing genius, 10 were like, 'What the hell were you thinking?'" Player says in a phone call late last month. "It wasn't premeditated, but it was a tacky thing."
Fans weren't the only ones who noticed. According to Wayne, Augusta National took away his badge for the rest of the week and he is no longer allowed on the premises. But a year after the fallout, Player is speaking about the matter for the first time to give his side of the story.
"I don't mind letting people know," Player says. "To be completely transparent I think it is a cool story because you know, the National never really came out formally and said, 'Oh, we're, you know, not allowing Wayne Player to come back to the Masters.' They never ever said that to the media. That's just the way they do it. They don't say much."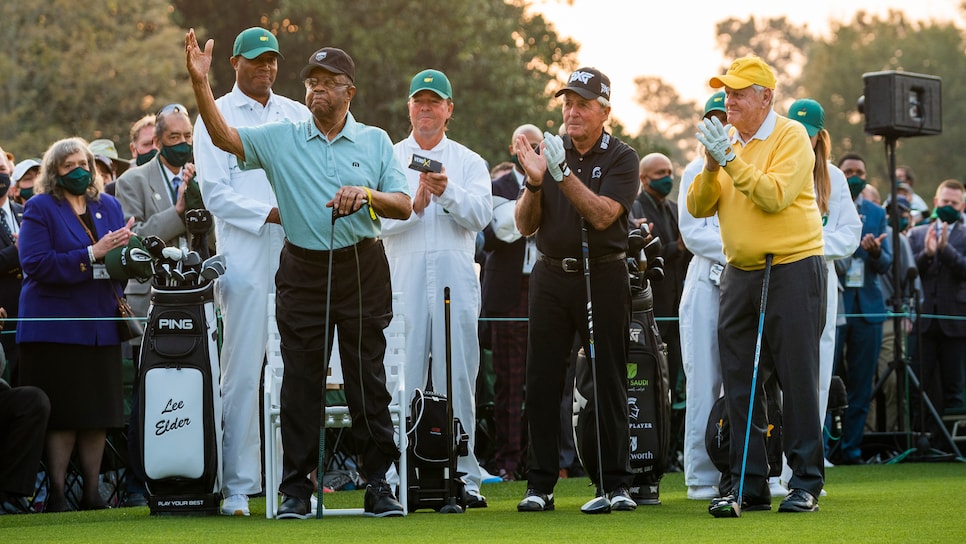 Indeed, when contacted by Golf Digest regarding Player's ban, an Augusta National spokesperson said the club does not comment on club business.
Throughout an hour-long phone call, Player admitted multiple times that he was at fault for the episode. He says he didn't mean to steal Elder's spotlight but gets how his actions conjured such an emotional response. "I understand why people took offence to it," Player said. "Jack, the Golden Bear himself, told me, 'What are you thinking?' I said, 'You know, Jack, you're right.' You have to be accountable when you mess up."
However, Player believes his case warrants forgiveness, especially since, according to Player, the man he upstaged already forgave him.
"I've got Lee's [mobile] phone number. I called and I said, 'You know, Lee, I love you guys.' You know, everyone said I was disrespectful for a special moment in time for Elder. I said I was sorry, and I didn't mean to take up his special time. And he said, 'Wayne, you know how much I love you. Right?' It didn't cross his mind. That's important for people to know." Elder died last November at age 87.
The rationale behind Player's decision was simple: he believed people wanted to know what type of golf ball his dad uses. (Note: Wayne helped consummate the business deal between his father and OnCore.) When asked if he was reprimanded by representatives at OnCore, Player says no. "They don't want to take any kind of stand because they want to appeal to everybody. They want conservative, liberals, everybody. They don't want to… they don't want to [upset] anybody. You know what I'm saying?"
A few minutes later, Player clarifies: "You know, they were just like, 'Oh, well, it was great that, you know, you were able to do that.' Because usually my dad has OnCore on his bag or on his shirt or something. And he never had that from that first tee last year." (After last year's incident OnCore chief executive Keith Blakely said, "We did not ask or instruct Mr Player to have our ball sleeve visible during the ceremony and are sorry if his actions caused any offence or was a distraction from the wonderful recognition being paid to Mr Elder.")
Player said he wrote a letter to Augusta National and Masters chairman Fred Ridley that apologised for what happened, expressed his love for the tournament ("No one loves the tournament like I do," Player says) and appealed his ban. Player said he received a response in short order.
"It said thanks but no thanks," Player says. "It said, you know, we appreciate you reaching out and apologising, we accept your apology, but we are not changing our position, we are not going to allow you back. You ruined a special moment in the history of the game of golf."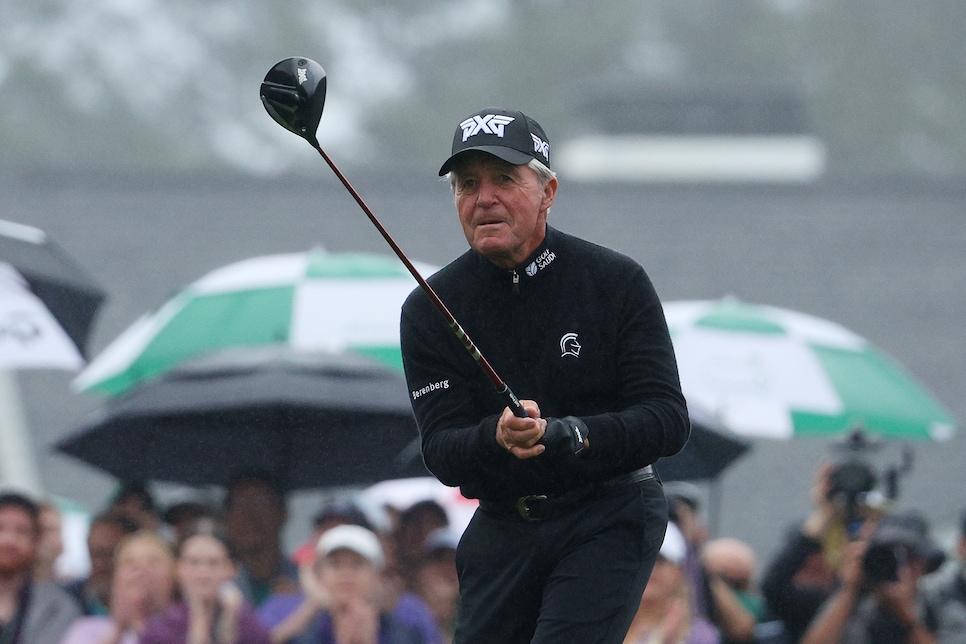 The hurt in Player's voice is clear. He knows he did wrong but also thinks the punishment was more than warranted. Asked what his father thought about the affair, Player struggles to find the proper words.
"He stayed out of it," Player says. "He's caught in the middle and doesn't want to take sides."
Speaking of which, watching from home provided Wayne the unique perspective when Gary Player found himself in a similar controversy for wearing a Golf Saudi logo at this year's Honorary Starters ceremony. Echoing the situation he found himself in, Wayne doesn't quite see what the big deal is.
"We can judge, you know, the Arab nation for traditions that they have. I mean, where women are not allowed to walk around like we know women can walk around, they've gotta have a cloak over their head. I mean, I don't know, it's not for me to criticise them, you know?" Player says. "I mean, look, they're very tough on law and order, you know, and they do all the stuff that would be considered barbaric there, right. That's what [Phil Mickelson] basically said.
"I just know that my dad was excited about, you know, being part of growing the game of golf in Saudi Arabia," Player continues. "I mean he loves golf course design. He's always enjoyed that. He's designed over 170 golf clubs and he's a statesman. He's always trying to help everybody, so nobody should be criticising Gary Player ever."
It's at this point, in speaking about this dad, Player turns the question around and aims it towards Magnolia Lane. Player knows his chances of Masters clemency are slim, so he felt comfortable airing a beef with the club.
"If I'm actually honest, it hurts me – and you can print this – it hurts me that Augusta National have not invited my dad to be a full member at the club," Player says. "I mean, Jack Nicklaus and Arnold Palmer were invited to be full members. And we know there's a lot of criteria around there, but nobody's represented the game of golf better than Gary Player. Why they haven't is a shame."
Conversely, in spite of those feelings and his excommunication status with the tournament, Player says he hopes to one day return to Augusta National.
"It's one of their traditions to give champions' families badges to the tournament. I was there for my dad's wins. The place means a lot to me. Hopefully this will all pass."