WHAT YOU NEED TO KNOW: With three new irons in the Apex Pro series (Apex Pro, Apex CB and Apex MB), Callaway refocuses its efforts on the distinct demands of elite players. Specifically, that means a heavy emphasis on improving sole designs for more effective turf interaction, tweaking centres of gravity to dial in those specifically for each model and each iron within each model, and getting the shape, sound and feel that better players need and prefer.
https://twitter.com/CallawayGolf/status/1686360789224144896?s=20
The Apex Pro irons are a hollow body design in a compact players shape that features two different faces, a more flexible high-strength alloy that forms a wraparound cupface design in the long irons and a consistent forged carbon steel face plate in the middle and short irons.
The Apex CB and MB irons are each single-piece forged models made of carbon steel, with the CB incorporating tungsten toe weighting to better balance the weighting in the centre of the face.
PRICE: $379.99 per iron | $459.99 NZD each. Available for pre-order August 18. In stores September 8.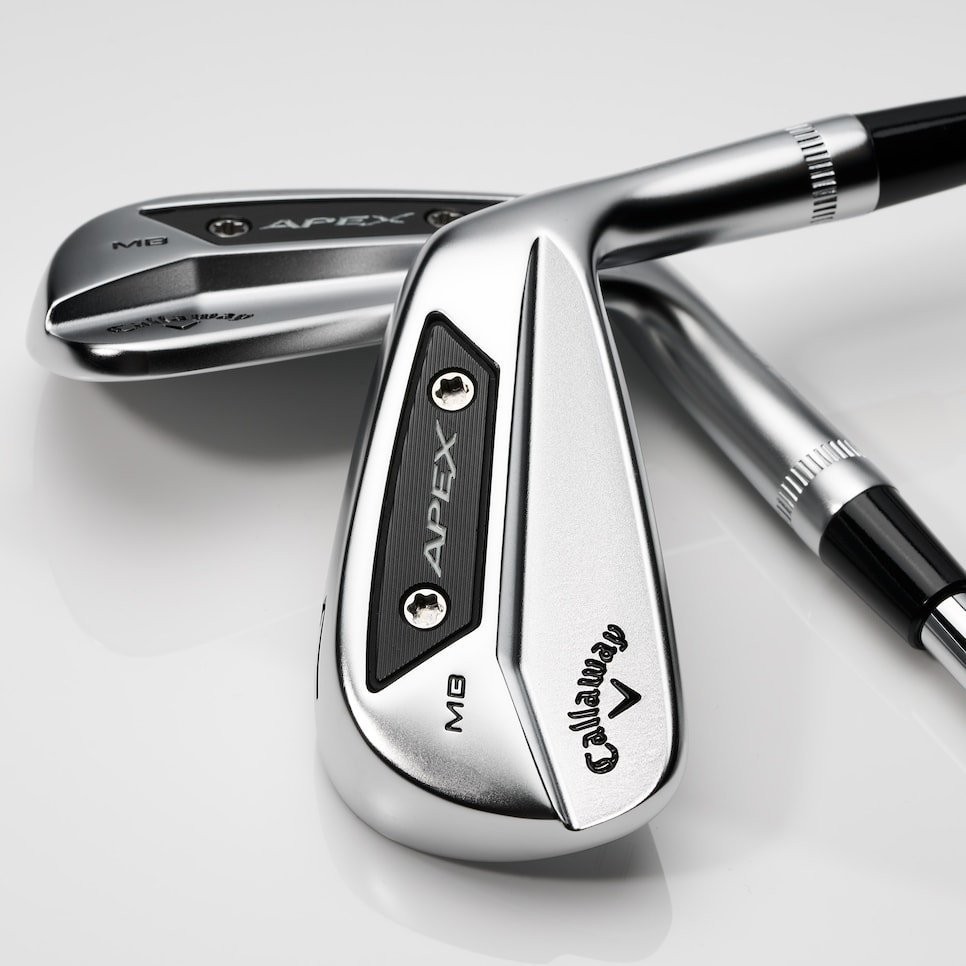 3 COOL THINGS
1. What Tour Players Want You Now Have. This family of irons was three years in the making, and the focus was with the company's staff of tour players and other elite golfers. (It's important to note that while the Apex and Apex DCB irons have been big sellers for the company, those two average golfer irons are not part of this update.) So while the company prides itself on explosive technologies, for these irons the effort is in the subtle specifics. As Callaway's Zack Oakley termed it, "This is sort of a devils in the details type of product, and we've focused more on those details than we ever have."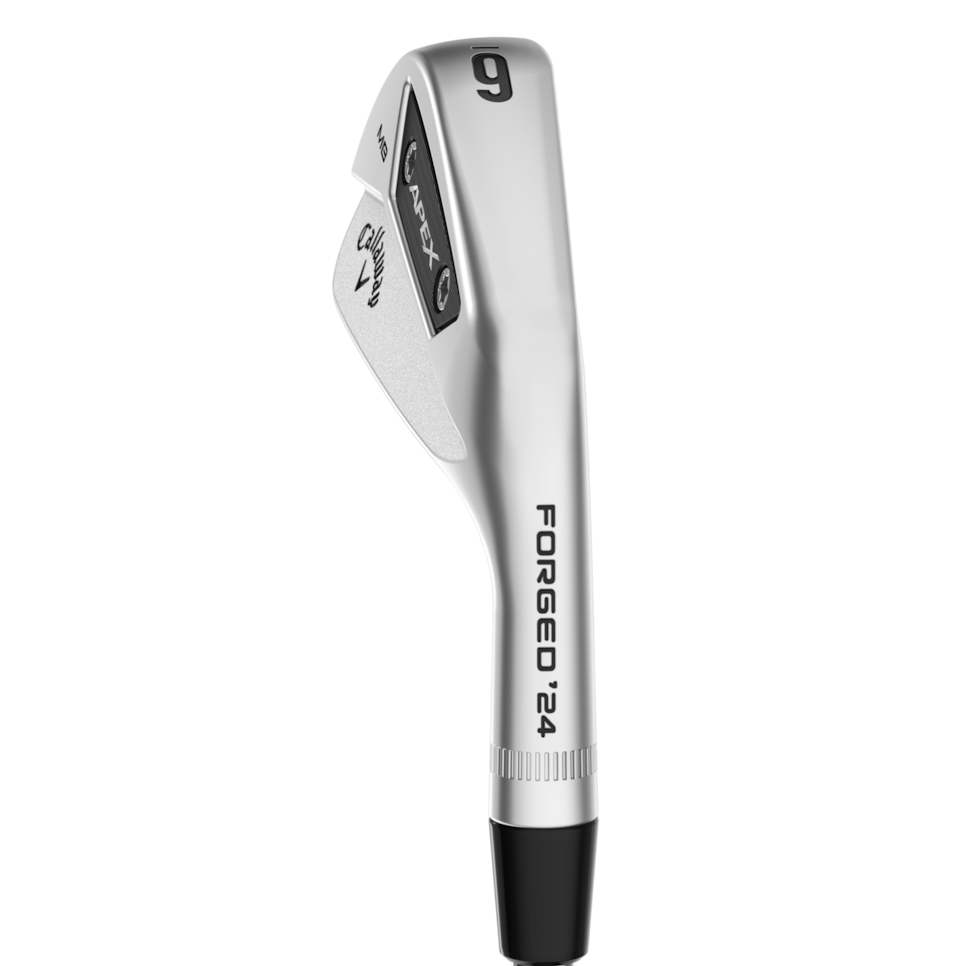 Among those key details, which in some instances were inspired by players sketching their ideas for designs that led to numerous prototypes, are an emphasis on shaping aspects, including thinner toplines and straighter leading edges.
Also vital is a progressive approach to how the height of the centres of gravity change from long irons (lower to help with launch) to middle and short irons (higher to control trajectory and spin).
Finally, regardless of whether it's the Pro, CB or MB, there's custom weight plate in the back of each iron to specifically dial in each individual iron's heft as preferred by a better player's shaft choice.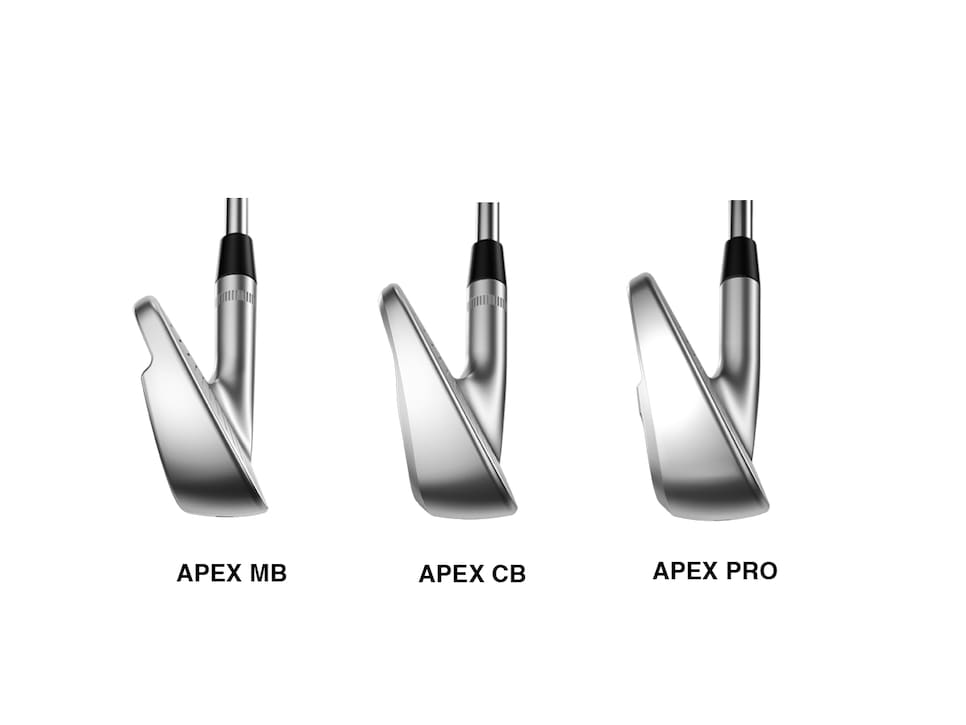 2. Sole Brothers. Turf interaction is a vital attribute of irons designed for elite players, largely because at this level working the ball in all directions and flighting trajectories is vital to your success. Hence, the Callaway team focuses a lot of refinements to the sole designs throughout all three irons.
Generally narrow soles that get narrower from the Pro to the CB to the MB models, the key changes are the sharper leading edge and a trailing edge chamfer designed to get the ball in and out of the turf with less friction.
Said Brian Williams, Callaway's vice president of research and development, "This is the outcome of extensive work – I think we did seven or eight versions of this sole until we had it perfected."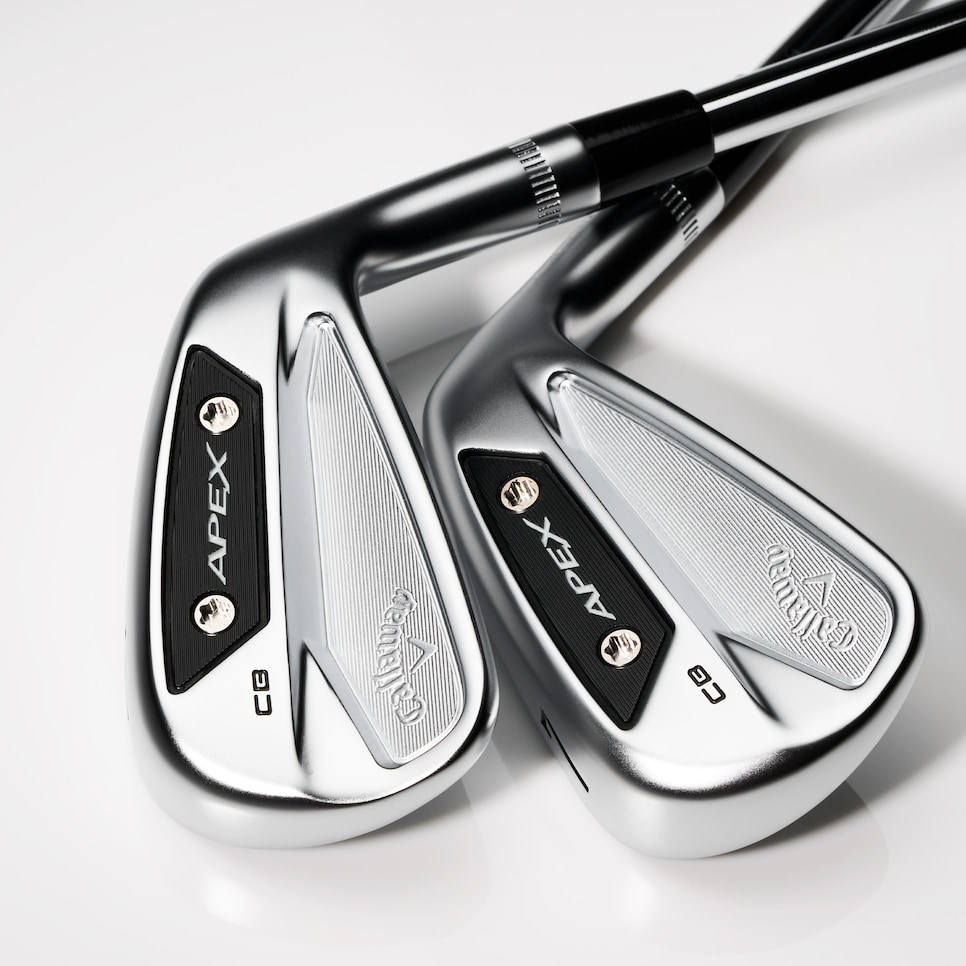 Williams said the sole features a variable bounce from heel to toe. "A player with very high speed they can have the toe down on impact, and that's a way that we've really worked on the bounce."
3. The One You Should Play. Unless you have a parking space at a tour event, you're mulling a slew of D-I scholarship offers or they've reserved a room at your club for all the events you've won, the Apex Pro is the ideal choice for many typical highly skilled golfers.
While the Apex CB and MB, both forged from 1025 carbon steel, are precision implements, they are largely the domain of players who have elite level speed and distance control to the half-yard. That precision is further controlled by tungsten weights in the toe of the CB to keep the centre of gravity in line with face centre.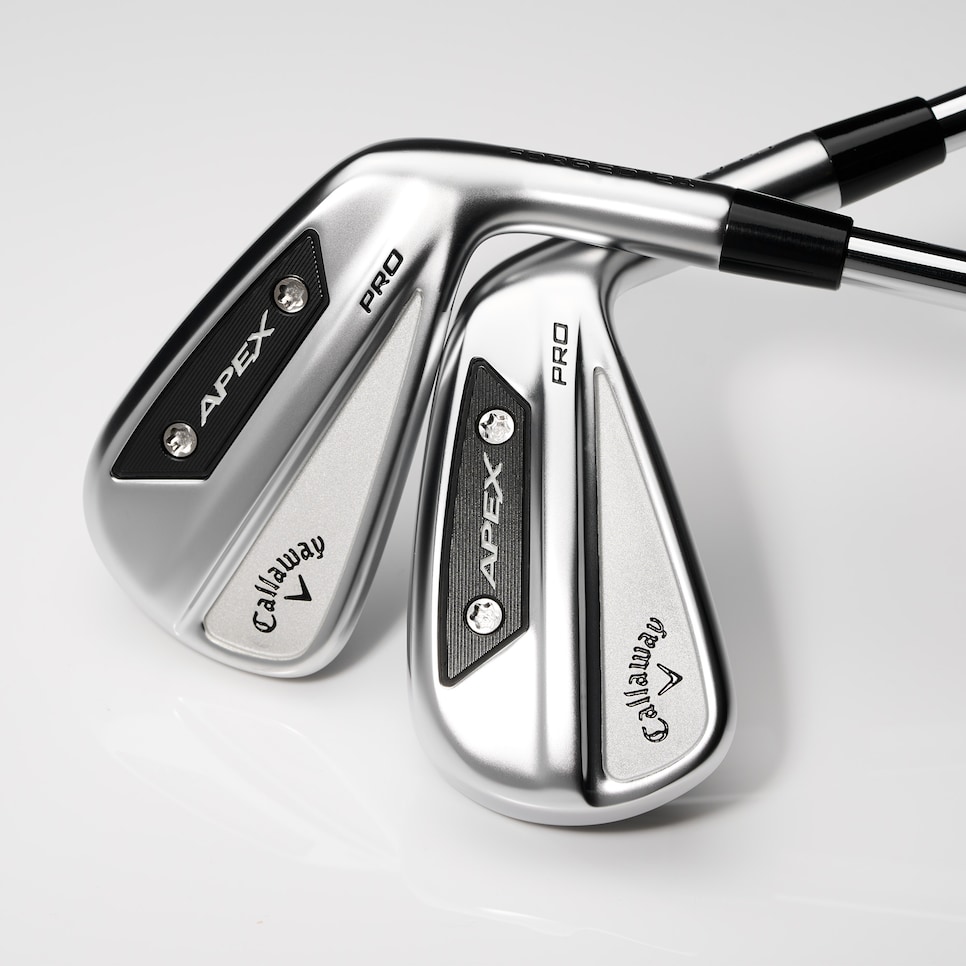 By contrast, the Apex Pro's hollow construction provides just the right amount of help for those better players who need a little more distance, height or forgiveness, but only just a little. The key to the design is the thinner, more flexible 455 face (a wraparound cup face, actually) on the 3- through 5-iron, to provide more ball speed potential and higher launch to enhance distance. The remaining irons in the set feature a 1025 forged carbon steel face insert, designed for consistency.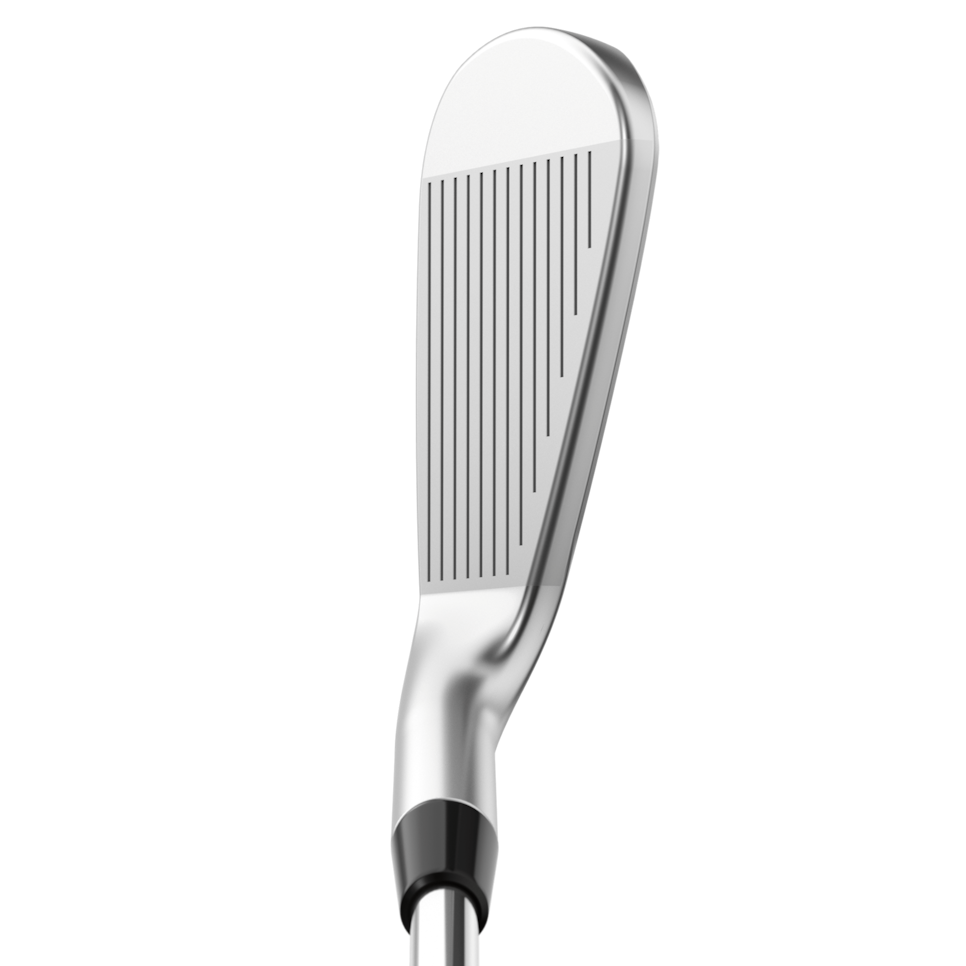 Said Williams, "The most significant thing we've done is looked at the priorities on this club, and really changing our approach from just chasing pure distance to really targeting where we wanted our distance versus where we wanted our precision. You're going to see high launch and distance in our long irons, but you're going to see a difference in our short irons. We've really prioritised that precision, accuracy, and repeatability in the construction of that golf club."
That hollow construction, which includes a forged 1025 carbon steel body as well, uses the company's proven urethane microspheres within the body of the long irons to control vibration and enhance feel, while still allowing that cup face to flex for more distance.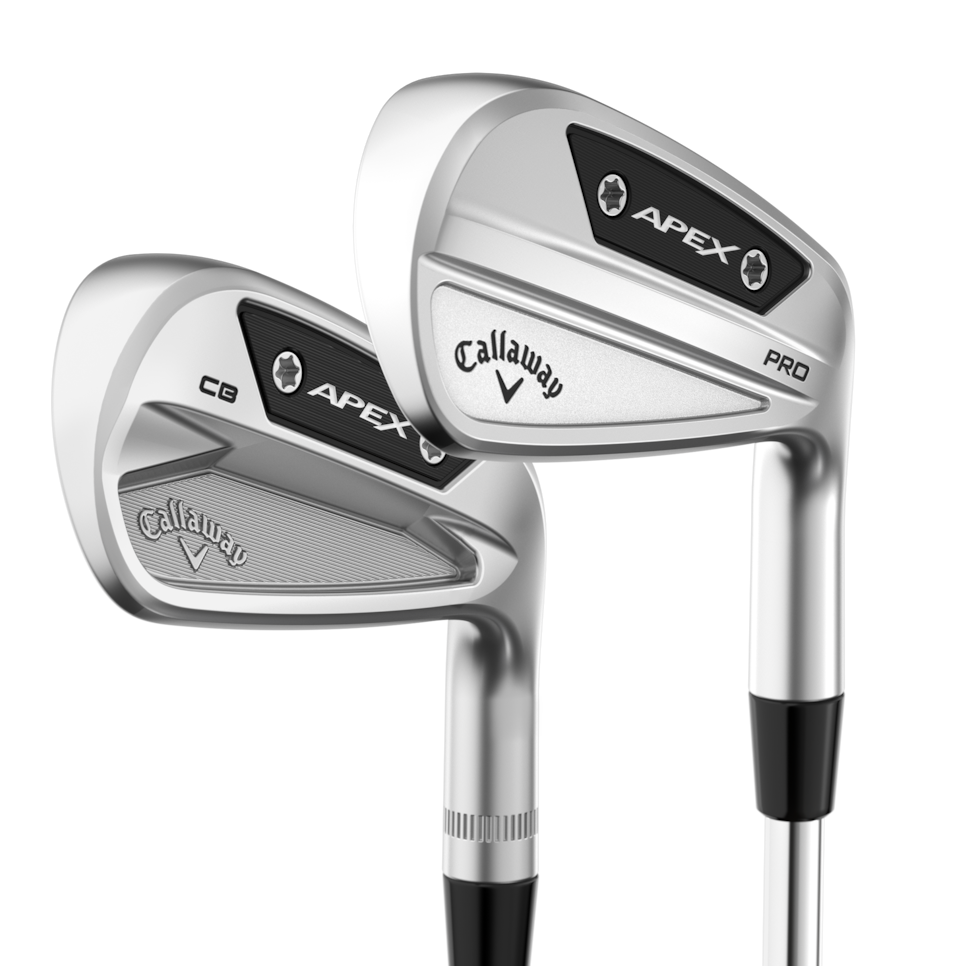 Still not sure you want to commit to the most forgiving players irons in the family? The consistent weighting on these three irons allows almost any iron to be swapped out with any other iron in the series.
A player can combine two or even three different models within the same set – four if you count the new Apex UT utility iron. One typical option that the company is calling "The Player" is 3- through 7-iron in the Apex Pro and 8- through 11-iron in the Apex CB. (Note: the 10-iron is the 46-degree pitching wedge and the 11-iron is the 50-degree gap wedge.)