Perhaps predictably, certainly unluckily and surely understandably, any first mention of David Drysdale tends to include the fact that the Scot has never finished first in any of the 574 tournaments he has played so far on the DP World Tour.
Only 22 men have teed it up more often, all having pulled out a victory, with just four of those having not played in at least one Ryder Cup. At least in terms of longevity and stamina, Drysdale deserves something more regal than the "journeyman" tag he epitomises for so many.
There have been close calls along the way, of course. It would be wrong to say that Drysdale was not capable of winning on tour. Four second-place finishes, three thirds and 29 top-10s dot the 47-year-old's record, en route to more than €6 million in earnings.
But no victories, a fact that is a matter of extra regret now that Drysdale, after 27 years as a professional, has lost his exempt status on the Old World circuit. A lowly 158th on the DP World Tour rankings this season, Drysdale failed by four strokes to progress through the second stage of the three-step Qualifying School last week. Given his age apart from anything else, it all adds up to the possible end of an era.
As an example of perseverance and, on more than one occasion, brinksmanship in the face of both success and failure, Drysdale's career is one that should be admired. More than once he has been extremely unlucky not to pick up what would have been the most popular victory on what was for most of his professional life the European Tour.
More than once he has missed retaining his card by one agonising spot on the money list. More than once he has survived – just – with late, status-saving heroics.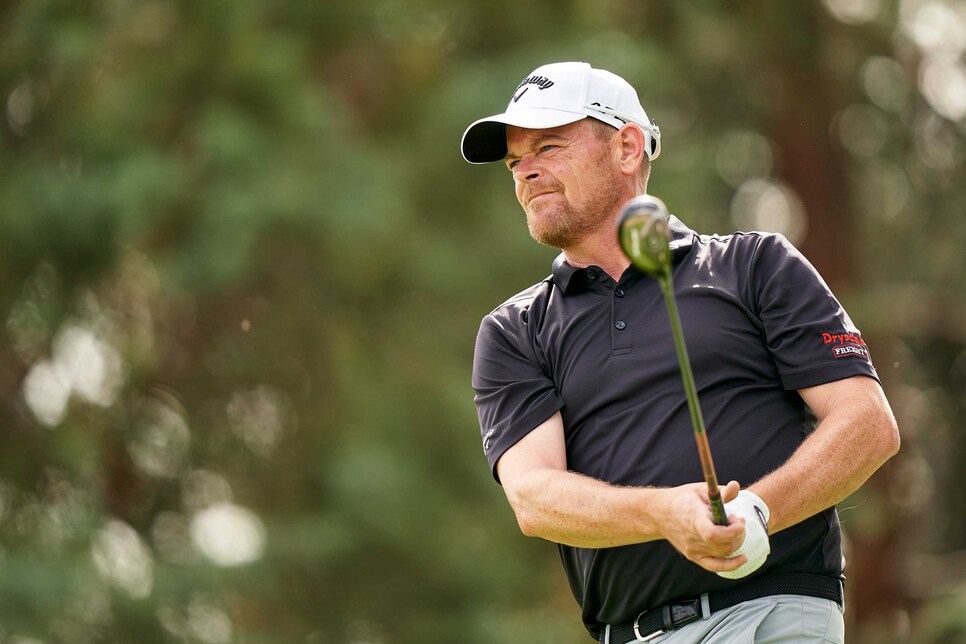 Still, for all that, a 35-foot putt he holed across the final green of the final tournament of the 2014 season to save his competitive life remains a career highlight. And for all that his pulling up in the 121st and final exempt place on the 2021 rankings repeated the closeness of that call, it is to the 2020 Qatar Masters that we must turn to see just how cruel a game golf can be.
The record book will show Spain's Jorge Campillo won the last event before a COVID-induced four-month shutdown at the fifth hole of a sudden-death playoff with Drysdale. But that bald fact only hints at how unfortunate the runner-up was that day. Here is how it went:
After lipping-out from 15-feet for victory on the 72nd green, Drysdale split the fairway (as he would do four more times) on the Education City Golf Club's 510-yard par-4 18th. He then hit his 6-iron approach to 10 feet. Campillo drove into sand and did well to reach the green with his second shot.
Campillo then holed for birdie and Drysdale followed him in.
One hole later, Drysdale was three feet from the cup in 2; his opponent was 25 feet away.
Campillo then holed for birdie and Drysdale followed him in.
On the third, after Drysdale made a safe par, Campillo holed from eight feet to stay alive.
The fourth was uneventful; both men two-putted for par.
And on the fifth, Campillo holed from 35 feet for birdie, before Drysdale missed from 20 feet.
"Fair play to Jorge," says Drysdale now, the pain not quite absent from his voice as he revisited that moment in a conversation last week.
"He wasn't swinging well and hit the ball all over the course. But all of those putts went right in the middle of the hole, perfect pace, which is quite incredible, when you know you have to do it. I'd be lying if I don't look back and feel disappointed though. Had I won, I would have been exempt to the end of 2023."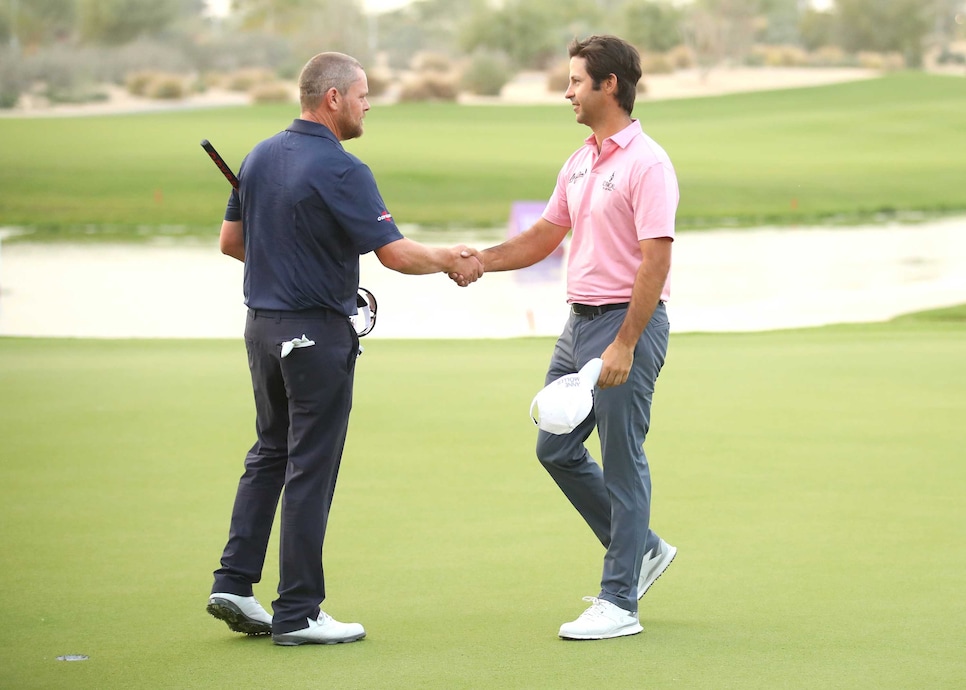 That would have taken Drysdale to the brink of his 49th birthday and the near completion of a plan that would have seen him depart the DP World Tour on his own terms.
"I had always planned to play until I was 50 then take up an all-time money exemption on the Legends Tour," he says. "And I still want to give the Champions Tour qualifying school a go at this time in 2024. But all of that is dependent on what I do for the next two years. All of this has come along a little early for me. But I have no one to blame but myself."
Well, yes and no. While Drysdale is quick to admit that his putting has never been the best part of his game and so contributed to his inability to win, his strength has largely been overtaken by advances in technology.
For more than a decade, the former assistant professional at his home club of Dunbar in East Lothian has averaged between 280 and 290 yards off the tee. Every year since 2011 he has ranked inside the top 25 in driving accuracy; five times he has been inside the top 10. This year, however, his 285.63-yard average ranked only 162nd on tour in distance.
At least for Drysdale, those sorts of statistics are nothing new. At age 17, he got an early taste of what it is like to be out-driven by a substantial margin. Acting as a marker, he played alongside then PGA champion John Daly in the final round of the 1992 Open Championship at Muirfield.
"It was the most nervous I've ever been my entire career," recalls Drysdale. "I played with [former US Senior Open and PGA champion] Roger Chapman on the Saturday. Then Daly on the Sunday, first game out. I'd never seen anyone hit a ball like he did that day.
With the old equipment and ball, it was mind-boggling how far he hit it. He drove the second hole. And he had 9-iron to the fifth, the par 5. I was driving well and was nowhere near him. He was just different at that time."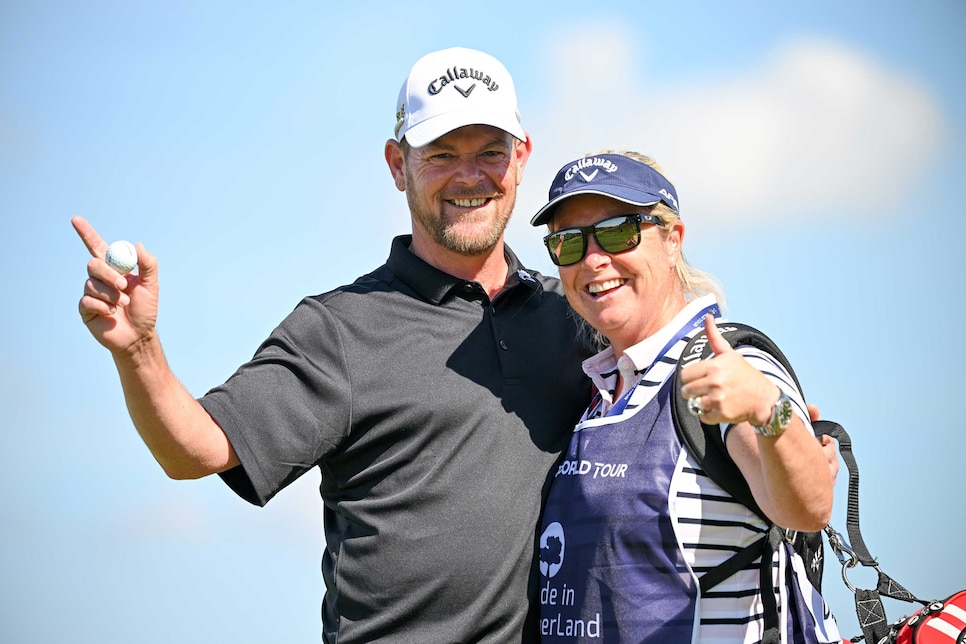 More recently, the point that the more things change (and age), the more they tend to stay the same was underlined. But not in a good way.
"I've only felt short since 2017," says Drysdale, whose wife, Vicky, doubles as his caddie. "My driving accuracy is great but there isn't much benefit from that. The courses we have played the last couple of years have made the tour a lot different from what it was pre-COVID. Not in terms of difficulty. Hitting the fairway has never meant less than it has post-COVID. It's just bomb it as far as you can these days, which is not an excuse for my poor play. It's the same for everyone every Thursday morning.
"Now I struggle to keep up," he continues. "I'm as long now as I've ever been. But I'm getting shorter relative to my competition. Long-hitters used to stand out. Now they don't. All the young kids coming out now hit the ball ridiculous distances. I played in Madrid [at the Open de España] last month. The sixth hole there had a stream across the fairway at 290. Been going there since 2002, and I've never seen anyone fly that. Everyone hits a hybrid off the tee and a 6-iron to the green. But this year I played with Henni Du Plessis and Yannik Paul. They both hit driver and had wedges to the green. I can't compete with that over four days."
Indeed, that was certainly true in 2022, a season that ironically ended with Drysdale's best finish, a tie for eighth in the Portugal Masters. Ever on the edge, had he shot one-stroke lower he would this week be playing in that final stage of the DP World Q School.
"I'm actually feeling fine," Drysdale claims. "You never think it is going to end. But it does at some point. And yes, it is all a bit raw at the moment. I've had 21 seasons on tour. Normally I'd be getting ready to go to South Africa. Then the Middle East. This will be my first winter at home for a long time. It's been a whole season of struggles though. I've had no consistency. My iron play has been poor. I've been missing greens from the fairway a lot. I'm not sure what happened really.
As his age has crept up, health has become a bigger variable. He had COVID in early June and struggled with a neck injury since. He withdrew or retired six times during the 2022 season.
"Some weeks I'm fine and other weeks I can't play," he says. "You can't compete at tour level when you're not 100 percent. But the bottom line is I just haven't played well enough."
As for the future, Drysdale has options. He is fully exempt on the second-tier Challenge Tour, even if the prospect of playing with "all those kids" has little appeal. The Asian Tour Q School in January is a possibility. And it is likely that such a long-standing tour stalwart could garner one or two invitations to DP World Tour events.
Whatever comes to pass though, David Drysdale will be trying to win. He always has.