More so than any other golf tournament, the galleries at the Ryder Cup matter. Like a partisan crowd at a tennis match, fan support—or lack thereof—at a Ryder Cup can directly impact the outcome. This is partly why "homefield" advantage is so pronounced, and partly why we love the biennial showdown so much. Fans are encouraged to be the "13th player" and they embrace that role like Leo DiCaprio in a Scorsese flick.
Despite not being a traditional "golf country," the early returns in Italy suggest we'll see more of the same this year, starting with these two heroes dressed in full Roman gladiator regalia … for Tuesday's practice rounds.
1st tee vibes 💙#TeamEurope pic.twitter.com/zGWMdMgSJf

— Ryder Cup Europe (@RyderCupEurope) September 26, 2023
Let's punch in on that, shall we?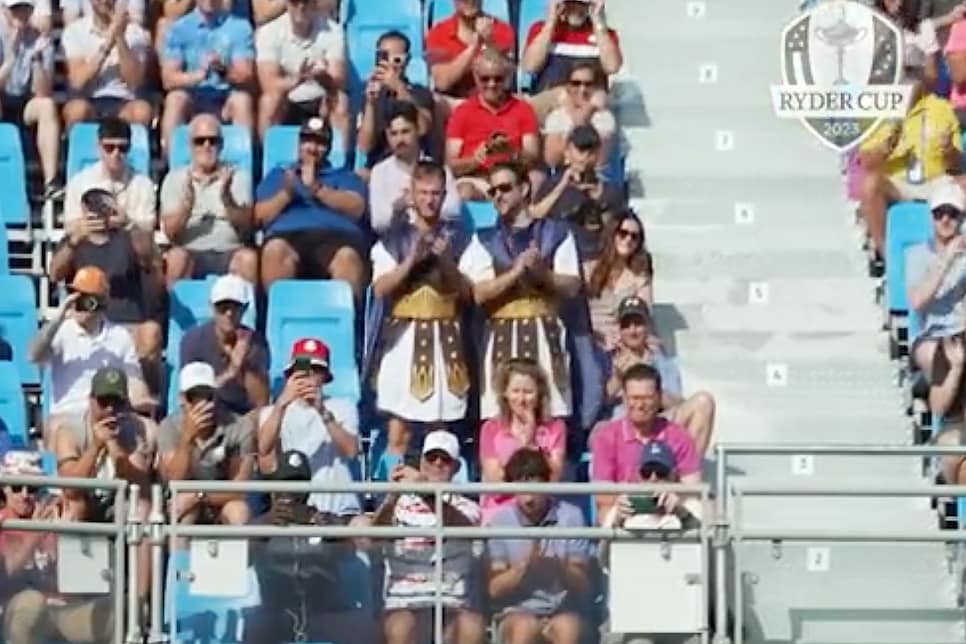 Prayers up for the stars n' stripes. If Team Europe fans are flocking in from all over the continent dressed like peak Russell Crowe on Tuesday, just imagine where the vibes we'll be at come Saturday's afternoon session. The coliseum may be crumbling, but from the looks of things, the battle has just begun.
This article was originally published on golfdigest.com