Casual fans asked. Diehard fans asked. Punters (extra-diehard fans) asked. Even PGA Tour players asked. And they listened. The PGA Tour app and PGATour.com have been entirely redone ahead of 2023, with both set to unveil new and improved versions in the coming weeks.
This news is sure to be well-received by golf fans who have struggled with loading speeds, incorrect scores, lack of video and imagery, and other issues on the PGA Tour app and website. Not surprisingly, those issues and concerns have been voiced – loudly – on social media over the years.
Those criticisms were not only heard but accounted for in the updates. Eric Hanson, PGA Tour VP of Digital Product Development, led the initiative from the start, spending much of his time doing fan and user research as well as talking to tour players who also frequent the app.
As big a deal as the website redesign is, the app overhaul will be of greater interest to younger golf fans who consume everything via mobile devices that fits in their pocket. Both iOS and Android users can manually update the PGA Tour app as of Tuesday, although those who have "auto updates" on won't see anything different just yet.
The relaunch is a limited release, also known as a slow rollout, beginning with one percent of the users and then five, 10, 20 percent and so on. This will allow the tour to get instant feedback on how the app is performing and will allow developers to respond to any issues or bugs that may arise. By the end of this week's RSM Classic, it will be available to everyone.
What can fans expect from the new app? For starters, according to Hanson, faster loading speeds, particularly for the leaderboard, which will be more user-friendly and will have a cleaner look. As soon as the ball goes in the hole, the app will update your favourite player's score, and you'll be able to quickly go into their scorecard to see shot trails and stats. This will be of particular intrigue to actual players.
"We didn't realise how many players come into our app and get their stats from their round," Hanson said.
"One of the things they wanted to be able to do was parse it by round. They'll be able to do that and see how they're playing overall with all of these filters we built inside the app to allow both fans and players to go through all these different stats and really dive deep into them."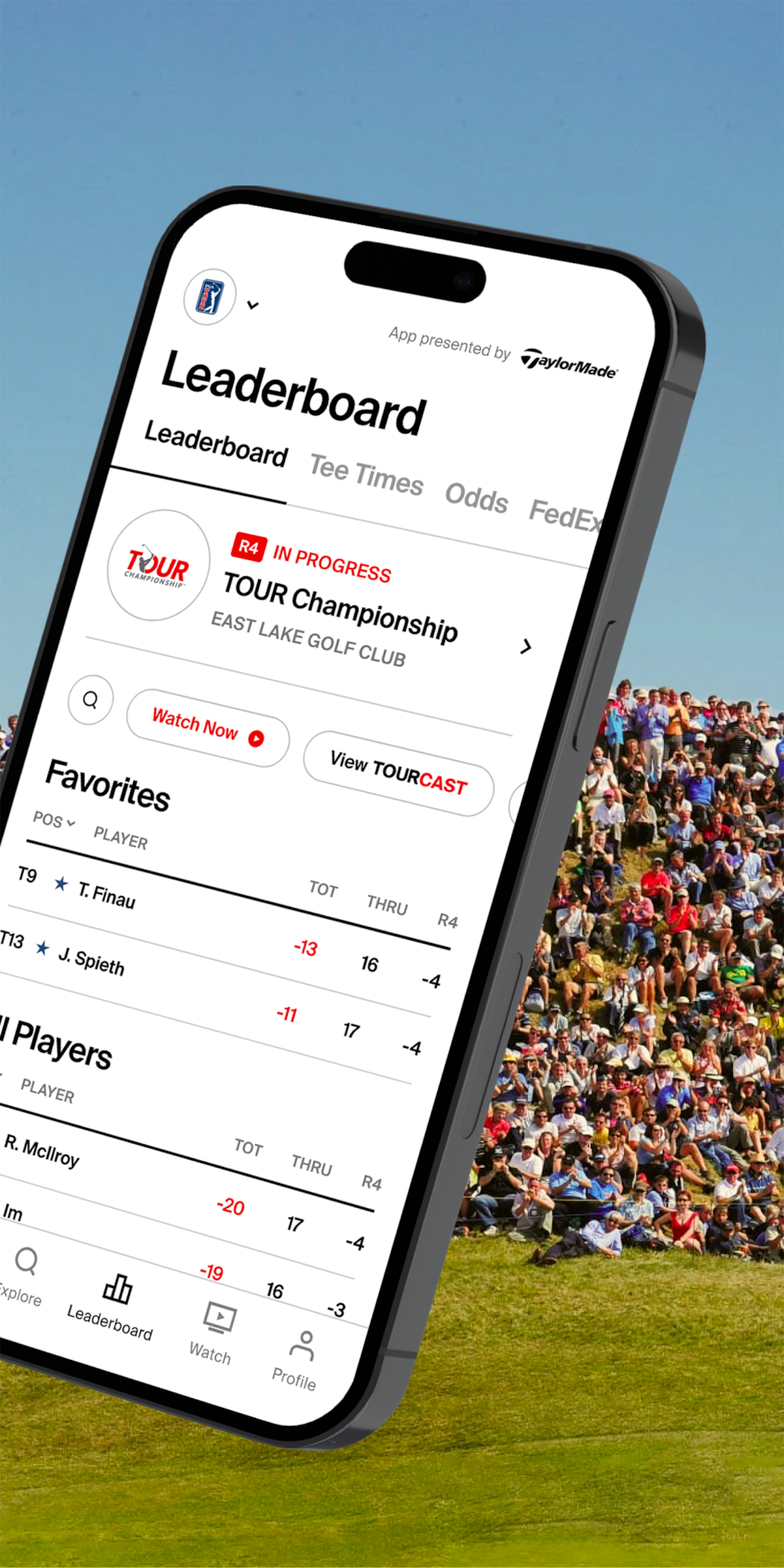 Adding more visual stories and course imagery was also prioritised. The first thing fans will see when they open the new app is highlights from whichever round of a particular tournament is going on, and they'll be able to relive a player's full round via a clickthrough visual story like on Instagram.
A photo of each hole at a particular week's host venue will be available on the app, and next year the photo will be replaced by drone flyover videos.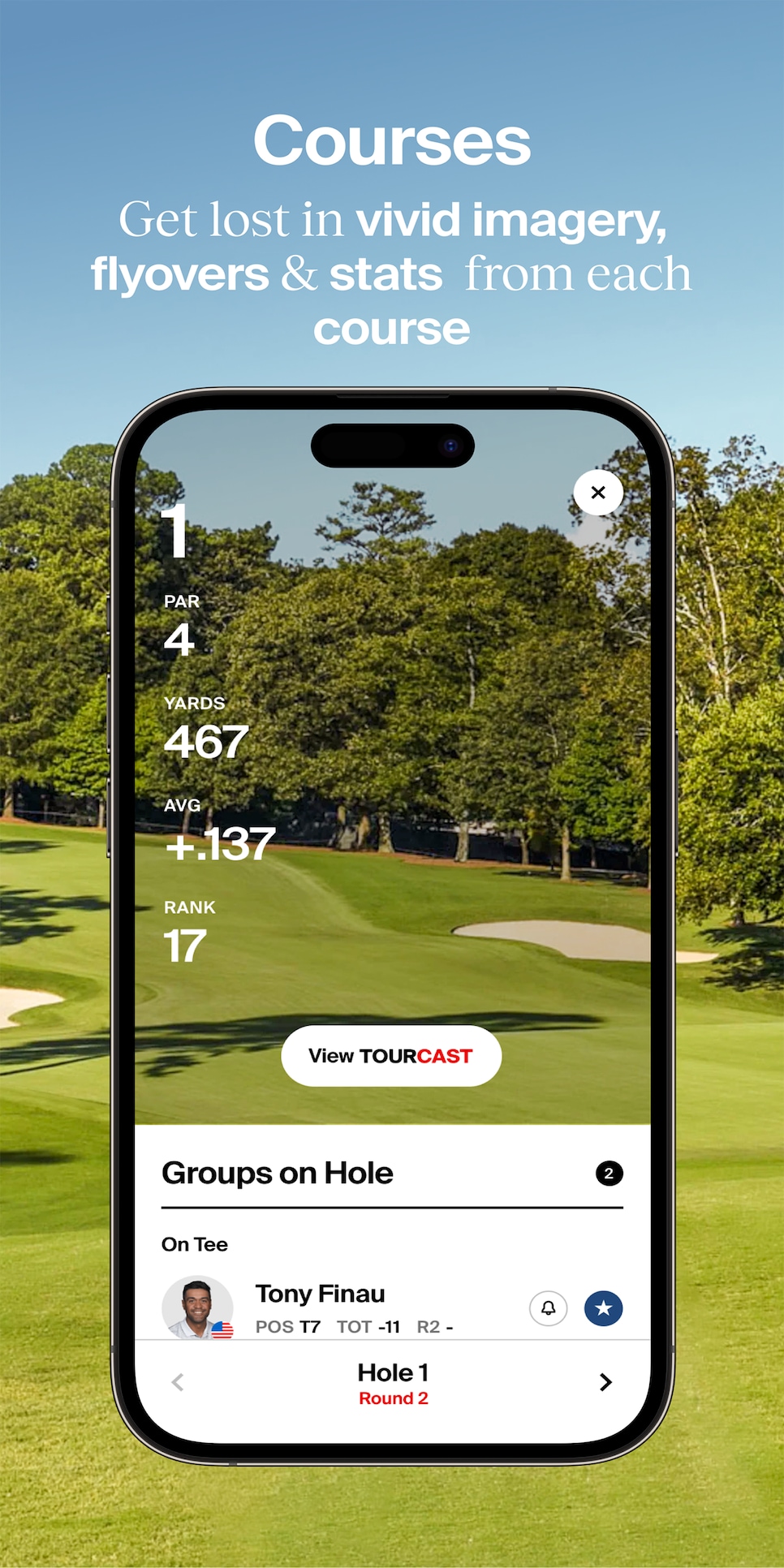 Fans, gamblers specifically, will be thrilled to find out they can now follow just one player or an entire group more closely than ever.
Those who fancy themselves "three-ball" or "matchup" sharps can now lock in on one twosome or threesome and see the stats behind each shot the moment after they are struck. In order to follow three players at once previously, you had to favourite each one and open their scorecard separately.
In the new app, you can open up the scorecard for an entire group and see how they stack up against each other shot-by-shot.
Player profiles are getting a new look, too, with the profile prominently featuring the player – so much so that a number of pros have already asked to reshoot their photos because they are much larger. More importantly, though, fans and players alike will be able to go in and quickly find past results, career-best FedEx Cup ranking, lowest-career round, last win and much more.
A number of players have been given a chance to touch and feel the new technology, and Hanson says it already has the Max Homa seal of approval.
Instagram and Apple News heavily influenced the PGA Tour's new app, along with the NBA app, which Scott Gutterman, PGA Tour SVP Digital Operations, says is the guiding point of what a sports app can and should be.
"We're pretty excited to get to the point where after the New Year, we'll be auto-generating player summaries and video for players that you've favourited," Gutterman said.
"So if you've favourited Tony Finau, you'd be getting his outstanding first round in Houston – you'd get a 'story' version of his round automatically. We'll be able to do that for every player. For us, it's a combination of what we've seen going on in media, what we've seen going on in sports, and what are the other technologies that we know are emerging that we can leverage to help us create content for every one of our players."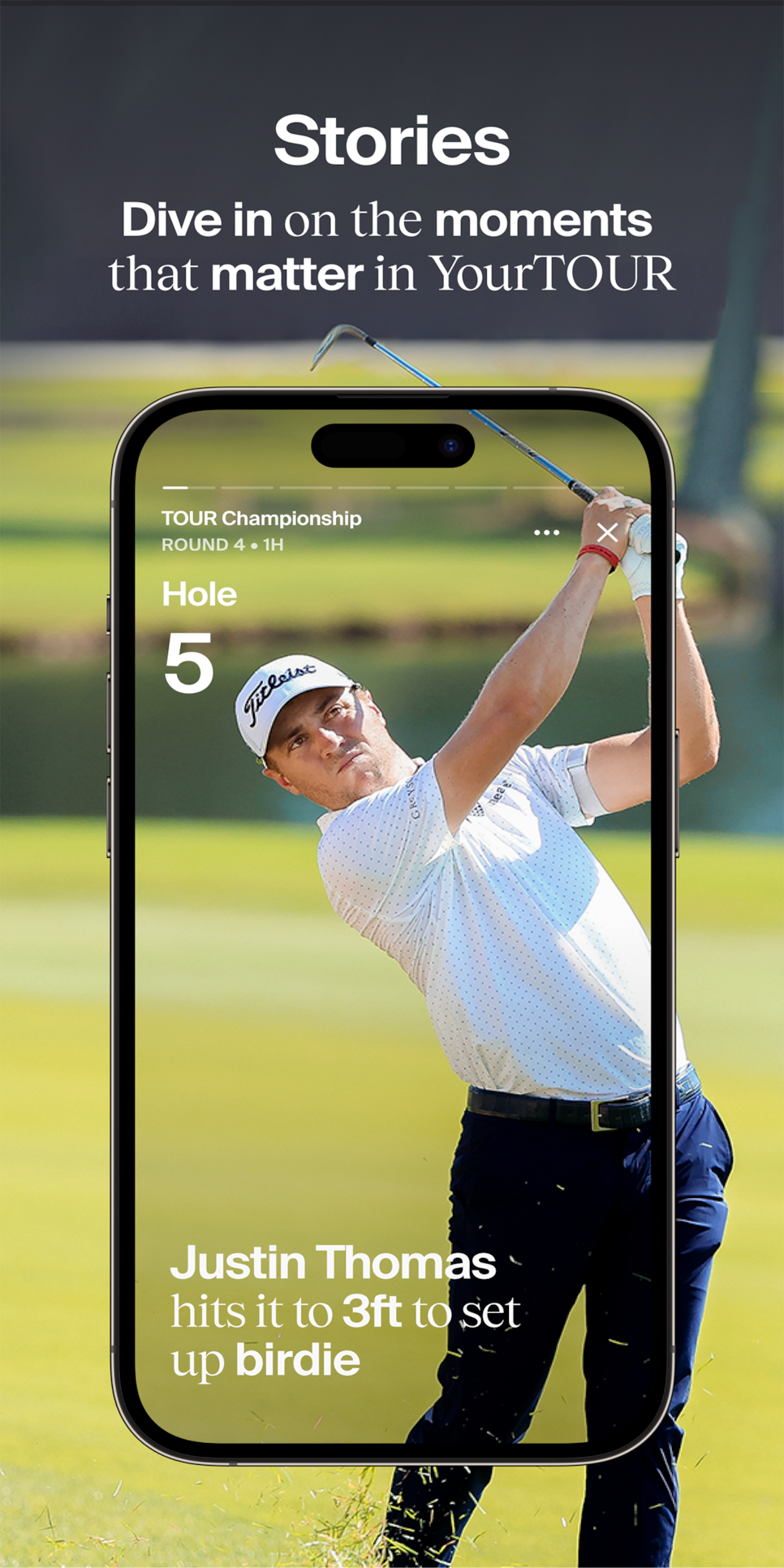 The way the app launches when you first open it is, according to Hanson, "the thing we've all gravitated toward."
Hanson has spent days and nights on this new version of the app and believes that's what people will love most. The other feature, at least from listening to the fans over the years, is how much faster it will be.
"You don't need to reinvent the leaderboard and scorecards," Hanson says. "You just need to make them accurate and faster, and that's what we've tried to do here. Really focus on the bread and butter of what we do and make it work better and make it more repeatable."
Back to the punters – next year, Hanson says fans will be able to follow on a "horizontal leaderboard" (rotate your phone sideways) specifically designed for those following from a betting or daily fantasy perspective. This will include a real-time strokes-gained leaderboard, a live play-by-play leaderboard and the ability to see where every player is on the course at a specific time.
Most importantly, the team behind the redesign is prepared to quickly respond with enhancements to both the app and website on demand. When Golf Twitter inevitably explodes over the first misstep, the issue will be resolved much faster than it would have in the past.
"There's nothing people say on social media or a podcast that we don't hear, to be honest with you," Hanson says.
In the coming weeks and months, things will absolutely be said on social media and podcasts about the new version of the app, and Hanson and Co. will be able to listen to all of them and react accordingly.
Speed and ease-of-use will remain paramount, and it sounds like the app will be great improved in each of those departments. So far, so good.