Even Dustin Johnson was laying up. That's the takeaway from 2018 Masters champion Patrick Reed after seeing Augusta National and its new, lengthening par-5 13th during a two-day reconnaissance trip to the famed course with his fellow green jacket winner and Harold Varner III last week.
At last year's Masters, the iconic 13th measured 510 yards from the tips. But this year, it will max out at 545 yards according to the 2023 Masters media guide Augusta National. The hole is now 60 yards longer than when Tiger Woods won his first Masters in 1997.
"D.J. laid up both days," Reed said Wednesday at Orange County National, ahead of this week's LIV Golf Orlando tournament. "I laid up [once]. Tournament time I would have laid up, but since we're out there seeing it, I of course went [full] send."
Several players who have visited Augusta National in recent weeks have noted the tee shot at the dogleg left hole is now easier in that they no longer have to draw it around the treeline to set up their approach shot. It will demand, however, driver given the added length for anyone thinking about reaching in two.
Reed said he had hybrid into the green both practice rounds, when he'd normally have a 4-iron or less.
"It was good," Reed said of No. 13. "On 13, there's going to be a lot more laying up. … I went in there with hybrid for two days off a flat lie, and if the greens firm up at all and get to tournament speed, with the ball that far above your feet, that hybrid isn't coming in that high. Adding that extra length, you can't cut as much of that corner [with your drive]. You can't get far enough down that left side. I've always had [a decision to make] if it's a 4-iron or less, I'll send. But after that it's a lay-up."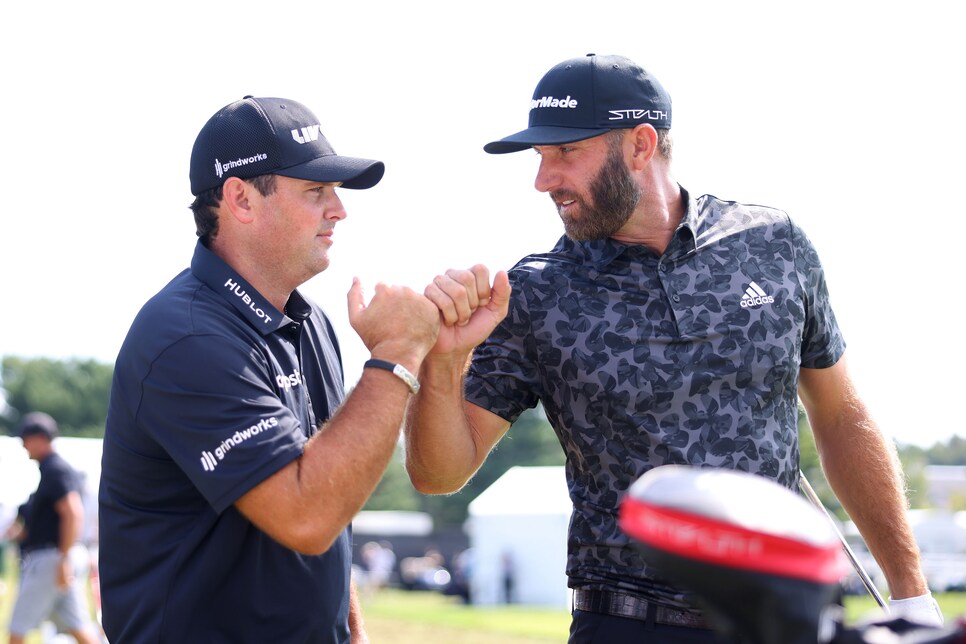 Reed and Johnson, teammates on LIV Golf's 4Aces G.C., both found themselves laying up on the lengthened par-5 13th during their two-day scounting trip at Augusta National.
Does it make the hole less exciting? Reed said he could see potential for that outcome.
"Well, I think it'll take a little bit of the excitement out of that … 13, and then 15 being 550, if it's into the wind, guys aren't going to hit 3-woods into that green because it's hard to hold that thing, and long is so dead at tournament speed. Unless you get the right wind conditions, you could just start seeing lay-ups on both of those par 5s. … It used to be you could make a 3 but you could also bring 6 and 7 into play. Now a lay-up [will likely see] 4 or a 5. I think what it's done is just put more premium on course management, shot making and wedge play."
Fellow LIV golfer Bubba Watson, the Masters winner in 2012 and 2014, said he also had long irons into No. 13.
"I thought was good," Watson said of the lengthened hole. "It looks beautiful. But I think there's going to be a lot more laying up just because the water is now into play. You think about it more. I hit two good drives and I had 231 [yards] the first day and then I had like 227 the second day, and I hit two drives, so I hit a 3-iron one day and a 4-iron."