He emerged from the tunnel second, not wanting to drown in the wave of noise he knew would follow his opponent. But Brian Harman's first-tee strategy was neutralised because he would be teeing off first, meaning he had to sit and listen as the roars for Tommy Fleetwood swallowed them whole.
Make no mistake, when Harman was introduced at Royal Liverpool Saturday he received warm, polite applause from those who engulfed the first tee, and he reciprocated with a tip of his cap and wave. But that politeness was dwarfed by the rush of love for Fleetwood and underlined an obvious yet uncomfortable truth:
Harman was 36 holes away from weekend of his life, one that could end with him capturing the claret jug, and he had to play in front of fans who didn't want to see him do it.
Open Championship 2023: Jason Day stalls on day three as Brian Harman runs away
The Open crowd might be the best crowd in golf. It has the knowledge of the game infused with a spirit not unsimilar to the energy seen at football matches. They are more in-tune with what they're seeing; a proper shot will elicit hearty cheers, and when a player is going south the crowd does its best to shower him with encouragement to get him back up.
There are fewer knuckleheads and non-golf fans here, curbing the empty-headed "MASHED POTATOES" and "LIGHT THE CANDLE" cries that can be the bane of US-based galleries, and the corporate suites and tents are secondary to the common fan. They are everything a big-time sporting event crowd should be.
But every crowd has its rooting interests and every fan base leans towards one of its own. Those interests have combined in Hoylake in the form of Fleetwood, who grew up 50 kilometres away in Southport. Fleetwood's caddie is also a local boy, Ian Finnis, his home club of West Lancs just a half hour up the road. That Fleetwood and Finnis are two of the most likable lads in professional golf doesn't hurt their standing with those outside the ropes. Any player save for Rory McIlroy would be playing for second against those two.
And then there's Harman. He's too successful to qualify as a journeyman, but is nowhere near stardom, occupying a realm where he's known by fans but doesn't necessarily have fans. Golf tends to fall in love with up-and-comers, not necessarily for who they are but for what they might become, or it gravitates towards the other end of the age spectrum, those players whose best is behind them yet continue to chase what they once were.
Harman? At 36, he's too old to be young and too young to be old. He's a sharp, insightful guy, yet he's also quiet and not particularly a magnetic personality. In an era when players are increasingly taking to social media or participating in docuseries to heighten their brand, Harman goes about his work without much fuss. In short, unless you're in the family or a Georgia Bulldog backer, it's unlikely you're pulling for Brian Harman.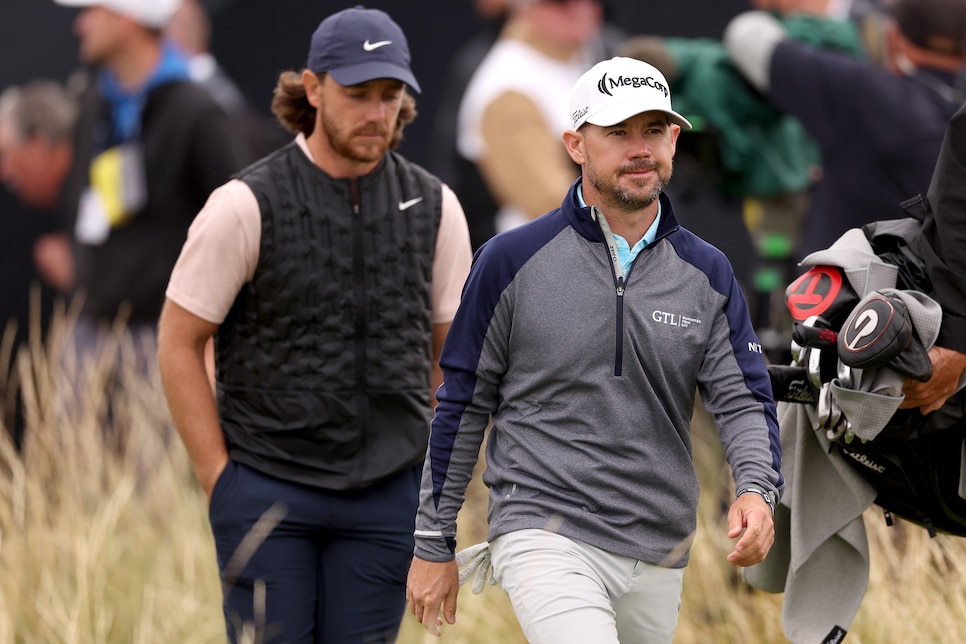 Those two divergent ideologies – advocacy for Fleetwood, ambivalence for Harman – created an odd dynamic Saturday afternoon for the final group. Their play was paired with a soundtrack, each song's lyrics variations of the same verse:
"TOMMY-LAD!"
"Let's go, Tommy!"
"C'mon Tommy!"
"TOMMMMMMMMYYYY"
For five hours, that's what Harman heard. The volume oscillated, quieting before a shot was hit or a putt was lined up, but the music was never turned off. Every march towards the green was treated like Fleetwood was walking up the 18th on Sunday with a five-shot lead, and those in the bleachers stomped their feet in unison on the metal bleachers to punctuate their collective voice.
It was the type of noise not usually heard at golf tournaments. It was the type of noise militaries use when they're trying to smoke out their enemy. It was the type of noise that breaks most souls.
For a brief hour Saturday, that appeared to be Harman. He bogeyed the first and Fleetwood birdied the second to cut a five-shot lead to three, and another bogey by Harman at the fourth signalled to a crowd what they were trying to wish into existence was coming true. They could smell it, turning the volume up on the cheers to 10.
"C'MON TOMMY!"
"TOMMY LAD, RIGHT THERE!"
"TOMMY!"
"It would have been really easy to let the wheels start spinning and really kind of let it get out of control," Harman said about the shaky start. "But I just kind of doubled down on my routine and knew I was hitting it well, even though I hadn't hit any good shots yet. Staying patient out there is paramount. Sometimes it's a lot harder than others."
Just as he began to wobble, Harman straightened himself with a birdie at the par-5 fifth to push the lead back to three. He remained steady as the crowd grew, with those who were following McIlroy up ahead falling back as the Ulsterman did the same on the leaderboard. The shouts and cheers increased, any threats of silence pierced with yells from the distance, fans letting Fleetwood know they were here to carry him and carry him the distance.
"We're here for ya, Tommy!"
"Tommy, Tommy Tommy, Tommy Tommy, Tommy TOM-MY FLEETWOOD!"
"Do it for England, Tommy!"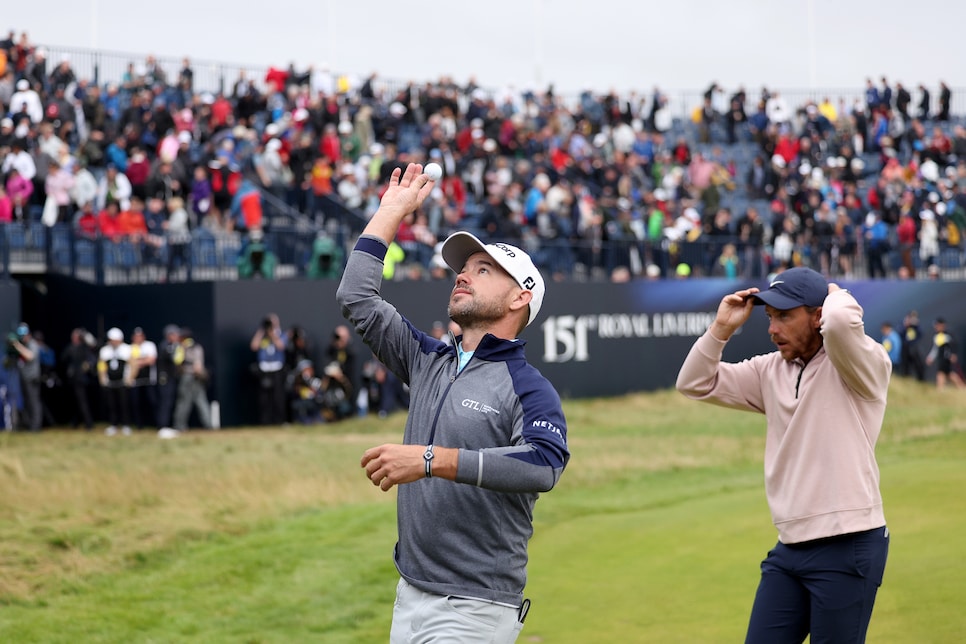 As the crowd grew it became somewhat less hospitable to Harman. No, he was not booed, but when Harman missed a putt or pulled a shot the "TOMMMMYYY" cheers began to ring a tad too soon. Perhaps the most notable incidents were at the ninth and 12th, each of which Harman birdied and each birdie earning a muted response. Both times, after retrieving his ball from the cup, Harman titled his head towards the crowd and frowned, a mix of disbelief and indignation at what he was – or should we say, wasn't – hearing.
In a sense you couldn't blame the fans; their guy, Fleetwood, could not make a charge, and while they wanted Harman to crumble, he continued to answer in cold-blooded fashion. When he'd execute a scramble, the crowd would respond in a distinctive "Ewwwwaaahhhh," a sound that can only be classified as begrudging respect. Yes, the crowds continue to be muted towards Harman, mostly because he had sucked the life out of them.
Even on the final hole, when it looked like a poor drive and pulled third could lead to bogey or worse, Harman executed a deft up-and-down to save par, and when the ball disappeared the crowd clapped because Harman's relentlessness made them do it.
Open Championship 2023: Play briefly suspended day three because of … a toad?!
After his round Harman acknowledged with a grin that it was "nice to see so many fervour-ish fans for Mr Tommy."
"I knew he was from around here, so I'm not saying I was totally prepared for it, but I knew that he would have a lot of support," Harman said after a two-under 69 bequeathed a five-shot lead. He later elaborated that it was a battle with the crowd, noting there were some taunts in his direction. "I'd be lying if I didn't hear some things that weren't super nice today towards me," Harman said. "I hear them, but at the same time, I don't try to let that influence the decision I'm about to make."
Harman would not repeat what was said, saying only those words were "unrepeatable." It doesn't take a lot of imagination for what those words were, but they also don't matter, because Harman and his performance had the final say.