South African amateur golfer Christo Lamprecht is worried about the first tee shot at the 151st Open Championship on Thursday morning. The first tee shot, though, should be worried about Christo Lamprecht. Standing at 6-foot-8, the Georgia Tech star crushes the golf ball unlike any of the 156 players in the field. The 22-year-old leads a six-strong amateur contingent at Royal Liverpool.
On Wednesday afternoon, the sight of Lamprecht pounding balls into Liverpool's windy conditions on the range attracted the attention of Bryson DeChambeau in the hitting bay beside him. The 2020 US. Open winner marvelled at Lamprecht's average ball speed of 192 miles per hour.
"The carry is about 325 yards on a stock shot," Lamprecht said. "But if it doesn't go straight, it's not an advantage. The game of golf is not about how far you hit it. It's how many shots you take to get in the hole. I'm not going to get caught up in that, I'm going to play my game tomorrow; [maybe] even purposely not go after a couple of drives."
Lamprecht's fellow South African, DP World Tour pro James Hart du Preez, is 6-foot-9, but has never played the Open. That means Lamprecht likely will become the tallest golfer to have ever played the tournament.
The two-time All-American secured his major championship debut by winning the British Amateur Championship at Hillside earlier this month. Given Hillside is a seaside links an hour north of Royal Liverpool, Lamprecht is feeling good about playing the ground game.
"I still feel fresh off [the Amateur] playing links golf and I'm going to feed off that," he said. "It was a goal of mine this year as an amateur to get into any of the majors and now I'm in three [the Amateur champion gets starts in the Masters, US Open and British Open]. I'm very pleased and just taking it all in."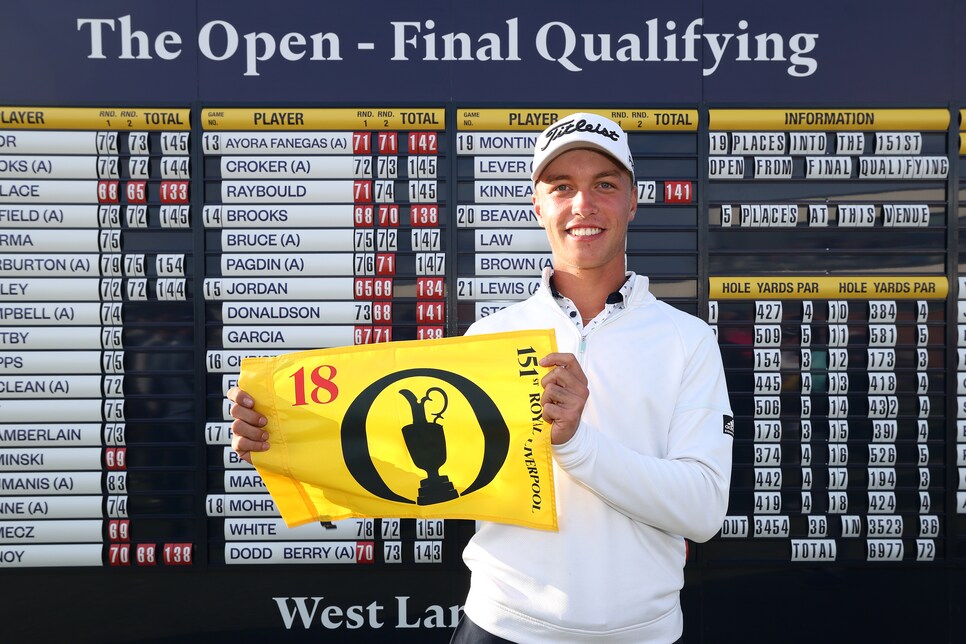 Tiger Christensen poses with his pin flag after emerging from an Open Championship qualifier. Jan Kruger/R&A
The 22-year-old hails from a town called George, three hours from Cape Town on the east coast of South Africa. "I grew up in the wind, so hitting the low-teed driver has always been my fairway finder. It's something I'll be using this week into the wind," he said.
Also comfortable in the wind is Ireland's Alex Maguire, who grew up playing links golf at Laytown and Bettystown Club just across the Irish Sea from Liverpool. He secured his spot in this year's final major by winning the new Open Amateur Series. "To play the best golf I've ever played in the events that were counting towards the Series is so, so special," Maguire told theopen.com. "To play in this major out of all of them is so surreal; seeing Jordan Spieth and Justin Thomas walk by is crazy. I'm excited to see where my game stands up against the best in the world."
Also among the amateurs is Tiger Christensen, a German native who plays college golf at the University of Arizona and made it through 36-hole final qualifying. Christensen was asked about his namesake Tiger Woods, who won the 2006 Open at Hoylake, but is not in the field this week. "I would love to see the 'old' Tiger in the field but to get one Tiger in the field is pretty cool," Christensen said. "It's pretty special to be here. It's just sinking in."
Rounding out the contingent is European Amateur champion Jose Luis Ballester, of Spain, Asia Pacific amateur winner Harrison Crowe, of Australia, and Latin America Amateur champ Mateo Fernandez de Oliveira of Argentina. All six will compete for the silver medal for low amateur at the Open. But Lamprecht has not set any goals.
"Putting a target of top 20 or making the cut I think is defeating the purpose of why I'm here [to learn]," he said. "I'm worried about that first tee shot [Thursday] morning. That's on my mind."
With a fairway finder that carries over 300 yards, he needn't worry about the first tee shot.