When it comes to the incessant best-in-the-world conversation, a handful of worthy gents have played a lucrative game of hot potato during the past half-decade. At least as far as the world ranking goes. Jason Day enjoyed an ephemeral view from the top in early 2016, a reminder of just how long five years is in the sporting universe. Justin Thomas got his nose in there, as did Justin Rose for a quick second. Brooks Koepka had his run, which tends to happen when you win Majors in bunches. All felt right when Rory McIlroy held the spot. Dustin Johnson's ruthless consistency has been rewarded with a "world No.1" next to his name, and despite trudging through a year of lacklustre results, he remains the official top dog.
Johnson is not, however, the current best player in the world, algorithms be damned. That honour belongs to one Jon Rahm of Spain, the reigning US Open champion and the clear favourite heading into this week's Open Championship at Royal St George's.
The man is, simply put, on fire. It's been an eventful run, too. In his past three starts, Rahm has: lapped a world-class field at the Memorial, where he led by six after 54 holes before testing positive for COVID-19 and being forced to withdraw; returned to action at Torrey Pines and birdied the 17th and 18th holes to win his first Major by a single stroke; contended all week at the Scottish Open, with two misses from inside three feet on Saturday eventually keeping him out of a playoff.Every aspect of his well-rounded game is present and accounted for. That aberration at The Renaissance Club aside, he's putting the ball beautifully after switching to an Odyssey putter that does not have any lines on it. ("Honestly, any time I have lines, to me, it looks like it's aiming left," Rahm said in a TaylorMade video last year.) His sui generis swing is producing remarkably consistent golf shots – he ranks second on the PGA Tour this season in strokes gained/off the tee and seventh in strokes gained/approach. And despite having perhaps the shortest backswing in world golf, his average poke off the tee measures longer than 281 metres (307 yards).
Speaking of that short backswing. It has been suggested that tight hips are the cause of it, that the lack of flexibility prevents him from a loading up like, say, Bryson DeChambeau does. Not so. Overnight, Rahm explained – for the first time, it seems – the genesis of his unique move, and it's one that dates to the very first minutes of his life back in the Basque country."I was born with a clubfoot on my right leg, which means for anybody that's sensitive about that, my right leg up to the ankle was straight, my foot was 90 degrees turned inside and basically upside down," Rahm said. "So when I was born, they basically relocated, pretty much broke every bone in the ankle and I was casted within 20 minutes of being born from the knee down.
"I think every week I had to go back to the hospital to get re-casted. So from knee down, my leg didn't grow at the same rate. So I have very limited ankle mobility in my right leg. It's a centimetre-and-a-half shorter, as well. What I mean by limitations is I didn't take a full swing because my right ankle doesn't have the mobility or stability to take it.
"I learned at a very young age that I'm going to be more efficient at creating power and be consistent from a short swing. If I take a full to parallel, yeah, it might create more speed, but I have no stability. My ankle just can't take it."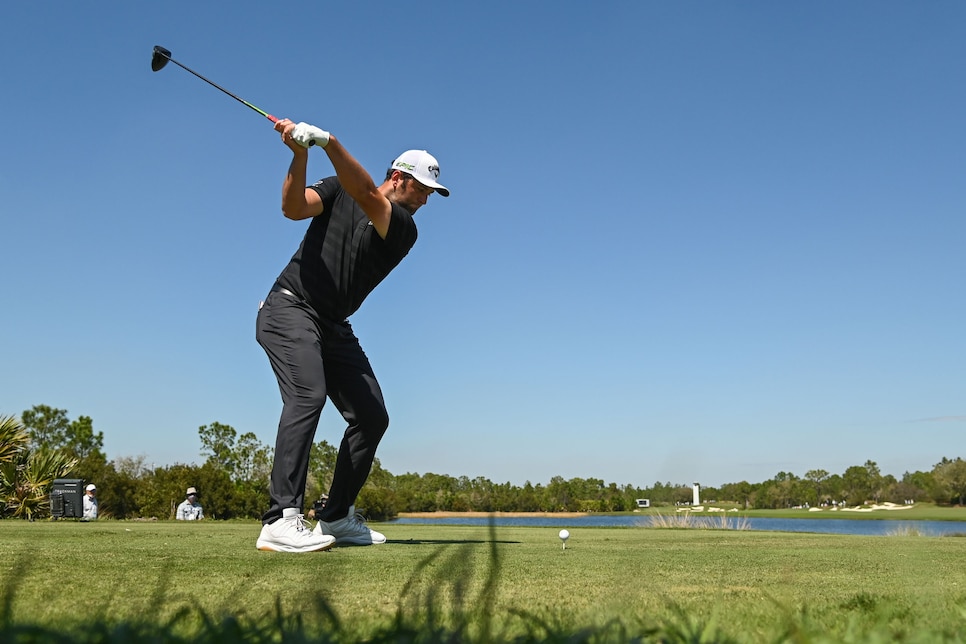 Per the Mayo clinic, clubfoot is a relatively common birth defect that describes a range of foot abnormalities present at birth. Typically, the tendons connecting the muscles to the bone are shorter than they should be. It's usually an isolated problem for an otherwise healthy newborn, and doctors are more often than not able to treat it without surgery.
Perhaps, in a convoluted way, it has been a blessing. Rahm knows what he can and cannot do, and as such, you won't see him working with a swing coach to iron out mechanics in the days or hours or minutes leading up to an event, as has become commonplace on tour. He does indeed have a coach, Dave Phillips, but he's not much of a presence during tournament weeks. Rahm subscribes to the Jack Nicklaus approach to instructors and mechanical tweaks – that the real work happens at home. Or, at least, that's how it should be.
"When you come to a tournament, it's time to perform. If you're searching for a swing during a Major championship week, it's usually a red flag. That's just the way I choose to do things.
"I haven't actively tried to change my swing in over 10 years. I have the swing I have… I think that is one of the keys to why I'm consistent. I don't change it. I play with what I have and try to improve from what I have."
What he also has is golf history at his fingertips. With the ever-elusive first Major now in his pocket, a victory this week would make Rahm the first player to win the US Open and the Open Championship in the same year since Tiger Woods accomplished the feat in 2000.
"I did have a sense of relief after winning the first Major. I felt like for the better part of five years, all I heard is Major, Major, Major just because I was playing good golf, as if it was easy to win a Major championship. But the fact that you are expected to win one means nothing, but you're playing good golf, so a bit of relief in that sense, but it doesn't really change. There's still the next one to win, so I still come with the same level of excitement obviously and willingness to win."
TOP/MAIN PHOTO: Ross Parker – SNS Group