You can tie Harris English for 79 holes. You will not get the best of him over 80.
English and Kramer Hickok battled, battled and battled like mad men for the better part of two hours in sudden death at the Travelers Championship. But current rules allow for just one man to be named the winner, and English made sure that name was his thanks to a 16-foot birdie on the eighth playoff hole to capture the day at TPC River Highlands.
"It was incredible," a gassed English said on the 18th green. "What an experience."
Nearly three hours before, English dropped a 27-footer for birdie on the same green to get to 13-under for the week and grab the clubhouse lead. As Bubba Watson and Hickok struggled down the stretch, co-leaders starting the day and playing in the final twosome, it appeared 13-under would be enough (although our Marc Leishman was a factor for a long time after a closing 64 to reach 12-under). But Hickok – who had just two top-10s in 67 career tour starts prior to the week – answered with a birdie of his own from eight feet on the 72nd hole to force a playoff.
What followed wasn't the most aesthetically pleasing display of golf, unless your aesthetic is suffering and chaos.
English and Hickok traded pars for seven straight holes. They were two lipouts from Hickok and a 'bricked' six-footer for the win from English. There were good-but-not-great approaches, sensible lags and nervy five-foot saves. It was two hours of two guys both keeping the door open while not surrendering an inch.
"I was just trying to put as much pressure on him as possible. He was trying to do the same," Hickok said. "I put him in uncomfortable spots, he put me in some, too."
RELATED: The clubs Harris English used to win the Travelers Championship
However, gruelling as the cauldron of playoff golf can be, these are PGA Tour players; a birdie was bound to happen, especially considering the 18th served as the stage for six of the sudden-death holes (that they didn't have a closest-to-the-pin on the floating Travelers logo to decide the tournament's fate seemed like a miss). English was the one that produced the bird thanks to a solid approach and better putt, bringing the second-longest playoff in PGA Tour history to an end.
It is English's second win of the 2020-2021 'superseason' and fourth of his career, and he's putting together a viable Ryder Cup case. While a trip to Whistling Straits may be in his future, English was just happy to cross the finish line after today's marathon, and cross it as victor.
"Kind of sorry it took seven or eight holes, but we were both grinding. Kramer is a hell of a competitor," English said. "We were both fighting to the end and that's what you want."
Three other takeaways from the final round of the Travelers Championship: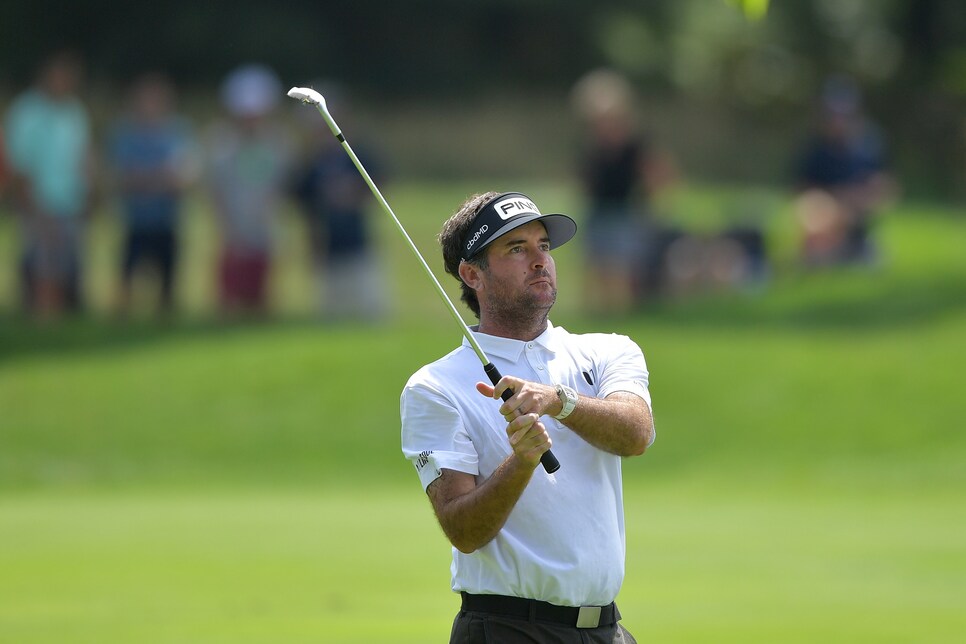 Bubba stumbles down the stretch
With five holes left Bubba Watson held a one-shot lead. Five holes later, Watson was left to wonder what had just happened.
Watson, who has won the Travelers Championship three times in his career, was denied a record-tying fourth title after playing the final five holes in six-over.
"Gosh, I mean, the close to the round, I thought I hit good shots," Watson said afterwards.
The leakage started at the 13th, when Watson hit a poor lay-up at the par 5. His third trickled up to the edge of the green and his birdie attempt did not fall, taking 5 on the third-easiest hole on the course. At the 14th, Watson's approach missed the green to the left and his putt from the fringe barely reached the green, giving Bubba a bogey. He found a pond on the driveable par-4 15th, leading to his second straight bogey. Then a third at the par-3 16th thanks to a three-putt.
Watson's tournament run officially ended at the 17th when he dumped his approach in the same pond that swallowed his drive on the 15th, leading to a double-bogey. The final damage was a three-over 73, dropping him from first to T-19 in 90 minutes.
However, Watson was able to focus on the good from the week and had a sense of humour about the bad.
"I'm glad that I was there, had the opportunity," Watson said. "You know, I would love to do it again next week, throw up on myself again. It would it be great. I want to the opportunity and the chance to win."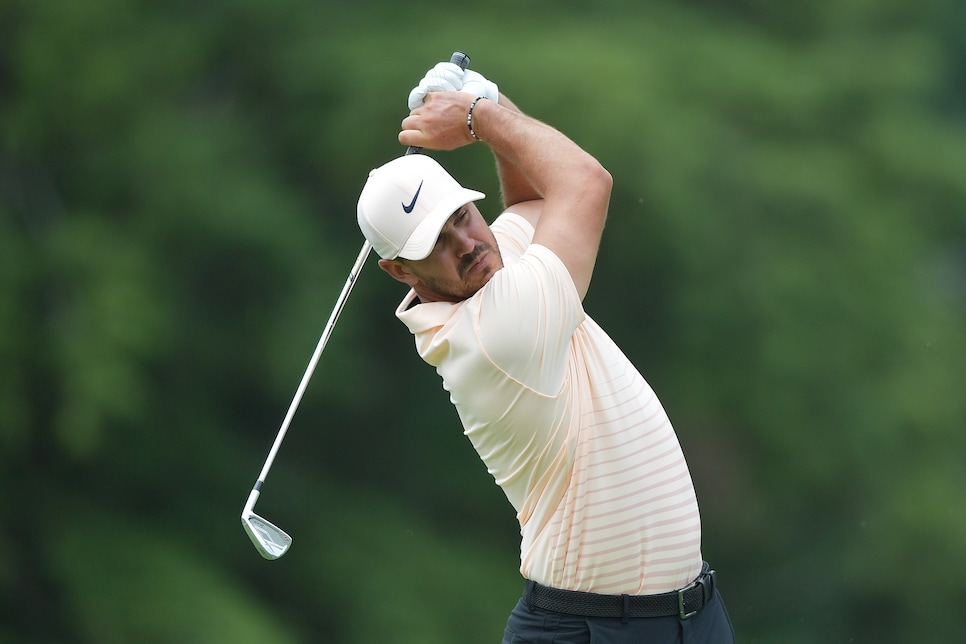 Brooks says he can't get up for non-Major events
Brooks Koepka has called the Major championships "easy", and as audacious as that claim is, his résumé backs it up. What often goes unsaid is Koepka's outlook on the tournaments outside those four weeks. Today, Koepka gave us a glimpse into that mindset.
Koepka, who contended for last week's US Open but fell just short, turned in an admirable performance at TPC River Highlands with a final-round 65 translating into a T-5 finish. But when asked if he was battling mental or physical fatigue after Torrey Pines, the four-time Major winner was blunt in his assessment.
"It's all mental. It's tough to focus like that for… I'm going to be flat-out honest," Koepka said. "A Major I get excited and I feel stuff on the first tee. I just struggle to do that in regular events.
"The focus and discipline is there in a Major where it's not here. I kind of go for everything."
To be fair Koepka has never been one to shy away from playing to a persona, and he is at the echelon where he is judged by what he does at the Majors and at the Majors only. He's also not telling us anything our eyes haven't seen: his track record at Majors is legendary; at regular events, it's really, really good… but far from great. Still, to see Koepka articulate that struggle was illuminating.
In that same breath, don't misconstrue Koepka's admission as an admission of defeat.
"Yeah, I mean, I'm not trying to finish second," Koepka said. "It's just I think the Majors are easier to win if you're disciplined. Out here I think there are a lot more guys that have the opportunity to win just the way it sets up. Instead of having like three off the side, you've got five. So you got a little more room for error, and I think that's why."
The Travelers probably marks Koepka's final competitive round before the Open Championship. He said he's going on holiday ("I'm not going to touch a club for like 10 days") before arriving in England a few days before the Open Championship, which begins on July 15.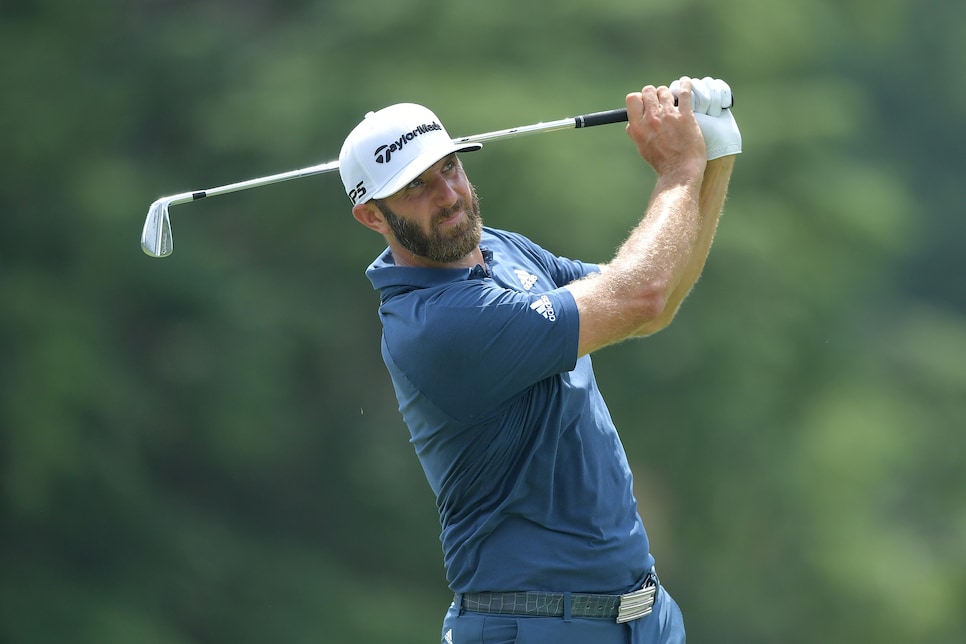 DJ's mini-slump continues
Dustin Johnson hasn't been lost in the wilderness; his Masters win technically happened in this PGA Tour season. In that same breath, the Johnson we've seen in 2021 is not the Johnson we're used to seeing. Even a 10th-place finish two weeks ago at the Palmetto Championship at Congaree was somewhat of a disappointment, as Johnson faltered on the weekend off a handful of unforced errors.
The mini-slump continued today, with Johnson's Travelers' title defence running out of petrol.
Johnson entered the day in a tie for ninth, three off the lead. Not the easiest deficit to overcome, be it strokes or the number of guys between him and the lead. Conversely, TPC River Highlands is known for facilitating runs, and few can make runs as easily as Johnson.
There was no surge today, however. Johnson made the turn in one-over, with back-to-back bogeys at the 12th and 13th putting to rest any notions of a second-nine push. Three birdies on the last five holes made the performance look better than it was, but a one-over 71 dropped Johnson 16 spots into a T-25 finish.
In fairness to Johnson, he is held to impossibly high standards. Yet the man himself admits he hasn't been the same this season.
"I feel like I'm doing a lot of things really well. It's just every time I feel like I make a mistake it's a bogey," Johnson said on Saturday. "When you're playing well, you miss a shot, you're grinding out the pars. That's just what I haven't been doing lately, or making big numbers, which I don't really do either."
As his third-round 65 proved, Johnson's not far off from a turnaround. But today was not that day.
TOP/MAIN PHOTO: Michael Reaves