What Scottie Scheffler has done of late – and, let's face it, he's done a lot in a very short time – we have witnessed before, though not often and never so quickly. It happens when a player finally wins that first PGA Tour title and just keeps winning. Floodgates don't just open, but they get busted off their hinges.
David Duval, circa 1997 comes to mind. After a frustrating breaking-in period, Duval's maiden victory at the Michelob Championship that October propelled him to wins in three straight starts, and he eventually rose to World No.1 after capturing the '99 Players Championship.
Scheffler didn't have to wait that long to become the world's top-ranked player. Granted, the ranking formula was different a quarter century ago, but let's not be a buzzkill. With an emphatic and emotional victory at the WGC-Dell Technologies Match Play, Scheffler won for the third time in his past five starts, leapfrogged four men to lead the Official World Golf Ranking and extended his lead in the FedEx Cup standings.
His 4-and-3 dismantling of resourceful Kevin Kisner in the championship match at Austin Country Club was a microcosm of the quality of play he has exhibited since he broke through at the WM Phoenix Open nearly two months ago.
Not that his golf wasn't sensational before then. There were plenty of close calls, top-five finishes, a 59 at the Northern Trust in 2020, runner-up in this event last year – all of which contributed to his selection by captain Steve Stricker to the 2021 US Ryder Cup team. At Whistling Straits, Scheffler went 2-0-1 and beat European stalwart and World No.1 Jon Rahm in singles, 4 and 3, during America's record romp. By the way, it was Rahm he supplanted as the top-ranked player, ending the Spaniard's 36-week reign.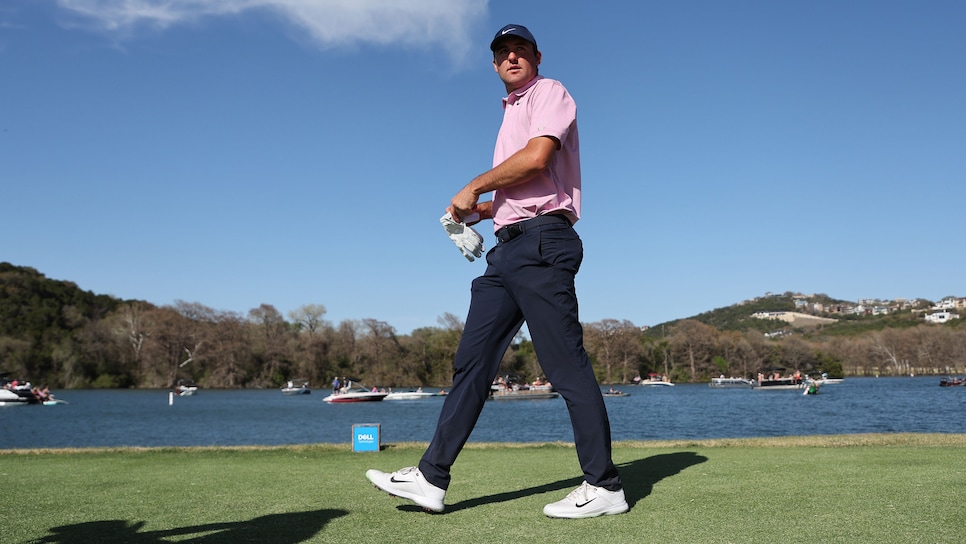 Still, after his first 70 tour starts his trophy case was rather barren. Now he has three nice pieces of hardware. Floodgate city.
"It's been kind of a crazy past few months," said Scheffler, 25, a Dallas native enjoying a home game of sorts and, thus, enjoyed a couple of episodes of joyful sobbing in the aftermath as he hugged family, friends and most everyone within an arm's length.
"I really don't know how to describe the emotion. I've thought about winning this tournament ever since last year. It left kind of a poor taste in my mouth getting so close and ultimately coming up short. So, it feels really good to finish the job this time around."
Getting the job done doesn't appear to be much of a chore anymore.
Scheffler, who improved to 10-2-2 in the event, didn't trail in his last 57 holes and took down two tenacious opponents on Sunday, each who was unbeaten before locking horns with the former University of Texas Longhorn.
Earlier in the day, Scheffler stopped Dustin Johnson, the 2017 champion, 3 and 1 in the semi-finals after nervously seeing a 5-up lead dwindle to 1 up when Johnson won four straight holes. To that point, counting last year's Ryder Cup, Johnson had won 10 straight match-play outings. Johnson fell to Corey Conners in the consolation match, 3 and 1.
Kisner, meanwhile, had outlasted Conners, 2 up, in the other semi-final to enter his third WGC-Match Play final a perfect 6-0 for the week. But the Georgia native, who was first to avenge a runner-up finish with the match-play victory the following year, in 2019, trailed nearly from the outset against Scheffler and never won a hole. He gave Scheffler the second hole with a sloppy bogey and that turned into a 3-up lead for the Texan when he birdied the fourth and sixth.
"Scottie is probably playing the best golf on the planet right now," Kisner said after his second runner-up finish in the event. "I knew I needed my best, and just couldn't hole anything to get any momentum my way. Hats off to him. He's playing great. Like I told him after, enjoy the hell out of how well you're playing, man."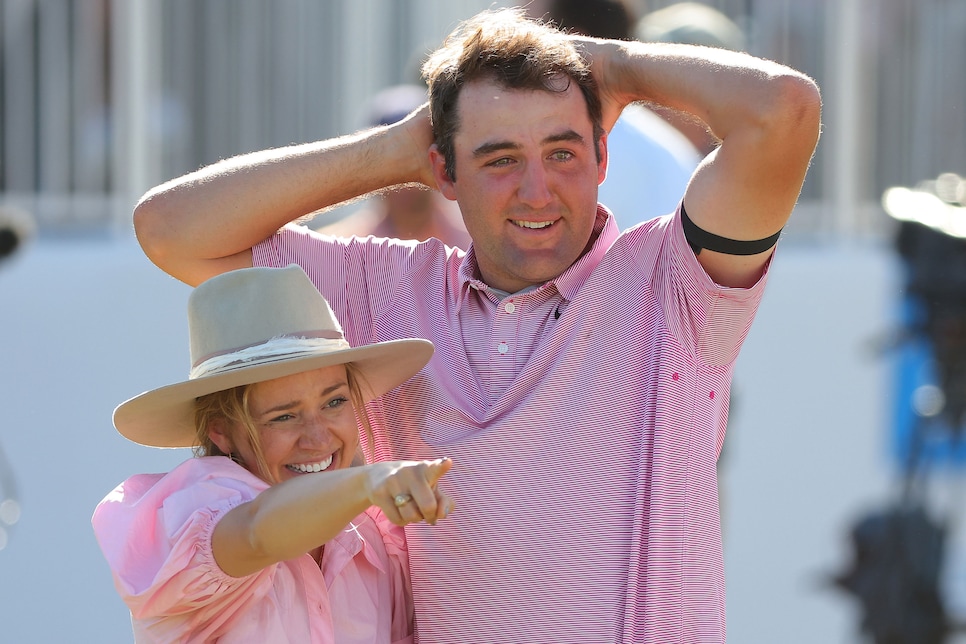 The subtle message being, it never lasts, not even for the greatest players. But riding the wave sure feels good. And there is no telling when the tide will ebb. "My head is spinning," Scheffler said when thinking about his new station in golf and why it took some time to get the hang of this winning thing. "I guess I'm making up for a little bit of lost time maybe the last few weeks."
Scheffler, who in college played often at Austin Country Club and before that attended the event a few times, is somewhat of a throwback player, someone who competed in a variety of sports before settling on golf – though he claims that "I'm not that athletic."
He also is not that assuming. But he is, in his own words, "fiercely competitive," evidenced in a performance streak that has been lucrative – $U6.2 million in the past 42 days, including $2.1 million on Sunday – and, frankly, a bit beyond his own expectations.
"It's not something that I didn't want to achieve or didn't believe that I could do," he said of rising to the top of the World Ranking. "It's just I grew up at Royal Oaks. I grew up wearing long pants to go practise because I wanted to be a professional golfer. That's what I dreamed of. I dreamed of being out here. … The rankings never really crossed my mind. It was always just about being out here and competing."
He will be among the favourites at the Masters after becoming the 2021-22 season's first three-time winner and the first to win three events leading into the year's first Major since Johnson and Justin Thomas won as many before the 2017 Masters.
Maybe the dream can last a little longer. No one has risen faster to World No.1 after winning his first tournament. It took Tiger Woods 252 days. Scheffler did it in 42. In his past six starts in the Majors, Scheffler has finished in the top 20 in each, including T-19 last year at Augusta National. Only Rahm has played better in relation to par in the Majors the past two years.
So, yeah, while Scheffler has been on a roll of late, he had been operating a higher gear for some time. Now he has the ranking that reflects his level of performance. Bonus points for closing the deal in a virtual home game.
"Pretty cool to do that in front of my family. They've supported me so much along the way, and I really don't know what to say about that," he said. "I don't feel like No. 1 in the world. I feel like the same guy I was four months ago, and I hope that doesn't change.
"Yeah, I don't feel any different."
And, yet, we know he is.